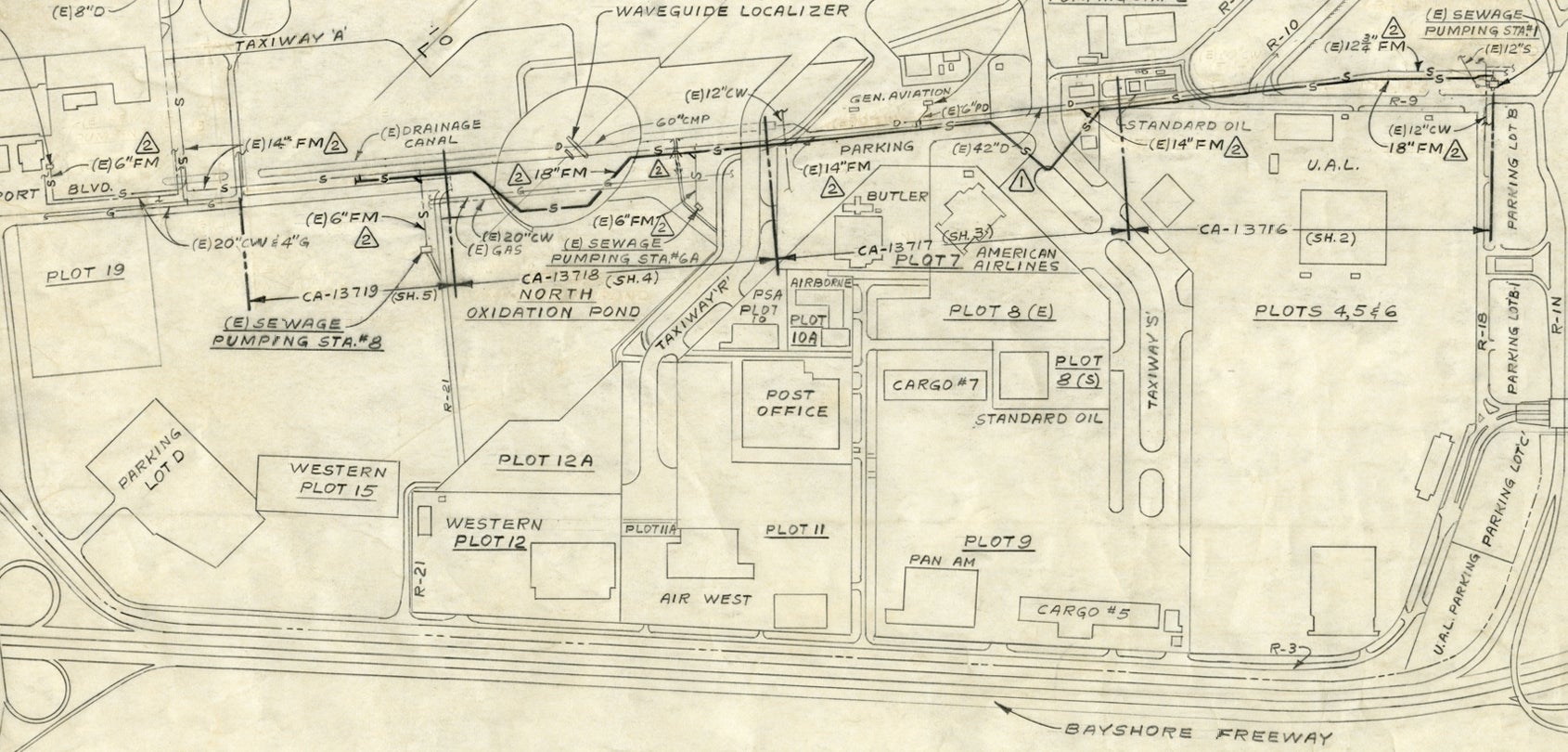 West Cargo Area: Time Travel Edition
[image above]
Site plan detail of West Cargo Area, San Francisco International Airport (SFO)  March 1972
graphite on drafting paper

[image]
North McDonnell Road at United Cargo  March 2, 2022
Not far from SFO Museum's administrative offices and exhibit production shops, directional signs transport motorists to an unfamiliar sight at San Francisco International Airport (SFO). To the casual observer, the warehouses and loading docks in this lowkey industrial setting could be a blip on the radar screen. But as our turn off the main terminal ramp comes into focus, a clearer picture marks their spot on SFO's North McDonnell Road.
For a closer look, we take a detour to the year 1968, when United Air Lines, American Airlines, Pan American World Airways, Pacific Air Lines, and Western Airlines commenced cargo operations here, signifying regional growth in passenger and freight traffic. The changes inspired a series of black and white exposures by Marshall Moxom (1916-2007), a San Francisco-based photographer who captured SFO's transformation from the propliner era to the jet age. Held in the aviation collection of SFO Museum, Moxom's work in 120 medium format film preserves the Airport's enduring image, from its early infrastructure to this surviving complex where past meets present.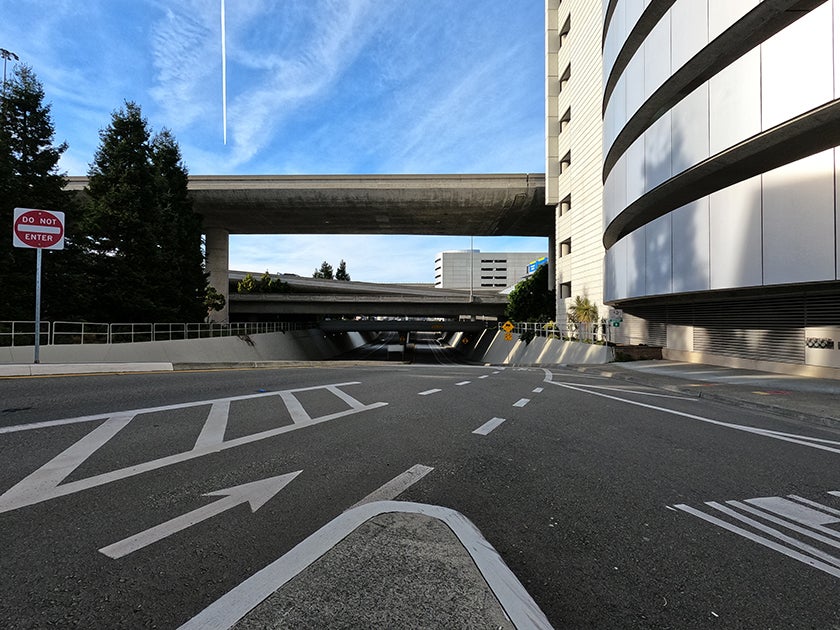 [images]
West Underpass at South Link Road, connecting South and North McDonnell Roads  1970/2022
Situated parallel to the Bayshore Freeway (U.S. Route 101), McDonnell Road is named after William E. McDonnell, who served as the first president of the San Francisco Airports Commission upon its establishment in 1970. West Cargo Area encompasses the northern segment of McDonnell Road, originally called R-3. Of the five initial carriers that once dominated this thoroughfare, only United Cargo remains here to this day, still occupying the same building.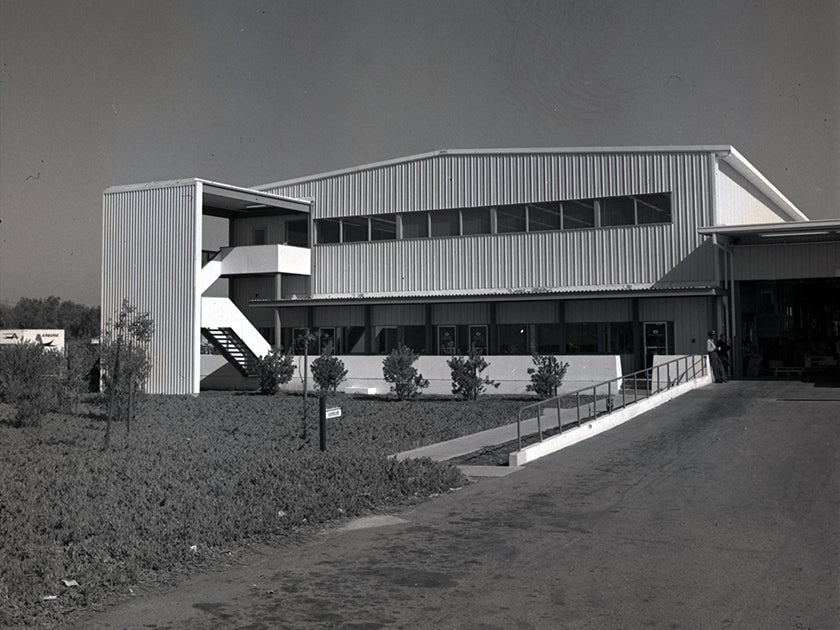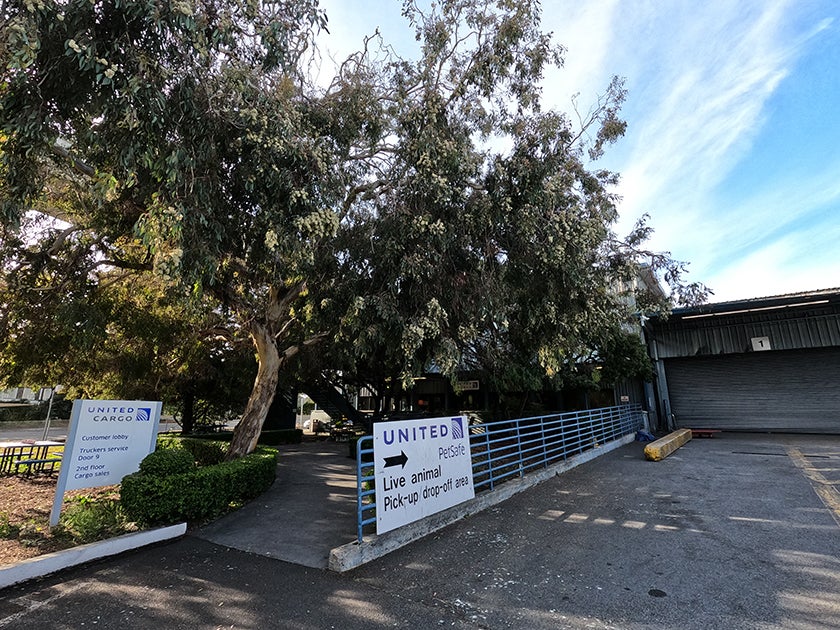 [images]
Plot 6: United Air Lines Air Freight, 585 N. McDonnell Road  1969/2022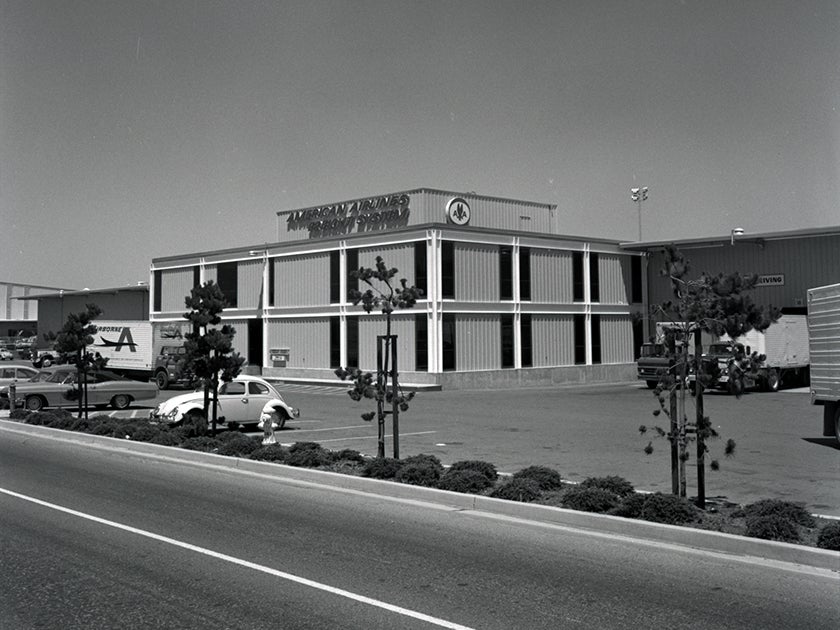 [images]
Plot 9: American Airlines Freight System, 606 N. McDonnell Road  1969/2022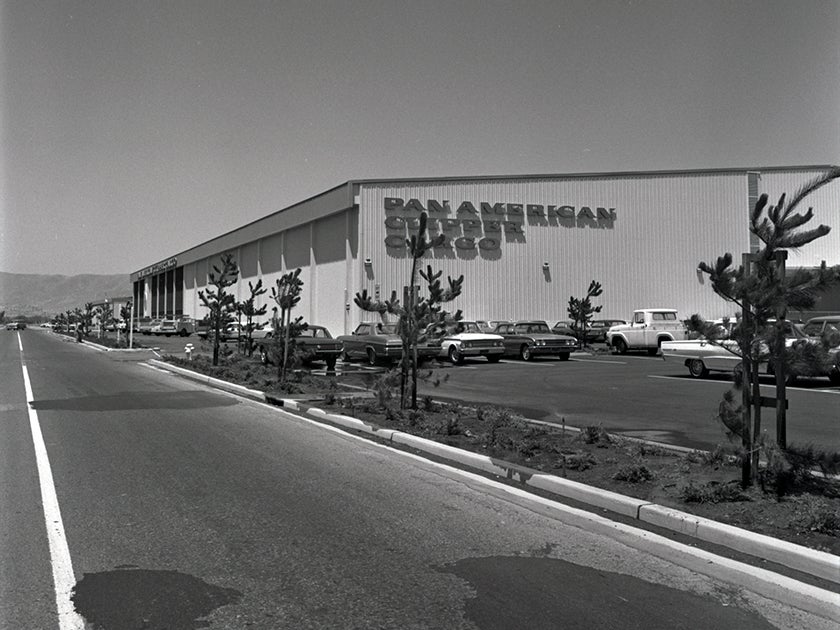 [images]
Plot 9: Pan American Clipper Cargo, 612 W. Field Road  1969/2022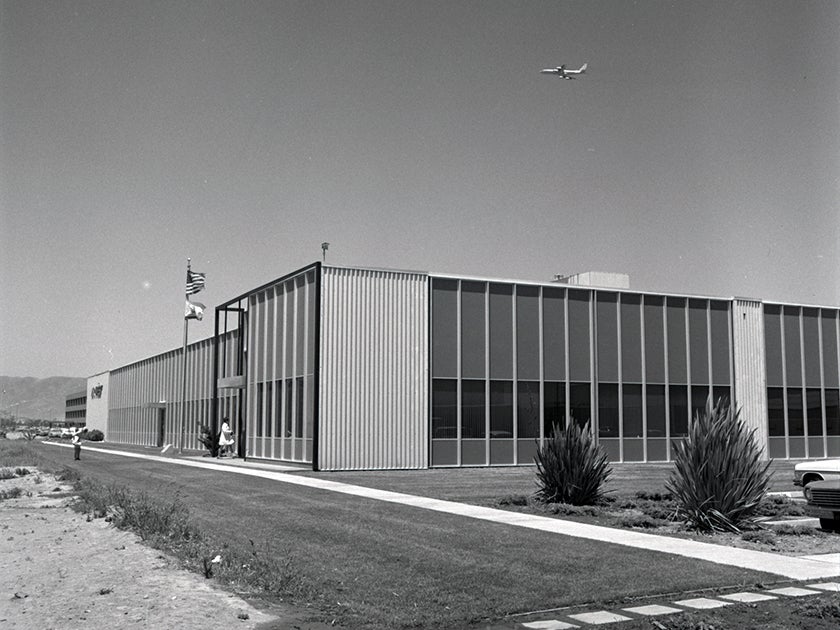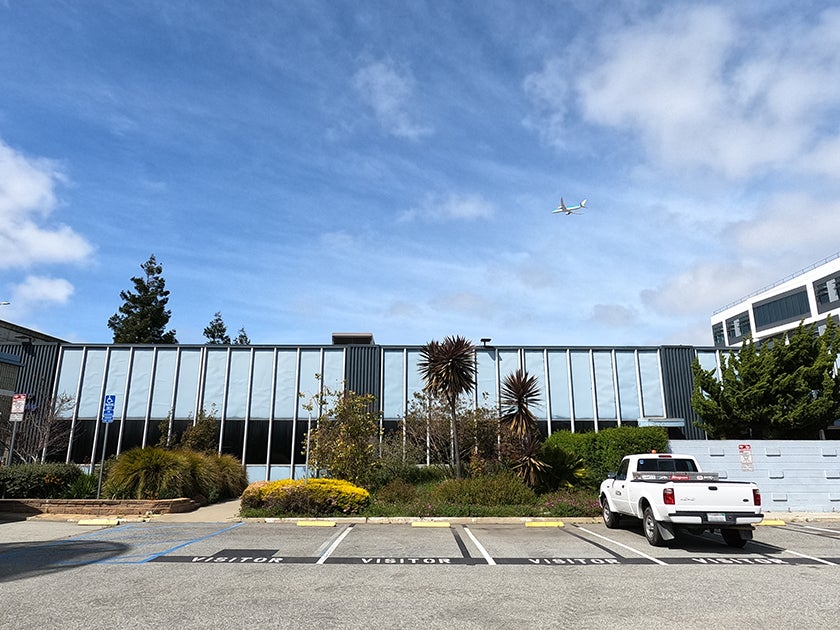 [images]
Plot 11: Air West Headquarters, 676 N. McDonnell Road  1969/2022
Pacific Air Lines, a regional carrier based in San Francisco, merged with Bonanza Air Lines and West Coast Airlines in 1968 to form Air West. In 2005, SFO dedicated the building above in honor of Jason G. Yuen, who led the Airport's Bureau of Planning and Construction from 1979 through 1992 and chaired the Master Plan Advisory Board, developing SFO's $2.4 billion expansion program for the International Terminal, AirTrain people mover, Bay Area Rapid Transit (BART) station, and SFO Museum's Aviation Museum & Library inside the International Terminal—at the time, the largest public works project in the United States. The AirTrain's elevated guideways now course overhead to the rental car center and long-term parking garage.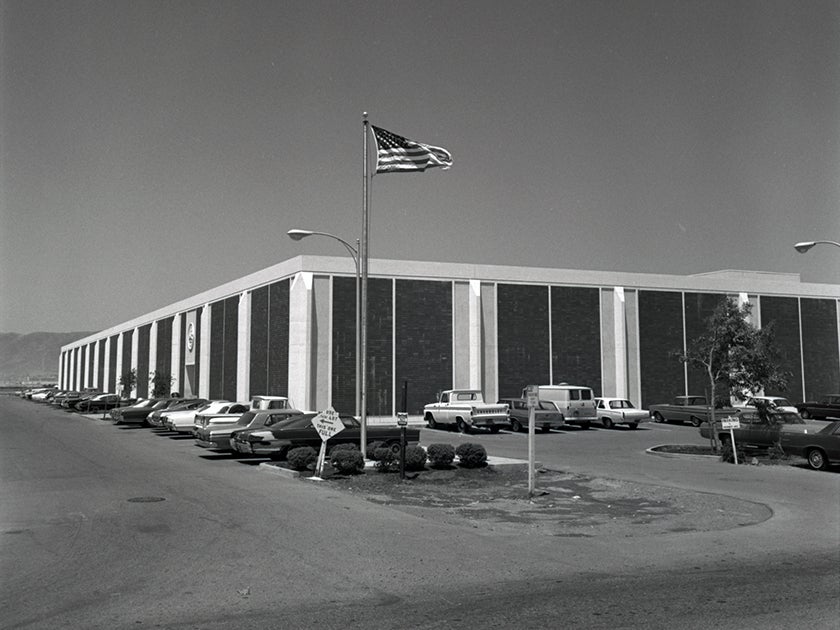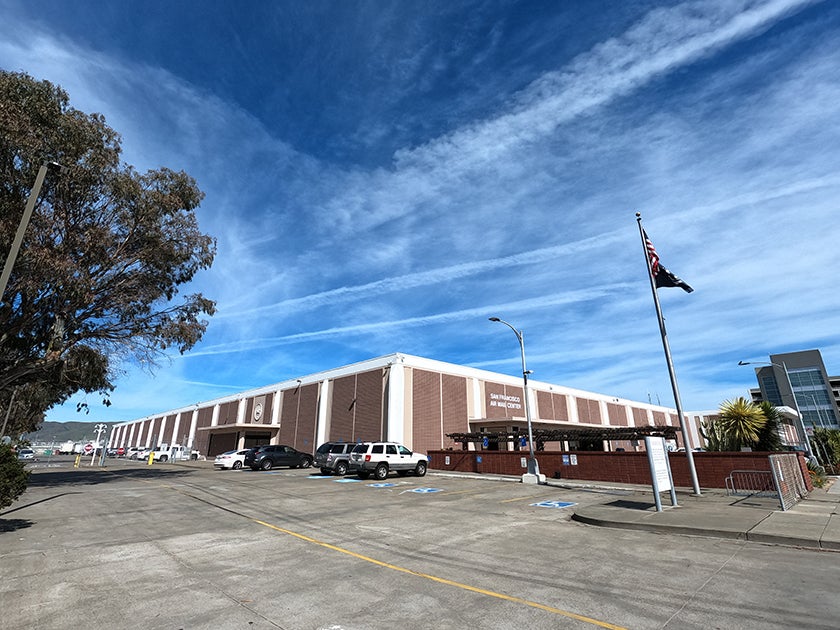 [images]
U.S. Post Office Department, Airport Mail Facility, 660 W. Field Road  1969/2022
Just off the main strip to the east lies the former branch of the U.S. Post Office Department, later United States Postal Service (USPS). Designed by the architectural team of John S. Bolles and Charles Luckman Associates in 1965 to handle a twofold increase in mail volume over the previous five years, the project's forerunners include Bolles' famed Candlestick Park—onetime stadium of the Giants and 49ers—and the iconic Theme Building at Los Angeles International Airport (LAX), a collaboration between Luckman and architect William Pereira. (Pereira, in turn, would go on to transform the San Francisco skyline with the Transamerica Pyramid in 1972.)
The Postal Reorganization Act of 1970 led to the formation of the USPS the following year. With its fortress-like veneer, the reinforced concrete edifice stands out against its metal-clad neighbors, still bearing the agency's classic horse-and-rider logo in bas-relief. Further beyond, a blast fence shields a stretch of airfield on which SFO's Mills Field Municipal Airport from 1927 once stood. On March 31, 2022, the post office closed permanently after more than fifty years in operation at this location.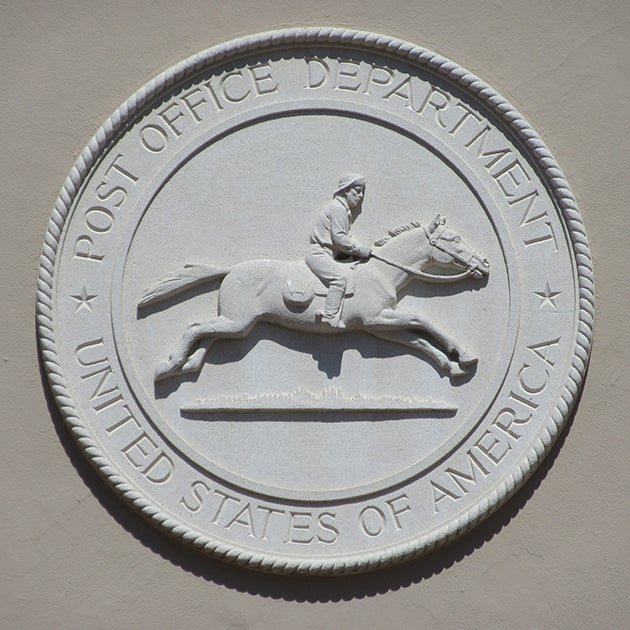 [image]
Postal seal outside USPS Air Mail Center, Airport Branch  2022
Our tour concludes at Plot 12, once home to Western Airlines, the Los Angeles-based carrier whose animated mascot Wally Bird (short for "Western Air Lines Loves You") promoted WAL service as "the only way to fly" while reclining on the tail of a Boeing 707 with a soft pillow and glass of champagne.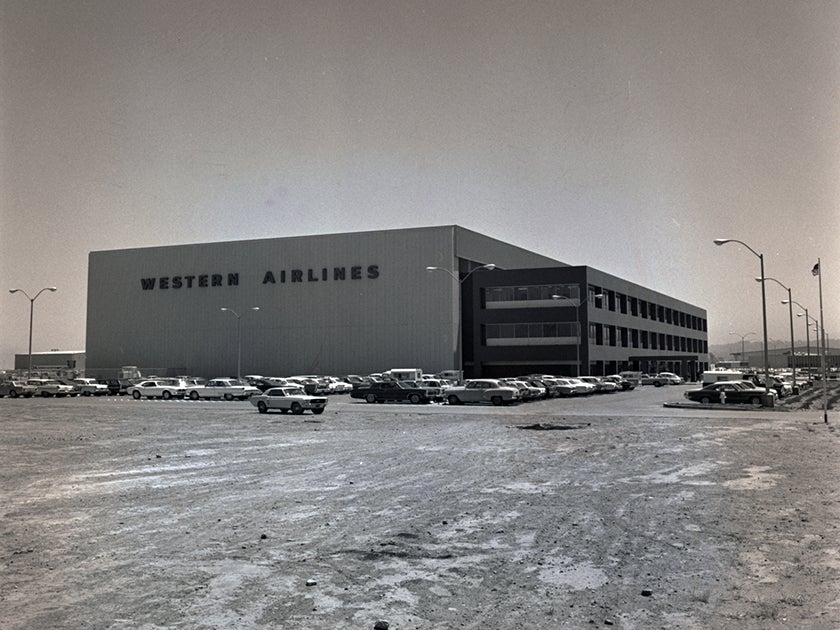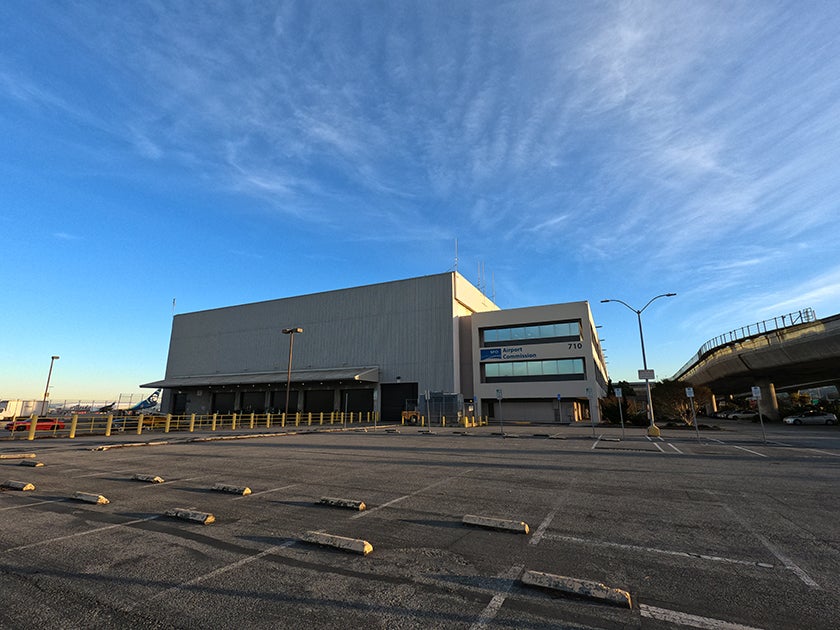 [images]
Plot 12: Western Airlines, 710 N. McDonnell Road  1969/2022
Today, the sign letters are down, and Wally Bird is nowhere to be found. As West Cargo Area quietly yields to current times, a shift in perspective signals the ongoing forces of change in motion. For now, this collection of time-honored workhorses stands firm, beckoning to passersby on North McDonnell Road and West Field Road, where a tangible piece of SFO history unfolds on a grand scale.
Tomohiko Aono
Registrar
SFO Museum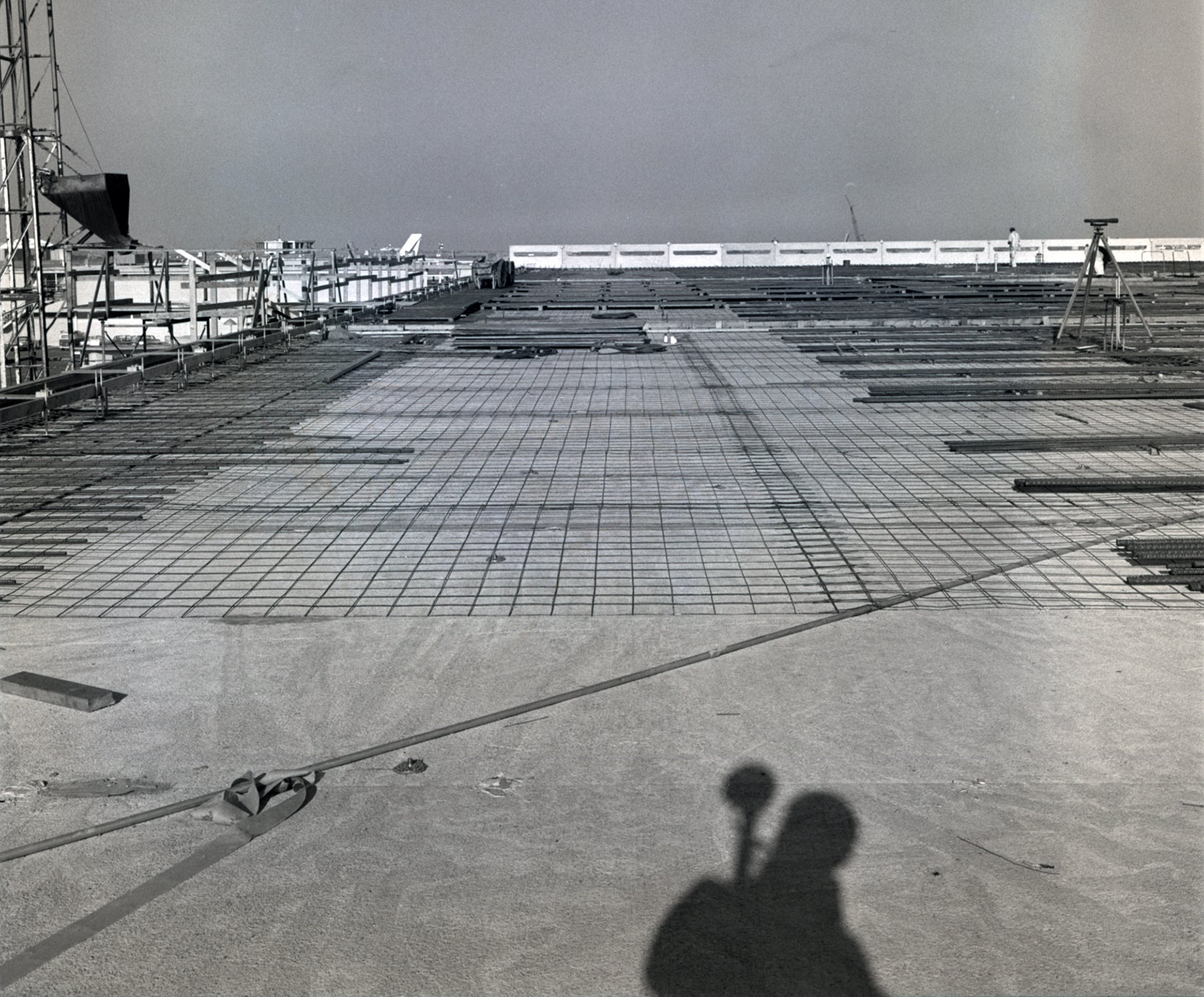 [image]
Parking Garage construction, 4th Level  December 4, 1969
To see more historical images of SFO by photographer Marshall Moxom and others, please visit SFO Museum's exhibitions, Mills Field and the San Francisco Airport, The 1954 San Francisco International Airport Terminal, and Above SFO: The Aerial Photography of Marshall Moxom.