The 1954 San Francisco International Airport Terminal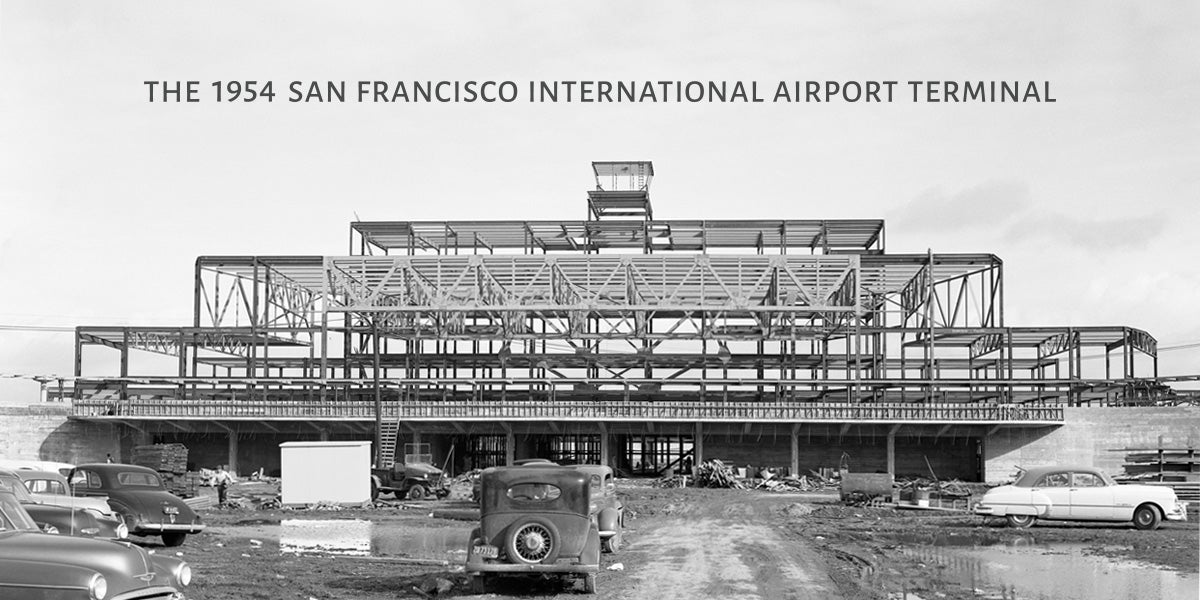 Sky Terrace, Departures Level 4, Gallery 2D
Continuous
The 1954 San Francisco International Airport Terminal 
The airline industry soared to new heights in the 1950s. Driven by great advances in aviation technology and a burgeoning consumer market, new commercial airliners introduced the future of air travel to the next generation of passengers. For the first time, long-range, piston-engine airliners serviced transoceanic routes at high altitude in pressurized cabins. In the late 1950s, newly developed jet-powered airliners drastically reduced flight times with their impressive speed and efficiency, flying far above the turbulence created by unstable weather. To keep pace with the revolution in commercial aviation, major airports around the world updated their facilities with longer runways, expansive taxiways, and modern passenger terminals.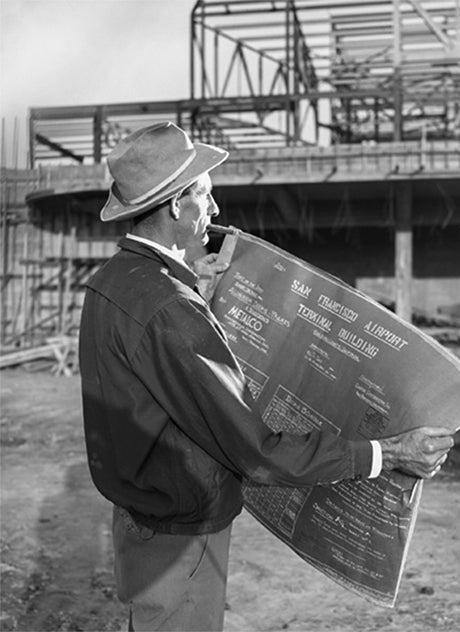 Construction of a new terminal at San Francisco Airport began in 1951. Designed in the International Style, the seven-story building employed an innovative, dual-level layout that separated departures from arrivals. Dedicated roadways streamlined traffic to the terminal, and passenger entryways on both levels were fitted with hands-free, automatic doors—an exciting new invention at the time. Panoramic views of the airfield and San Francisco Bay were provided from multiple spectators' terraces and the International Room restaurant. The terminal building was dedicated on August 27, 1954, at the renamed San Francisco International Airport during a three-day open house and flight festival attended by nearly 600,000 visitors. Festivities included aerial performances, tours of the latest piston-engine airliners, and a display entitled "Jetorama" that demonstrated jet-engine technology. Passenger operations commenced on September 1 and exceeded 2.5 million for the first year. By the mid-1960s, passenger numbers skyrocketed to more than 10 million annually. This exhibition features a selection of objects and historic imagery from the first decade of operations at the 1954 International Terminal building. All material is from the collection of SFO Museum. 
[inset image]
Construction foreman at San Francisco International Airport
terminal building  1952
SFO Museum 
2011.032.0306
R2019.2901.029
©2020 by the San Francisco Airport Commission. All rights reserved.
Sky Terrace is free and open to the public on Fridays, Saturdays, Sundays, and Mondays from 10:00am-6:00pm.