Departures - Level 3
May 28, 2021 - Feb 13, 2022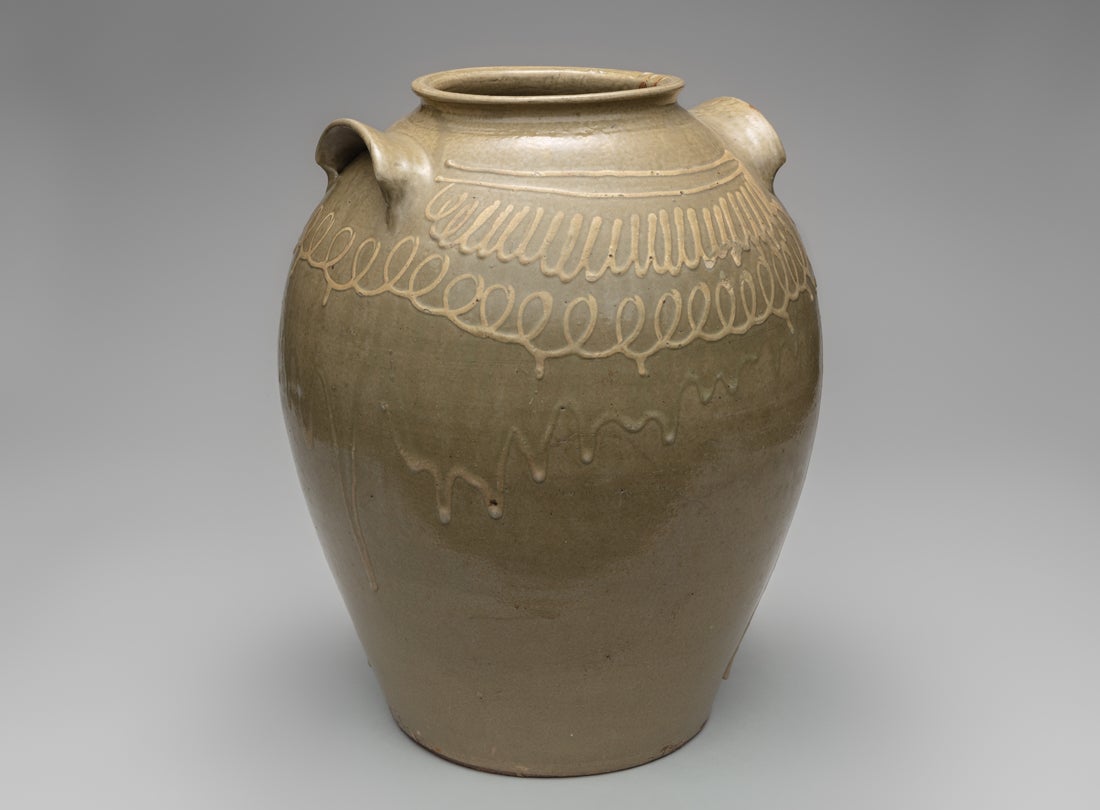 1 of 6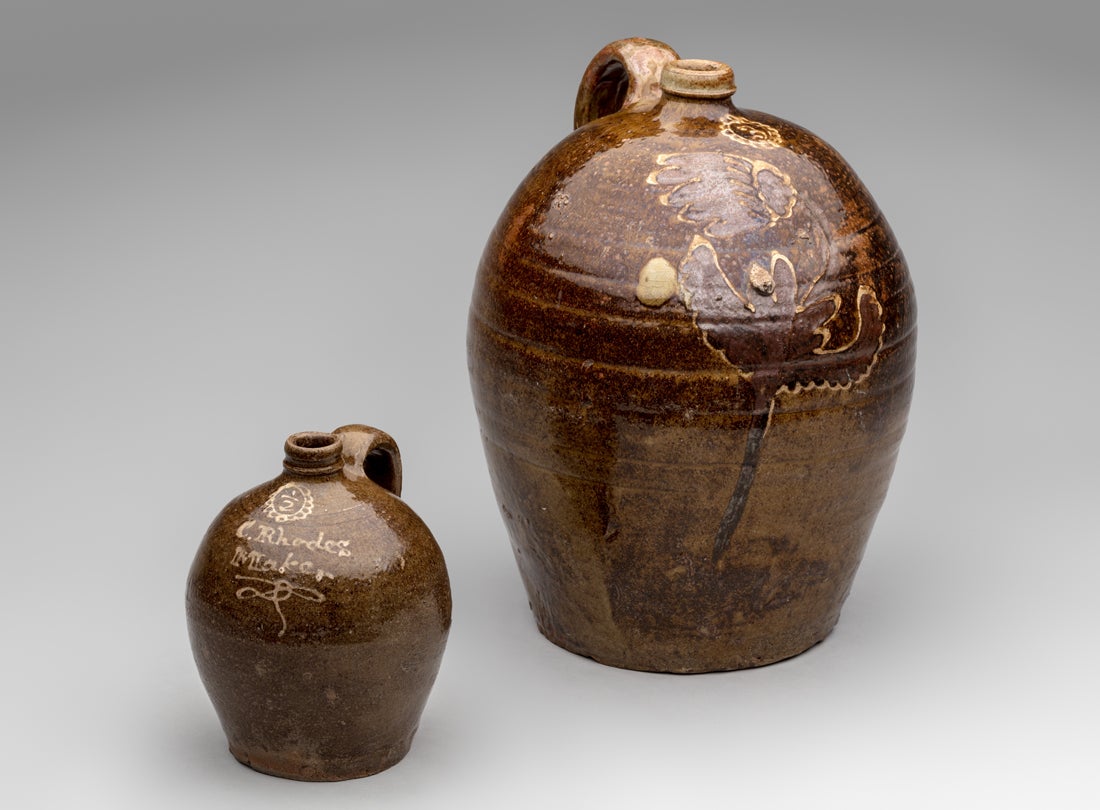 2 of 6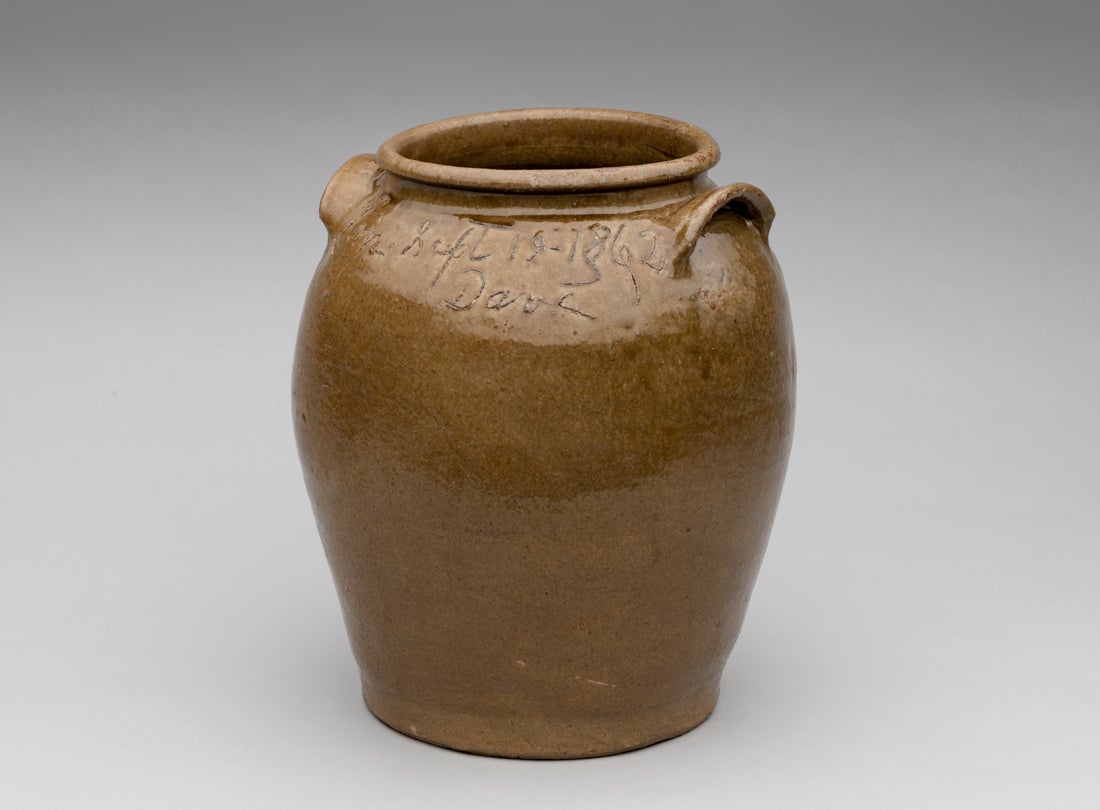 3 of 6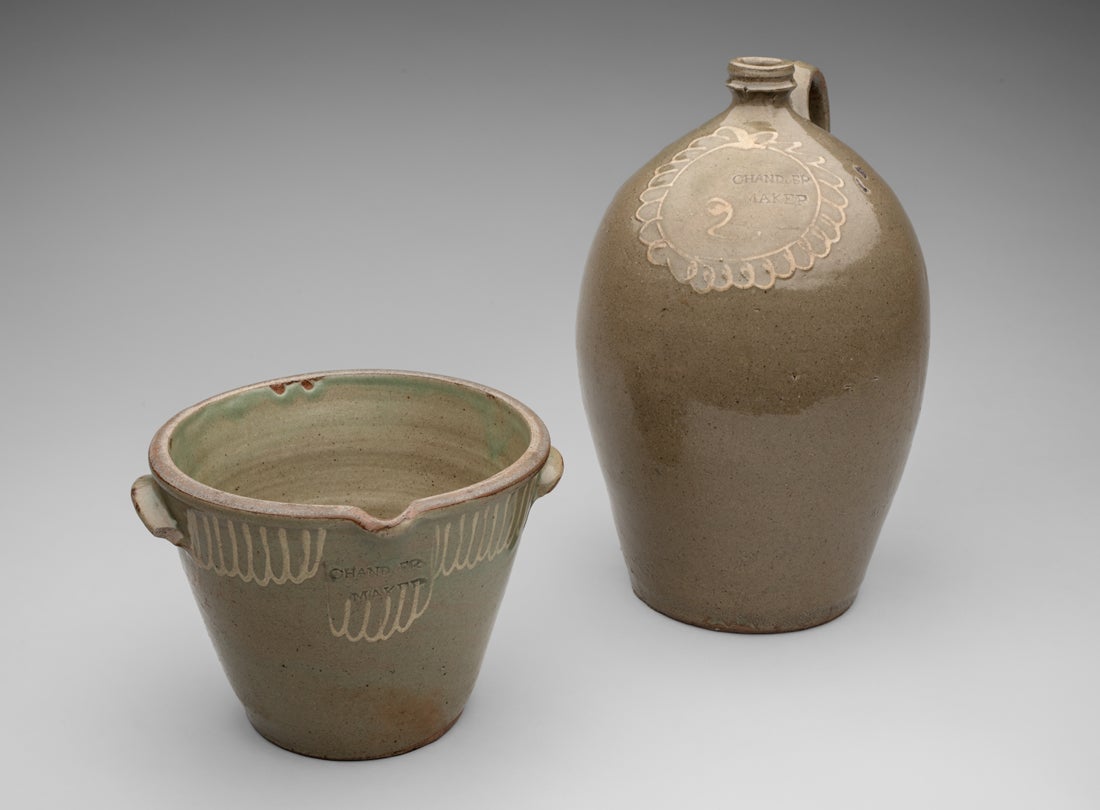 4 of 6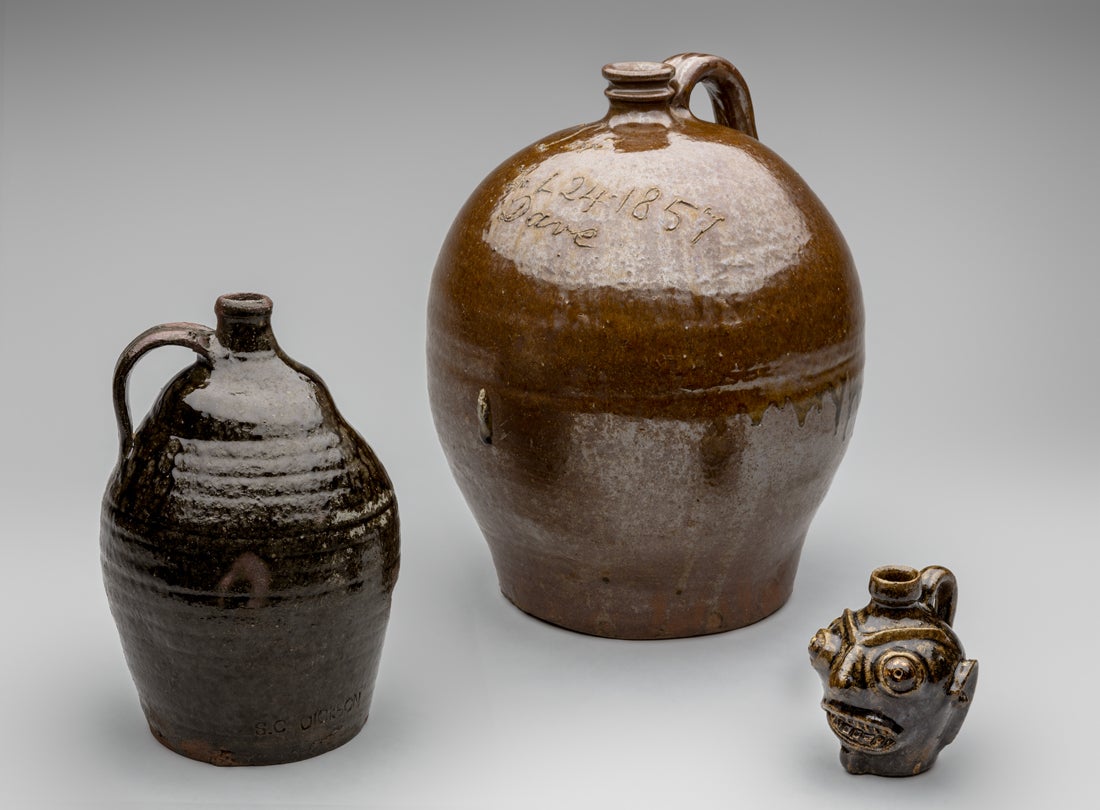 5 of 6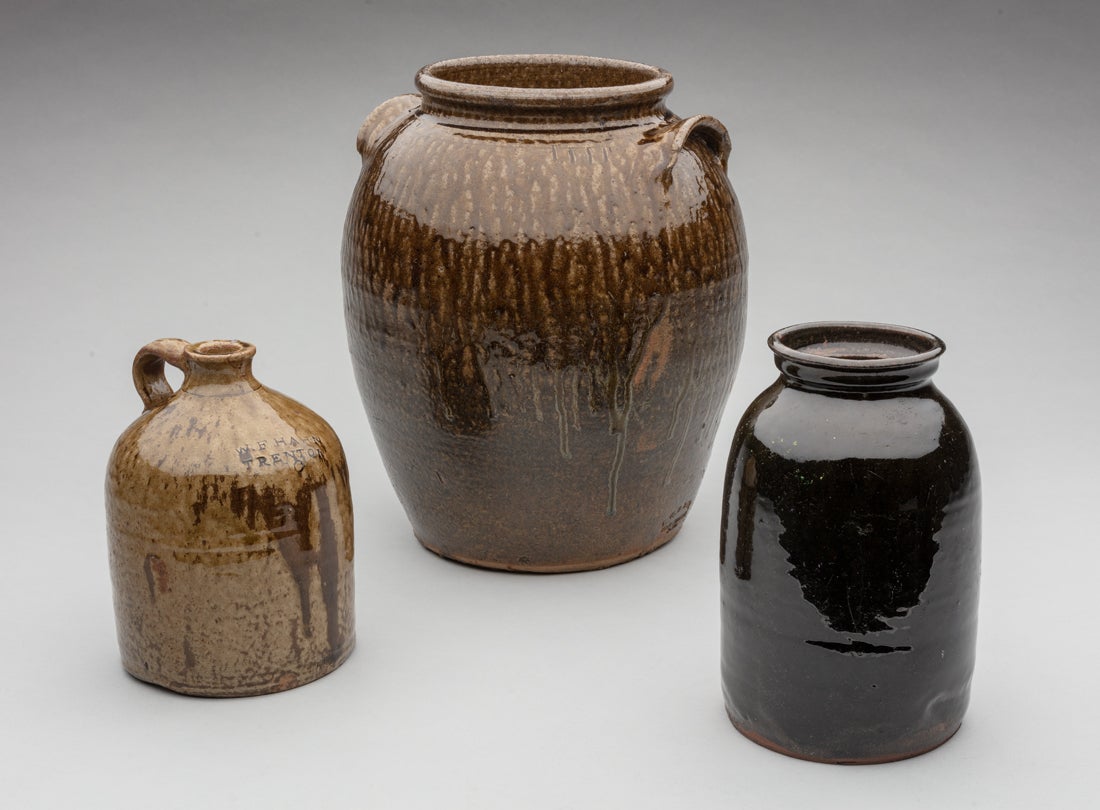 6 of 6
Storage jar  c. 1850
Thomas Chandler (1810–54)
Edgefield District, South Carolina
alkaline-glazed stoneware with with kaolin slip-cup decoration
Collection of Kenneth Fechtner 
L2020.1401.001 
Born in Virginia, Thomas Chandler (1810–54) moved with his family to Baltimore, Maryland, in 1817. His father, a Windsor chairmaker, opened a shop near several important potteries. Chandler likely learned to craft salt-glazed stoneware in his youth by working with local master potters such as Henry Remmey, Sr. (1770–1865). In 1829, he left Baltimore and eventually moved to Albany, New York, in 1832. Chandler's lack of an official apprenticeship may have hindered his ability to find work as a journeyman potter. After enlisting in the U.S. Army, Chandler traveled to Augusta, Georgia (not far from Edgefield), but deserted his post after only three months. 
During his absence, Chandler may have turned wares for a pottery in Georgia, where he learned about alkaline glazes and became aware of the pottery factories in Edgefield. After serving a year in prison for desertion, Chandler rejoined his company in 1833, was later wounded at the Battle of Micanopy in the Second Seminole War, and was officially discharged in 1837. Chandler then listed his occupation as "stoneware potter" and moved to the Edgefield District of South Carolina, where he had a profound influence on stoneware pottery production. Chandler introduced slip decorating, in which liquid clay is brushed or trailed onto wares before firing, and developed distinctive celadon-colored alkaline glazes. Chandler worked at several different potteries before opening his own workshop in 1850.
Half-gallon and three gallon jugs  c. 1850
Collin Rhodes Factory
Edgefield District, South Carolina
alkaline-glazed stoneware with slip-cup decoration
Collection of Kenneth Fechtner
L2020.1401.007, .008
Collin Rhodes (1811–81), the son-in-law of Abner Landrum's brother Amos, acquired an interest in the Pottersville Stoneware Manufactory in 1832, although he probably never worked as a potter himself. He established the Phoenix Factory with Robert Mathis in 1840 south of the town of Edgefield in an area known as Shaw's Creek. Thomas Chandler (1810–54) served as the factory's principal potter. It became the first large-scale pottery where slip-decorated stoneware was widely produced. Rhodes later established the C. Rhodes Factory around 1846 near the former Phoenix Factory.
Rhodes' factory featured a variety of slip-decorated wares. Some scholars suspect that women may have served as decorators at the factory due to extant documentation that records women being paid more than their male counterparts. If so, it demonstrates an unusual practice, as men typically turned and decorated wares in Edgefield. The most common motif employed at Collin Rhodes' factory was the maker's mark, C. Rhodes Factory, boldly lettered in slip to distinguish it from other makers. Cream-colored numerals often adorned pots indicating gallon capacity. Decorators embellished some wares with loops, swags, and floral patterns, often combining kaolin slip and dark brown iron-based slip. Rhodes successfully sold wares throughout the state before selling his factory to John Seigler in 1853 and moving to Louisiana.
Storage jar  1862
David Drake (c. 1800–70s)
Lewis Miles Factory
Edgefield District, South Carolina
alkaline-glazed stoneware
Collection of Kenneth Fechtner 
L2020.1401.009
The enslaved potter known as Dave inscribed poetry onto the pottery he made over the course of more than forty years, the only known antebellum Southern potter to do so.  Little is known about Dave's life, and scholars can only speculate as to how he learned to read and write. Born in the United States around 1800, Dave learned to craft stoneware as an adolescent at Pottersville, which was established by Abner Landrum in 1815, while he was enslaved by Harvey Drake, Abner Landrum's nephew and business partner. Harvey Drake died in 1832, though Dave continued to work at Pottersville under Harvey's brother, Reuben. Dave faced the harsh reality of being enslaved by three more Edgefield pottery manufacturers during his life, first by Abner Landrum's brother John, who had established his own pottery at Horse Creek, next by John Landrum's son Benjamin Franklin, and finally by Lewis Miles, John Landrum's son-in-law.
 
The South Carolina General Assembly passed a draconian law in 1834 making it illegal to teach enslaved African Americans to read and write. Extraordinarily, Dave continued to sign pots and inscribe couplets on their surfaces. Dave inscribed many of his approximately forty known pot poems at Lewis Miles' factory from 1849 to the early 1860s. Dave's short poems reflected his daily life; some are light-hearted, others more serious. The poem quoted above explains the storage jar's use. After it was filled with salted meat, the pot could be sealed with tallow or wax, hence the reference to lighting candles.
Cream riser and two-gallon jug  c. 1850
Thomas Chandler (1810–54)
Edgefield District, South Carolina
alkaline-glazed stoneware with slip decoration
Collection of Kenneth Fechtner
L2020.1401.002, .004
Shortly after arriving in Edgefield, Thomas Chandler mastered the use of local kaolin clay and alkaline glazes, creating beautiful pots that exhibited a celadon-like gloss surface similar to those produced in China and Korea. Chandler most likely incorporated a large quantity of silica and lime in his glaze formula to create these now-famous wares. Chandler's pale green glaze resulted from small amounts of iron oxide in the glaze combined with the pots being fired in a reduced kiln atmosphere in which the kiln is deprived of oxygen.
Chandler learned the technique of slip decorating in Baltimore, which entails trailing liquid clay onto wares using a slip cup. The slip cup has a hole at the top to fill with slip and one on its side. A reed or quill is inserted into this secondary opening, allowing slip to be trailed onto wares. In contrast to the cobalt blue slip decoration used further north, Chandler employed white kaolin and dark brown iron-bearing slips to many of his wares. He regularly adorned pots with draped lines and loops, or swags and tassels. Chandler also used a circular pattern outlined with loops with a number in the center to indicate gallon capacity, and he often stamped his wares "Chandler/maker."
In 1850, Chandler established his own workshop in the northern part of the district at Kirksey's Crossroads where eleven both enslaved and journeymen potters worked. Chandler closed his pottery in 1852, as a result of his declining health, and moved to North Carolina where he died two years later at the age of forty-four. 
Jug  c. 1880s
S.C. Dickson (active c. 1875)
Seigler Pottery
Edgefield District, South Carolina
alkaline-glazed stoneware
Collection of Kenneth Fechtner
L2020.1401.012
Jug  1857
David Drake (c. 1800–70s)
Lewis Miles Factory
Edgefield District, South Carolina
alkaline-glazed stoneware
Collection of Kenneth Fechtner 
L2020.1401.011
Face jug  c. 1862
unidentified enslaved African American potter
Thomas J. Davies Palmetto Pottery and Fire Brick Co.
Bath, South Carolina
alkaline-glazed stoneware
Collection of Kenneth Fechtner
L2020.1401.013
While most manufacturers offered jars of up to a twenty-gallon capacity, Dave made some jars at Lewis Miles' factory that held thirty gallons or more to meet the demand for large storage containers to feed the enslaved populations on South Carolina's plantations. To produce vessels this large, Dave used a technique that combined turning the lower half of the pot on the wheel and then coiling ropes of clay around the top of its wall, sometimes adhering four handles to the pot since two men were required to lift such a large jar. 
Although Dave was well known in Edgefield as a master potter, details of his personal life are scarce. An 1873 newspaper article referred to him as "one-legged Dave Drake," referencing the surname Dave adopted from his first enslaver Harvey Drake after his emancipation. An African American potter named Carey Dickson, who worked for Seigler Pottery in the late nineteenth century and knew Dave, corroborated that the celebrated potter had indeed lost his leg in an accident during the 1830s. He further described a man named Henry Simkins with disabled arms who, after Dave's accident, assisted him with the kick wheel while Dave turned wares. 
Face vessels, a unique form of Southern folk art, flourished at the Palmetto Fire Brick Works from 1862 to 1865 in Bath, Edgefield District, when enslaved potters made utilitarian wares for the war effort. Most likely, these face vessels derived from both European ceramic and African anthropomorphic woodcarving traditions. Edgefield potters continued to produce face vessels into the early twentieth century, and the tradition continued in other Southern states.
Jug  c. 1880s
W. F. Hahn
Aiken County, South Carolina
alkaline-glazed stoneware
Collection of Kenneth Fechtner
L2020.1401.021
Storage jar  c. 1860
John W. Seigler Pottery
Edgefield District, South Carolina
alkaline-glazed stoneware
Collection of Kenneth Fechtner
L2020.1401.017
Preserve jar  c. 1910
Attributed to Rich Williams 
near Gowensville, South Carolina
alkaline-glazed stoneware
Collection of Kenneth Fechtner
L2020.1401.020
Although pottery manufacturing declined in Edgefield beginning in the 1850s, a handful of potteries remained in operation to fulfill the needs of the local market. Westward migration in search of affordable land, the Civil War and its aftermath, and the collapse of the plantation system that supplied the enslaved labor force all led to the demise of the industry. Additionally, glass and metal containers began to replace stoneware storage jars in the late nineteenth century. 
Lewis Miles' son John continued to run the factory under the name Miles Mill and Pottery after his father's death in 1868. In 1853, John Seigler purchased Collin Rhodes' pottery, which passed to Seigler's son George in the late nineteenth century. After the war, many freed African Americans worked at the Seigler factory and other potteries in the Edgefield District, including Reverend Jesse P. Bodie's factory. A German family with the surname Hahn produced alkaline-glazed stoneware in the Trenton area in the 1870s and '80s. 
African American potter Rich Williams had a shop at the turn of the century located on the Tyger River near Gowensville, where he made alkaline-glazed wares that he fired in a traditional southern groundhog kiln. Williams may have descended from a freed African American Edgefield potter or he might have learned to turn wares from an upcountry potter in the area during the late 1800s.