Stoneware Stories Folk Pottery of Edgefield, South Carolina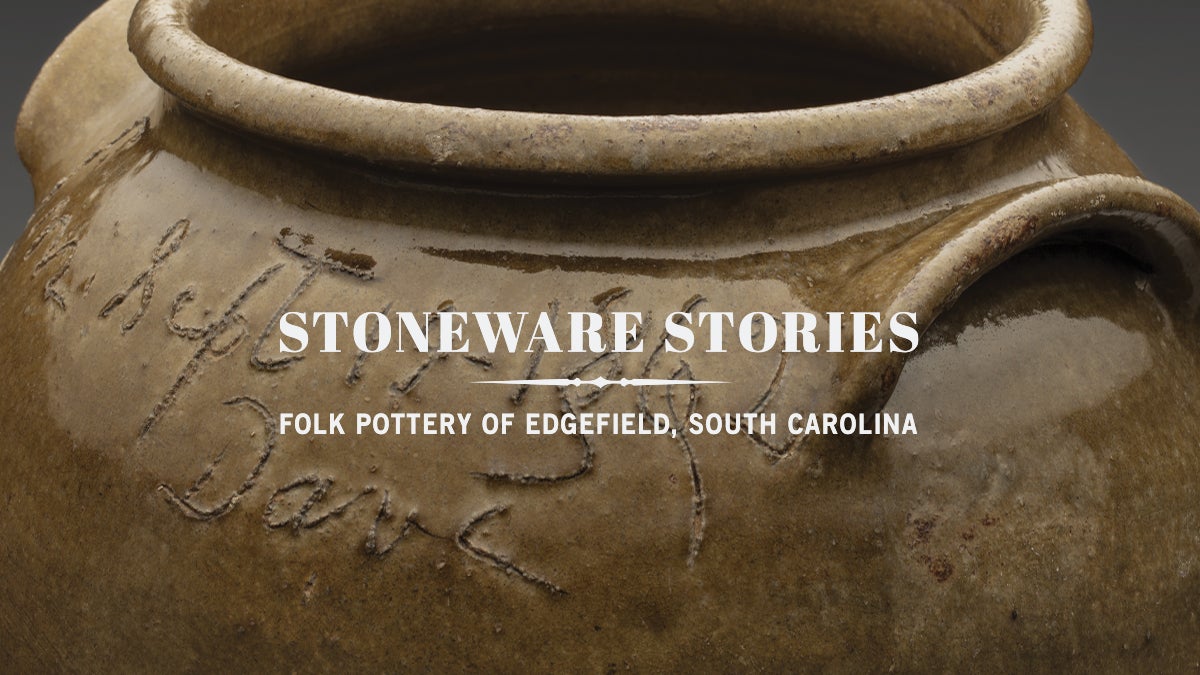 Departures - Level 3
May 28, 2021 - Feb 13, 2022
Stoneware Stories
Folk Pottery of Edgefield, South Carolina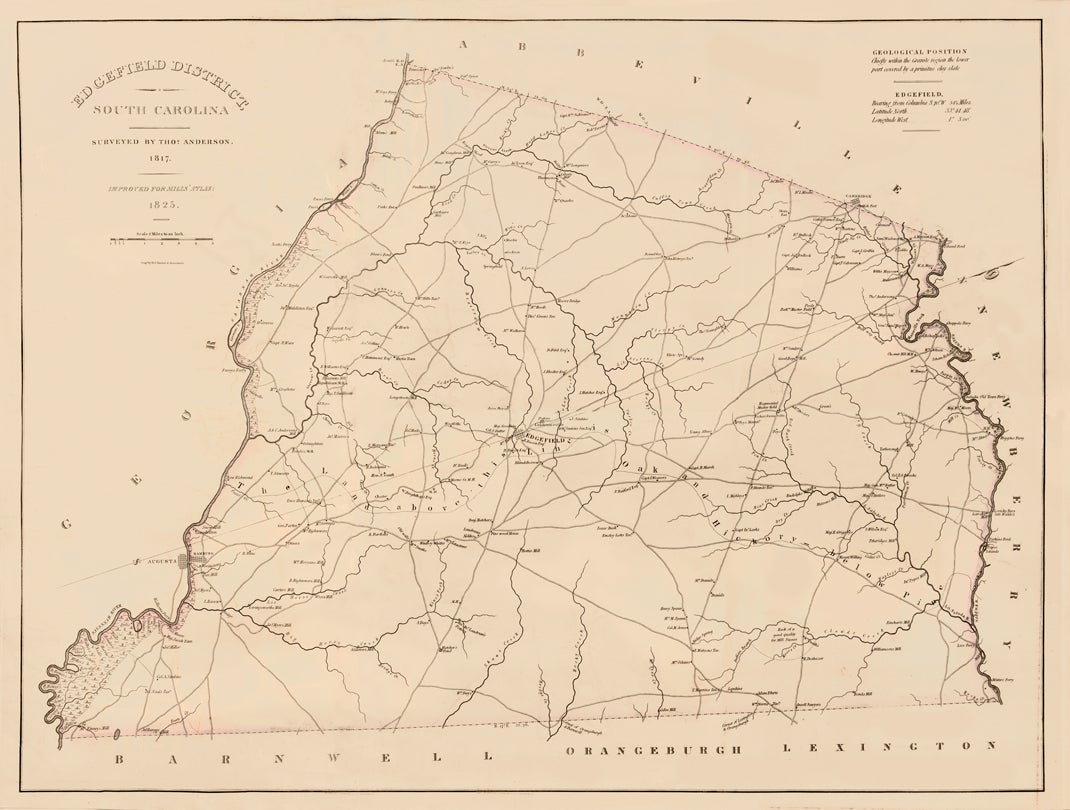 The Deep South has a unique place in the history of American ceramics. In the Northeast, potters commonly used salt to glaze stoneware in the European tradition. But in the southern United States, where salt was a more precious commodity, potters often applied alkaline glazes on high-fired stoneware. Pottery ranges in color from pale green to dark brown with glazed surfaces that vary from smooth and glassy, to drippy and textured. The technique originated in Han Dynasty, China (206BCE–220CE) and was pioneered in the United States by South Carolina physician and newspaper editor Dr. Abner Landrum (1785–1859), who most likely studied published accounts of Chinese alkaline glaze formulas. Landrum established the Pottersville Stoneware Manufactory around 1815 in the Edgefield District, the west-central area of the state that is rich in kaolin clay deposits and the alkaline ingredients—wood ashes or lime—required to melt the additional glaze elements.
Traditionally, Southern potteries were small, family-owned seasonal operations, consisting of farmers who sold their wares locally to supplement their incomes. In contrast, Edgefield's potteries were ambitious enterprises. By 1850, numerous entrepreneurs and investors had opened factories to fulfill the demand for stoneware required for food storage and preservation in the agriculturally rich region. Manufacturers shipped pottery via railway to planters and merchants throughout the state. They placed newspaper advertisements, hired journeymen potters, and applied makers' marks. Enslaved laborers and, later, freed African Americans, engaged in all aspects of Edgefield stoneware production, from digging and mixing clay to loading wood-fueled kilns, and peddling wares. Others served as "turners" or potters, producing exceptional examples of Edgefield stoneware.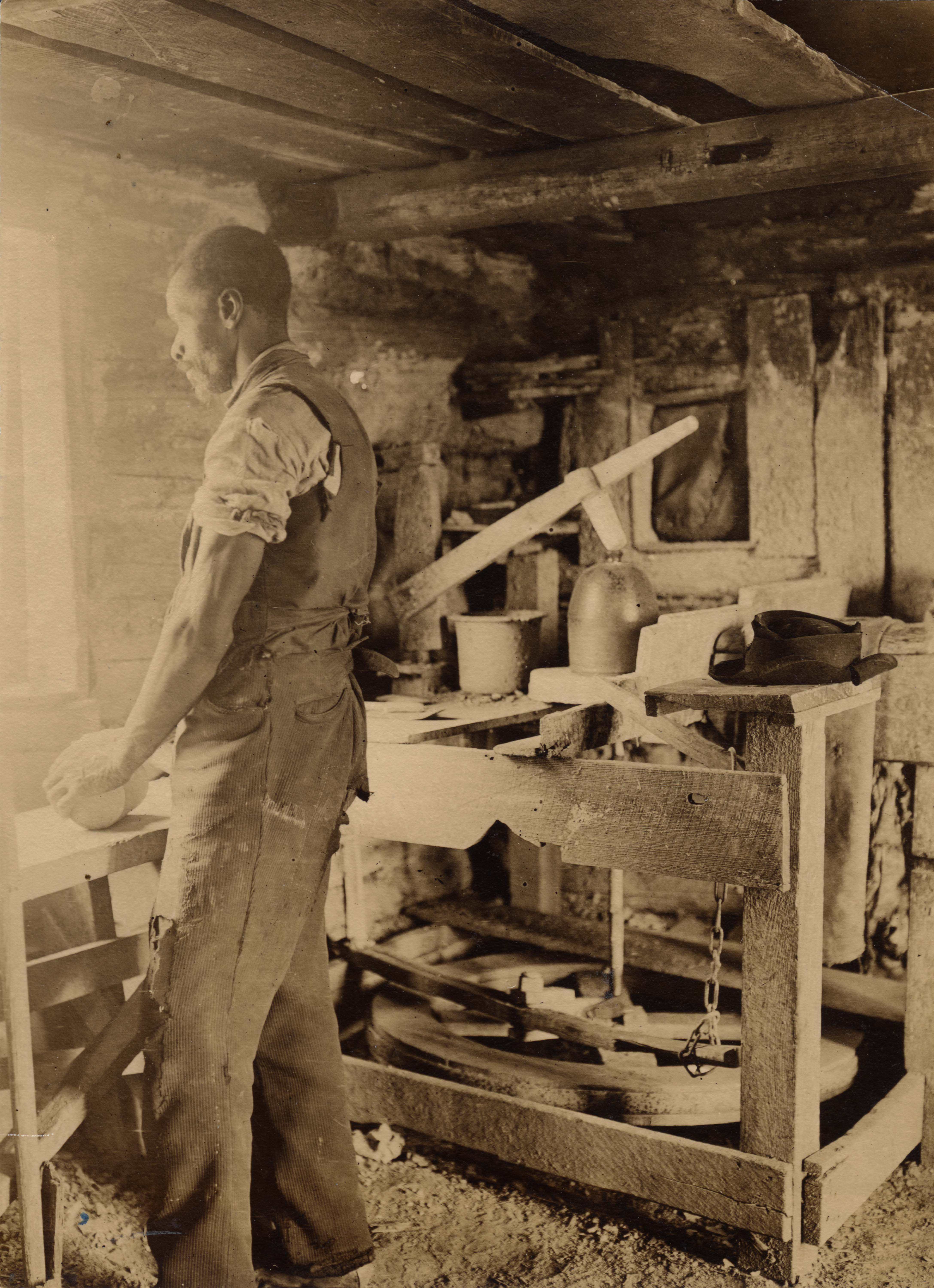 While Abner Landrum established the use of alkaline glazes in the South, master potter Thomas Chandler (1810–54) elevated the aesthetics of Edgefield pottery. After moving to the area in the late 1830s, Chandler introduced distinctive celadon-colored glazes and slip decorating, in which liquid clay is brushed or trailed onto the vessel's surface before firing. His greatest competitor, the Collin Rhodes Factory, offered a variety of stoneware embellished with slip decoration. Another legendary figure in Edgefield, the enslaved potter known as Dave (c. 1800–70s), who took the surname Drake following emancipation, first worked at Pottersville. Remarkably, during an era of extreme oppression, Dave signed and dated many of his pots, leaving an extraordinary record of his prodigious artistic talent. Dave was the only antebellum Southern potter to inscribe poetry onto wares, and he created some of the largest handmade storage jars ever produced in the United States.
As Edgefield potters left South Carolina beginning in the 1820s, lured by land in westward states including Georgia, Alabama, Mississippi, and Texas, they disseminated the craft of alkaline-glazed stoneware. Thomas Chandler and Collin Rhodes both moved from South Carolina in the early 1850s. A steady decline in pottery manufacturing in Edgefield accelerated with the onset of the Civil War and the demise of the plantation system. This exhibition features stoneware made by Thomas Chandler, David Drake, Collin Rhodes Factory, and other antebellum and postbellum makers.
This exhibition was made possible through a generous loan from Kenneth Fechtner.
Special thank you to Dr. John A. Burrison for lending his scholarly expertise to the exhibition.
[top image]
Robert Mills' map of Edgefield District  1825
South Carolina
Collection of Kenneth Fechtner
R2020.1401.022

[bottom image]
Rich Williams in his pottery workshop  c. 1910
near Gowensville, South Carolina
Photograph by Margaret W. Morley
Courtesy of the North Carolina Museum of History
R2020.1402.001
© 2021 by San Francisco Airport Commission. All rights reserved.