Departures Level 2, Gallery 1D
Apr 14, 2022 - Nov 09, 2022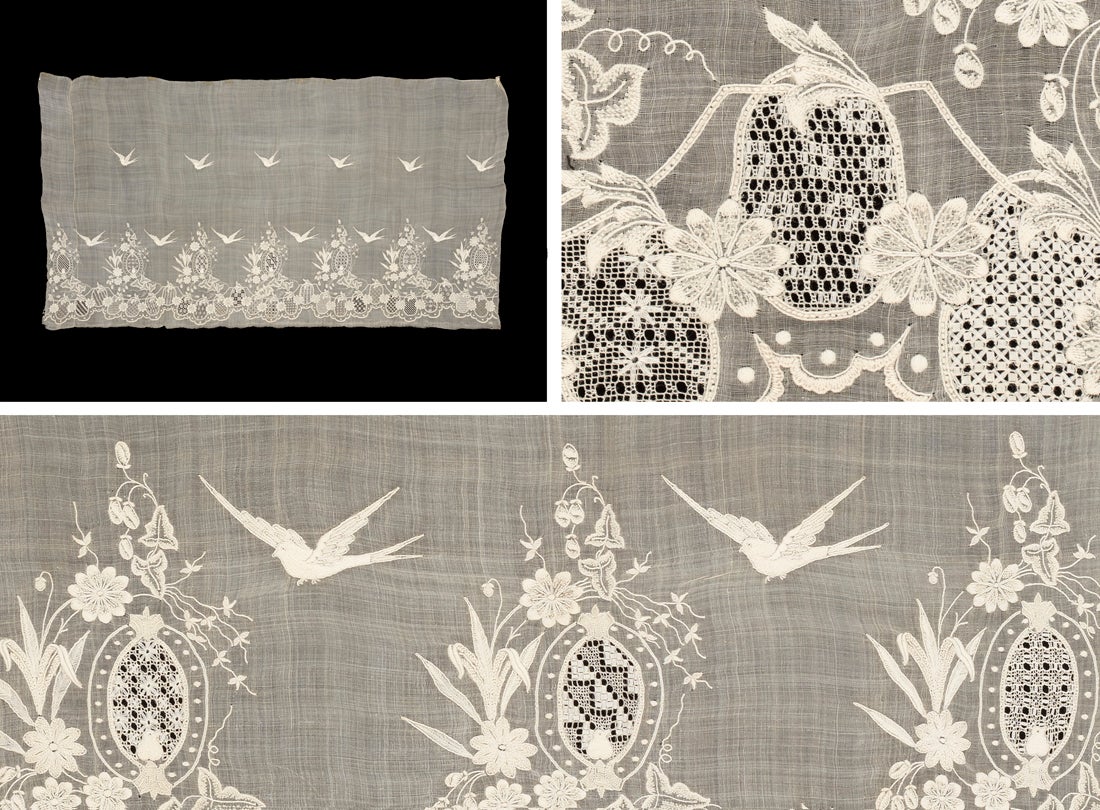 1 of 12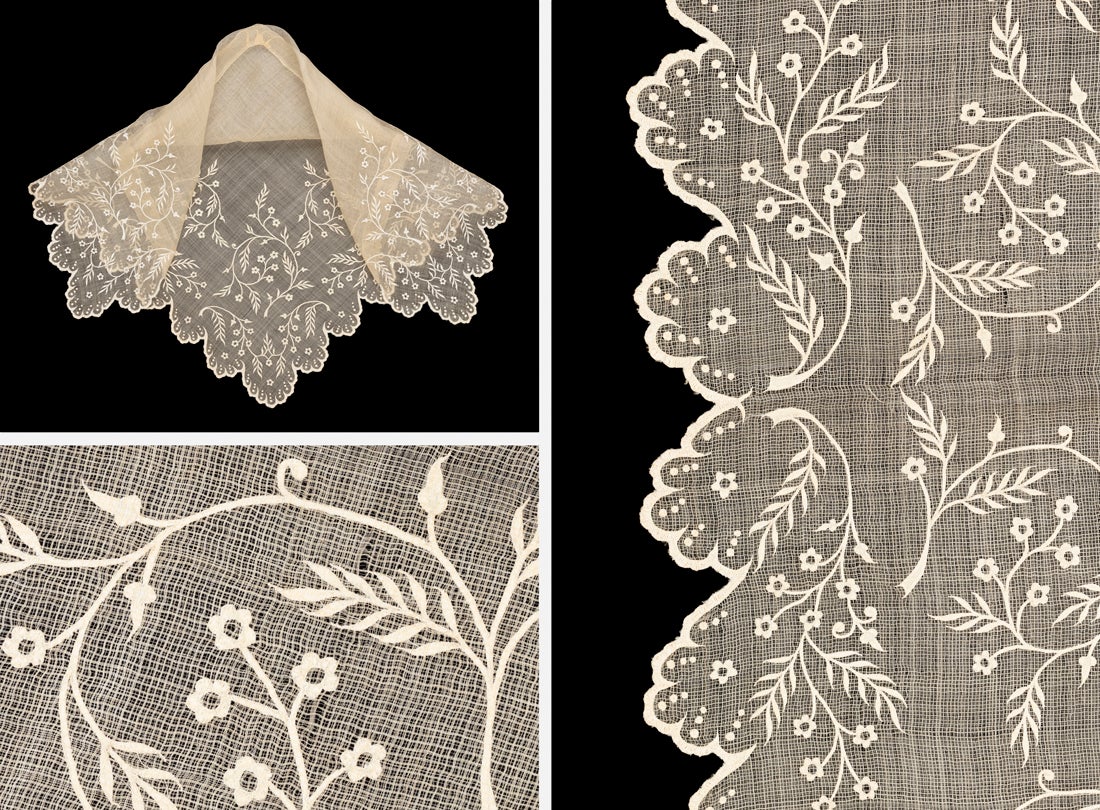 2 of 12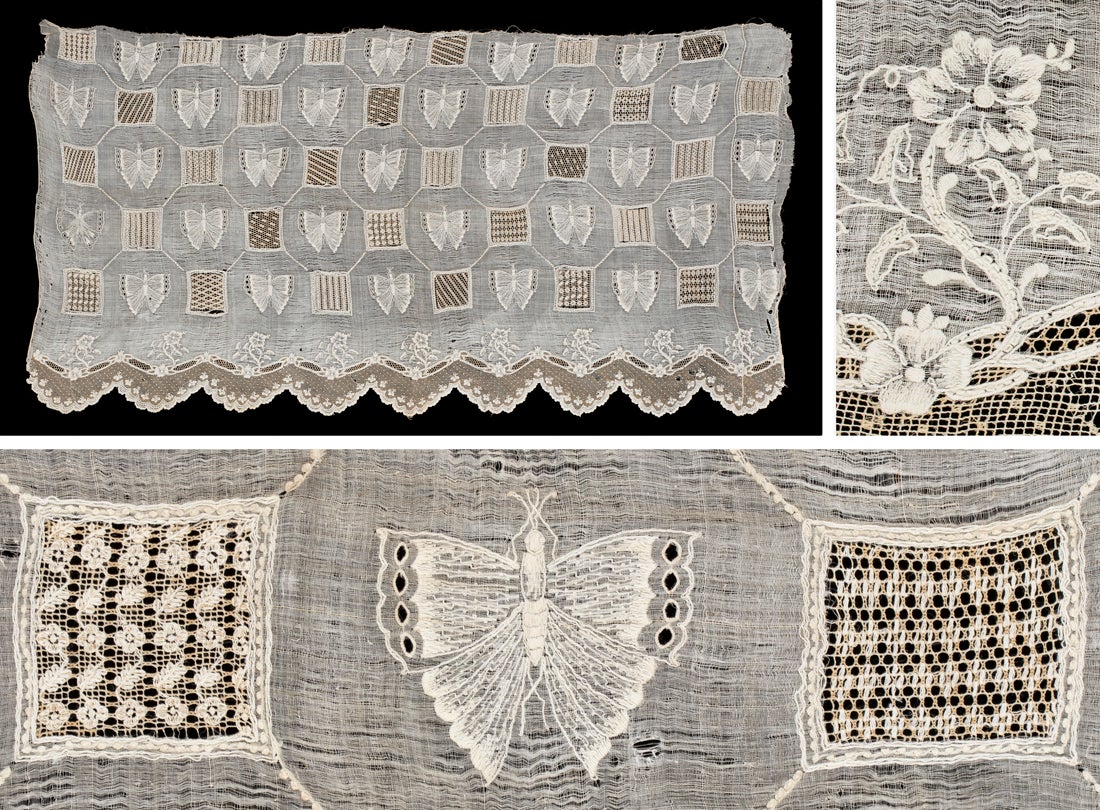 3 of 12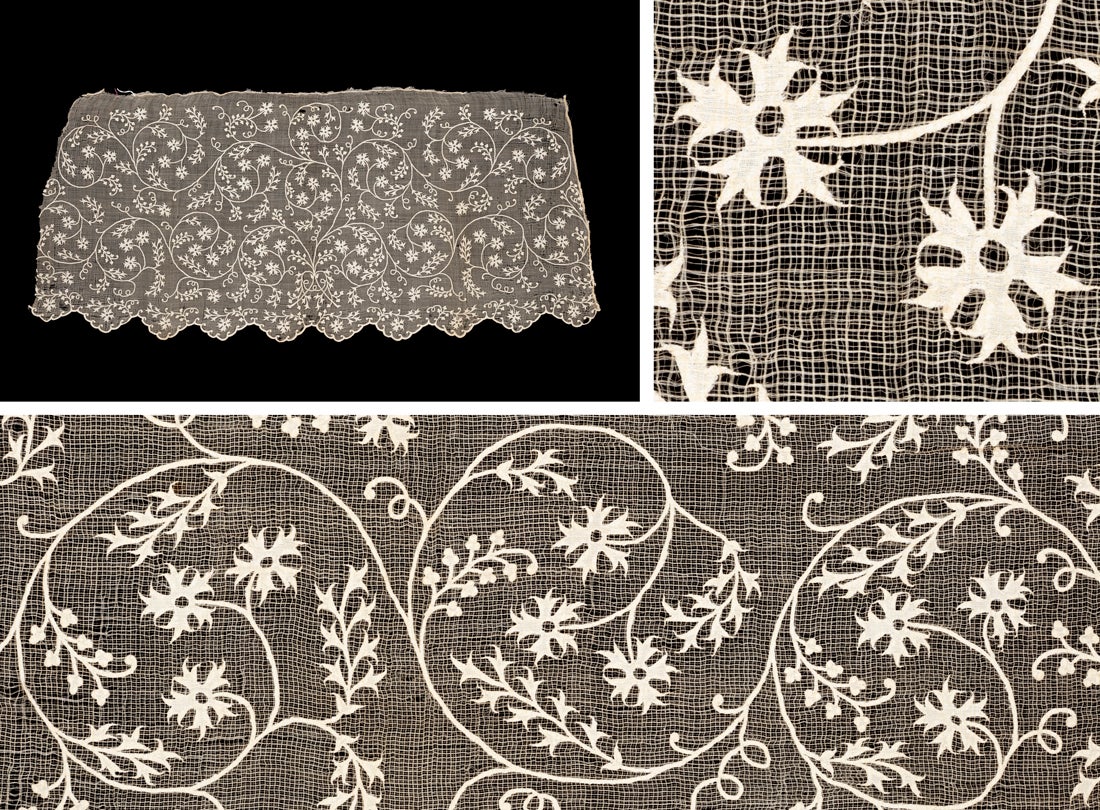 4 of 12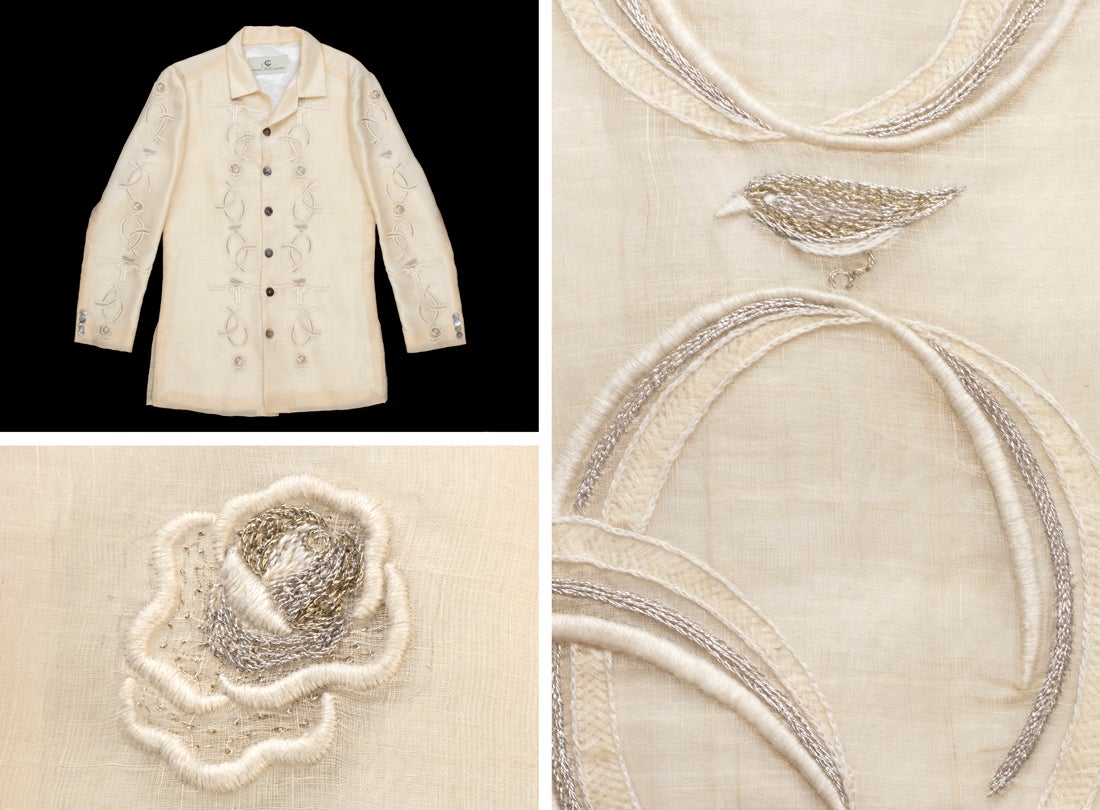 5 of 12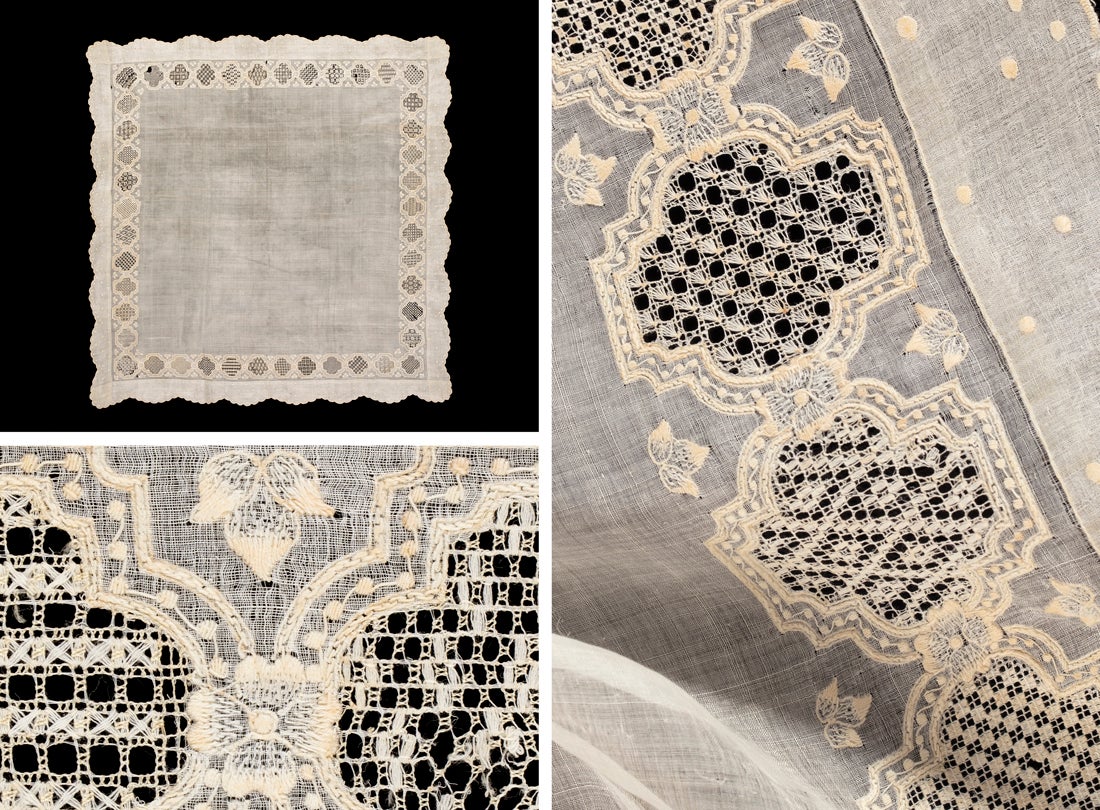 6 of 12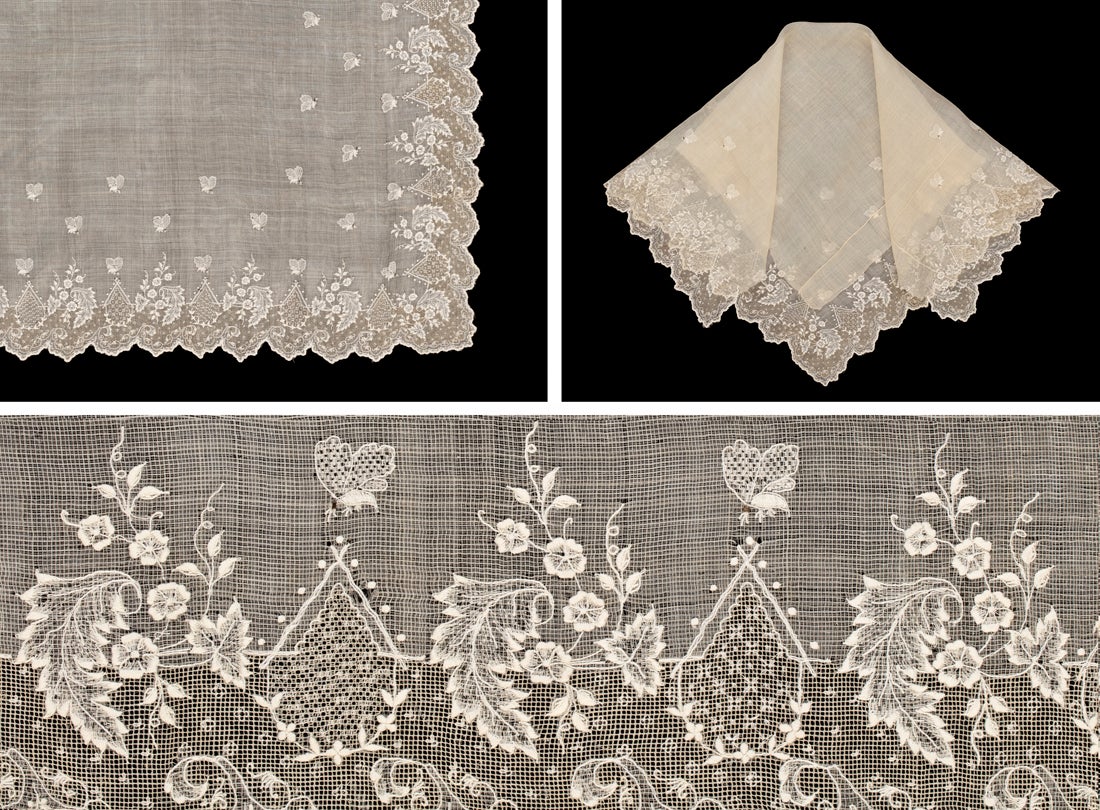 7 of 12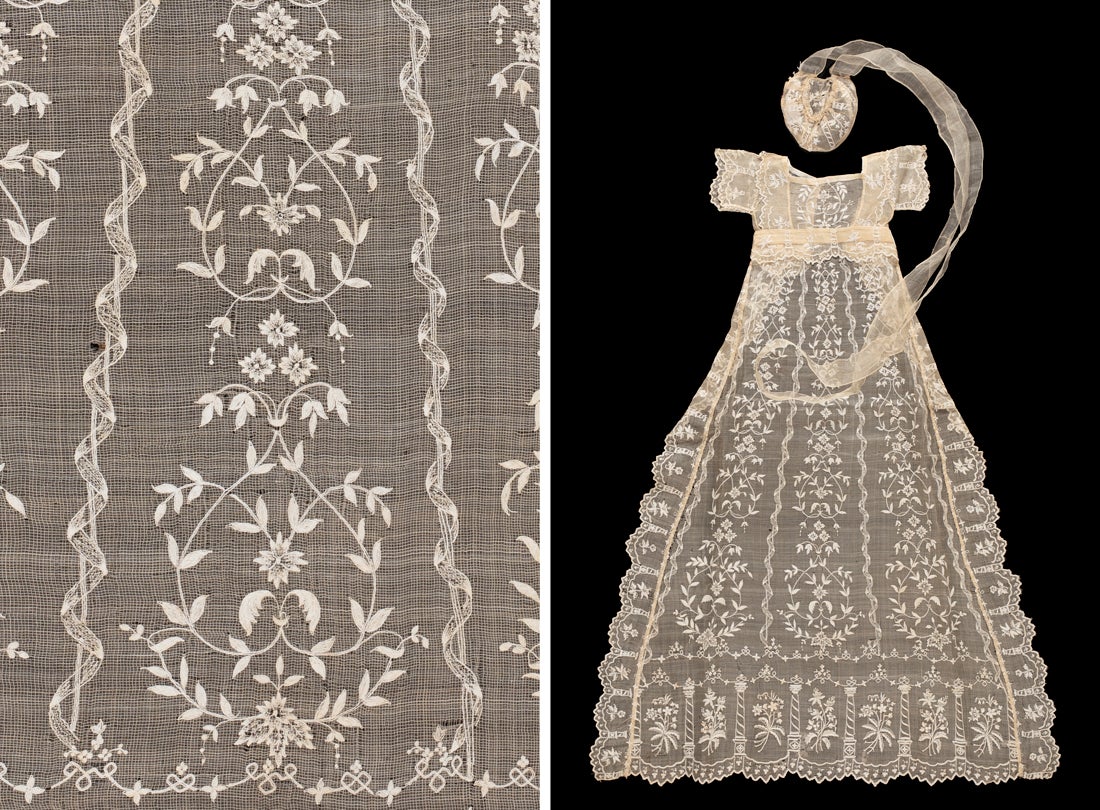 8 of 12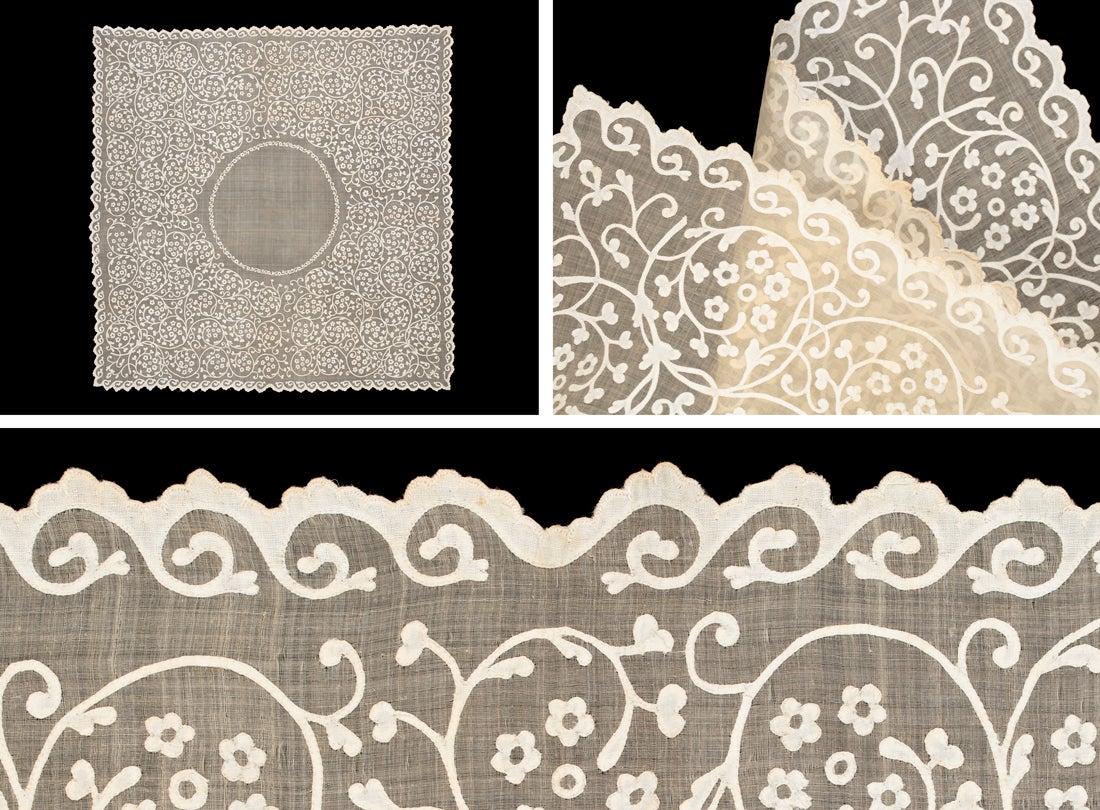 9 of 12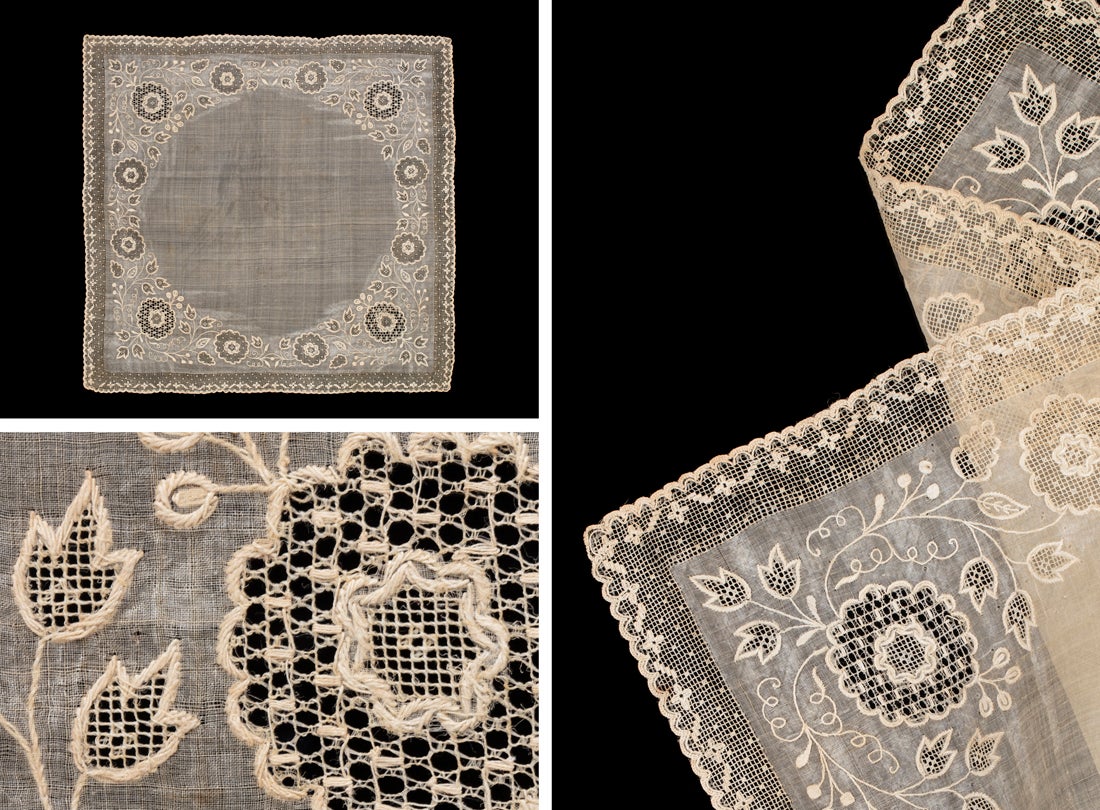 10 of 12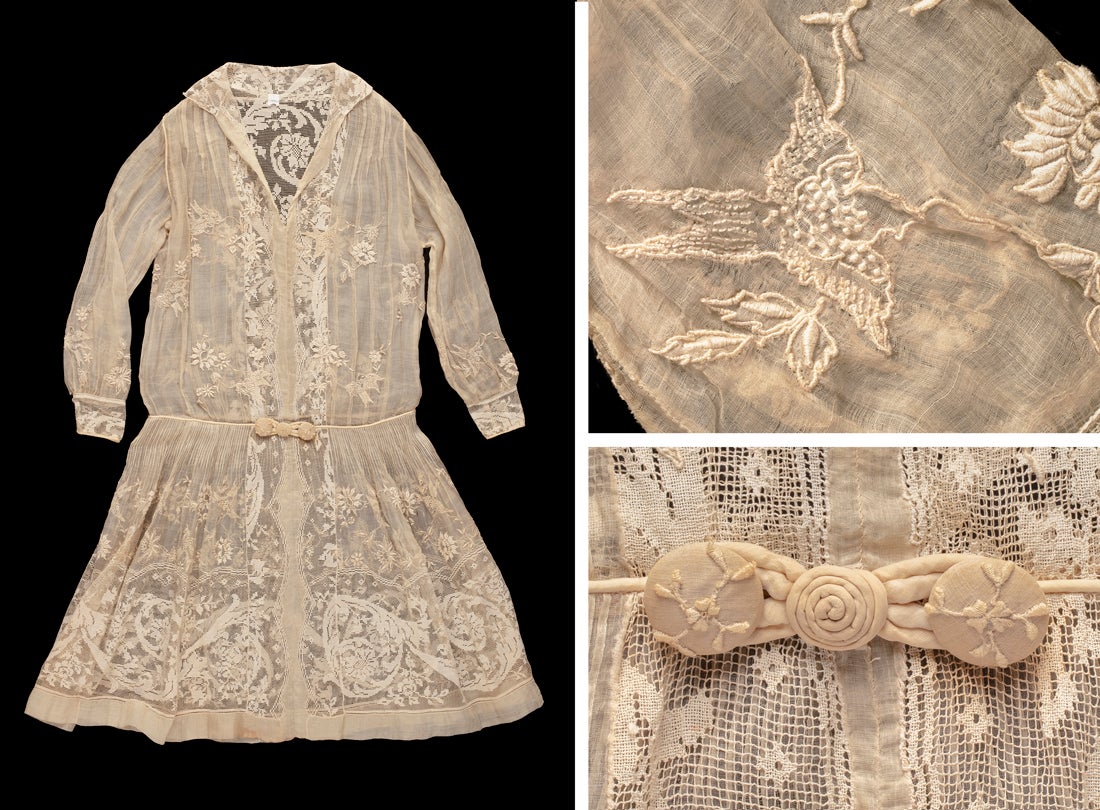 11 of 12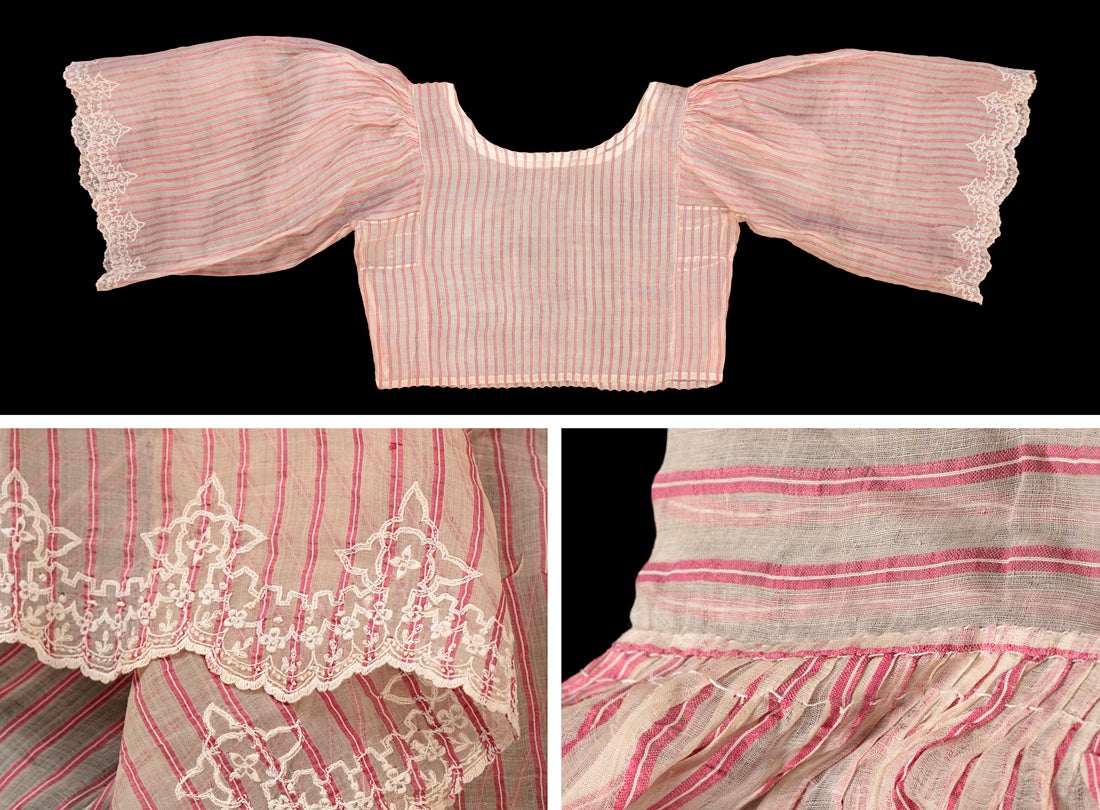 12 of 12
María Clara sleeve with bird motifs  early 20th century 
Philippines
intricate, non-repetitive calado patterns on piña
Collection of Lacis Museum of Lace and Textiles
17833 
L2022.0301.005
The Pineapple
The pineapple plant, known all over the world for its delicious fruit, is indigenous to Central and South America. The coveted fruit was taken around the world in record time following the arrival of Europeans in the Americas. The pineapple has a lengthy history in the Philippines, where it was likely introduced by the Spanish in the late sixteenth century. The country's fertile soil and suitable climate allowed for the rapid spread of the plant, and the Philippines remains one of the leading distributors and exporters of preserved and fresh pineapple products today. The Philippines is the only country that utilizes pineapple leaves to create lavishly embroidered piña cloth. In India, some pineapple cloth was woven, though pineapple fibers were used mainly in the manufacture of thread. When pineapples are cultivated for fibers, the fruit is removed early in the growing stage so that the leaves receive more nourishment and reach greater lengths. The best fibers are produced when the plant is grown in shady areas.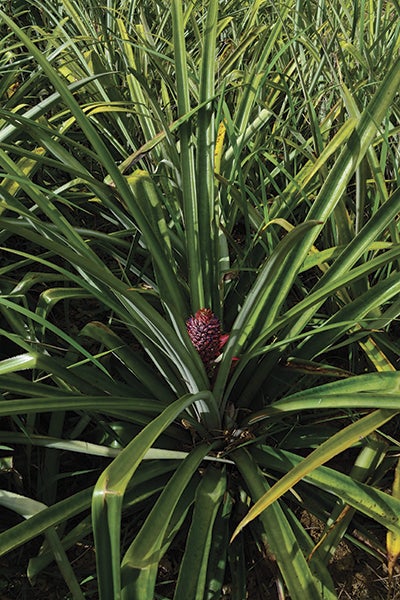 [image]
Red Spanish pineapple plant  c. 2015
Courtesy of The Hinabi Project and NTFP-EP
R2022.0303.009
María Clara pañuelo  late 19th–early 20th century 
Philippines
sombrado embroidery on rengue weave piña
Collection of Lacis Museum of Lace and Textiles 
33603 
L2022.0301.030.01
The María Clara Ensemble 
The María Clara derives from the traditional female baro't saya attire, which consists of a loose, long-sleeved blouse over a wide ankle-length skirt. Light and airy, the María Clara served as the formal female ensemble of the Philippines in the late nineteenth century and was perfectly suited to the humid climate. The romantic outfit, often worn by mestizas or women of mixed Philippine and Spanish descent, combined Indigenous and Spanish influences. The name María Clara comes from the female heroine in the novel Noli Me Tángere, written in 1887 by the Filipino author José Rizal (1861–96). It consists of a blouse or camisa, which has bell-shaped sleeves or "angel wings," a long skirt or saya, and a pañuelo or square piece of cloth folded several times and placed over the shoulders. The puffy sleeves were often temporarily basted onto a camisa when worn, and then dismantled for washing, ironing, and flat storage. Pañuelos, likely inspired by shawls, provided protection from the sun as well as modesty due to the camisa's sheerness and low neckline. Simultaneously, they served as the most decorative accents due to their lavish handwork embellishments. A tapis, or overskirt, completed the outfit.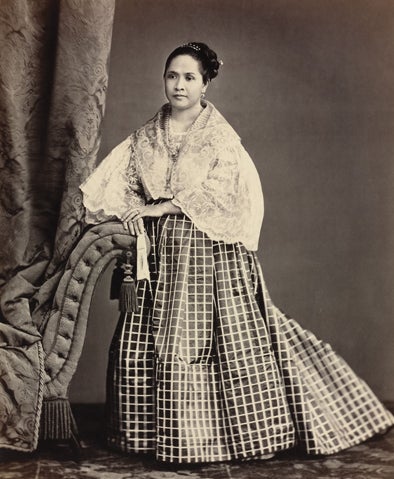 [image]
Portrait of woman in María Clara ensemble  
Álbum de Filipinas (1870)
Courtesy of the Biblioteca Nacional de España
R2022.0305.005
María Clara sleeve with moth motifs  mid-19th century
Philippines
calado embroidery on plain weave piña
Collection of Lacis Museum of Lace and Textiles
17815 
L2022.0301.016.01
Embroiderers (Bordadoras)
During Spanish colonization, young Filipina women acquired a Western education at convents, orphanages, and schools that were established in cities and provinces throughout the Philippines. Female students learned all manner of needlework, from basic stitches to intricate embroidery. As with weaving, young girls were taught that needlework was a virtue and a necessary preparation for married life. The Spanish influenced embroidery styles as did Chinese immigrants who excelled at handwork. Artisans mastered such an impressive array of styles and techniques that their works garnered praise and earned prizes in competitions from Manila to Madrid. Early examples of piña exhibit high levels of intricate detail, requiring extreme patience and skill. Today, most fabric is embroidered by artisans in Manila or Lumban, thirty-five miles southeast of the capital city, where entire families often work together as a freelance enterprise. Embroidery designs may take days, weeks, or months to complete depending on the intricacy of the designs.
María Clara sleeve  early 20th century
Philippines
surface embroidery and calado infillings on rengue weave piña
Collection of Lacis Museum of Lace and Textiles
R2022.0301.003.02
Handwork Types and Motifs
The two most spectacular forms of piña handwork include calado (pullwork) and sombrado (appliqué). Extremely fine calado entails pulling together selected fibers from the fabric to create uniform open areas in the weave; areas may then be embellished by embroidery to create a variety of geometric patterns. By the early twentieth century, calado work was limited to simple open grid patterns. The other painstaking technique, sombrado, involves a type of appliqué, in which pieces of fabric, either very fine white cotton or piña, are cut into designs; the edges are then rolled and carefully stitched onto the fabric. Rengue is a weaving technique where warp and weft threads are grouped to simulate the overall calado effect in far less time. Design motifs on piña include leaves, vines, birds, flowers, and butterflies. There is no evidence that patterns were documented—the work was left to the imagination of the embroiderer. Numerous non-repetitive patterns appeared from about 1890 to 1900 when the María Clara ensemble reached its peak in popularity.
Men's piña formal shirt jacket  c. 2010
piña with hand embroidery in carabao, 
bird, ribbon, and flower motifs 
Designed by Anthony Cruz Legarda (b. 1963)
San Bruno, California
Courtesy of the artist
L2022.0302.001
The Barong Tagalog
The traditional men's blouse of the Philippines, the barong tagalog, is a sheer, long-sleeved embroidered formal shirt worn untucked and made from piña or other natural fibers. The design derives from a simple, collarless shirt worn by men and women in the pre-colonial Philippines. The tunic evolved from a much longer version in the early nineteenth century to the "classic" barong tagalog by the mid-nineteenth century. The quality of the material and intricacy of the embroidery reflected the social status of its wearer. The shirt's popularity waned during the American occupation of the Philippines. However, in 1953, President Ramón Magsaysay (1907–57) wore a barong tagalog at his inauguration and throughout his presidency. Other leaders followed his example, and in 1975, President Ferdinand Marcos (1917–89) issued a decree designating the barong tagalog, and the baro't saya, the indigenous women's attire, as the official national attire. Public and private employees also began wearing the shirt. The first female president of the Philippines, Corazon Aquino (1933–2009), often wore a barong tagalog.  

[image]
Portrait of man wearing a barong tagalog   1841
Justiniano Asuncion (1816¬–1901)
The Miriam and Ira D. Wallach Division of Art, Prints and Photographs: Art & Architecture Collection, The New York Public Library. "Un Mestizo Chino" The New York Public Library Digital Collections. 
R2022.0304.002  
Pañuelo or shawl  late 19th century
Philippines
calado embroidery in Western sampler 
tradition on plain weave piña
Collection of Lacis Museum of Lace and Textiles
17839
L2022.0301.038 
Fiber Extraction and Processing
While stem fibers, such as hemp, have coarse fibers, the pineapple contains extraordinarily fine, yet incredibly strong fibers. The leaves grow up to sixty inches in length and produce equally long fibers. The manufacture of pineapple fibers into cloth in the Philippines is a centuries-old enterprise that remains virtually unchanged, despite efforts to mechanize the industry. Today, small farmers in the Aklan province continue to supplement their incomes by growing pineapple for the cultivation of textile fiber. Traditionally, mature leaves are harvested by hand. After the thorny strip is removed from each side, the leaf is laid upon a board and scraped, often with a broken plate, to remove the pulp and reveal the fiber. Coarse white fibers called bastos are peeled away and used to make twine. An additional scraping produces liniwan fibers, which are more delicate than human hair and saved to craft piña. Craftspeople gently wash the fibers under running water or in a stream or river to prevent tangles. Any remaining pulp is removed, and the fibers are then dried in the sun. Shorter or damaged fibers are carefully extracted from the bundle.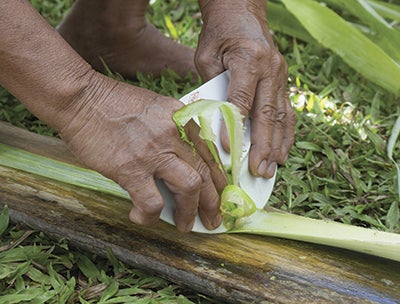 [image]
Scraping the pulp from the pineapple leaf  c. 2015
Courtesy of The Hinabi Project and NTFP-EP
R2022.0303.002
María Clara pañuelo with bee design  early 20th century
Philippines
calado and surface embroidery on rengue weave piña
Collection of Lacis Museum of Lace and Textiles
33608 
L2022.0301.015.02
Crafting Thread and Weaving Piña Cloth 
To maintain the fineness of piña fiber after it is extracted from the leaf and processed, individual three- to four-foot fibers are painstakingly knotted together by hand rather than spun on a wheel. A quick weaver's knot joins the thread; a tail that is cut off creates a single, nearly seamless thread. Hand knotting fibers together requires the utmost care so that the fibers do not break. Fibers are graded; historically, the finest ones were used to weave fabrics with thread counts of 320 threads per square inch. 
Weavers use bamboo looms to weave piña fibers into cloth. A spinner winds the continuous thread onto small reels with the aid of a spinning wheel. The thread is then wrapped back and forth between pegs on a wooden cylinder or flat board in preparation for setting up the warp on a hand loom. Warping enough filament for weaving fabric twenty-four to thirty-two inches wide may require fifteen to twenty days. A skilled weaver can produce striped, checked, and patterned fabrics in addition to plain weaves, a yard of which can require eight hours to produce. Piña may be blended with silk, abaca (closely related to banana fiber), or cotton to strengthen the fabric without sacrificing sheerness. Blending also yields a more affordable finished product.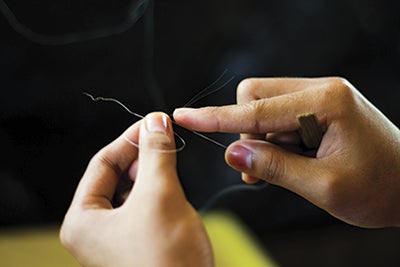 [image]
Knotting fibers by hand  c. 2015
Courtesy of The Hinabi Project and NTFP-EP
R2022.0303.005
Christening dress and cap  c. 1900
Philippines
surface embroidery on rengue weave piña 
Collection of Lacis Museum of Lace and Textiles
17779 
L2022.0301.017.01-.02
Early 20th Century Piña
The quality of nineteenth-century piña textiles and embroidery is unsurpassed. The embroidery industry continued to thrive in the early twentieth century, particularly as an export industry encouraged by American colonists who occupied the Philippines from 1898 to 1946. Many women and girls learned lace making, embroidery, and crochet and supplemented the income of their families by creating a variety of household linens. Piña remained a distinct Philippine product, popular in the West as high-end linens, souvenirs, handbags, handkerchiefs, and other accessory items. 
America's cultural influence dramatically changed Philippine fashions. By the early 1900s, less costly substitutes for local handwoven fabrics were imported from abroad and American forms of dress were quickly adopted. As a result, the María Clara ensemble fell out of fashion. During World War II, the Japanese occupied the Philippines from 1942 to 1945. Many handlooms were destroyed during the war and the demand for piña products diminished. 
Pañuelo  c. late 19th century
Philippines
sombrado embroidery on plain weave piña
Collection of Lacis Museum of Lace and Textiles
17829 
L2022.0301.029
Piña Revival  
Maria Beatriz "Patis" Pamintuan Tesoro (b. 1950) has devoted over thirty years to preserving ethnic Filipino clothing and reviving the piña fabric industry, introducing Philippine textiles and fashion to an international audience. In the 1980s, she successfully campaigned the Philippine government to revive piña production and fund training programs for new artisans. 
Although the Philippine Textile Research Institute began exploring ways to mechanize piña with machine-assisted fiber extraction as early as the 1970s, hand production by small enterprises still predominates. Contemporary piña is often combined with other fibers, primarily silk (piña seda). In addition to embroidery, fabric may instead have painted or printed designs. The production of piña is naturally "green," with farmers and artisans crafting this Philippine national treasure from a sustainable resource that is free of pesticides and produced in a chemical-free process.
Anthony Cruz Legarda (b. 1963), a Filipino American fashion designer, employs fabrics in his collections that are handwoven, embellished, and dyed with natural pigments by Indigenous master weavers from the Philippines. Legarda's clothing encourages the development of eco-entrepreneurship and sustainable fashion by honoring traditional methodologies and fair trade with native artisans. His signature textile is piña, and he has played a pivotal role in incorporating the fabric into high fashion designs, including bridal gowns, women's couture, and men's shirts.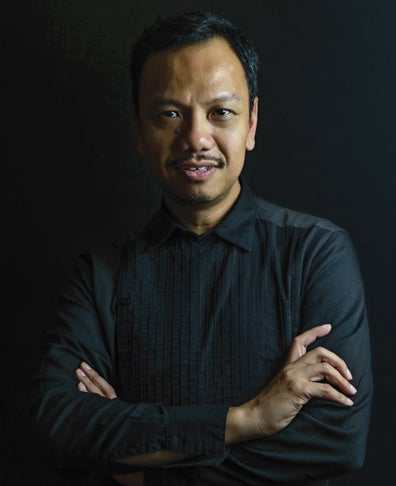 [image]
Portrait of Anthony Cruz Legarda  2015
Photograph by Kent Vives
R2022.0307.001
Handkerchief  early 20th century
Philippines
surface embroidery and calado on piña
Collection of Lacis Museum of Lace and Textiles
17591 
L2022.0301.041
Handkerchiefs, like samplers, displayed an infinite variety of handwork to showcase embroiderers' talent and skills. Intricately embroidered handkerchiefs made appropriate gifts for royalty. Handkerchiefs also served as keepsakes and were part of a genteel lady's attire. Nineteenth-century portraits of ladies in their María Clara ensembles commonly depicted them holding the ubiquitous Spanish fan in one hand and a piña handkerchief in the other.
Evening dress  c. 1920s
Philippines
hand stitched pin-tucks and inserts of filet lace 
with overlaid surface embroidery on piña
Collection of Lacis Museum of Lace and Textiles
18073 
L2022.0301.018
Piña inspired new fashions. This 1920s dress merges two very diverse cultures—it is made of piña and adorned with Western filet lace.
Camisa with red stripes  c. early 20th century
Philippines
surface embroidery on piña
red stripes of alternate fiber as an economy measure
Collection of Lacis Museum of Lace and Textiles
33767 
L2022.0301.022