Departures Level 2, Gallery HM1
Continuous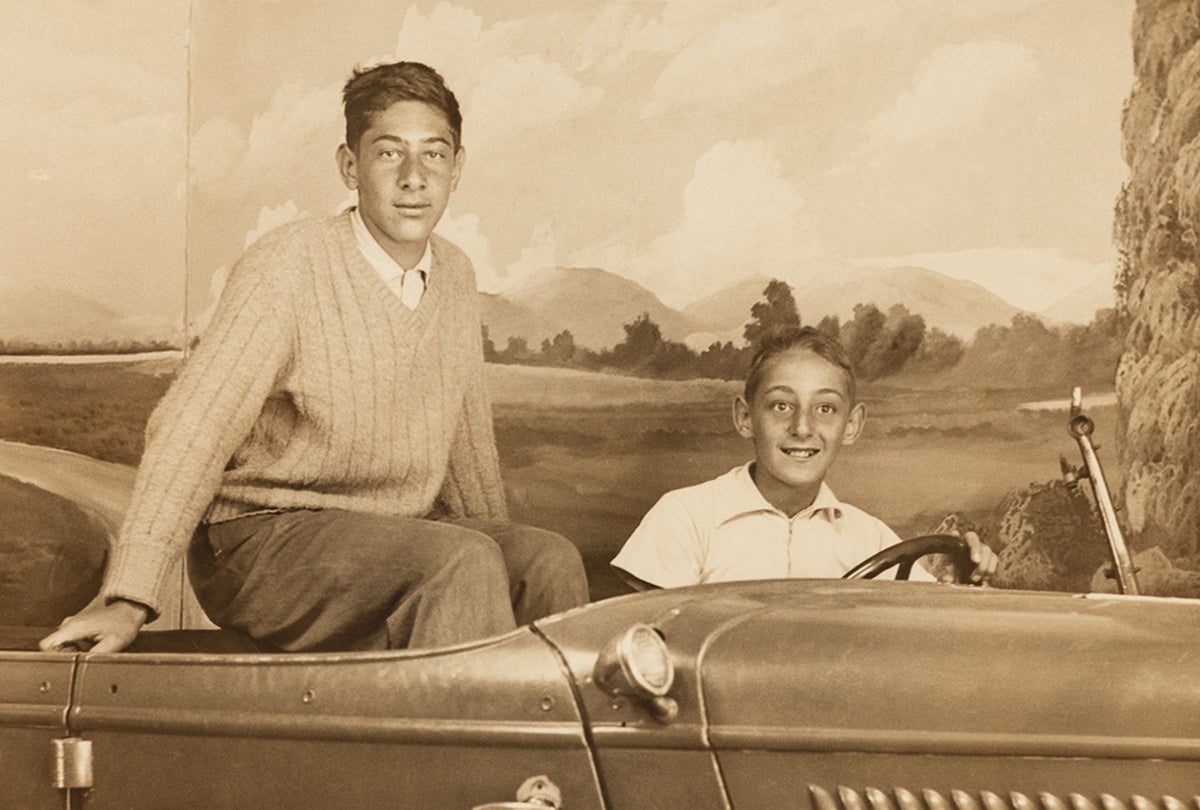 1 of 18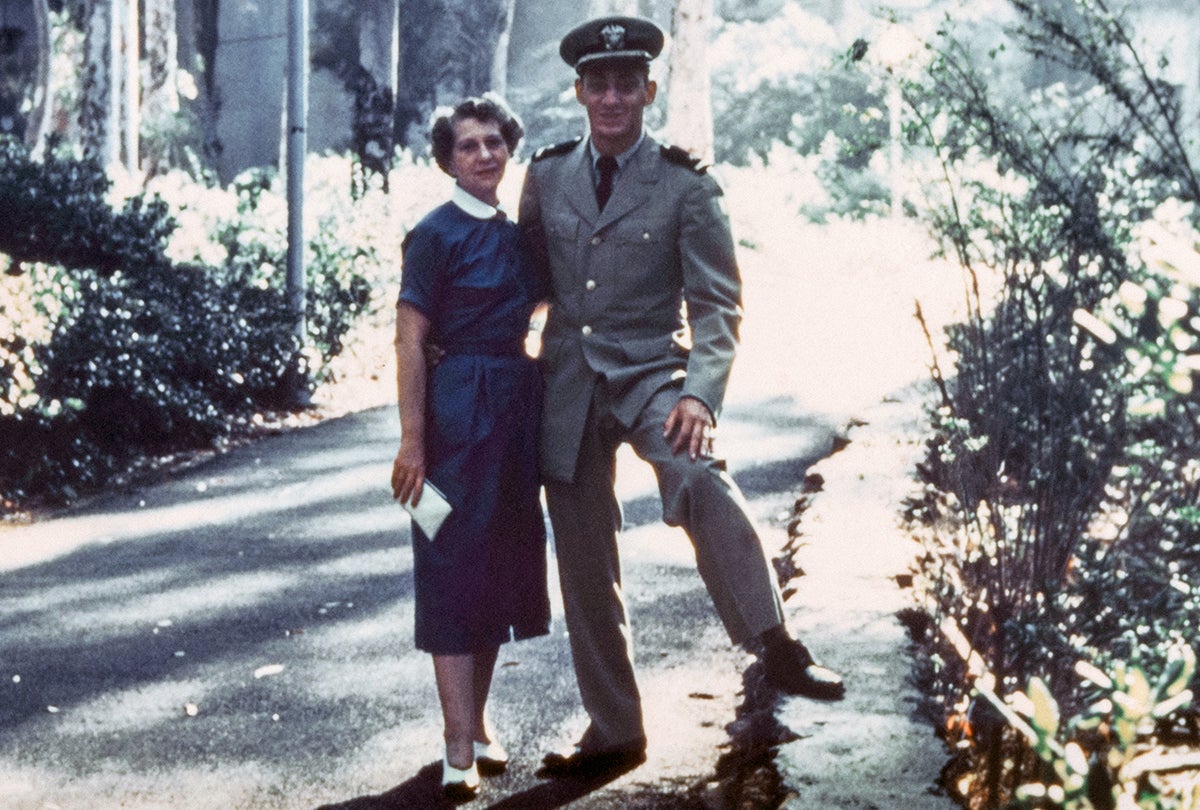 2 of 18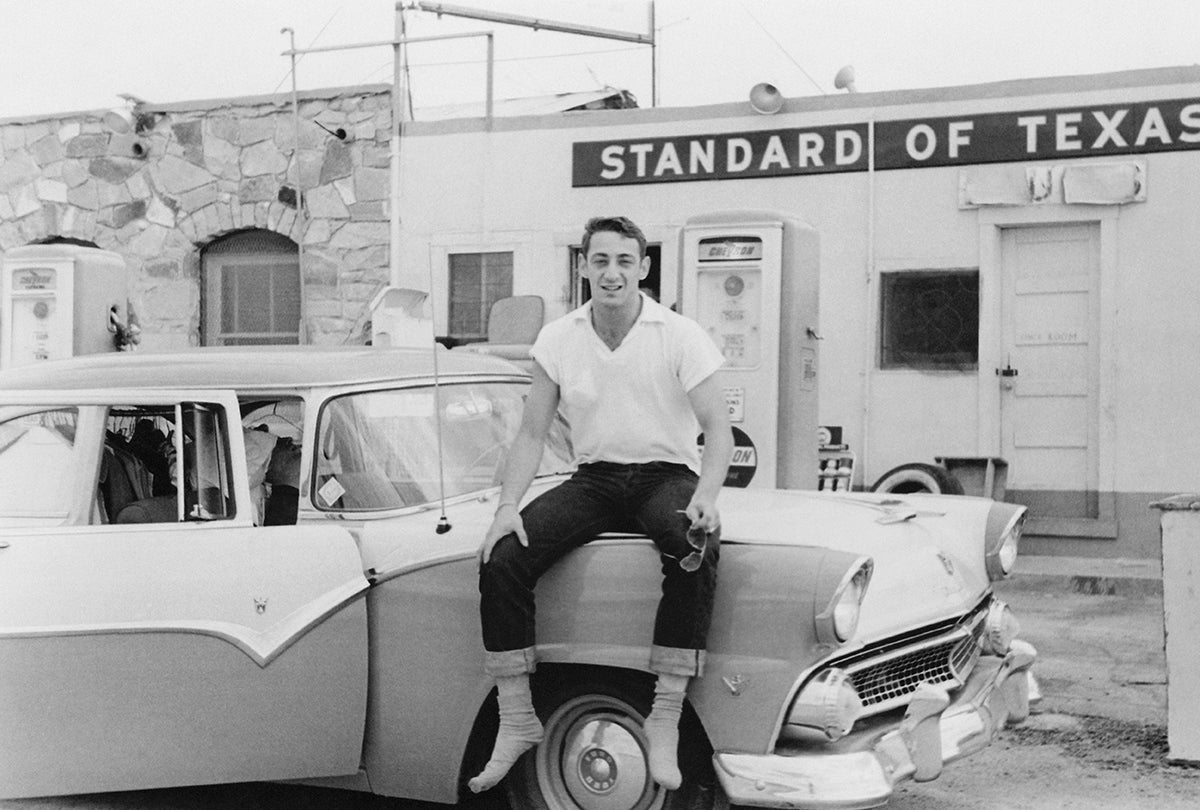 3 of 18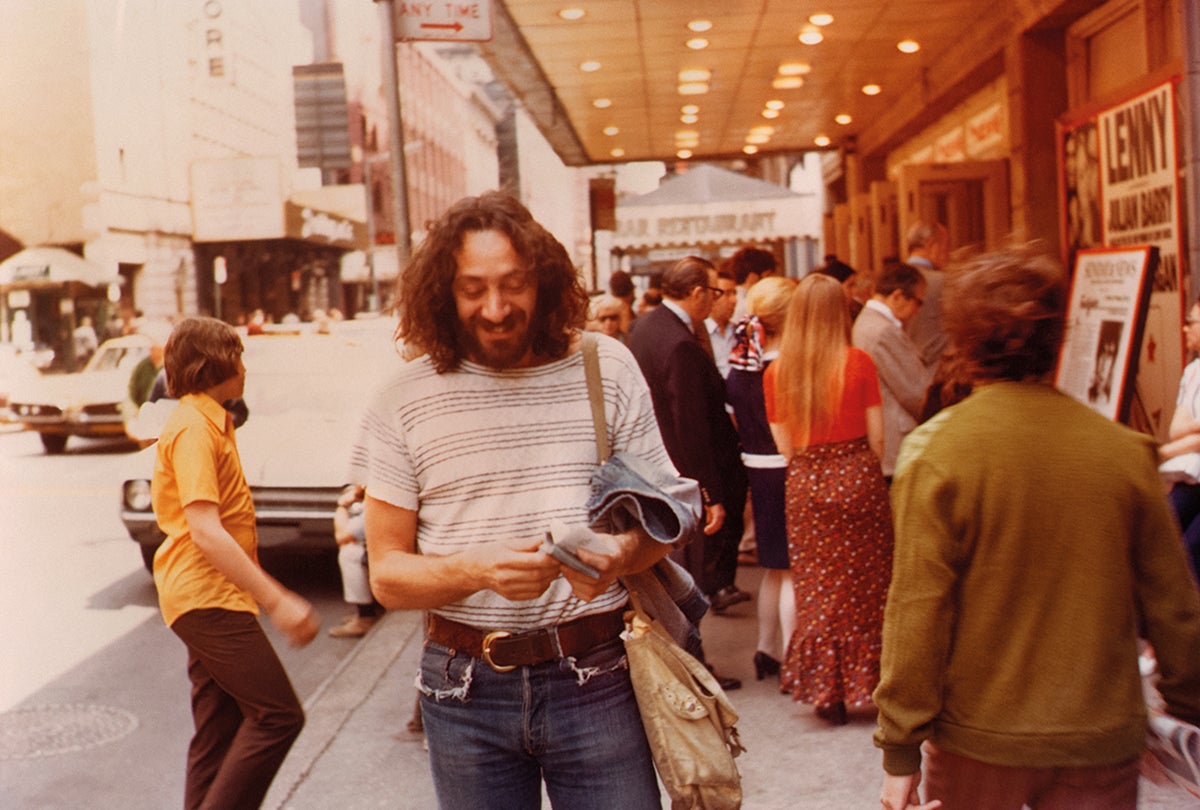 4 of 18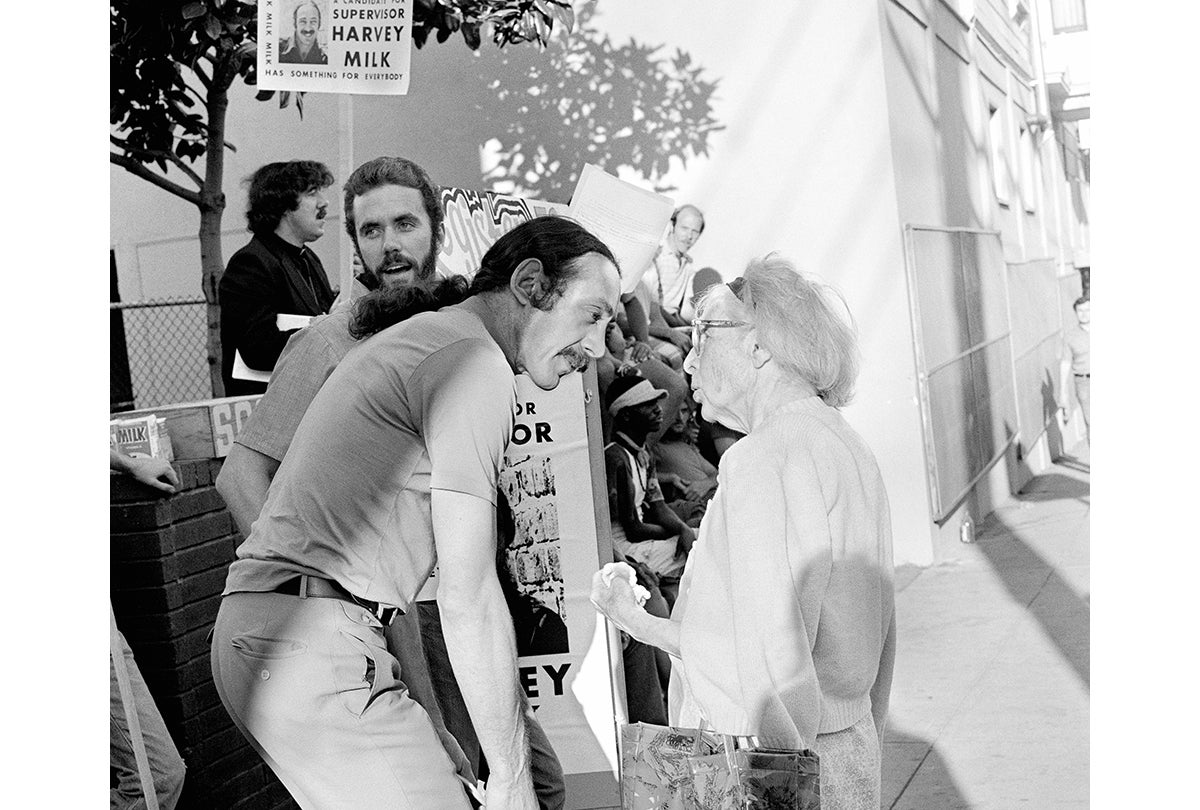 5 of 18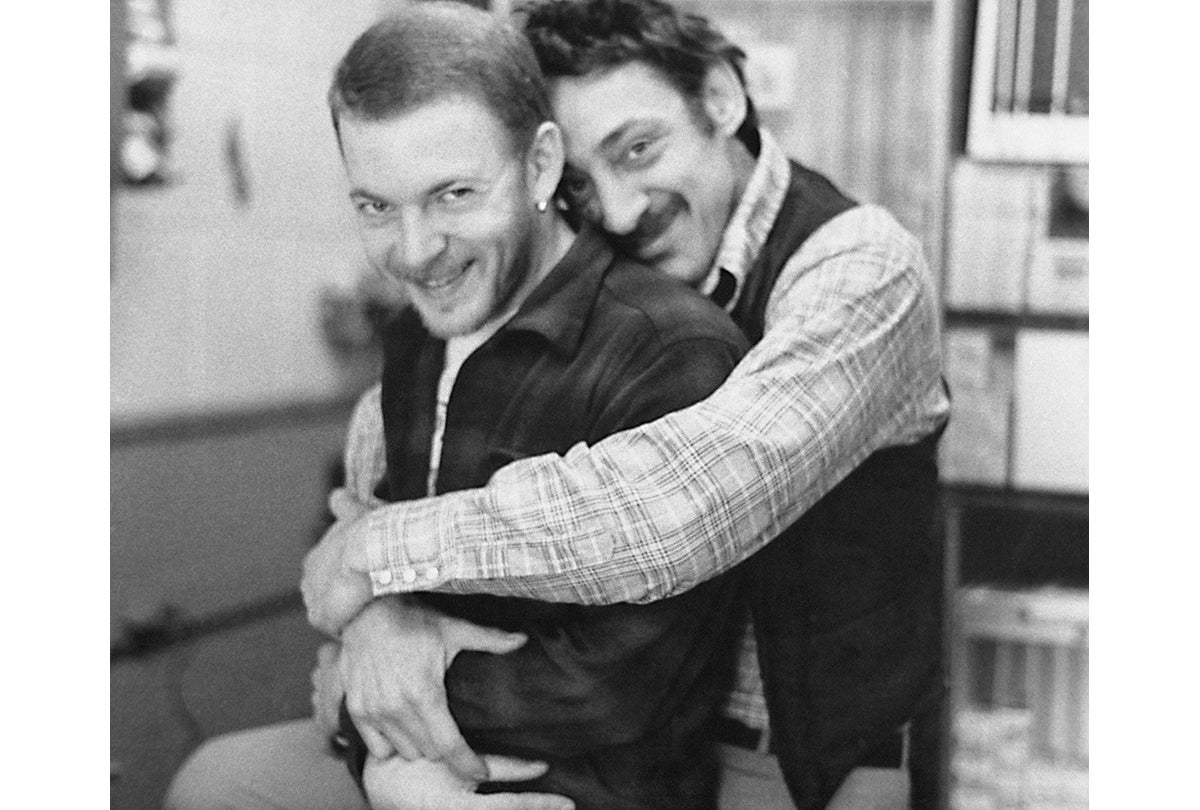 6 of 18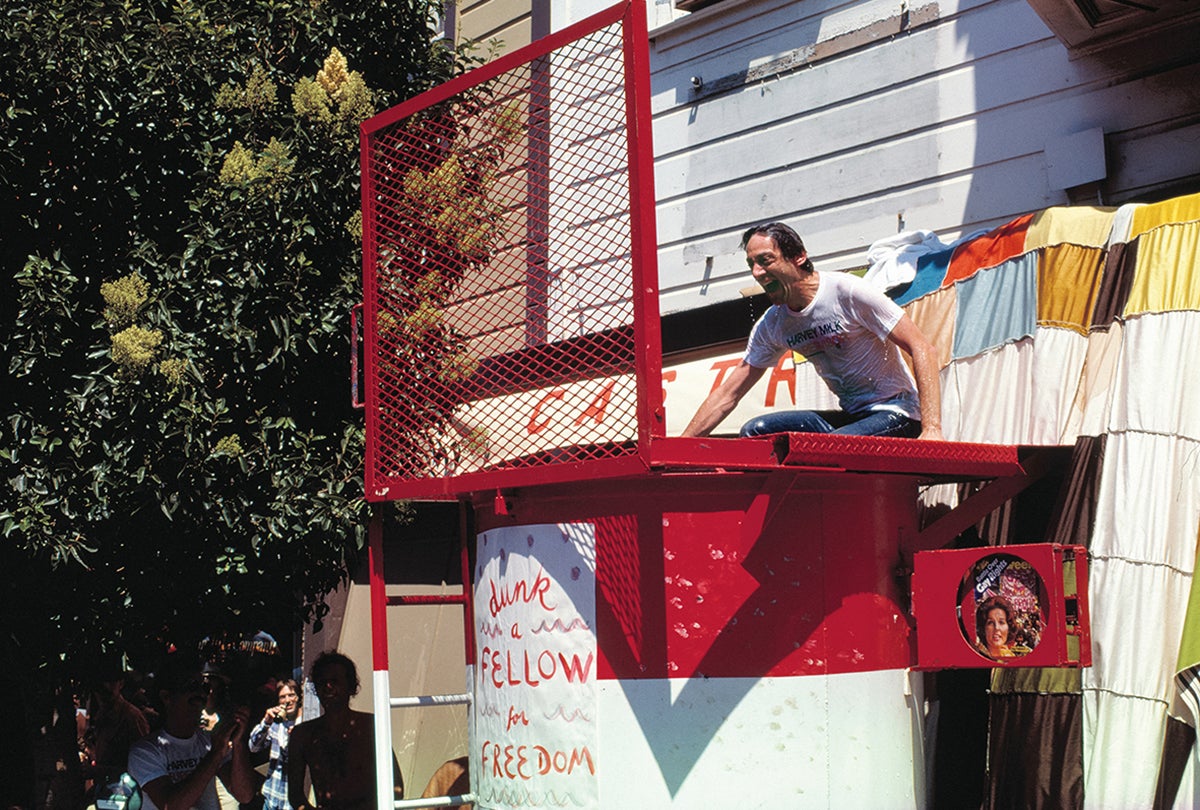 7 of 18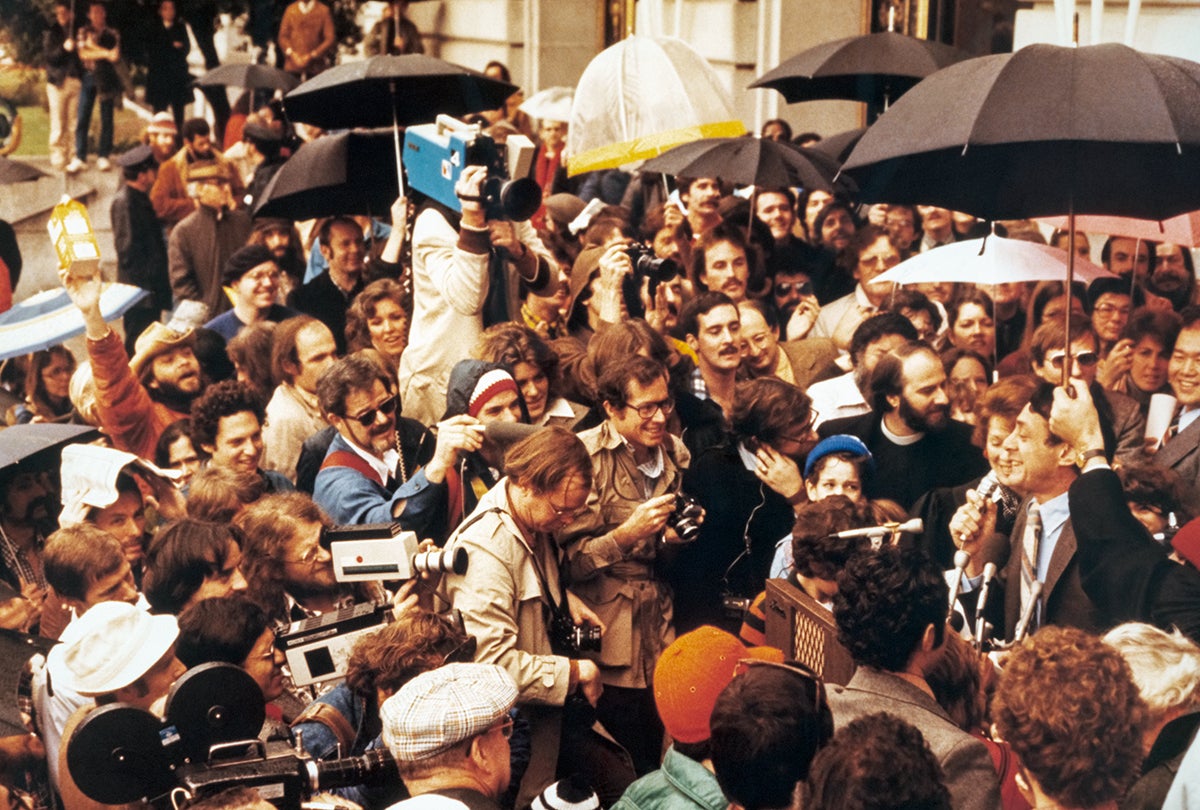 8 of 18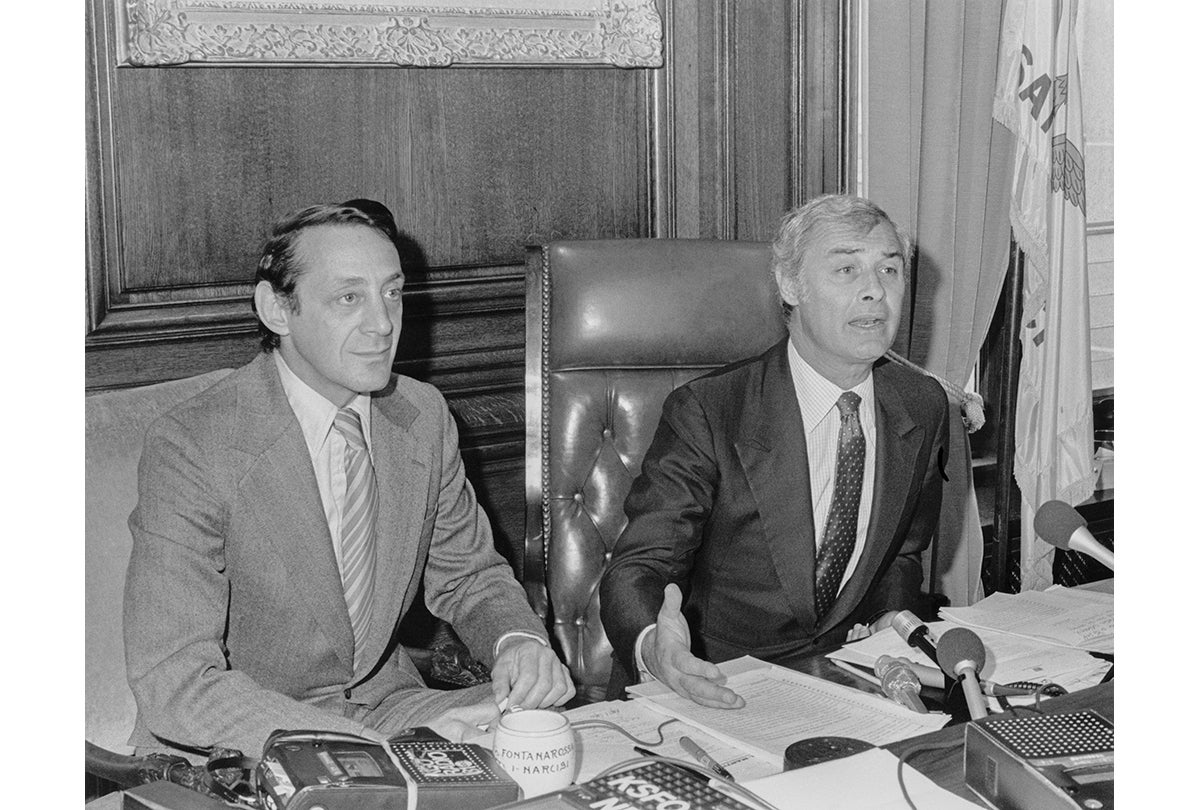 9 of 18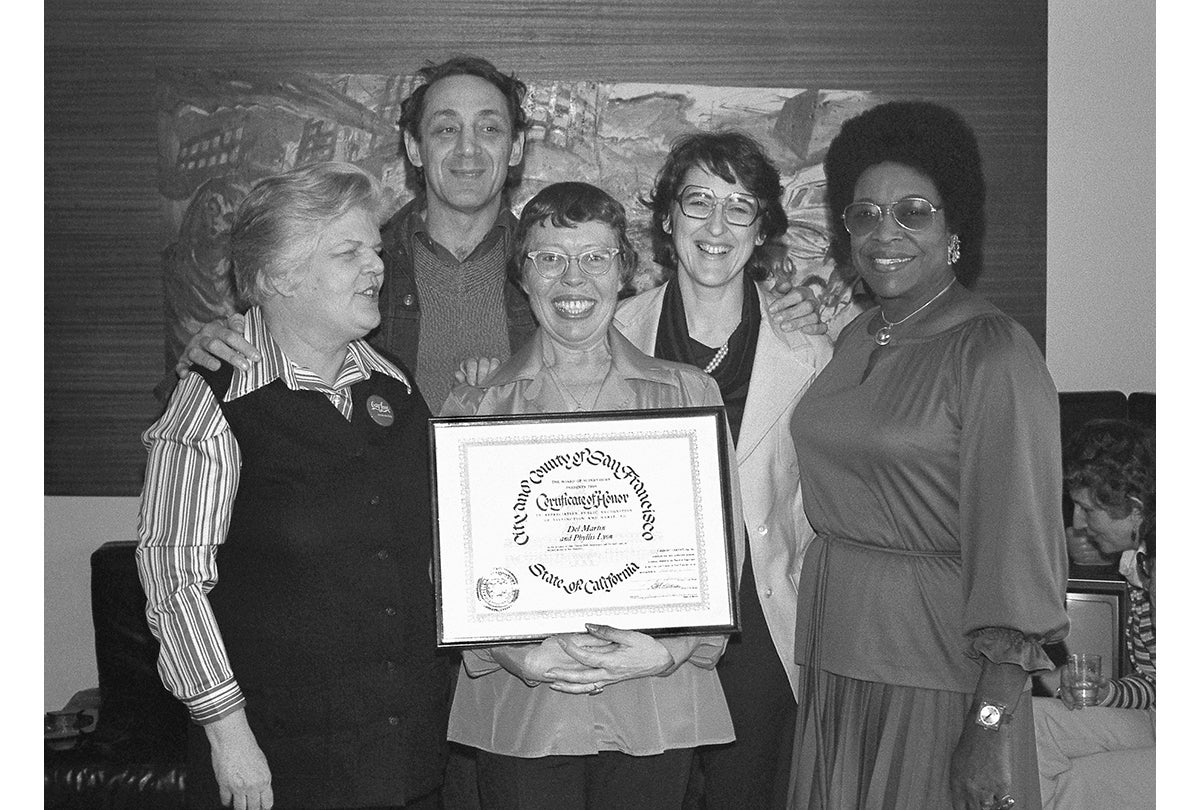 10 of 18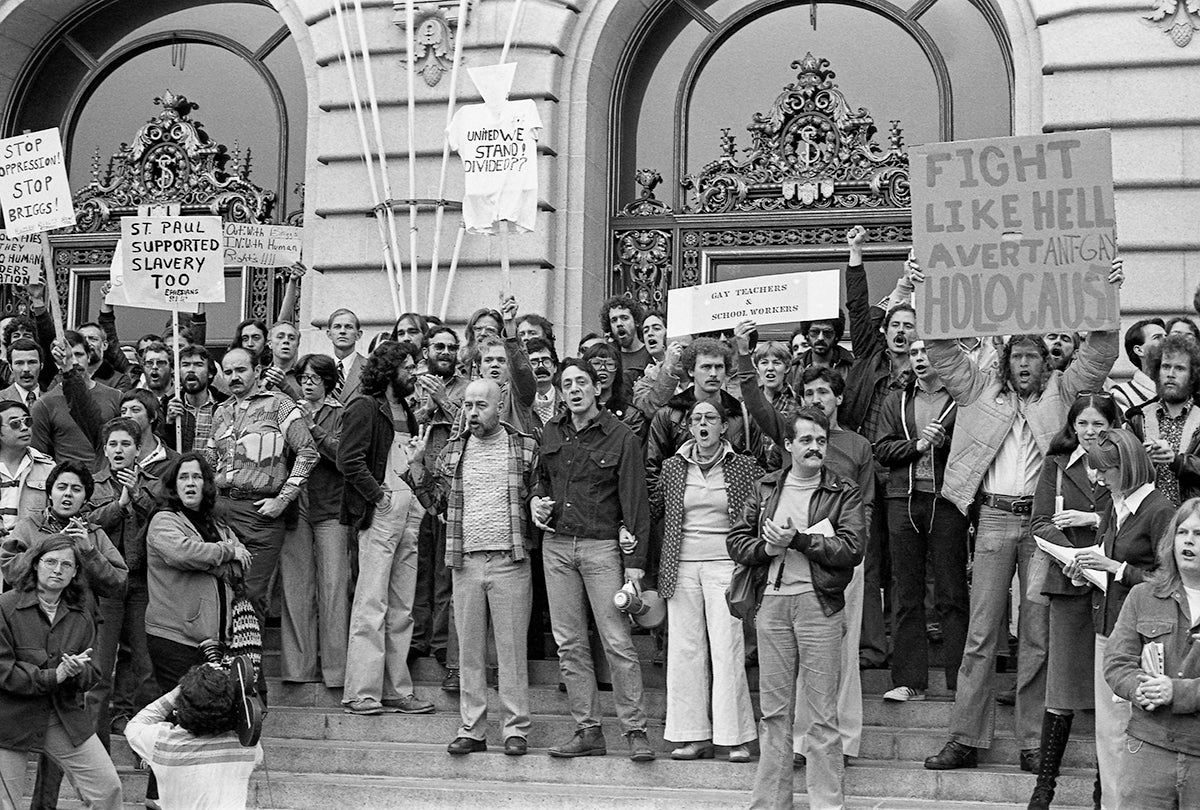 11 of 18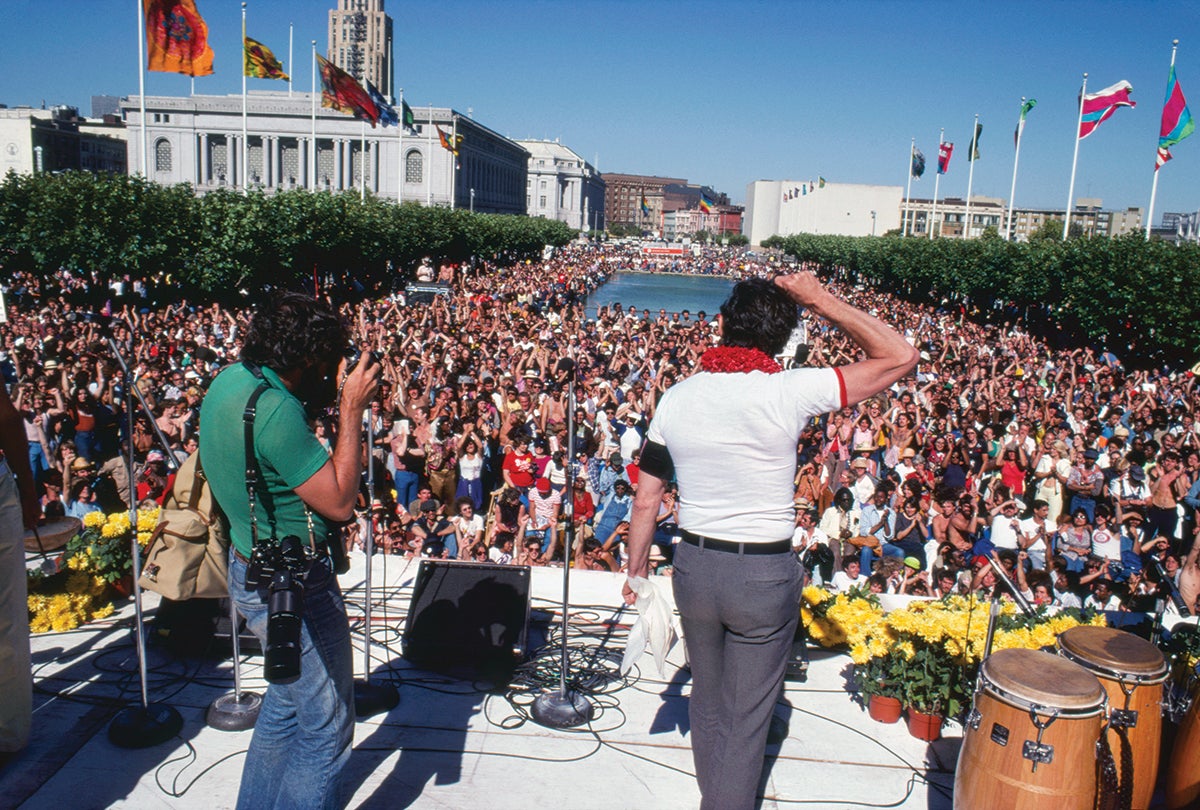 12 of 18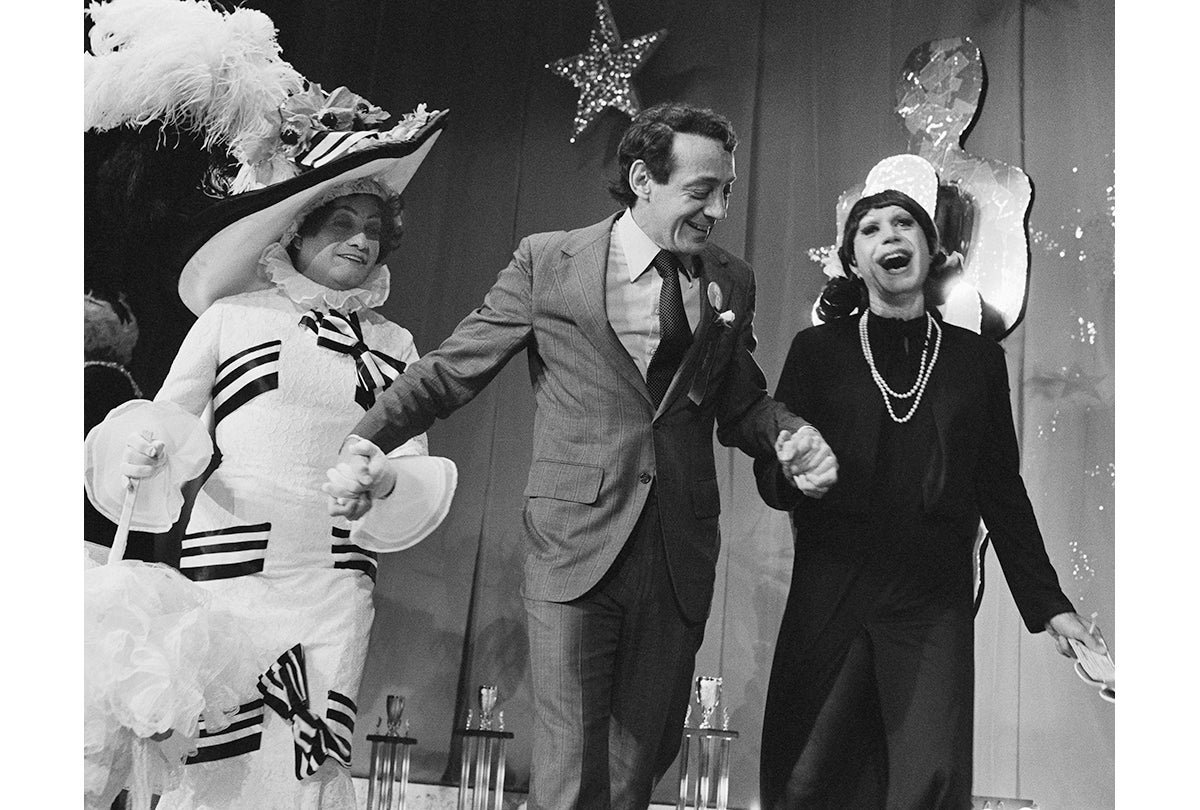 13 of 18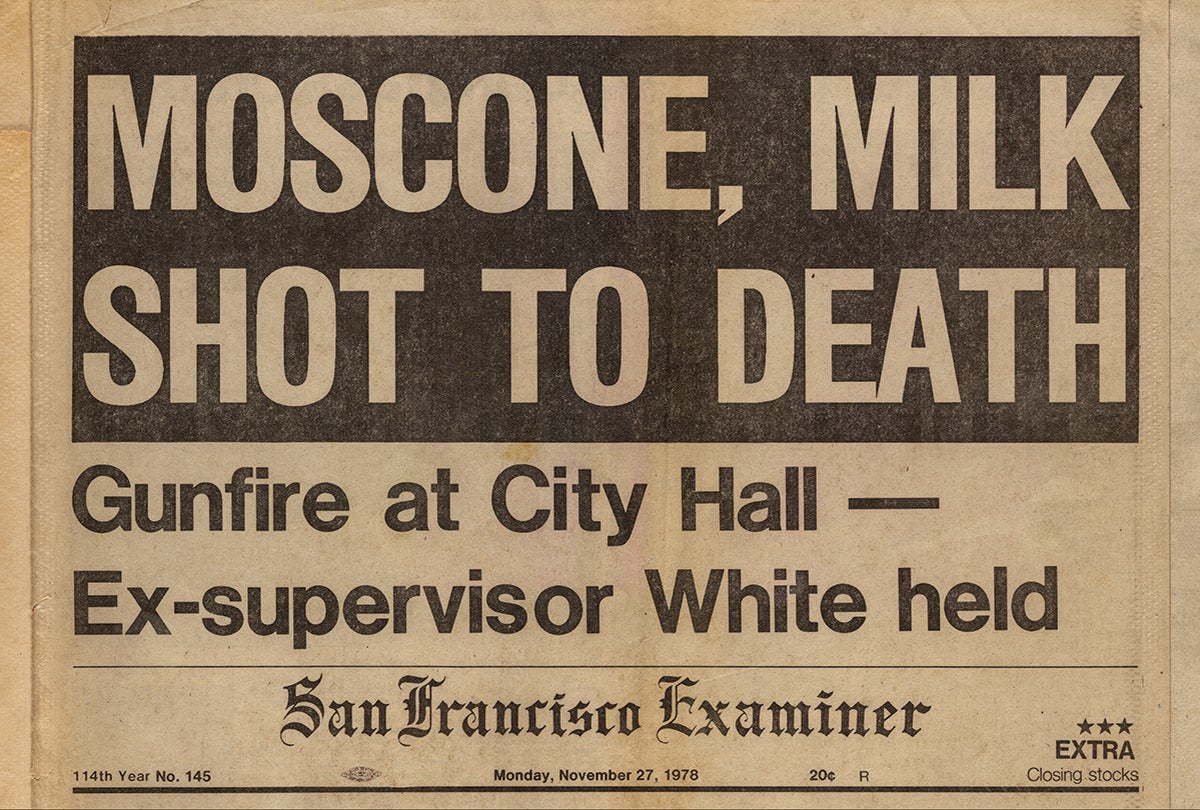 14 of 18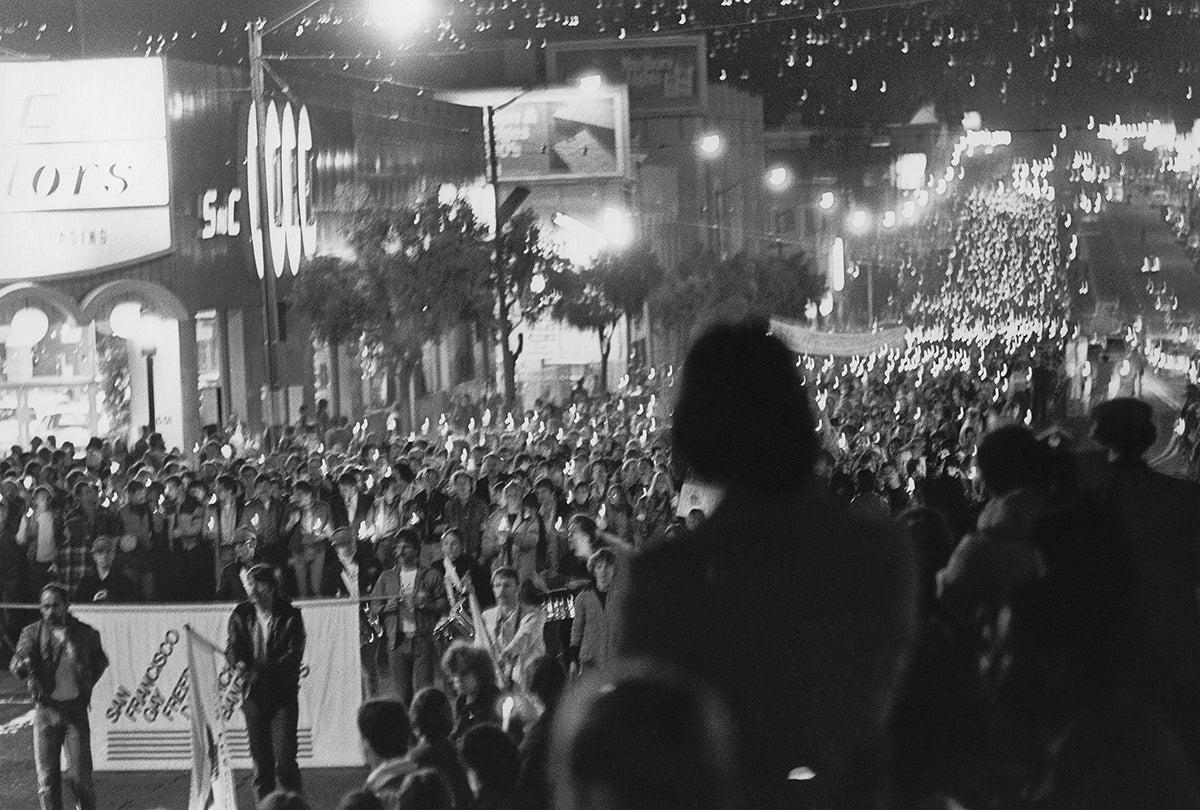 15 of 18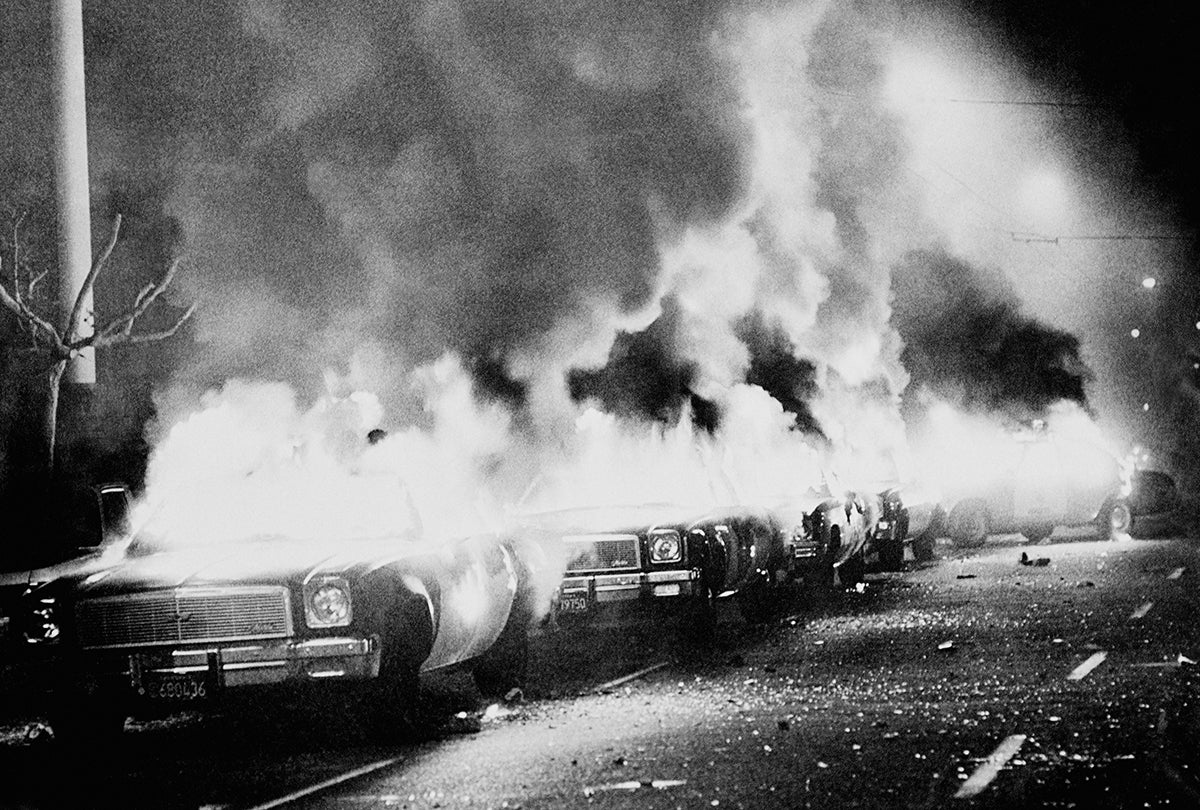 16 of 18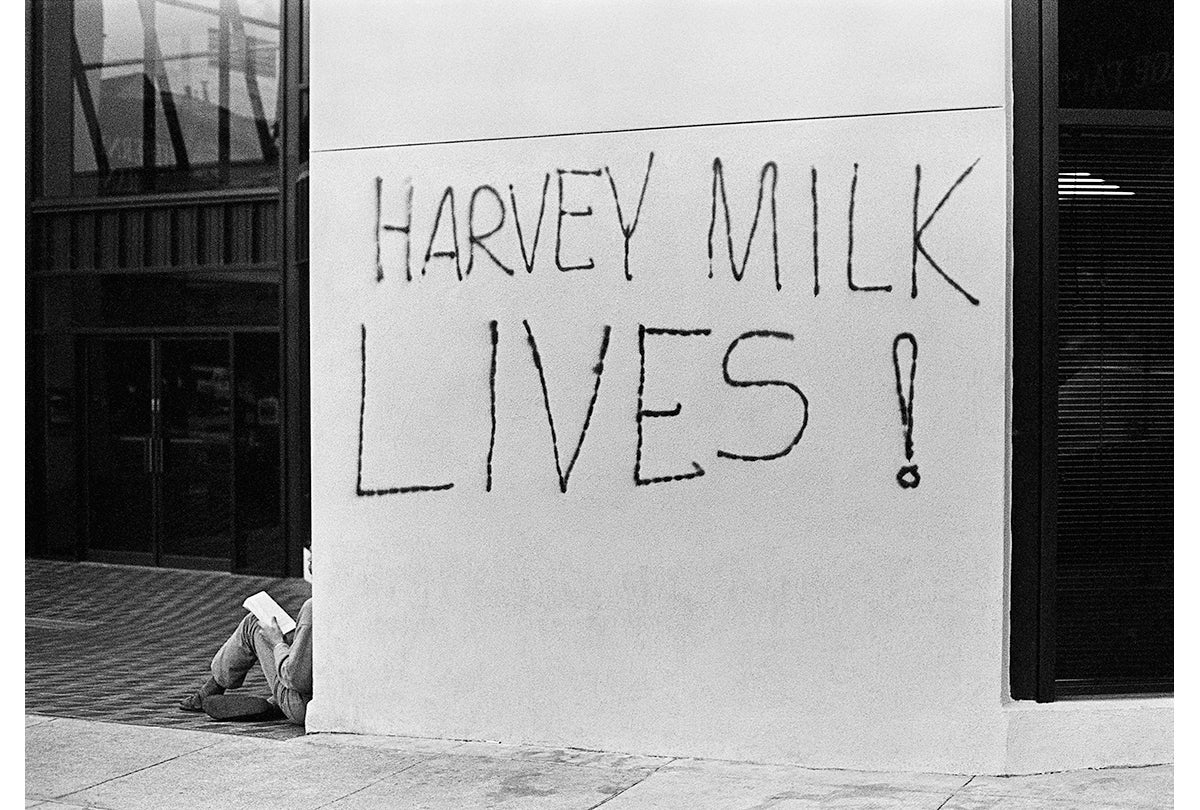 17 of 18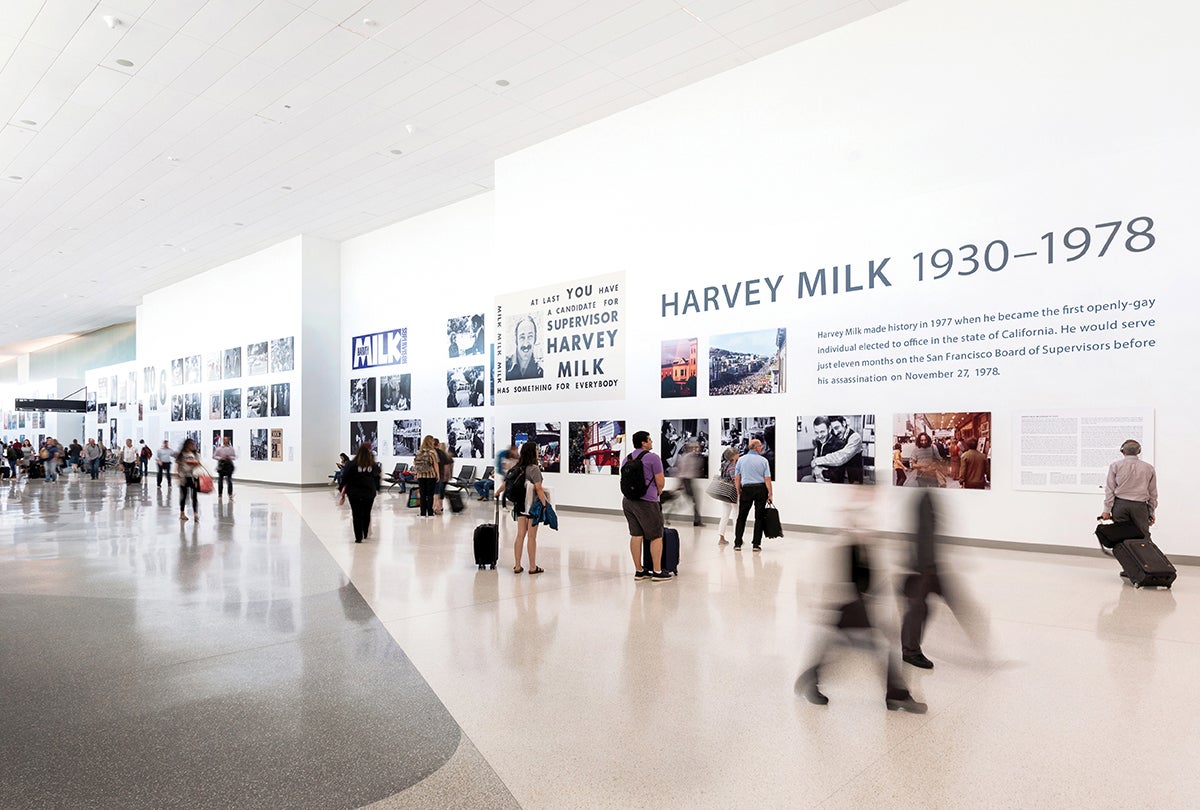 18 of 18
Harvey Milk and his older brother Robert posing for a photo at Coney Island, New York  1942
Photographer unknown
Harvey Milk Archives-Scott Smith Collection, James C. Hormel LGBTQIA Center, SFPL
GLC-0029; R2020.0602.004
Harvey Milk was born on May 22, 1930, in Woodmere, New York, to his Lithuanian-born father William and his mother Minerva, also of Lithuanian heritage. Harvey and his only sibling, Robert, belonged to a small middle-class Jewish family that had founded a Jewish synagogue and was well known in the New York "Litvaks" community for their civic engagement. Harvey knew he was gay by the time he attended Bayshore High School, where he was a popular student with interests ranging from opera to football.
Minerva Milk with her son Harvey in his Service Dress Khaki uniform  1954
Photographer unknown 
Harvey Milk Archives-Scott Smith Collection, James C. Hormel LGBTQIA Center, SFPL
00357B; R2020.0602.001
Harvey Milk enlisted in the U.S. Navy in 1951 and served aboard the submarine rescue ship USS Kittiwake as a diving officer prior to his transfer to Naval Base San Diego, where he served as a diving instructor. In 1955, he resigned at the rank of Lieutenant (LTJG) after being officially questioned about his sexual orientation.
Harvey Milk's spirited and independent mother Minerva served as a "Yeomanette" in the U.S. Naval Reserve during World War I.  An early feminist who believed deeply in the precept of tikkun olam, the Jewish obligation to repair the world through acts of kindness, Minerva succumbed to a heart attack while delivering a 24-pound turkey to the poor living on Manhattan's Lower East Side in 1962.
Harvey Milk on the road in Texas  1957-58
Probably Joe Campbell (1936–2005)
Harvey Milk Archives-Scott Smith Collection, James C. Hormel LGBTQIA Center, SFPL
GLC-1011; R2020.0602.002
In September 1957, twenty-seven-year-old Harvey Milk moved to Dallas, Texas, with his romantic partner Joe Campbell to escape the cold New York winters. Citing a lack of work opportunities and their disappointment in the city's social scene, they returned to Long Island the following February. Milk and Campbell were lovers from 1956 through 1962 and remained lifelong friends until Harvey's death. Campbell, who starred in Andy Warhol's film My Hustler (1965) and was immortalized as the Sugar Plum Fairy in the iconic Lou Reed song "Walk on the Wild Side" (1972), died of AIDS on October 2, 2005.
Harvey Milk on West 47th Street in Manhattan  1972
Photograph by Marc Cohen (b. 1946)
Harvey Milk Archives-Scott Smith Collection, James C. Hormel LGBTQIA Center, SFPL
GLC-0103; R2020.0602.006
After returning to New York, Harvey Milk worked as a public school teacher on Long Island, as a stock analyst in Manhattan, and eventually as an assistant to his close friend, avant-garde theatre director Tom O'Horgan (1924–2009), who staged Broadway productions of Hair (1968) and Jesus Christ Superstar (1971). In this image, Milk is walking past the marquee for O'Horgan's Lenny, then playing at the Brooks Atkinson Theatre. 
Harvey Milk campaigning on Castro Street  Summer 1973
Photograph by Crawford Barton (1943–93)
Collection of Crawford Barton; Courtesy of the GLBT Historical Society
OAC 1993-11; R2020.0604.001
Harvey Milk moved to California in the fall of 1972 and settled in San Francisco later that year. Milk's decision to run for the eleven-member Board of Supervisors the following year was rooted in his outrage over the great disparity between "the haves and have nots" of his newly adopted city and his desire to have the interests of the LGBTQ community represented by its own members rather than the "friends of gays and lesbians." In this image, Milk speaks with a constituent while campaigning. Milk's political acumen and gift for retail politics was apparent throughout each of his campaigns. Milk campaign staffer Jim Rivaldo (1947-2007) recalled, "I accompanied Harvey around the city and saw how readily people from all walks of life responded to an openly gay man with good ideas and an extraordinary gift for communicating them."
"Two Lovers"  c. 1974
Photograph by Marc Cohen (b. 1946)
Courtesy of the photographer 
R2020.0609.001
Photographer Marc Cohen's close friendship with Harvey Milk and Scott Smith began during their work together with theatre director Tom O'Horgan on and off Broadway in the mid-1960s. Cohen took this snapshot while staying with Smith and Milk in their apartment above Castro Camera during a visit to San Francisco.
"Dunk a Fellow for Freedom"  August 20, 1977
Photograph by Daniel Nicoletta (b. 1954)
Courtesy of the photographer
R2020.0605.003
Harvey Milk believed the economic power of the LGBTQ community was an untapped source of political power in San Francisco. In response to the hostility that gay-owned businesses faced from the Eureka Valley Merchants Association, Milk founded the Castro Village Association (CVA), a more progressive coalition of local business owners. Milk and the CVA organized the first Castro Street Fair in 1974, which drew thousands of people to the neighborhood and inspired dozens of other neighborhood street fairs throughout San Francisco. As part of a fundraiser at the 1977 Castro Street Fair, Harvey Milk sits atop a dunk tank with an image of the anti-gay crusader Anita Bryant (b. 1940) serving as a tempting target. Though the two never publicly debated, Bryant and Milk waged a fierce political battle against each other beginning in January 1977, when the former beauty queen, pop singer, and then-spokeswoman for the Florida Citrus Commission used her public platform to launch an organized campaign against LGBTQ rights in Florida and across the nation.
Harvey Milk addresses the public   January  9, 1978
Photograph by David Waggoner (1947–90)
Harvey Milk Archives-Scott Smith Collection, James C. Hormel LGBTQIA Center, SFPL 
R2020.0606.001
After winning his historic race for the Board of Supervisors in 1977, Harvey Milk chose to be sworn in on the steps of City Hall, where more could view the momentous event. During a light rainfall in the middle of his address, Milk quipped, "Anita Bryant in her speaking to God said that the drought in California was because of the gay people. On November 9, the day after I got elected, it started to rain. It's been raining since then…"
Supervisor Harvey Milk and Mayor George Moscone at City Hall  March 29, 1978
Photograph by Efren Convento Ramirez (1941–2017)
Collection of Efren Ramirez; Courtesy of the GLBT Historical Society
OAC 2010-05; R2020.0604.003
Supervisor Harvey Milk and San Francisco Mayor George Moscone (1929–78) attend the signing ceremony for the passage of a landmark city ordinance authored by Milk that banned discrimination based on sexual orientation in employment and housing. Moscone was an early proponent of gay rights and worked with California Assemblyman Willie Brown (b. 1934) to secure passage of California's consenting adult law in 1975, effectively repealing the state's existing anti-sodomy laws. Known as "the people's mayor," Moscone was determined to have City Hall reflect the diversity of San Francisco and appointed an unprecedented number of women, people of color, and gays and lesbians to the city's commissions and advisory boards. 
Del Martin and Phyllis Lyon receive a Certificate of Honor from supervisors Harvey Milk, Carol Ruth Silver, and Ella Hill Hutch  January 1978
Photograph by Daniel Nicoletta (b. 1954)
Courtesy of the photographer
R2019.0204.003
Feminists and gay rights activists Dorothy Louise Taliaferro "Del" Martin (1921–2008) and Phyllis Ann Lyon (1924–2020) moved into an apartment together on Castro Street on Valentine's Day in 1953. Martin and Lyon cofounded the Daughters of Bilitis in 1955 as the first social and political club for lesbians in the United States, and the Alice B. Toklas Democratic Club as San Francisco's first gay political organization in 1971. Martin and Lyon were the first couple married in San Francisco following Mayor Gavin Newsom's decree to begin issuing same-sex marriage licenses in 2004. Though their union was voided by the California Supreme Court later that year, they married again in 2008 when the Court legalized same-sex marriage in California. 
Harvey Milk, Carol Ruth Silver (b. 1938), and Ella Hill Hutch (1923–81) all joined the Board of Supervisors after the same watershed 1977 election that shifted the balance of power to a new and more diverse generation of political leadership, which included Silver as the first unwed mother and Hutch as the first African American woman on the Board. Silver was a staunch political ally to Milk and Moscone, and was one of four people on Dan White's list of targets for assassination due to her opposition to his return to office.
Anti-Proposition 6 rally on the steps of San Francisco's City Hall  May 1, 1978
Photograph by Efren Convento Ramirez (1941–2017)
Collection of Efren Ramirez; Courtesy of the GLBT Historical Society
OAC 2010-05; R2020.0604.004
In a rally against Proposition 6, the bill that would prohibit openly gay men and women from working in California's public schools, Supervisor Harvey Milk is joined by his friends and political allies, including Tom Ammiano (b. 1941), who is holding the "Gay Teachers & School Workers" sign. Ammiano was among the first openly gay public school teachers and co-organized the "No on 6" campaign with Harvey Milk, activist Henry "Hank" Wilson (1947–2008), and others. Ammiano would later win election to the city's Board of Education, the San Francisco Board of Supervisors, and the California State Assembly.
Supervisor Harvey Milk addressing Gay Freedom Day celebrants gathered at United Nations Plaza in San Francisco, with the first rainbow flags visible in the distance  June 25, 1978 
Photograph by Mick Hicks (b. 1947)
R2020.0601.002
In a stirring address before a crowd of more than 200,000 people, Harvey Milk called on all gays and lesbians to come out of the closet so they could effectively "destroy the lies and distortions" of anti-gay politicians and defeat the discriminatory measures that were on the ballot across the United States at the time.
In the months leading up to the 1978 Gay Freedom Day celebration in San Francisco, organizers in the LGBTQ community had been calling for a new symbol for the gay rights movement. A young activist named Gilbert Baker (1951–2017) envisioned a flag as an appropriate symbol to proclaim power for a people and a rainbow to represent the community's diversity. Baker, Lynn Segerblom (AKA Faerie Argyle Rainbow, b. 1956), and James McNamara (1950–99) stitched dyed muslin sections together to create the first of a pair of rainbow flags measuring 30 by 60 feet, one of which resembled the American flag but with tie-dyed stars on a blue field. The flags were raised in San Francisco's United Nations Plaza—a deliberate choice intended to reflect and encourage the worldwide struggle for gay rights.
José Julio Sarria, Supervisor Harvey Milk, and Mavis (Marc "Marvin" Sterling, 1928-87) at the Empress Coronation, presenting a check from an anonymous donor to purchase uniforms for the first Gay and Lesbian Freedom Marching Band  October 28, 1978
Photograph by Daniel Nicoletta (b. 1954)
Courtesy of the photographer
R2020.0605.005
"United we stand, divided they arrest us one by one," proclaimed political activist and drag performer José Julio Sarria (1922–2013), also known as Empress José I and The Widow Norton. Sarria's performances at the Black Cat Café in the city's North Beach neighborhood transformed the bohemian venue into a world-famous gay bar. Sarria campaigned for election to the San Francisco Board of Supervisors in 1961 as the first openly gay candidate to run for public office in United States, garnering more than 6,000 votes and paving the way other LGBTQ candidates, including Harvey Milk more than a decade later.
"Moscone, Milk Shot to Death"  November 27, 1978
San Francisco Examiner 
Harvey Milk Archives-Scott Smith Collection, James C. Hormel LGBTQIA Center, SFPL
R2020.0602.019
As a highly visible and openly gay politician and civil rights leader, Harvey Milk regularly received death threats. Tragically, on November 27, 1978, a disgruntled former supervisor named Dan White entered City Hall through an open basement window and assassinated Mayor George Moscone and Supervisor Harvey Milk in their offices.
Mourners march down Market Street in a candlelight vigil following the assassination of Mayor George Moscone and Supervisor Harvey Milk  November 27, 1978
Photograph by Efren Convento Ramirez (1941–2017)
Collection of Efren Ramirez; Courtesy of the GLBT Historical Society
OAC 2010-05; R2020.0604.007
"We were trapped there in the office as the police bundled up the bodies and I just thought, 'Everything's over.' But then the sun went down and tens of thousands of people gathered here at this intersection and marched down to City Hall, filled Civic Center, and I realized I was, you know, completely wrong. It wasn't over. It was just the beginning." 
Harvey Milk's protégé and friend, activist Cleve Jones (b. 1954)
2015 radio interview on WFDD, Winston-Salem, North Carolina
White Night Riots at City Hall  May 21, 1979
Photograph by Judith Calson (b. 1942)
The Regents of the University of California, The Bancroft Library, University of California, Berkeley
BANC PIC 2006.029:1984-08-xx.08.04-NEG; R2020.0608.001
Upon Dan White's sentencing, outraged citizens of the San Francisco Bay Area marched to City Hall for a demonstration that turned violent, with enraged protesters resisting police containment. Injuries were sustained by police and protesters alike, and thirteen parked police cruisers were burnt to their shells. Rogue police officers later raided the Castro and attacked patrons at the Elephant Walk, a neighborhood bar. The demonstration is remembered as the White Night Riots. 
"Harvey Milk Lives" graffiti on Castro Street  May 22, 1979
Photograph by Daniel Nicoletta (b. 1954)
Courtesy of the photographer
R2020.0605.007
Dan Nicoletta befriended Harvey Milk and Scott Smith at their Castro Camera store in 1974 and was invited to join the staff there the following year. Nicoletta took many of the now iconic images of Milk and has been instrumental in keeping Milk's memory alive through exhibitions, publications, and networking. Nicoletta's photograph of graffiti, taken the day after the White Night Riots, was a prescient forecast of Milk's enduring legacy.
Temporary exhibition of Harvey Milk: Messenger of Hope on the construction wall of Harvey Milk Terminal 1, San Francisco International Airport  July 24, 2019
Photo by SFO Museum
About the Exhibition
In November 2018, SFO Museum organized a public call for material pertaining to the life and legacy of Supervisor Harvey Milk. A temporary exhibition of nearly one hundred historic images was installed on a 400-foot construction wall during the development of SFO's Harvey Milk Terminal 1 for presentation from July 23, 2019 through early 2021. This exhibition features a selection of images from those submissions as well as items from archival collections at the San Francisco Public Library (SFPL) and the GLBT Historical Society. Much of the exhibited material is held in the Harvey Milk Archives–Scott Smith Collection, generously donated by his mother, Mrs. Elva Smith, to the James C. Hormel LGBTQIA Center (SFPL) in 1996 and to the GLBT Historical Society in 2002.
The Photographers
Crawford Barton (1943–93)
Judith Calson (b. 1942)
Joe Campbell (1936–2005)
Marc Cohen (b. 1946)
Donald Eckert (1941–2016)
Jim Gordon (b. 1938)
Mick Hicks (b. 1947)
Harvey Milk (1930–78)
Daniel Nicoletta (b. 1954)
bil paul (b. 1943)
Efren Convento Ramirez (1941–2017)
Rink Foto
Scott Smith (1948–95)
Marie Ueda (b. 1942)
Slava "Sal" Veder (b. 1926)
David Waggoner (1947–90)

Acknowledgements
Special thank you to photographer and historical consultant Daniel Nicoletta; journalist Randy Alfred; Susan Goldstein, City Archivist at the San Francisco History Center, San Francisco Public Library (SFPL); Dee Dee Kramer, Program Manager at the James C. Hormel LGBTQIA Center (SFPL); Christina Moretta, Photo Curator at the San Francisco History Center (SFPL); Tim Wilson, Librarian and Processing Archivist at the James C. Hormel LGBTQIA Center (SFPL); and Ramon Silvestre, Exhibitions and Collections Chief Registrar at the GLBT Historical Society Archives and Research Center, for their generous assistance with this exhibition.

Resources
Aretha, David. No Compromise: The Story of Harvey Milk. Greensboro, NC: Morgan Reynolds Press, 2010.
Black, Dustin Lance. Milk: A Pictorial History. New York: Newmarket Press, 2009.
Black, Jason Edward, and Charles E. Morris III. An Archive of Hope: Harvey Milk's Speeches and Writings. Berkeley and Los Angeles: University of California Press, 2013.
Faderman, Lillian. Harvey Milk: His Lives and Death. New Haven and London: Yale University Press, 2018.
Shilts, Randy. The Mayor of Castro Street: The Life and Times of Harvey Milk. New York: St. Martin's Press, 1982.

Milk. Directed by Gus Van Sant; Focus Features, 2008.
The Times of Harvey Milk. Directed by Rob Epstein; New Yorker Films, 1984.

The Harvey Milk Foundation. "The Official Harvey Milk Biography." milkfoundation.org