Departures Level 3, Gallery 4D
Jun 07, 2023 - Feb 04, 2024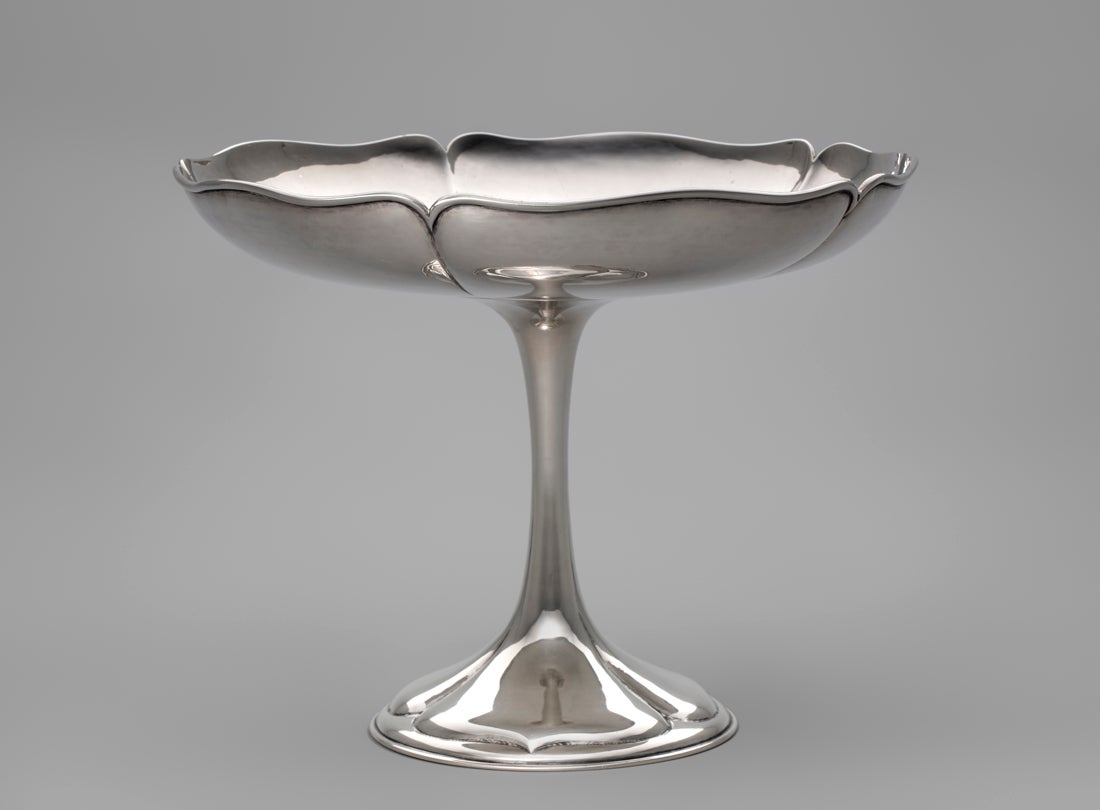 1 of 6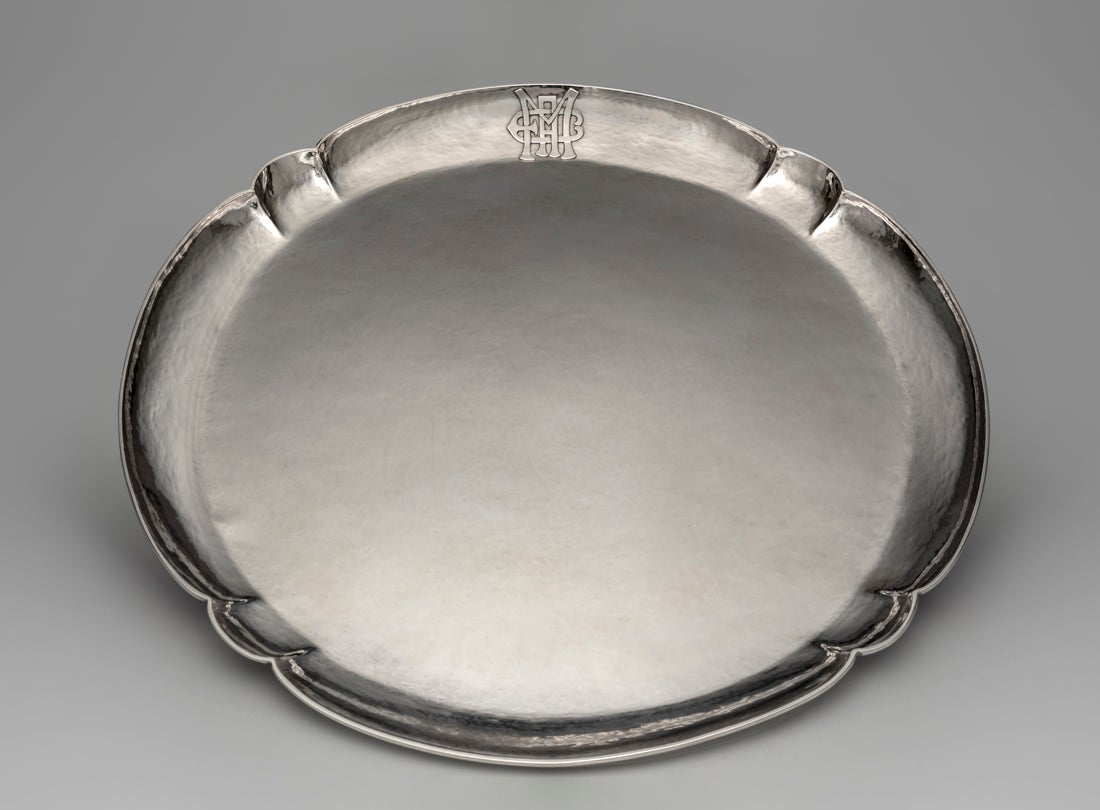 2 of 6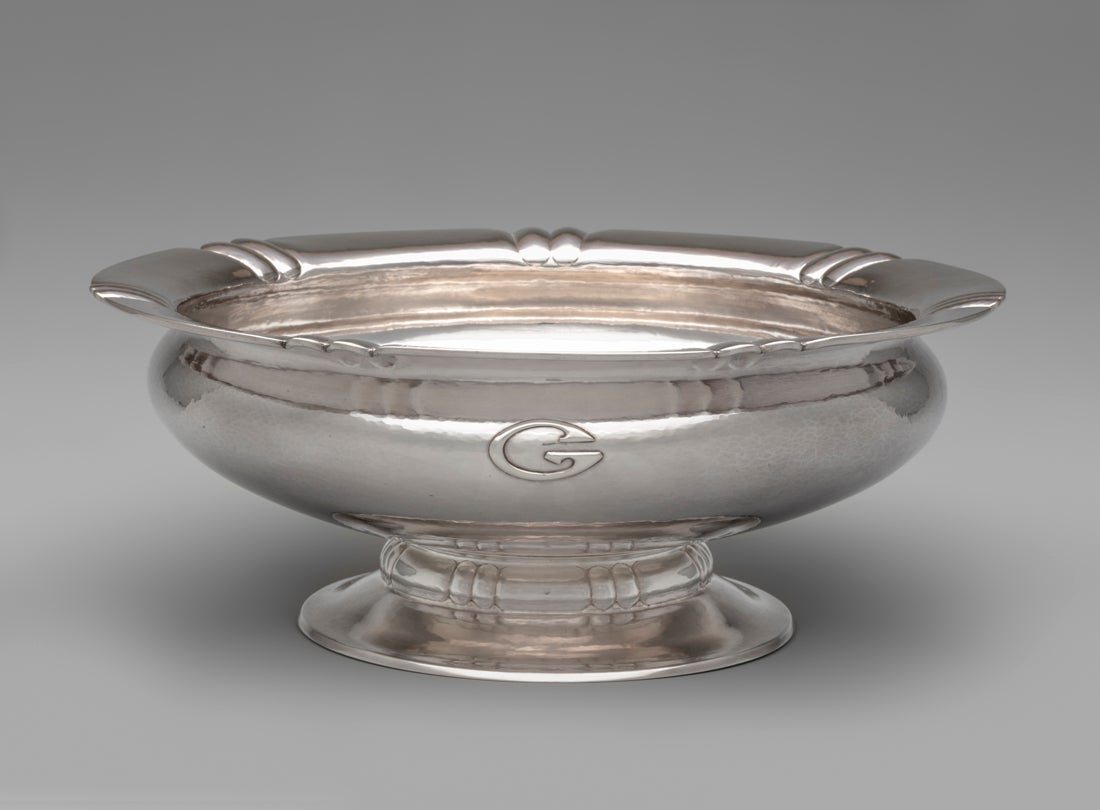 3 of 6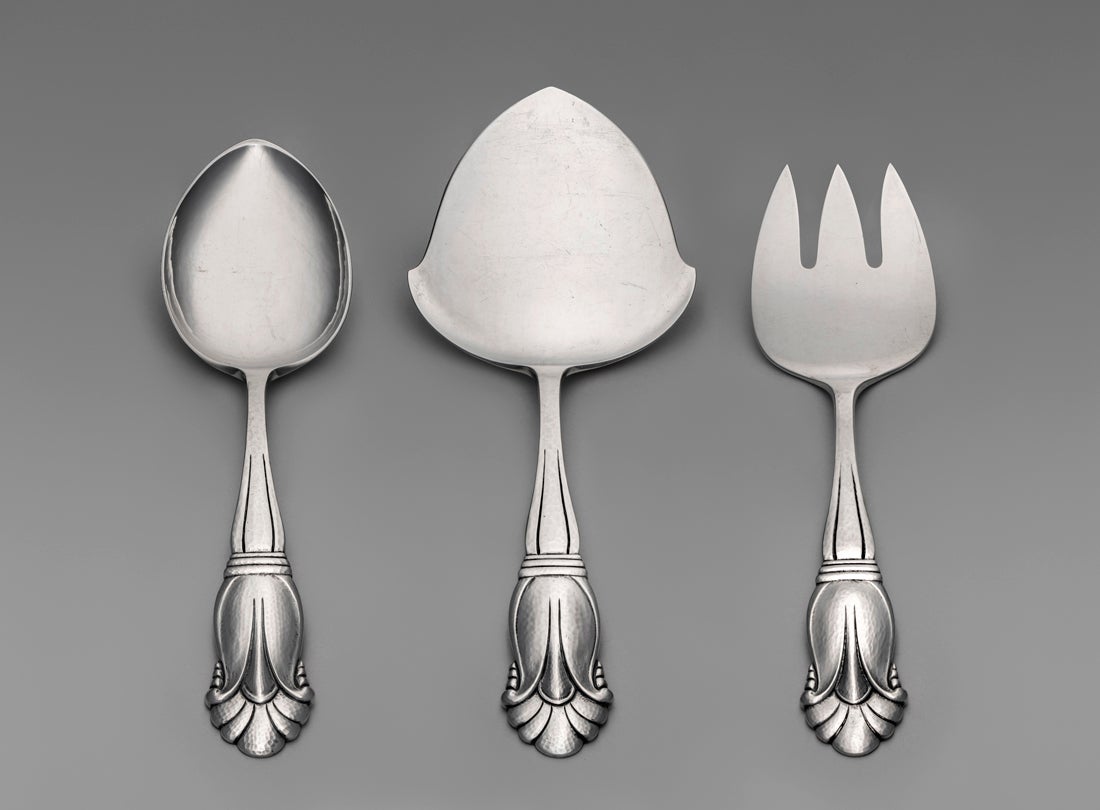 4 of 6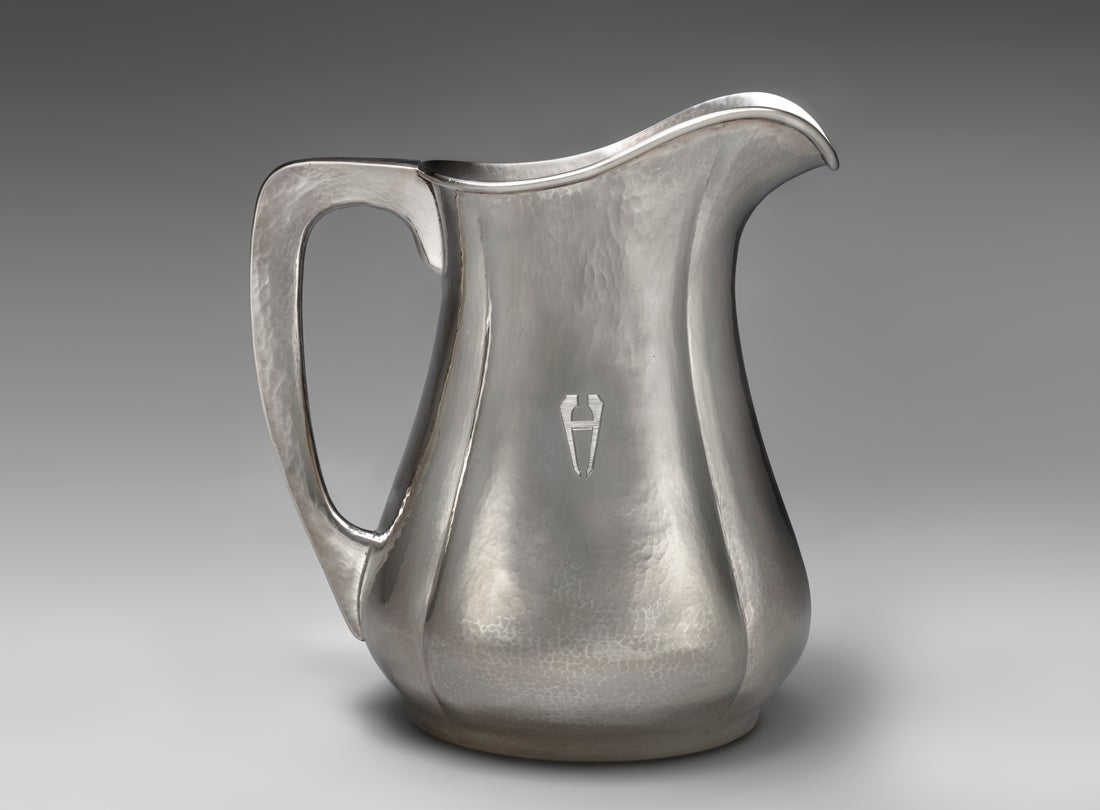 5 of 6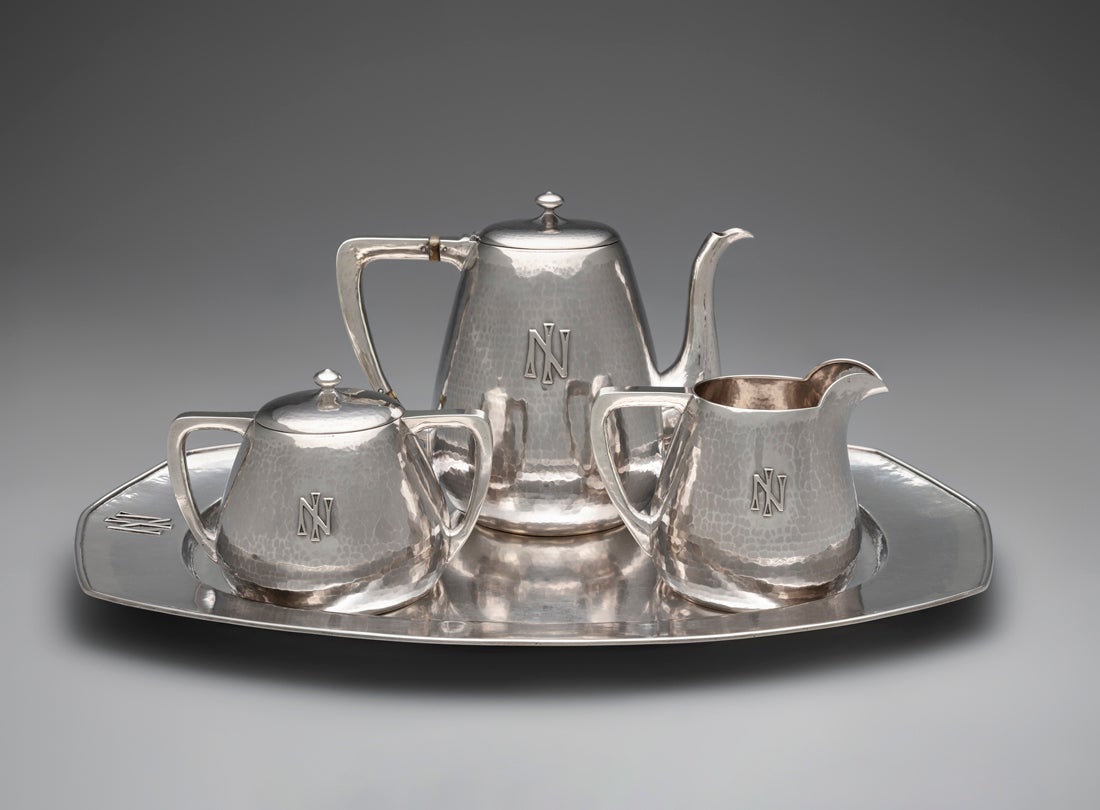 6 of 6
Fluted compote  early 20th century
The Kalo Shop 
Chicago
sterling silver
On loan from the Jordan Schnitzer Museum of Art: Loan of Margo Grant Walsh, New York
L2021:24.5
L2023.0201.040 
Clara Barck Welles
One of six daughters, Clara Barck (1868–1965) was born in Ellenville, New York, to European immigrants from Finland and Switzerland. At age ten, she moved with her family to a farm in Oregon City, near Portland. Her father died when she was fifteen, leaving the women to run the farm. After high school, Welles worked as a weaver at the Oregon City Manufacturing Company, a woolen mill, for several years. She then worked as a bookkeeper and salesperson at department stores in Portland and San Francisco. In 1898, with her share of proceeds from the sale of the family farm, Welles enrolled in the Department of Decorative Design at the School of the Art Institute of Chicago. This new degree program, primarily attracting women, offered training in art and design as well as crafts such as pottery, jewelry making, and graphic design. After graduating, Welles established the Kalo Shop in 1900 with five other women graduates from her program. In the ensuing decades, Welles' sophisticated aesthetic, exceptional business acumen, and fair work ethics led to the shop's immense success. Welles employed her marketing skills to promote the Kalo Shop by organizing traveling exhibitions and lecturing at women's clubs and other organizations about women in Arts and Crafts.
Platter  c. 1925
The Kalo Shop 
Falick Novick (1878–1957)
Chicago
sterling silver
On loan from the Portland Art Museum: Margo Grant Walsh Twentieth Century Silver and Metalwork Collection,
gift of Margo Grant Walsh
L2020:108.4 
L2023.0201.044
Innovation at the Kalo Shop
From its founding, the Kalo Shop proved to be an innovator in Arts and Crafts design, known for consistent quality and originality. Some of the shop's trademarks included applied initials and interlocking monograms, hammer marks, rolled wire rims, and lobed designs. In addition, its progressive work environment and the inclusion of women made the Kalo Shop unique. By 1903, jewelry and metalwork production gained precedence at the Kalo Shop when artisan Mable Conde Dickson joined the partnership, and in 1904, Hanna C. Beye (1879–1965) merged her jewelry practice into the Kalo Shop. In 1908, Welles established a school for aspiring women metalwork designers and jewelers at her Arts Crafts Community House, which she had established in Park Ridge, Illinois. By 1911, the school was managed by some of her most prominent students, including Mildred Belle Bevis and later, Esther L. Meacham.
The Kalo Shop also welcomed newly emigrated artisans. Falick Novick (1878–1957), who crafted this platter, came to New York City from Russia in 1893 at age fifteen. He moved to Chicago in 1907. Novick produced consistently high-caliber wares, such as beautiful silver trays, which he was frequently commissioned to make for the Kalo Shop. In 1913, Novick established a storefront workshop at his home in Chicago that he operated until his death in 1957. 
Centerpiece punch bowl  c. 1929–34
The Kalo Shop 
Chicago
sterling silver 
On loan from the Jordan Schnitzer Museum of Art: Loan of Margo Grant Walsh, New York
L2021:24.1
L2023.0201.036
A New Woman
A prominent leader in advancing women's suffrage, Clara Barck Welles represented the "new woman"—a term coined in 1894 to describe the newfound independence many women began to seek. This social movement, which sought social and economic autonomy for women, first began in the United Kingdom in the late nineteenth century. Welles served as head of the Illinois delegation in support of women's suffrage and arranged for a train to take the group to the Woman Suffrage Procession in Washington, DC in March of 1913. In Chicago, police officers and a band led the women as they proceeded to the train station to leave. Among the thousands of spectators who turned out for the procession in Washington, DC were many unruly men, who jeered at the marchers. One of them caught hold of Welles, and she retaliated with her baton. The women's march garnered a great deal of press and gave impetus to the suffrage movement. In June 1913, Governor Edward F. Dunne signed the Illinois Municipal Voting Act that provided partial voting rights to women, making Illinois the first state east of the Mississippi to do so. American women would not gain full voting rights until 1920, when the Nineteenth Amendment passed.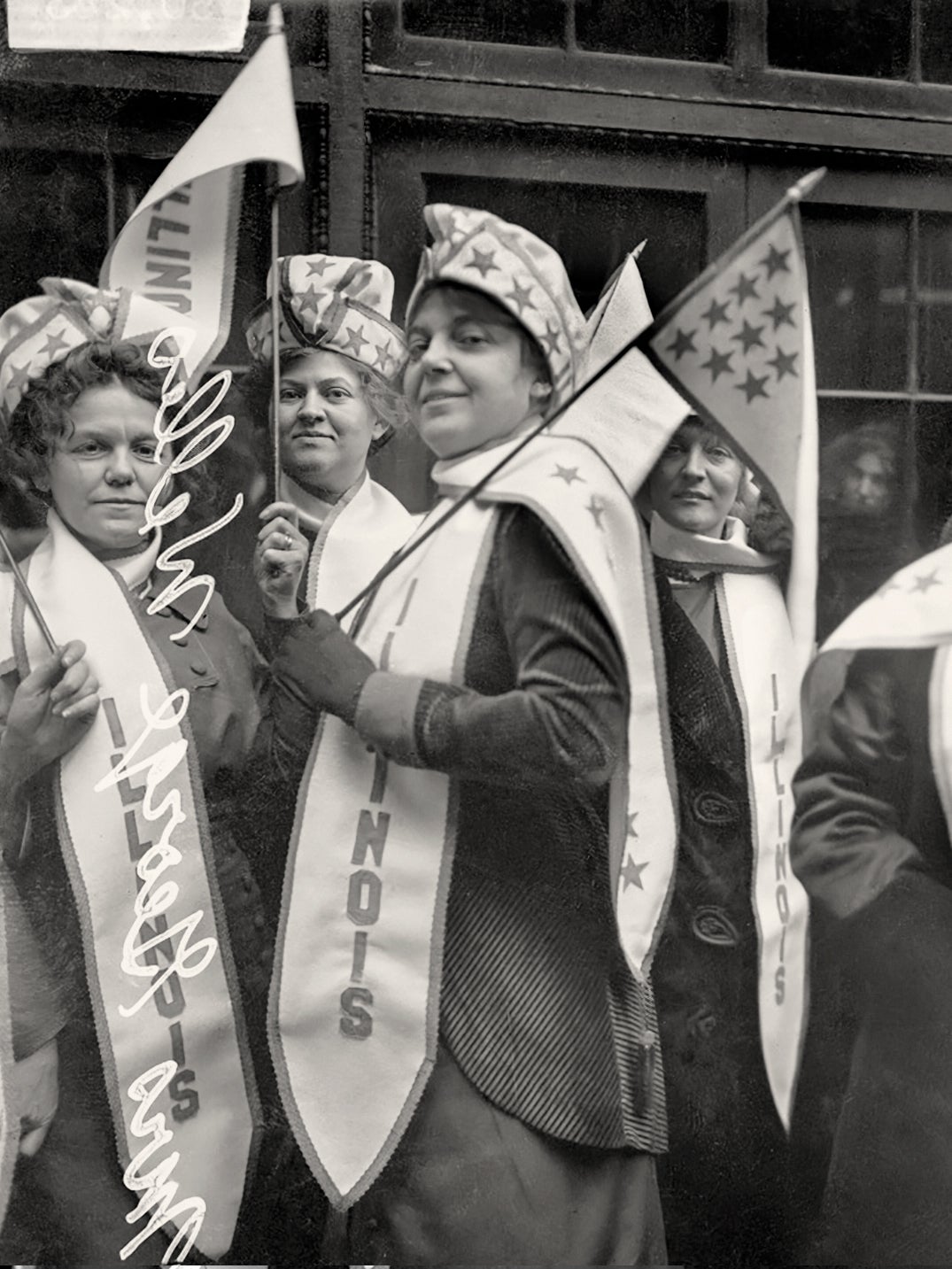 Clara Barck Welles, holding flag, with members of the Illinois delegation
preparing to leave for the Woman Suffrage Procession in Washington, DC  March 1913
Chicago
Chicago Daily News
Courtesy of the Chicago Historical Society 
R2023.0202.002
Serving set  c. 1925 
Julius Olaf Randahl (1880–1972)
The Randahl Shop 
Chicago
sterling silver
On loan from the Jordan Schnitzer Museum of Art: Margo Grant Walsh Twentieth Century Silver and Metalwork Collection,
gift of Margo Grant Walsh
2014:39.2a-c 
L2023.0201.018a-c
The Kalo Shop's Influence 
From 1908 to 1914, the Kalo Shop in Chicago, coupled with its workshops and school in Park Ridge, reached its apex. Items designed and made in the Kalo workshops and school, once they met Welles' rigorous standards, were sold in the Chicago retail store, leading to unprecedented output. Fine silversmiths who had trained in Scandinavia and prominent American silver firms, as well as aspiring metalsmiths, designers, and jewelers, flocked to Park Ridge to work and study at the thriving Kalo Shop and school. More than fifty people were associated with the workshop and many handwrought silver and jewelry firms grew out of the Kalo Shop. Dozens of former workers went on to teach, organize arts groups, and operate studios spreading the Kalo influence. 
Pitcher  c. 1911–39
The Randahl Shop 
Chicago
sterling silver
On loan from the Jordan Schnitzer Museum of Art: Margo Grant Walsh Twentieth Century Silver and Metalwork Collection,
gift of Margo Grant Walsh
2014:39.19
L2023.0201.047
The Randahl Shop
In 1907, Clara Barck Welles recruited Swedish silversmith Julius Olaf Randahl (1880–1972) to work at the Kalo Shop, where he remained until 1910. This classic pitcher style was developed in the Kalo Shop's early years and helped define the Chicago style. After leaving the Kalo Shop, Randahl and another former American-trained Kalo silversmith, Mattias Hanck (1883–1955), formed Julmat (from the first syllables from each of their names), which operated for one year. After their short-lived firm closed, Randahl founded the Randahl Shop, which sold handwrought holloware to department stores and jewelry shops. Much of the shop's early wares, such as trays, bowls, and pitchers, resembled Kalo items. The Randahl Shop closed during World War I, and when the shop later reopened, Randahl introduced modern machinery, though wares were still partially completed by hand. Randahl built a national distribution network in the 1920s, employing fifteen to twenty workers. A gifted artisan, Randahl received wide recognition in 1937 for work that was included in the Exhibition of Contemporary and Handwrought Silver held at the Brooklyn Museum. The same year, Randahl earned a silver medal in Paris at the Exposition Internationale des Arts et des Techniques. 
Tea service  c. 1910–18
Lebolt & Company
Chicago 
sterling silver
On loan from the Jordan Schnitzer Museum of Art: Margo Grant Walsh Twentieth Century Silver and Metalwork Collection,
gift of Margo Grant Walsh  
2014:39.18a-d 
L2023.0201.002a-d
Lebolt & Company
J. Meyer Lebolt (1868–1944) established the jewelry firm Lebolt & Company in Chicago. The successful company maintained a shop in New York and in 1910, established a retail outlet in Paris. Around the same time, as a result of Chicago's demand for handwrought Arts and Crafts metalwork, Lebolt created a department to produce silver. Lebolt took stylistic inspiration from the Kalo Shop and hired Kalo silversmiths Carl Henry Didrich (1878–1940), David E. Mulholland (1886–1966) and J. Edward O'Marah, who served as Lebolt's foreman from 1911 to 1940. O'Marah, who first began working at the Kalo Shop in 1909, excelled in executing the Kalo Shop's sought-after designs. Under O'Marah's oversight, Lebolt & Company's silver designs rivaled those of the Kalo Shop. Lebolt & Company adopted the Kalo Shop's use of applied intertwined monograms and produced holloware and flatware with a hammered finish—from bowls to trays, tea sets, pitchers, and other functional items.