Departures - Level 3, Gallery 4A
Oct 21, 2022 - Jul 09, 2023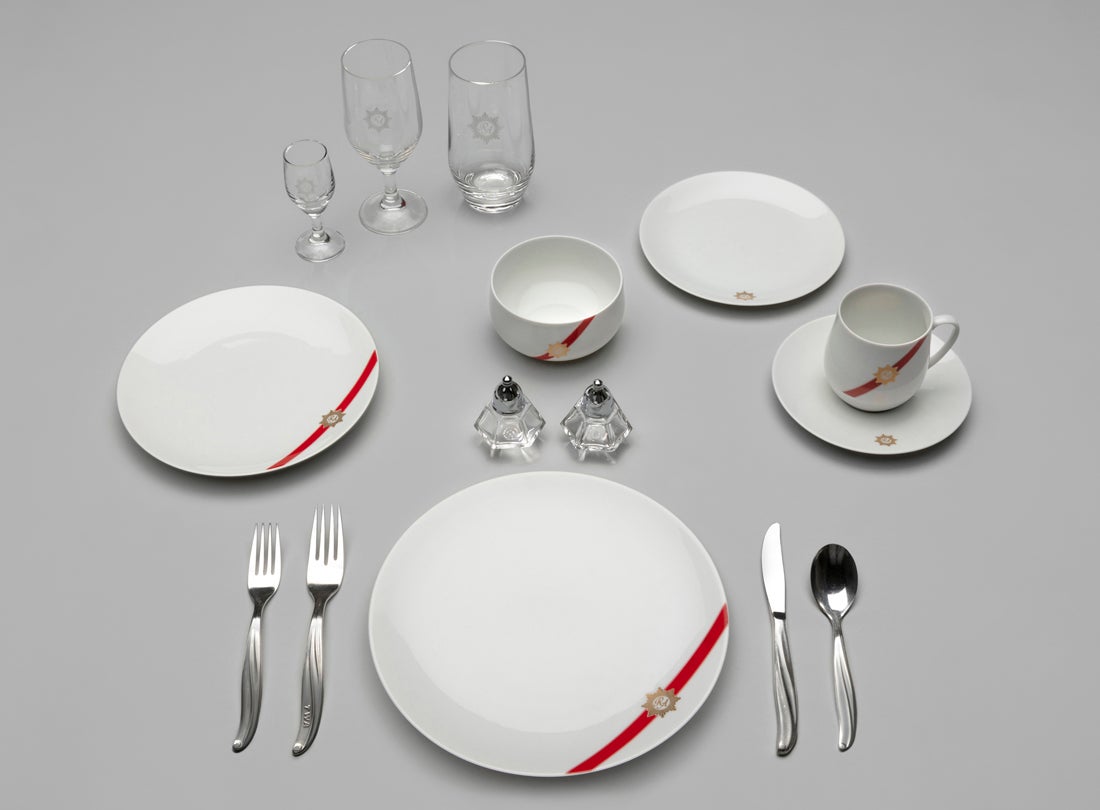 1 of 6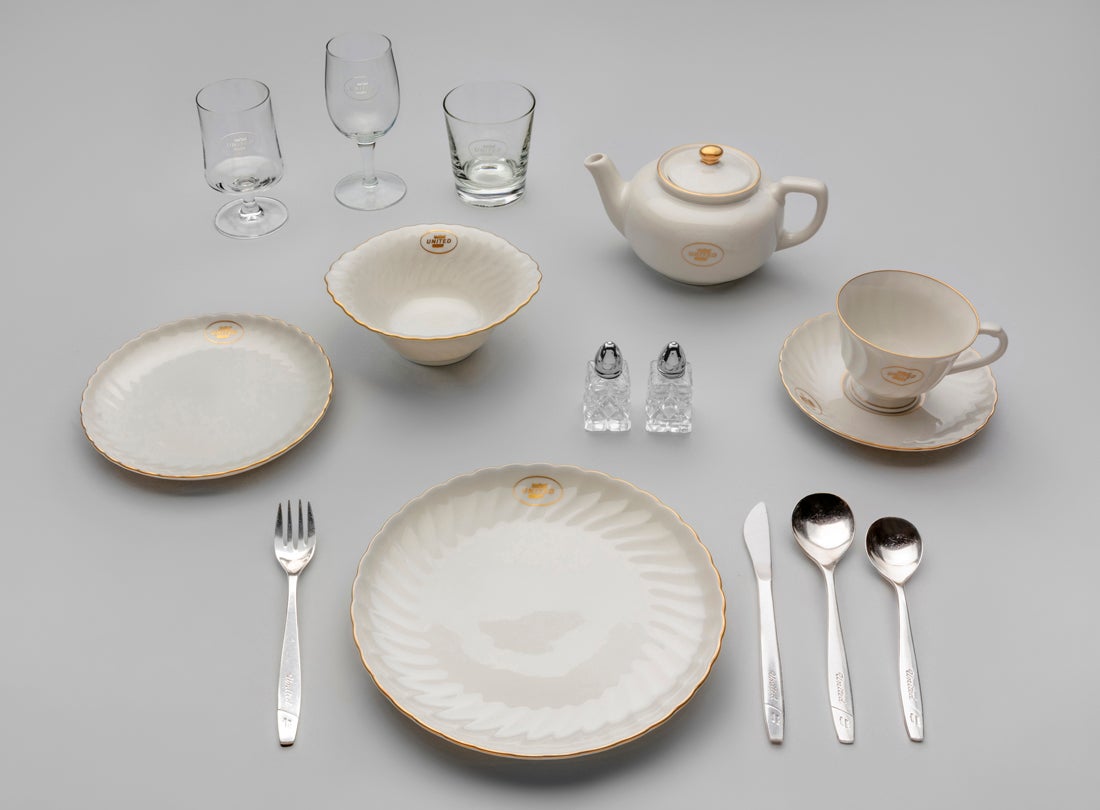 2 of 6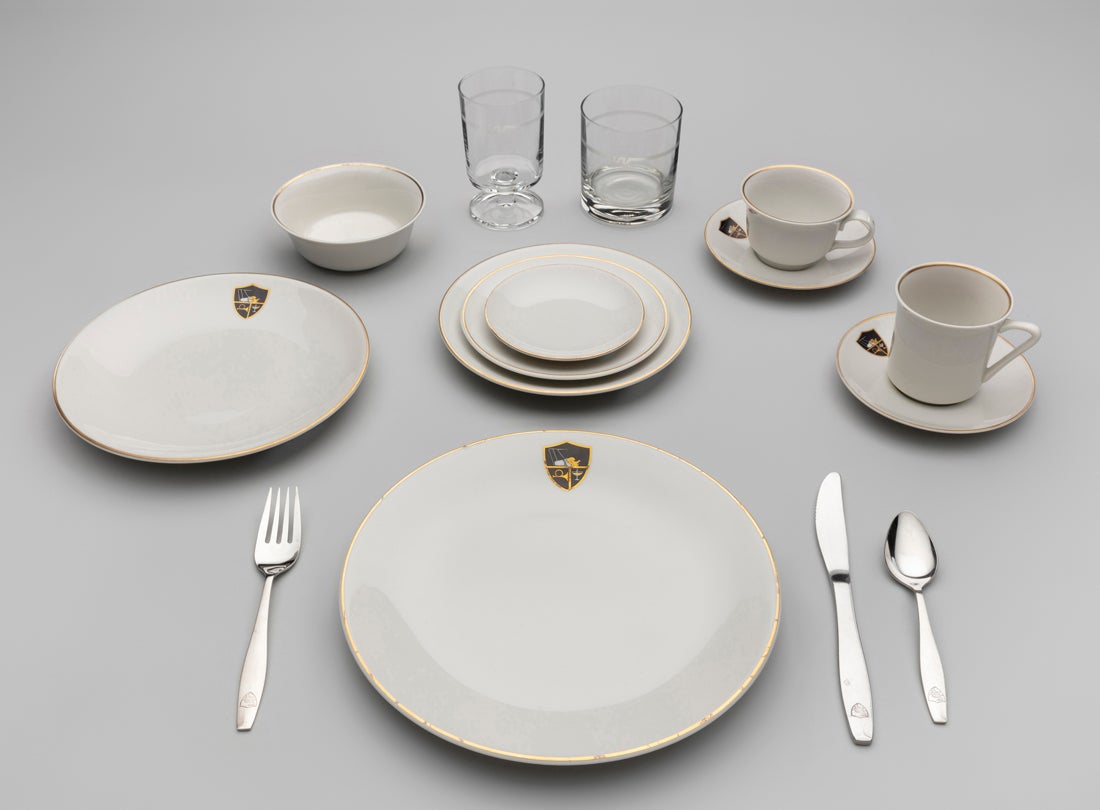 3 of 6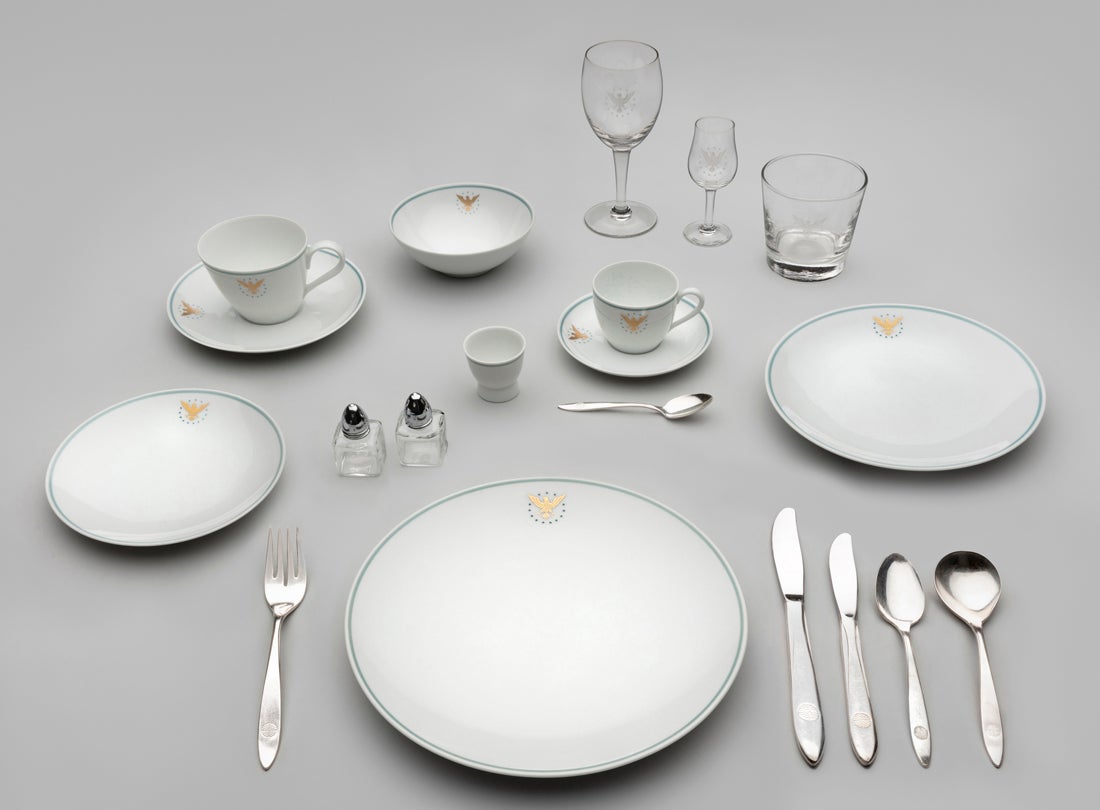 4 of 6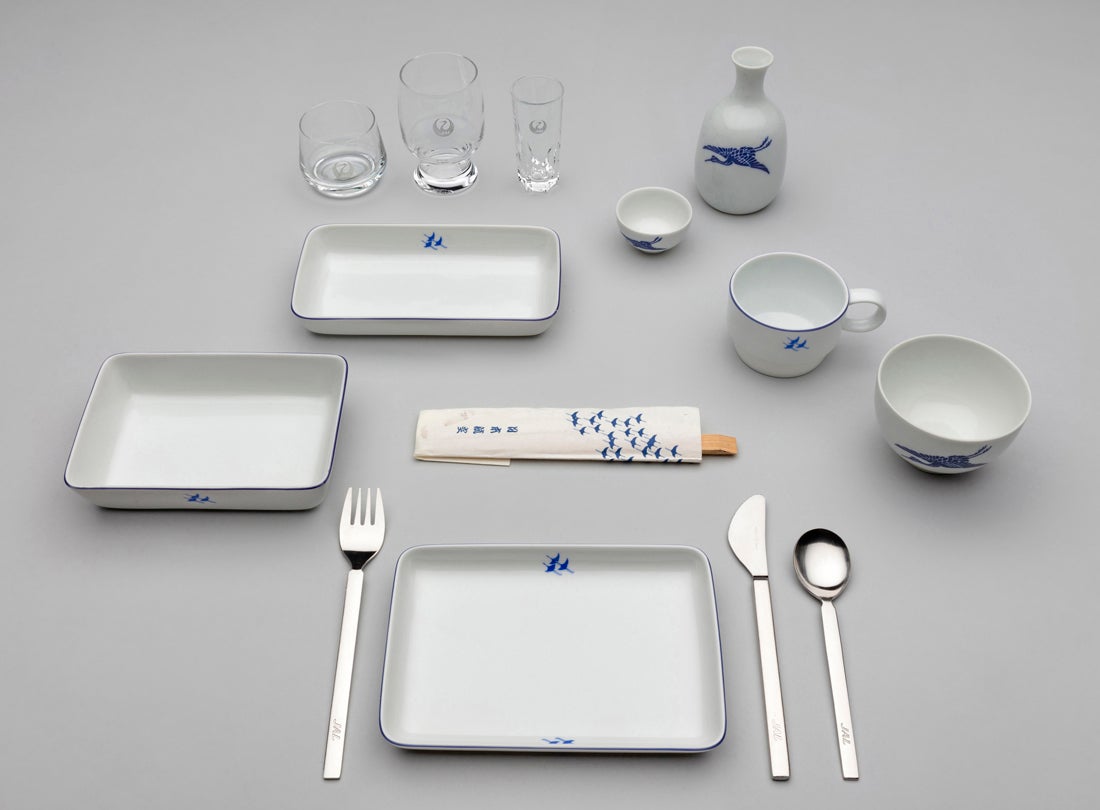 5 of 6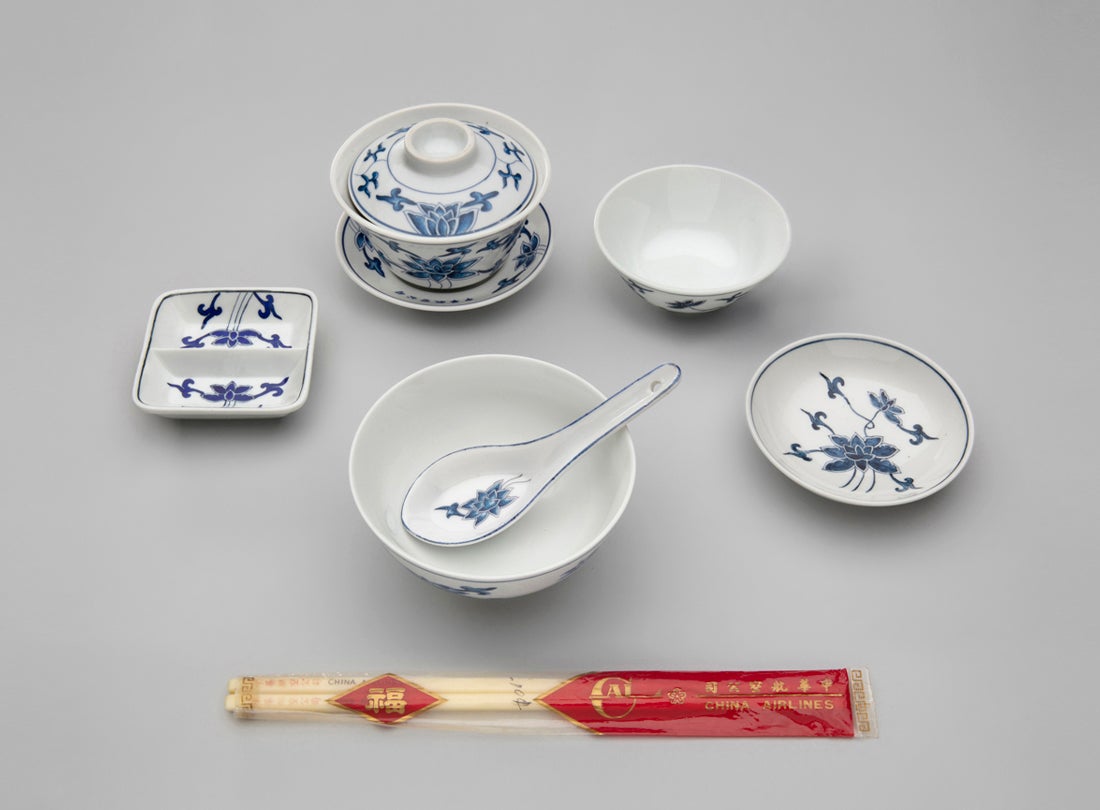 6 of 6
TWA (Trans World Airlines) Royal Ambassador first-class meal service set 1960s–mid-1970s
Rosenthal China, Germany
International Silver Co., Meriden, Connecticut
ceramic, glass, metal
Collection of SFO Museum
Plates, bowl, fork, knife, and spoon: gift of TWA Clipped Wings International
Cordial and wine glass: gift of Linda DeVoe
Salt and pepper shakers: gift of Shari Braun
Fork: gift of Shirley A. Rohe
2001.027.001, .003 a b, .012, 2002.113.220, .222, .223, 225, .226, .229, 2007.094.002, .010, 2018.118.047 a b, 2020.044.038
L2022.1101.001–.014
TWA (Trans World Airlines) Royal Ambassador
Originally created through a merger as Transcontinental & Western Air in 1930, TWA was renamed Trans World Airlines during the early postwar era as it expanded into international routes. In 1959, the airline introduced jet flights to Europe, and soon after, launched its "Royal Ambassador" international first-class service. It was promoted by TWA as "the finest passenger service ever offered to airline travelers." The Rosenthal China Company of Germany was contracted to create fine bone china tableware with a distinctive ambassadorial red sash and medallion design surrounding the cursive initials "RA". This china pattern was so popular that TWA made it available for sale to the public through inflight catalogs. This set included embossed entree, bread, and side plates, along with a bowl and a demitasse cup with saucer. TWA also included Swedish glassware with the Royal Ambassador medallion and salt and pepper shakers. International Silver Company produced flatware with a distinctive flowing, curvilinear pattern and the carrier's "TWA" service mark. As the name of the pattern suggests, it was designed to create a dining experience fit for an international dignitary with cuisine offerings similar to a gourmet restaurant, including Chateaubriand served from the cart, veal piccata, and Lobster Thermidor.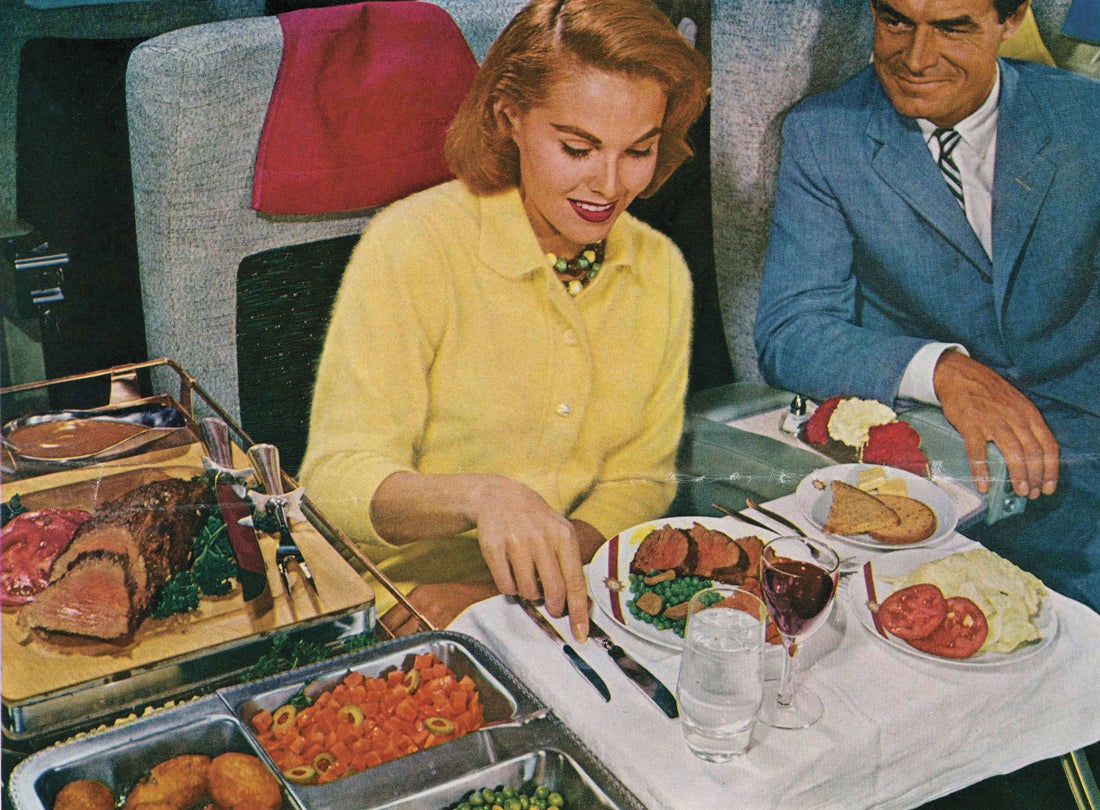 [image]
TWA Skyliner magazine  June 22, 1961
paper, ink
The State Historical Society of Missouri, Digital Collections
R2022.1105.001
United Air Lines Debonair first-class meal service set  early 1960s–1970
Syracuse China Company, Syracuse, New York
ceramic, glass, metal
Side plate: gift of Arthur and Linda Barrett
Salt and pepper shakers: gift of Edith Lauterbach
Tumbler and spoon: gift of Thomas G. Dragges
Wine and footed rocks glass: gift of Lance Hendry
Collection of SFO Museum
2020.078.009, .011, .012, 2017.044.001, 2006.028.120, .121 2002.018.094, 2010.163.034, .035, 2000.057.031 a, b, c, 2001.151.240, 2017.102.010, 2022.039.013 a
L2022.1101.017–.031 a b 
United Air Lines Debonair
Formed in 1931 from the merger and acquisition of several airlines, United Air Lines grew and prospered as one of the leading U.S. coast-to-coast carriers during the ensuing decades. In 1959, the airline launched Douglas DC-8 jet service on its transcontinental routes, and shortly thereafter, introduced the Silhouette "Debonair" pattern for its first-class inflight meal services. United contracted the Syracuse China Company of Syracuse, New York, to create ceramic plates, bowls, coffee cups, and saucers in a classic, beige, scalloped edge design. The pattern comprised a brown line around the rim and United's shield and circle logo. The set also included a matching ceramic teapot. The service mark was repeated on the glassware, while the silver-plated flatware by the International Silver Company featured United's shield logo with the carrier's cursive-script logotype. Designed in a traditional, retrospective style, the pattern allowed United to create an inflight meal experience reminiscent of an upscale, family-oriented American restaurant. Prepared in its San Francisco kitchen, United's hearty entrees included broiled ham steaks with pineapple and whipped potatoes. The set was in use until 1970.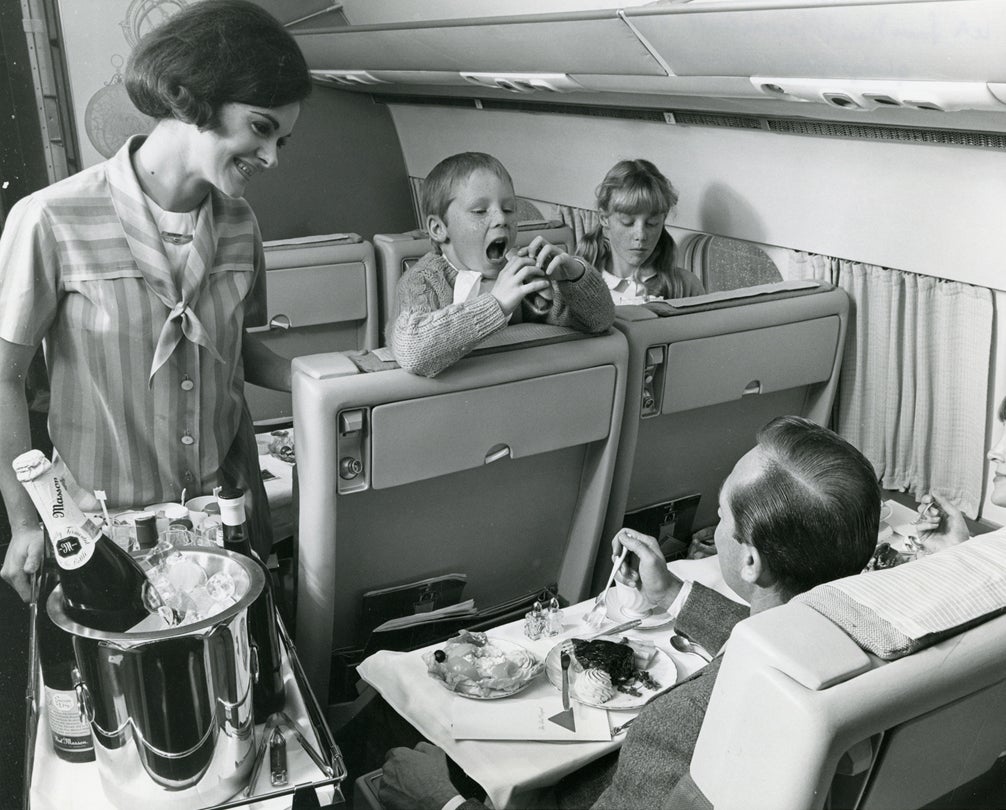 [image]
United Air Lines Douglas DC-8 meal service  1960s
photograph
Collection of SFO Museum
Gift of Thomas G. Dragges
2015.098.024
R2022.1101.034 
Western Airlines Wally Bird Shield first-class meal service set  1965–1976
Mayer China, Beaver Falls, Pennsylvania
ceramic, metal, glass
Collection of SFO Museum
Fork and spoon: gift of Thomas G. Dragges
L1996.14.029 a, .030 a, 2001.151.289 .293, ,2022.039.001–.006, .008–.010, .012, 2022.052.003
L2022.1101.035–.049
Western Airlines Wally Bird Shield
Originally founded as Western Air Express in 1925, the company rebranded itself as Western Airlines in 1941 after several mergers during the 1930s. Between the late 1930s and the early 1950s, the carrier expanded throughout the western North America to include routes from San Diego to Alberta, Canada, and east to Minneapolis. During the mid-1950s the airline began offering flights with complimentary champagne. In 1957, Western introduced nonstop service between Los Angeles and Mexico City on Douglas DC-6B airliners, branded as "Fiesta Flights." In 1965, the airline introduced its first meal service with china dinnerware on its first-class service to Mexico. Mayer China produced white china pieces with a unique Wally Bird shield design on select items. Introduced in 1955 and created at John Hubley Storyboard Productions, Wally Bird was often portrayed sitting on an airliner tail while smoking a cigarette and offering a champagne toast to Western's luxurious service as "the Ooonly way to fly!" Wally's name was derived from the slogan "Western Airlines Loves You." On early-1970s flights to the Northwest, Western offered its first-class passengers culinary selections such as beef filet Cordova with creamy baked shrimp and filet of sole Sir Edward. The meal service set was in use until the mid-1970s. The glassware used with the set was originally unbranded. The glasses on display were produced in the early 1970s and embossed with Western's service mark from that time.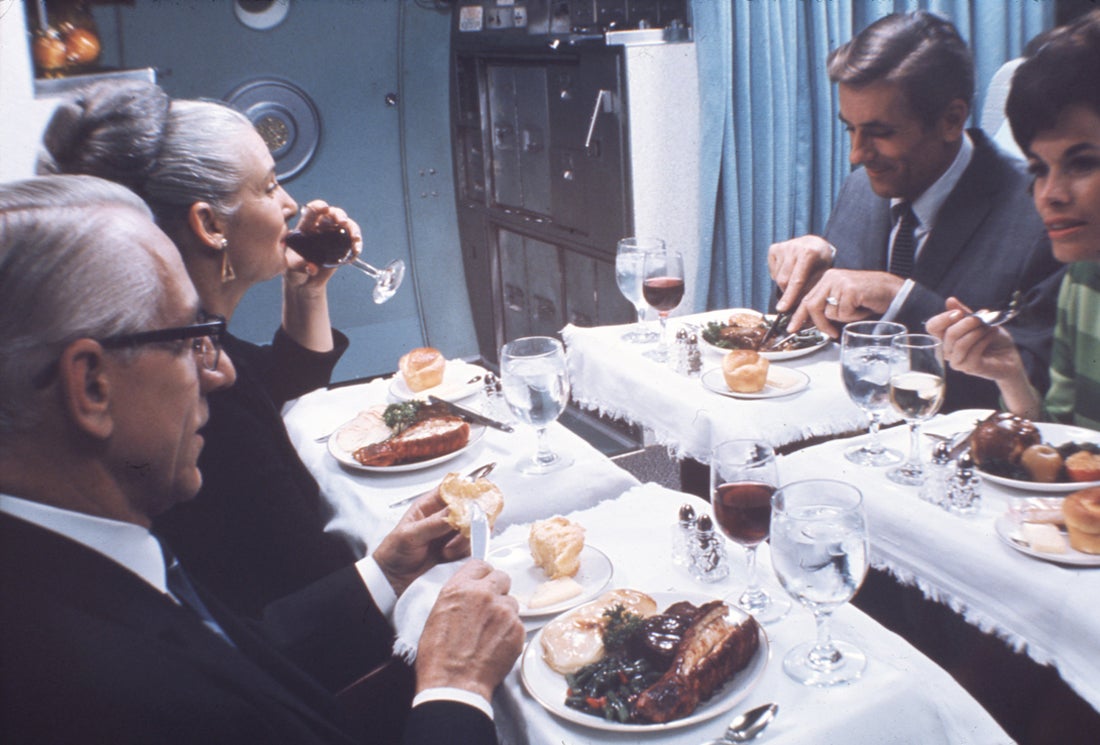 [image]
Western Airlines first-class meal service  1967
photograph
Collection of the Delta Flight Museum
R2022.1103.001
Pan American World Airways President first-class meal service set  1960s 
ceramic, glass, metal
Collection of SFO Museum
Entree and dinner plate: gift of Joanna Ramey
Egg cup, spoon, fork, and knife: gift of Thomas G. Dragges
Tumbler, cordial glass, small wine glass: gift of the Pan Am Association
Coffee cup, demitasse, and saucer: gift of the Captain John B. Russell Family
Saucer: gift of Harriet Blomkvist Hiram
Large and medium wine glasses: gift of Mr. and Mrs. Ernest J. Colant 
2012.147.205, .206, .207, .208, .350, .357, .369, .372, 2015.146.001 a b, 002 a b, .003, 2002.035.764, .765, 2001.151.179, 2011.126.112,  2004.001.043, 2000.058.0032, 2004.001.008
L2022.1101.050–.069
Pan American World Airways President
From its humble beginnings in 1927, with one airmail contract to Cuba and a single leased plane, Pan American Airways rapidly expanded in the 1930s under the leadership of Juan T. Trippe as it pioneered a worldwide overseas route system that included the Caribbean, South America, China, New Zealand, and Europe. By the 1940s, the airline rebranded itself as Pan American World Airways to reflect its global identity. In 1958, it became the first airline to launch Boeing 707 jet service to Europe. Several years later, the airline introduced the "President" pattern meal service set for its first-class international jet service. Noritake of Japan created the ceramic dinnerware featuring an eagle with three gold stars above its head and ten gold stars under its spread wings. A blue line adorned the rims. The eagle design was replicated on the glasses. The flatware was produced by the International Silver Company with Pan American's jet-age globe logo on the handle of each piece. Maxim's of Paris was contracted to prepare special menus for Pan American's first-class service. Dinner included hors d'oeuvres and drink carts followed by a carving station offering roast beef for a main course, a dessert selection, and after-dinner cheese platters and liqueurs.

[image]
Pan American World Airways Boeing 707 meal service  c. 1960 
photograph
Collection of SFO Museum
Gift of the Pan Am Association
2000.058.0503.025 
Japan Air Lines (JAL) Blue Crane first-class and executive class meal service set 1970s–1980s
Noritake, Japan
ceramic, metal, glass, wood, paper
Collection of SFO Museum
Gift of Thomas G. Dragges
2002.018.251, .254, .257, .267, .271, .273,  2003.014.063, .068, 2011.149.031, 2011.196.016, 2002.035.773–.775, 2002.035.853 a b
L2022.1101.087–.096, .098–.100
R2022.1101.097 a b
Japan Air Lines (JAL) Blue Crane
Japan Air Lines (JAL) was formed and initiated domestic operations in 1951. After becoming a state-owned company, the airline launched transpacific international service between Tokyo and San Francisco with Douglas DC-6B airliners in 1954. JAL entered the jet age in 1960 with the delivery of its first Douglas DC-8s. During the following two decades, the carrier grew its worldwide routes to include New York, Moscow, Western Europe, and Asia. The airline introduced the Boeing 747 widebody in 1970, and two years later, received international, flag-carrier status. During this decade, JAL offered its passengers premium meal services on ceramic dishware created by Noritake of Japan featuring either a single crane or a flock of cranes in blue. These motifs were inspired by the JAL logo called the "tsurumaru" or "crane circle," created in 1958 by Jerry Huff of Botsford, Constantine and Gardner of San Francisco who was inspired by Japanese Kamon or family crests. The set included ceramic rectangular plates and casserole dishes, bowls, a sake service, coffee cups and saucers, and a tea service. The silver-plated flatware and frosted glassware featured the tsurumaru logo. The set was used until the1980s. On flights from Hong Kong to Tokyo in the mid-1970s, JAL catered to Western tastes with premium meals of chicken bourgeois, braised celery, and broccoli Hollandaise.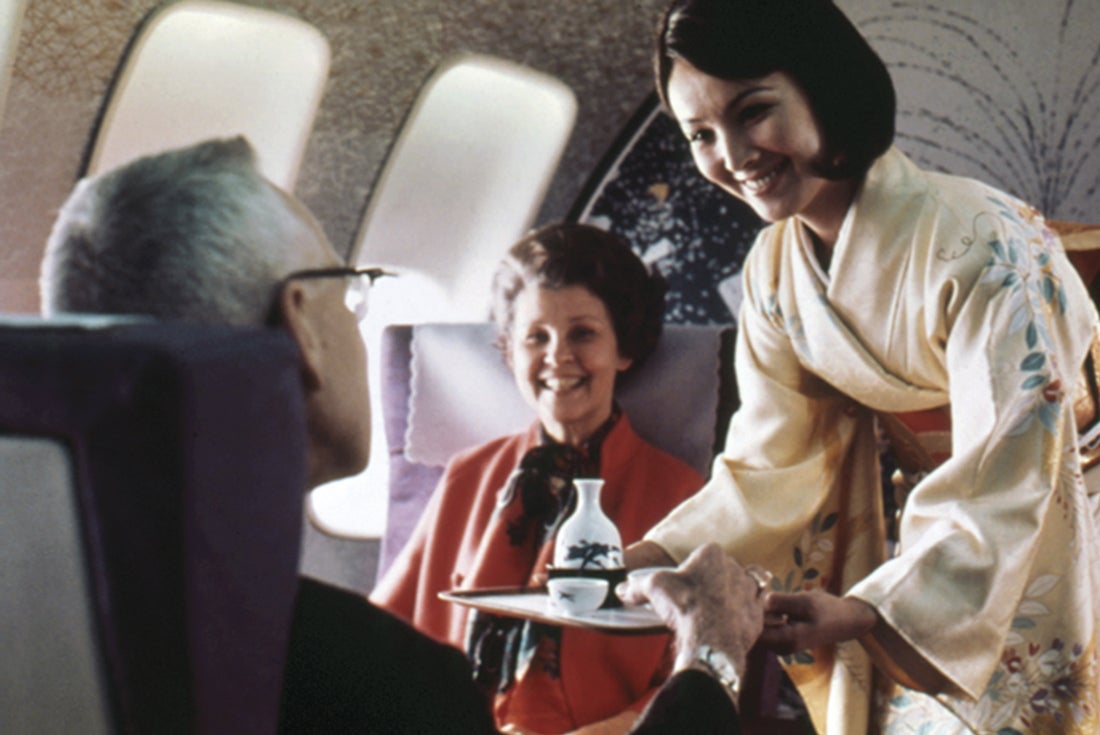 [image]
Japan Air Lines first-class sake service  1977
slide
Collection of SFO Museum
Gift of Thomas G. Dragges
2010.009.0138.078
China Airlines Blue Lotus Asian meal service set 1970s
ceramic, wood, plastic
Sauce dish, soup spoon, and chop sticks: gift of Thomas G. Dragges
Rice bowl, condiment dish, and saucer: gift of Masako Matsuo
2002.018.396, .399, .400, .403, .408, 2002.035.859 a b, 2012.061.096–.098 
L2022.1101.119, .121–.124, .126–.128, .137
China Airlines Blue Lotus
Established in 1959 by the Republic of China in Taiwan, China Airlines initially focused on charter flights, and began scheduled regional services in 1962. Four years later, the airline began offering international flights to South Vietnam, Hong Kong, and Japan. In 1970, after the acquisition of several Boeing 707 jetliners, the carrier initiated transpacific flights to San Francisco. As the airline grew its jet fleet it expanded services to Southeast Asia, Northeast Asia, and North America. The carrier launched international Boeing 747 widebody service in 1976. During this decade, China Airlines provided premium meal services on blue-and-white china sets with a traditional Chinese lotus motif. The production of cobalt blue-and-white ware in China dates to the Tang Dynasty (618-907 CE) and, over the next millennium, became one of the most well-known types of Chinese ceramics. The airline used select china pieces for Western- and Asian-style meals. The Western-style meals were offered with plates, coffee cups and saucers and metal flatware, while the Asian-style meals were served with soup and rice bowls, a tea service, soup spoons, and chopsticks. On flights between San Francisco and Taipei, China Airlines presented its passengers with a choice of buttered beef filet, duchess potatoes, and buttered broccoli, or sweet and sour pork with noodles and snow peas.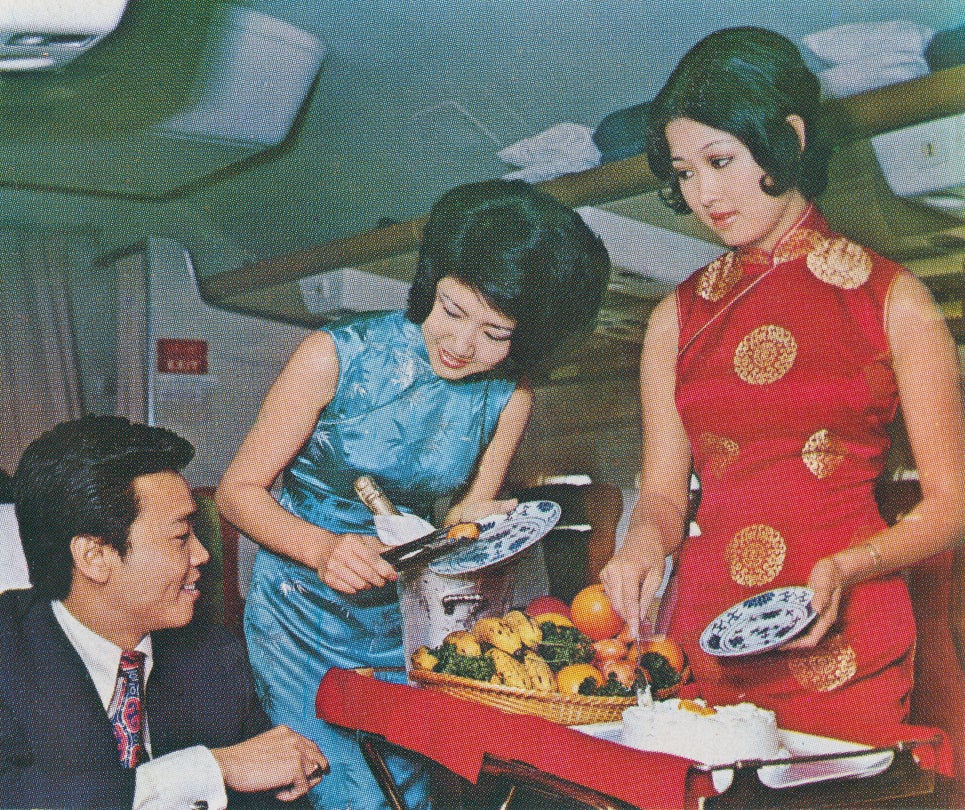 [image]
China Airlines first-class meal service promotional clipping  1970s
paper, ink
Courtesy of Vincent Ma
R2022.1102.001.01