More than a Meal Airline Meal Service Sets, 1960s–80s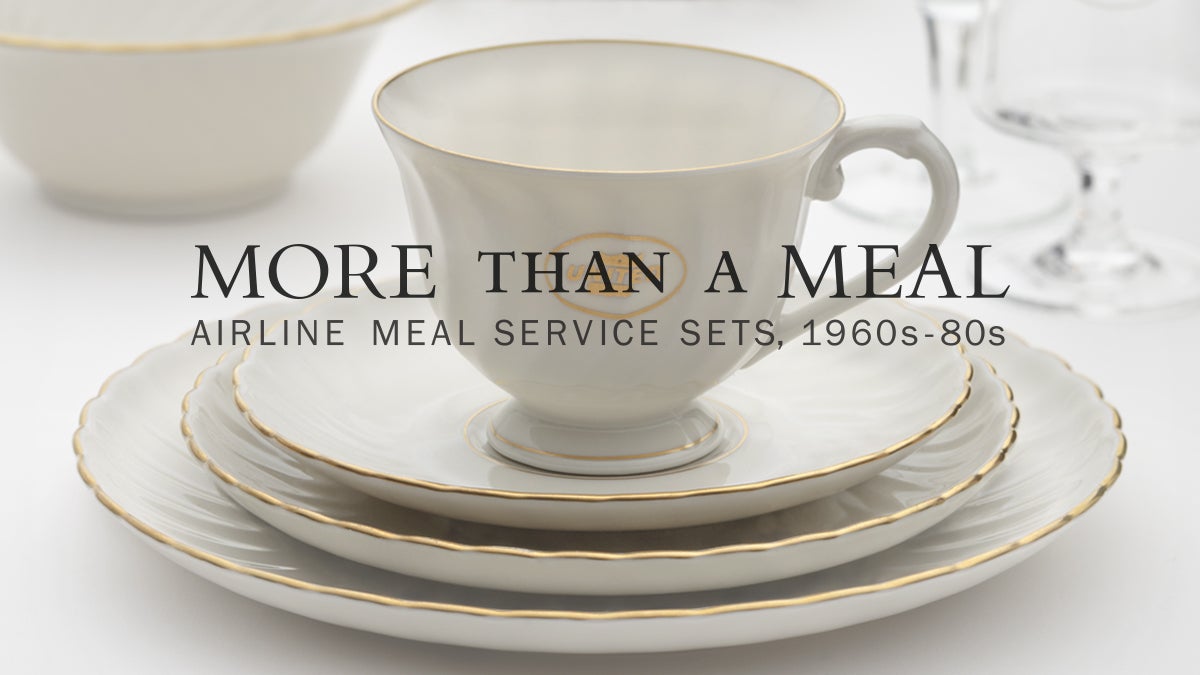 Departures - Level 3, Gallery 4A
Oct 21, 2022 - Jul 09, 2023
More than a Meal
Airline Meal Service Sets, 1960s–80s
During the early years of commercial flight, the nourishment and hydration needs of passengers became a primary focus for nascent airlines. In 1919, Handley Page Transport served the first inflight meal on a flight from London to Paris in a World War I bomber modified for passenger use. By the 1920s, some European carriers were offering sophisticated restaurant-style meals that included lobster, ox tongue, roasted chicken, foie gras, and peaches with Melba sauce. In the United States, airline staff initially handed out box lunches of fried chicken and apples to boarding passengers, or the copilot served cold sandwiches and tepid coffee during flight.
During the 1930s, Pan American Airways and Imperial Airways equipped their transoceanic flying boats with kitchens and passenger dining rooms, where premium meals were served on fine china. One of the first land-based airliners designed with a galley for food preparation was the Douglas DC-3, introduced in 1936. During this time, the airlines used onboard dishes designed to be lightweight due to the limited payload capabilities of these early propliners. In the postwar era, as air travel rapidly increased, aircraft manufacturers designed new airliners with food service in mind. Airlines began developing distinct food and beverage programs, and meal services became a highly competitive aspect of their inflight offerings. Carriers often marketed these services with alluring promotions and developed sophisticated menus to distinguish themselves and entice passengers with their cuisine.
To provide a restaurant-style inflight dining experience, airlines also considered the tableware comprising the meal service set. They carefully conceived their chinaware, flatware, and glassware for presentation, utilization, storage, and durability. Manufacturers often created tableware bearing the airline's service mark or logo, as well as unique patterns related to national origin, destination, or service promotions. This exhibition presents eight airline meal service sets from the 1960s to the 1980s, along with menus and images of inflight meal services from the time. 
@SFOMuseum
#AirlineMealSets
[image]
United Air Lines Debonair first-class meal service set  early 1960s–1970
Syracuse China Company, Syracuse, New York
ceramic, glass
Side plate: gift of Arthur and Linda Barrett
Wine and footed rocks glass: gift of Lance Hendry
Collection of SFO Museum
2020.078.009, .011, .012, 2017.044.001, 2010.163.034, .035, 2017.102.010, 2022.039.013 a b
L2022.1101.024–.031a b
©2022 by San Francisco Airport Commission. All rights reserved.