Departures Level 3, Gallery 4B and Gallery 4C
Oct 09, 2021 - Jan 29, 2023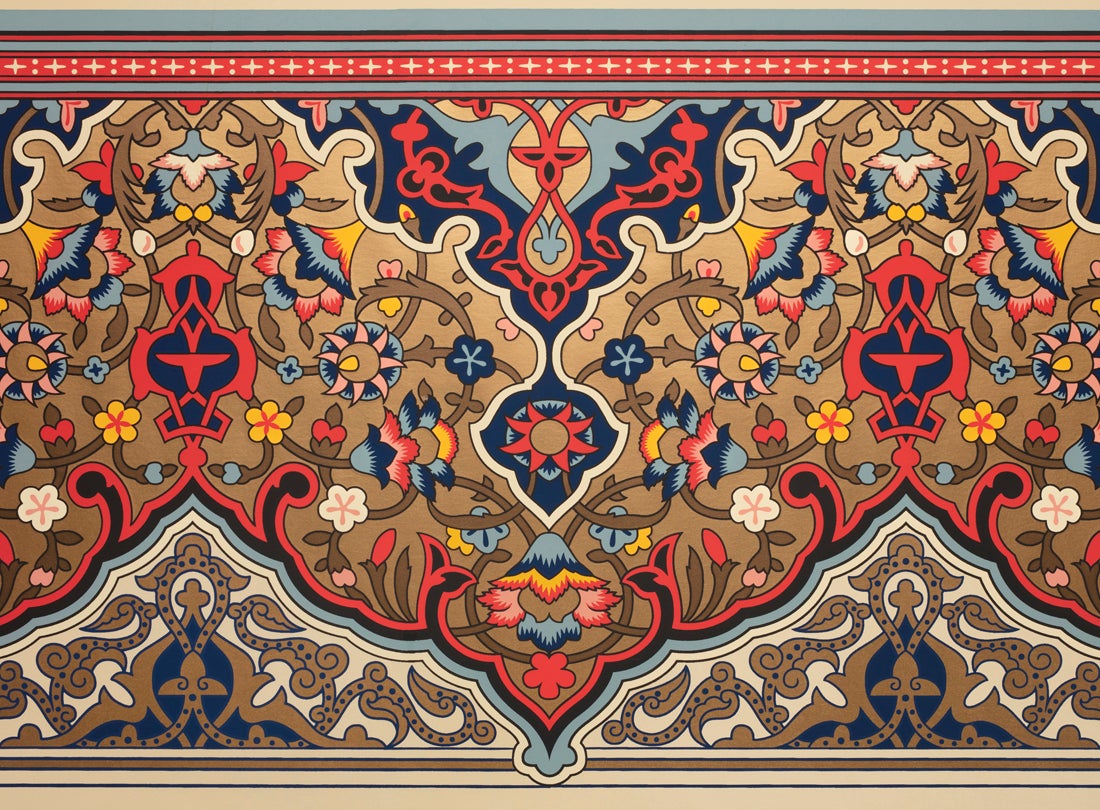 1 of 6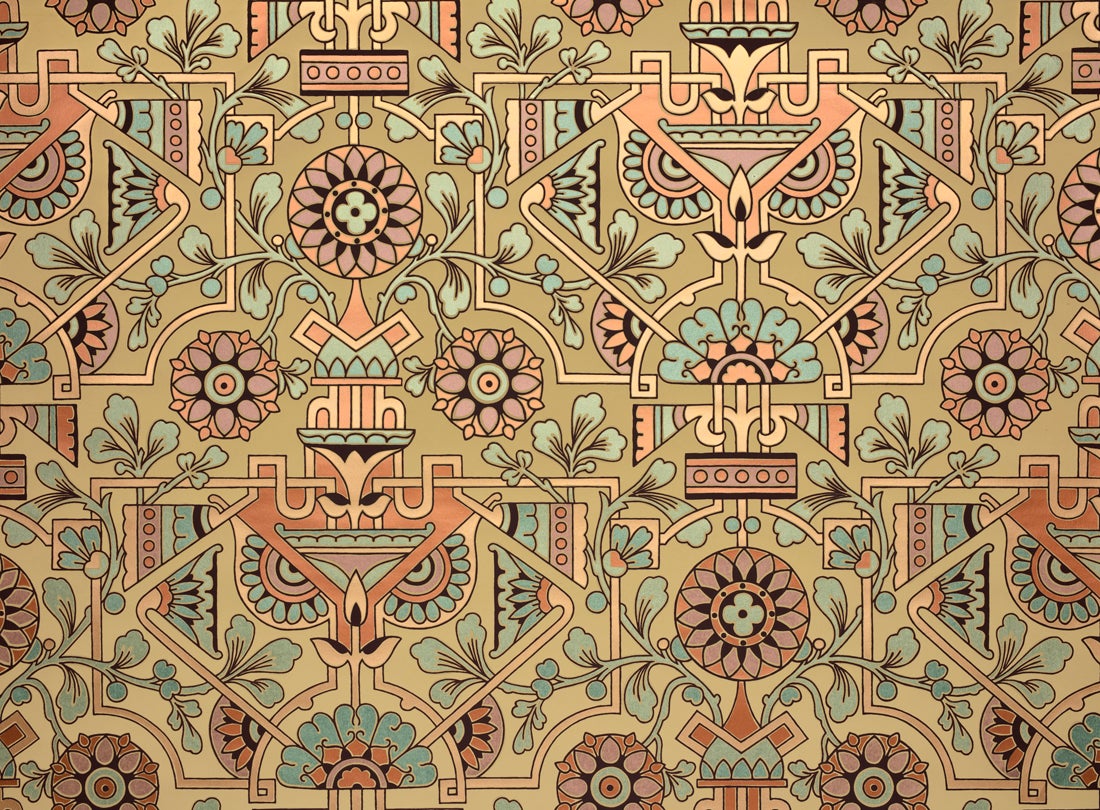 2 of 6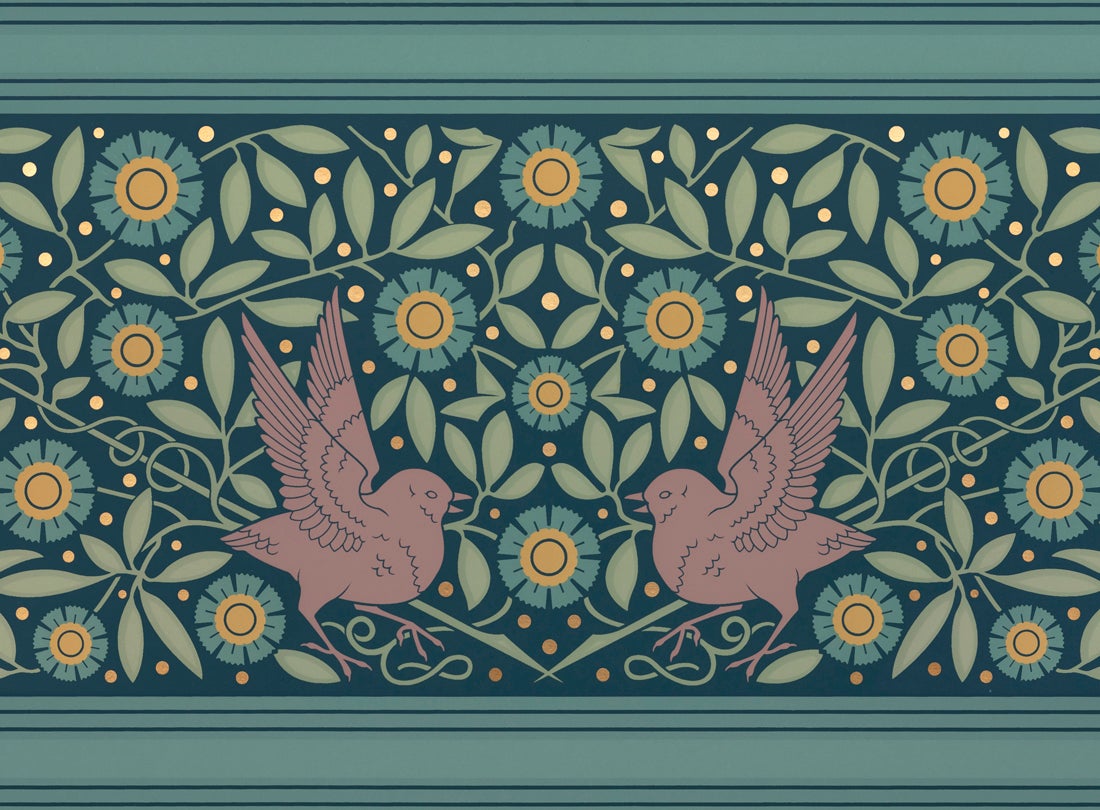 3 of 6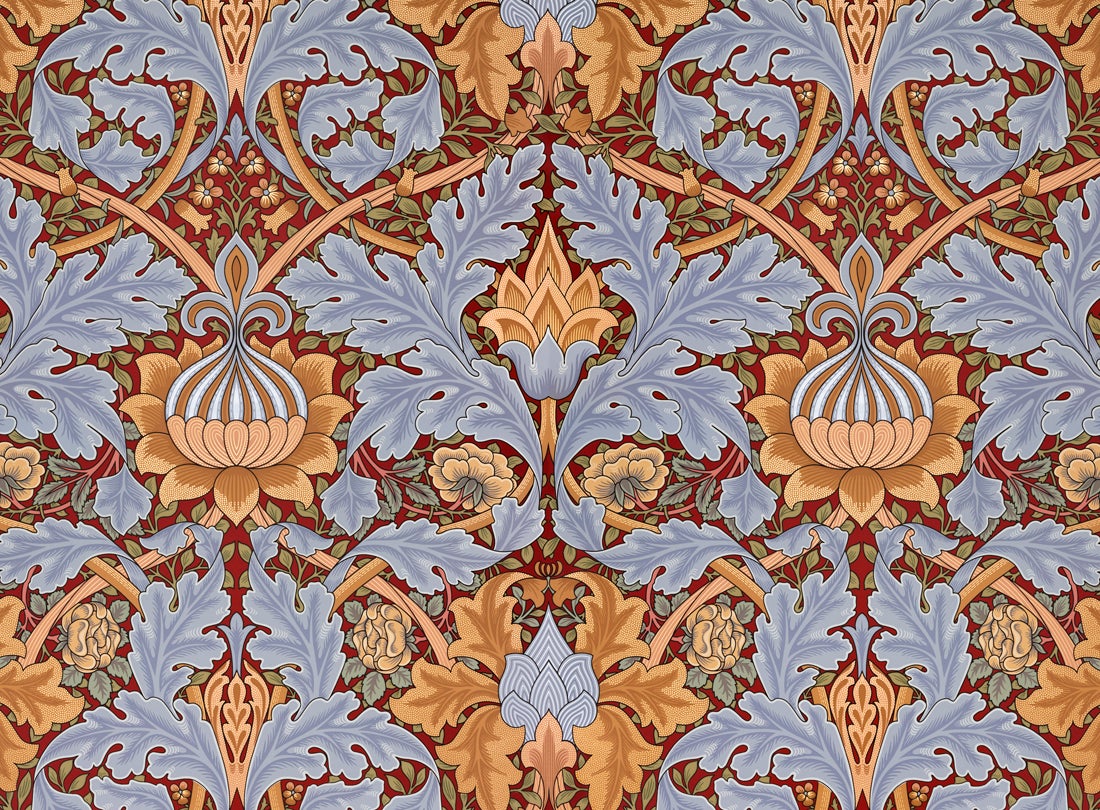 4 of 6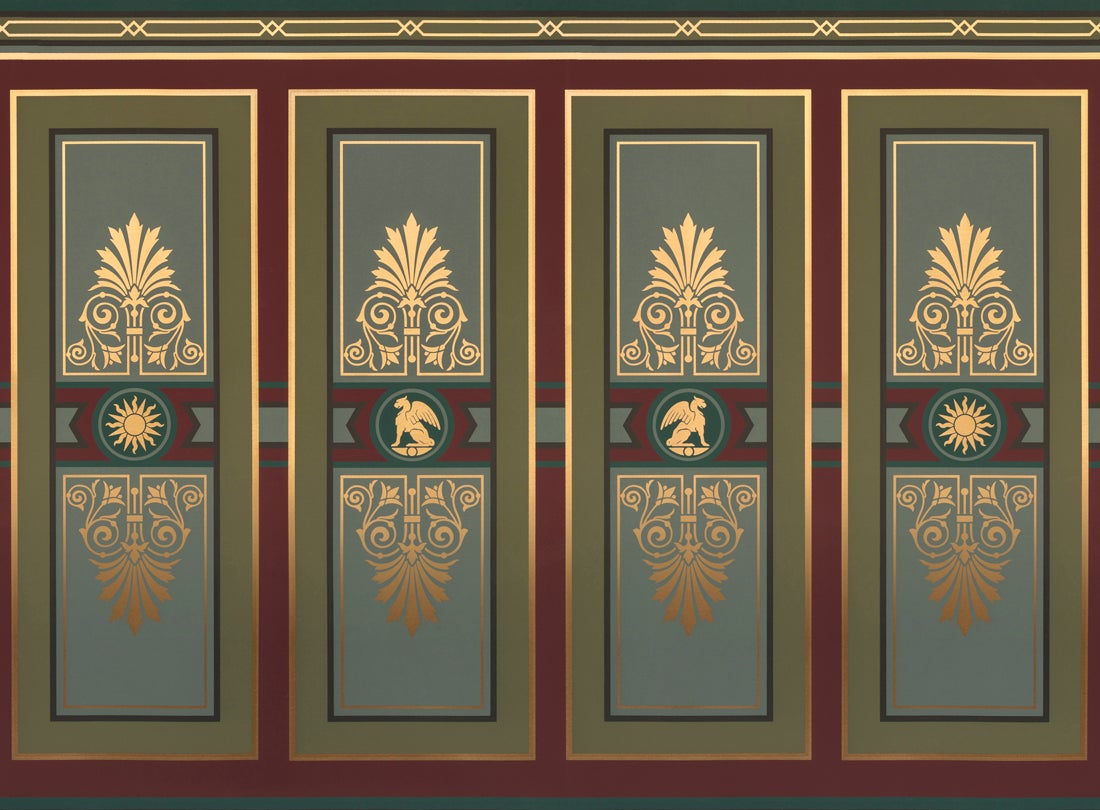 5 of 6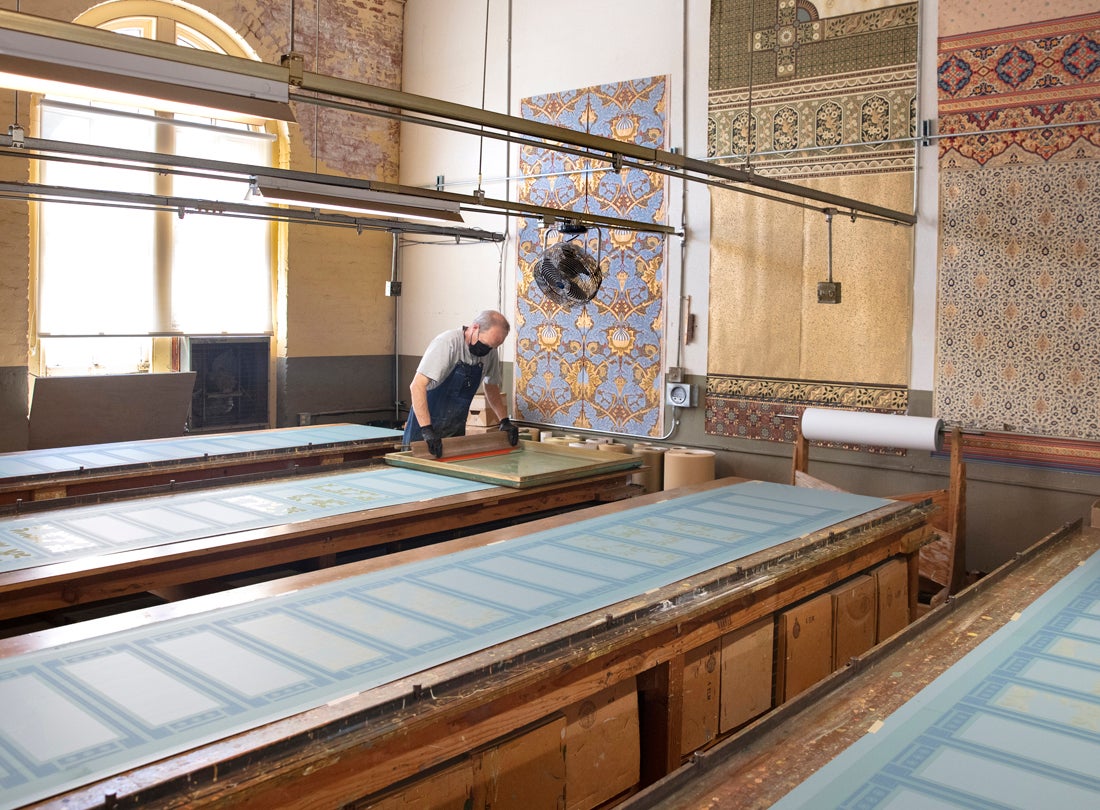 6 of 6
Persian fringe  2021
Bradbury & Bradbury Art Wallpapers
Benicia, California
R2021.1401.014
Far Eastern Inspiration
The individual patterns of this room set were drawn and adapted from examples of the Persian and Indo-Persian patterns depicted in Albert Racinet's compendium L'Ornement Polychrome, published in installments between 1869 and 1873. A French costume historian, illustrator, painter, and author, Racinet (1825–93) worked as an engraver and artistic director for the French publisher Firmin-Didot et Cie. The success of L'Ornement Polychrome prompted a second series in 1885. The lavish imagery presented in both sets drew from cultures around the world and featured a variety of mediums, including woodwork, metalwork, architecture, textiles, painting, and pottery. 
Prior to Racinet's publication, Owen Jones (1809–74) served as an early proponent of stylized Islamic design, which he highlighted in The Grammar of Ornament (1856). In addition to illustrated publications, international exhibitions of Islamic and other non-Western arts helped fuel the public's desire for these styles, as did the collections of early museums, such as the British Museum in London (1753) and the Louvre in Paris (1793). Exoticism was not only found in decorative arts and interiors but was also a theme in nineteenth-century paintings.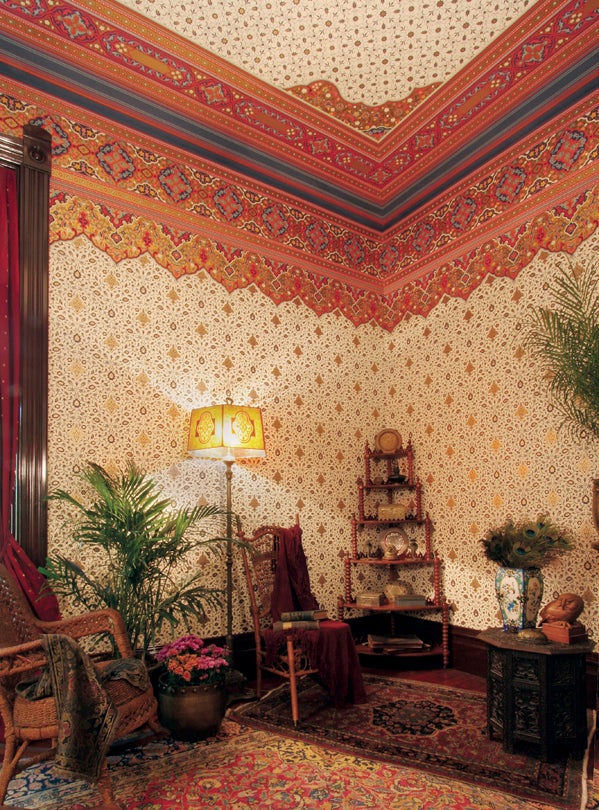 [image]
Persian sitting room  c. 2011
Alameda, California
Courtesy of Bradbury & Bradbury Art Wallpapers
R2021.1401.023
Centennial wall fill  2021
Bradbury & Bradbury Art Wallpapers
Benicia, California
L2021.1401.017
Christopher Dresser
Christopher Dresser (1834–1904) realized a future in which high-quality design could merge with machine production. He enjoyed a prolific career, designing everything from wallpaper to furniture, metalwork, ceramics, and textiles. Dresser was influenced by leading English design reform movement proponents such as Owen Jones (1809–74). A trained botanist, Dresser drew inspiration from botanical forms and the arts of Japan. Like other Victorians of his era, Dresser absorbed historical styles, though he believed that a designer should "study the ornament of bygone eras till he understands it and feels its spirit, and then…strive to produce new forms and new combinations" reflecting the present era. 
Dresser traveled to the United States on his way to Japan in 1876 where he toured the Centennial International Exhibition in Philadelphia and delivered several lectures at the Pennsylvania Museum and School of Industrial Art. He designed several wallpapers specifically for the American market. The stylized lotus flowers that appear in these patterns elicit ancient Egypt while evoking Dresser's strikingly modern designs. Dresser mostly designed for textile and wallpaper manufacturers towards the end of his career.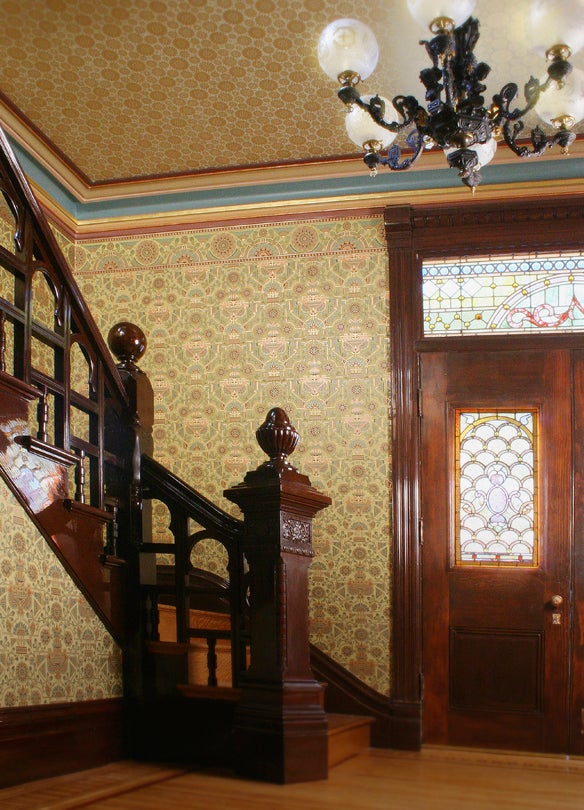 [image]
Centennial room set in a Victorian interior  2007
Alameda, California 
Courtesy of Bradbury & Bradbury Art Wallpapers
R2021.1401.026
Herter sparrow frieze  2021
Bradbury & Bradbury Art Wallpapers
Benicia, California
L2021.1401.018
Herter Brothers
Christian Herter (1839–83) arrived in New York from Germany in 1859 and became a full partner in his brother Gustave's firm in 1864, forming Herter Brothers. In 1870, his brother returned to Germany, and Christian served as the firm's artistic director. During this time, the large firm created interiors for some of the most magnificent homes across the country, including William H. Vanderbilt's residence on Fifty-First Street and Fifth Avenue. Herter Brothers' holistic approach included designs for furniture and woodwork, wall and ceiling decoration, as well as floor treatments and draperies. In 1878, Christian Herter registered designs for a dozen wallpapers at the U.S. Patent Office. Many of the patterns drew inspiration from Japan, as did much of the company's furniture. One wallpaper patent featured a design of peacock feathers; another fill paper and frieze exhibited floral and animal motifs on a dark background. The Herter Brothers showroom in New York City offered Herter's original designs for wallpaper alongside those of leading Aesthetic Movement designers from England. This Herter Brothers suite of papers is inspired by the firm's designs.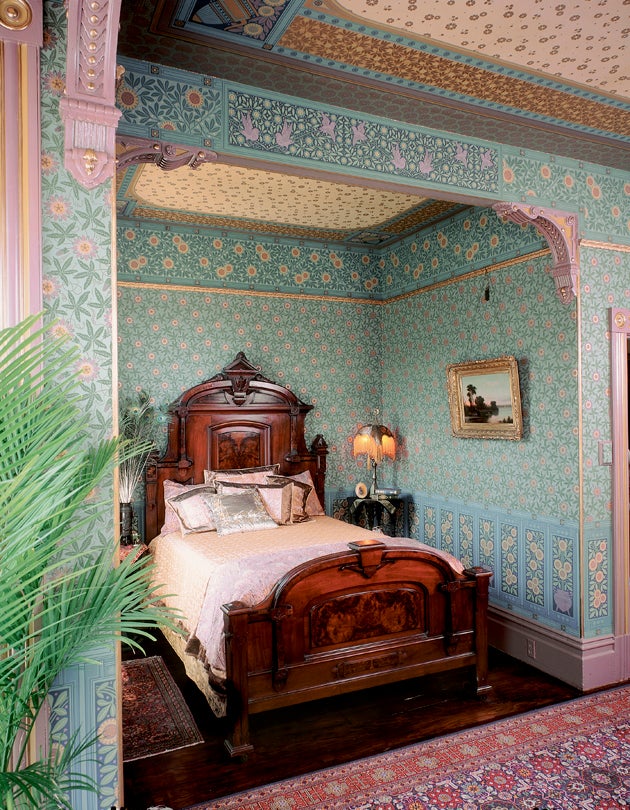 [image]
Herter Brothers room set in a bedroom  2002
San Francisco
Courtesy of Bradbury & Bradbury Art Wallpapers
R2021.1401.032
Morris Specialty Line, St. James wallpaper  2021
Bradbury & Bradbury Art Wallpapers
Benicia, California
L2021.1401.015
Crafting Wallpaper
Many of Bradbury & Bradbury Art Wallpapers' patterns are initially hand painted on acetate or by cutting a stencil. For every pattern created, a separate stencil or silkscreen must be prepared for each different color. Silkscreens require a coating of photo-sensitive emulsion, essentially creating a large piece of film. The screen and artwork are sandwiched in a large vacuum frame and exposed to light. Areas exposed to the light become impervious; the other areas are washed away. Paint is forced through the stencil using a plastic-bladed squeegee. The printer must skip every other repeat to prevent the silkscreen frame from falling in wet ink. Each screen lays down one color at a time. Printing tables are ninety feet long and hold six rolls of wallpaper. A complex pattern for an average size Victorian room can require over one thousand individual impressions. 
St. James, which has seventeen colors, requires seventeen different prints with seventeen separate screens, each of which must perfectly align with the next one. Celebrated English designer William Morris (1834–96) created the original design for Bradbury & Bradbury's St. James wallpaper at twice this scale for Queen Victoria's Throne Room at St. James's Palace in London. 
[image]
St. James installation at the Weylin Event Center  2014
Williamsburg, New York 
Courtesy of Bradbury & Bradbury Art Wallpapers
R2021.1401.033
Neo-Classical Renaissance dado  2021
Bradbury & Bradbury Art Wallpapers
Benicia, California
L2021.1401.013
Nineteenth-Century Neoclassism
Renaissance Revival, a prevalent style following the Civil War, drew inspiration from the Renaissance of the fifteenth and sixteenth centuries as well as the classical world. Nineteenth-century archaeological discoveries in Greece, Italy, and Egypt prompted designers to adapt and reinterpret designs and motifs from the past. Renaissance Revival interiors often included elaborately carved furnishings and extravagantly draped windows beneath ornamental ceilings.
Ceiling decoration flourished in the late nineteenth century. Seldom left white, ceilings were painted in complementary shades to match wall colors, stenciled, tinned, wallpapered with fill papers and borders, or hand painted with decorative or figural scenes. A variety of three-dimensional ornaments, cornices, and center medallions also adorned ceilings. Christopher Dresser (1834–1904), instructed that more color could adorn the ceiling as it did not serve as a background like the walls or floor. "Why not then, have beautiful ceilings, especially as they can be seen complete, while the wall is part hidden by furniture and pictures?….We glory in a clear blue sky overhead, and we speak of the sky as increasing in beauty as it becomes deeper in tint…Why then make our ceilings white?"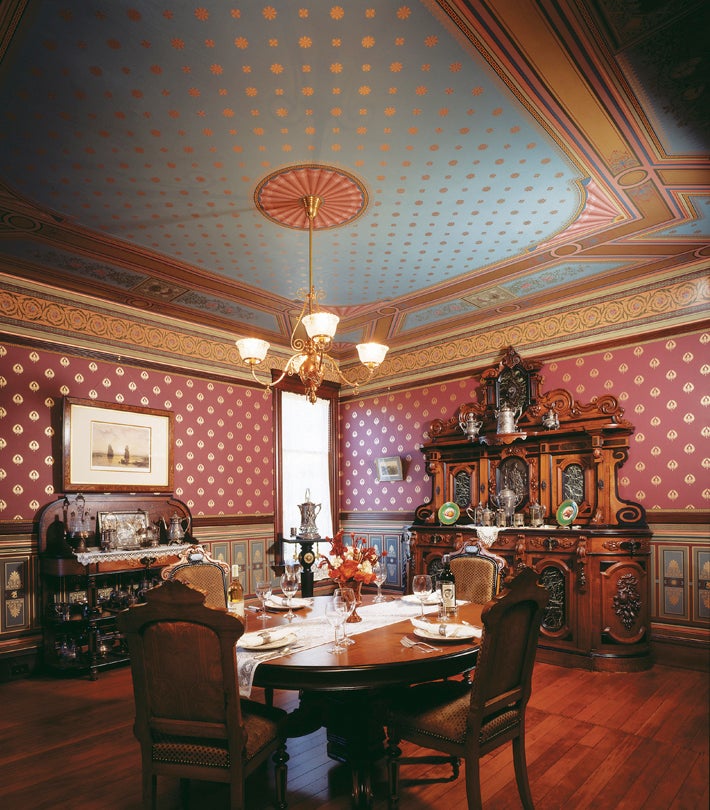 [image]
Neo-Classical dining room in Pompeiian colorway  c. 1995
San Rafael, California
Courtesy of Bradbury & Bradbury Art Wallpapers
R2021.1401.020
Bradbury & Bradbury Art Wallpapers factory  2021
Benicia, California
Photograph by SFO Museum
R2021.1419.003
Bradbury & Bradbury Art Wallpapers
Bruce Bradbury established Bradbury & Bradbury Art Wallpapers in 1979. Fascinated by Victorian architecture in his youth, Bruce moved to San Francisco in the late 1960s. He later traveled to England where he explored the wallpaper collections at the Victorian & Albert Museum in London and left enchanted by the work of William Morris (1834–96), Christopher Dresser (1834–1904), and other Victorian-era designers. Bruce returned home and taught himself to silkscreen while working at wallpaper factories in Benicia and San Francisco. Before long, he began crafting his own Victorian wallpapers in the evenings and weekends and established a mail-order business. In 1979, the first catalog featured twelve hand-silkscreened period wallpapers. In 1981, Bruce moved into the studio where Bradbury & Bradbury Art Wallpapers still resides today, a nineteenth-century former U.S. Army arsenal in Benicia, California.
When Bruce retired in 2005, Stephen Bauer and his wife Lisa took over the company. Bauer, a gifted illustrator, began apprenticing at Bradbury & Bradbury Art Wallpapers in 1982 at the young age of nineteen. Like Bruce, he felt passionate about Victorian design, even as a child. As the company's artistic director, Bauer scours authentic patterns found in museum and archival collections, factory records, early wallpaper sample books, and period literature to create his artisanal wallpapers. Although Bradbury & Bradbury Art Wallpapers began by offering Victorian room sets, they have expanded over the years to include Arts and Crafts patterns as well as twentieth-century designs—from Art Deco to the Atomic Age. 
At their studio, they hand silkscreen hundreds of historic designs using oil-based paints with a small, dedicated staff of employees. Their most complex paper, St. James, requires seventeen individually applied colors. Bradbury & Bradbury Art Wallpapers also creates custom designs for state, federal, and international historic preservation projects as well as producing wallpapers for period films and television series. This exhibition celebrates Bradbury & Bradbury Art Wallpapers' roots with six sumptuous Victorian-era room sets that feature both wall and elaborate ceiling papers—a unique specialty of the firm.