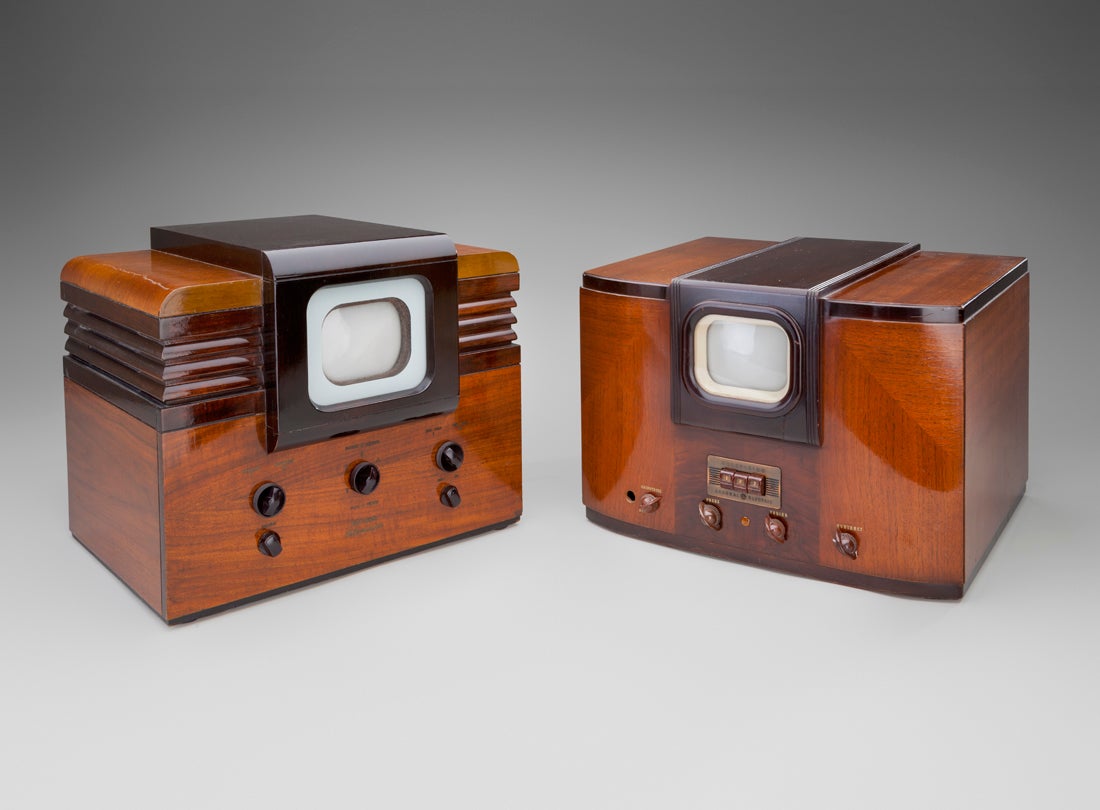 1 of 11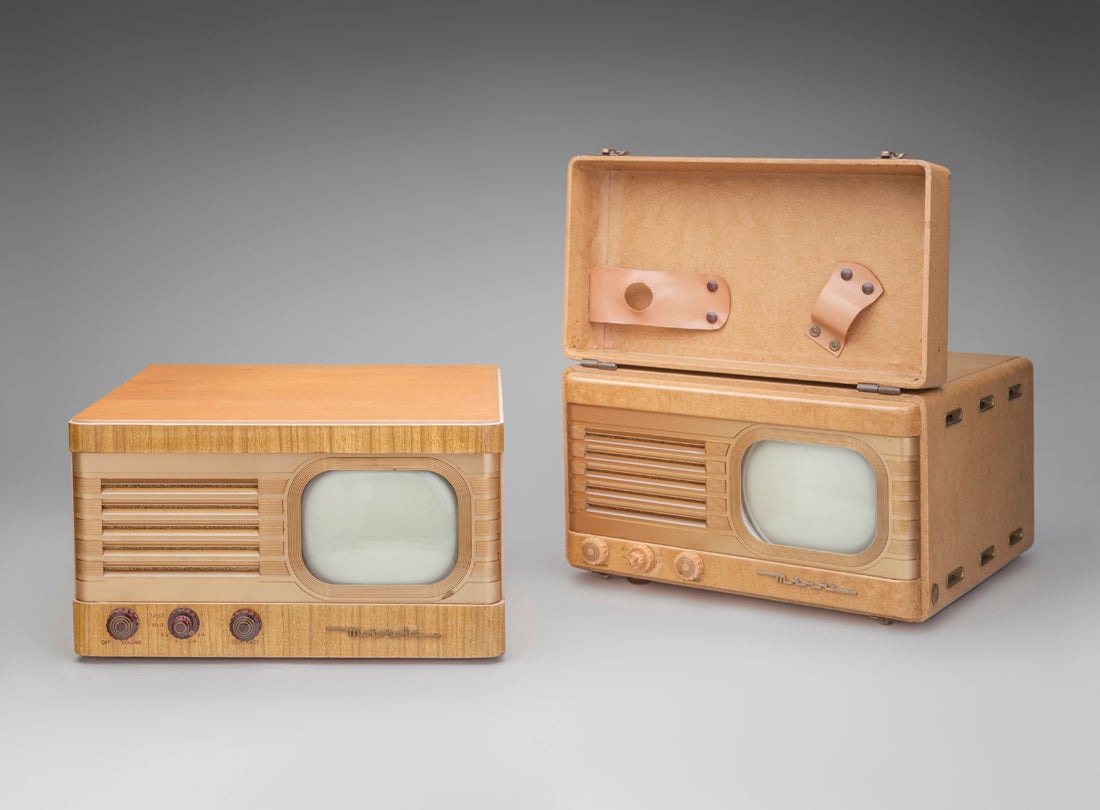 2 of 11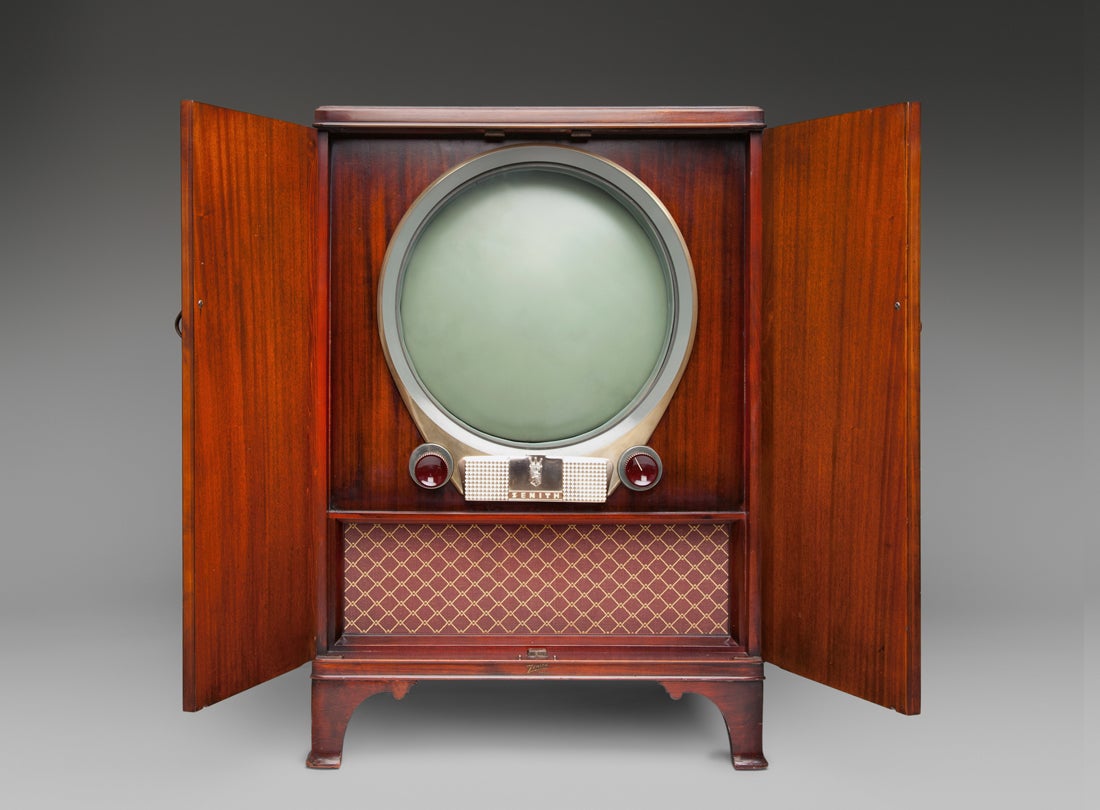 3 of 11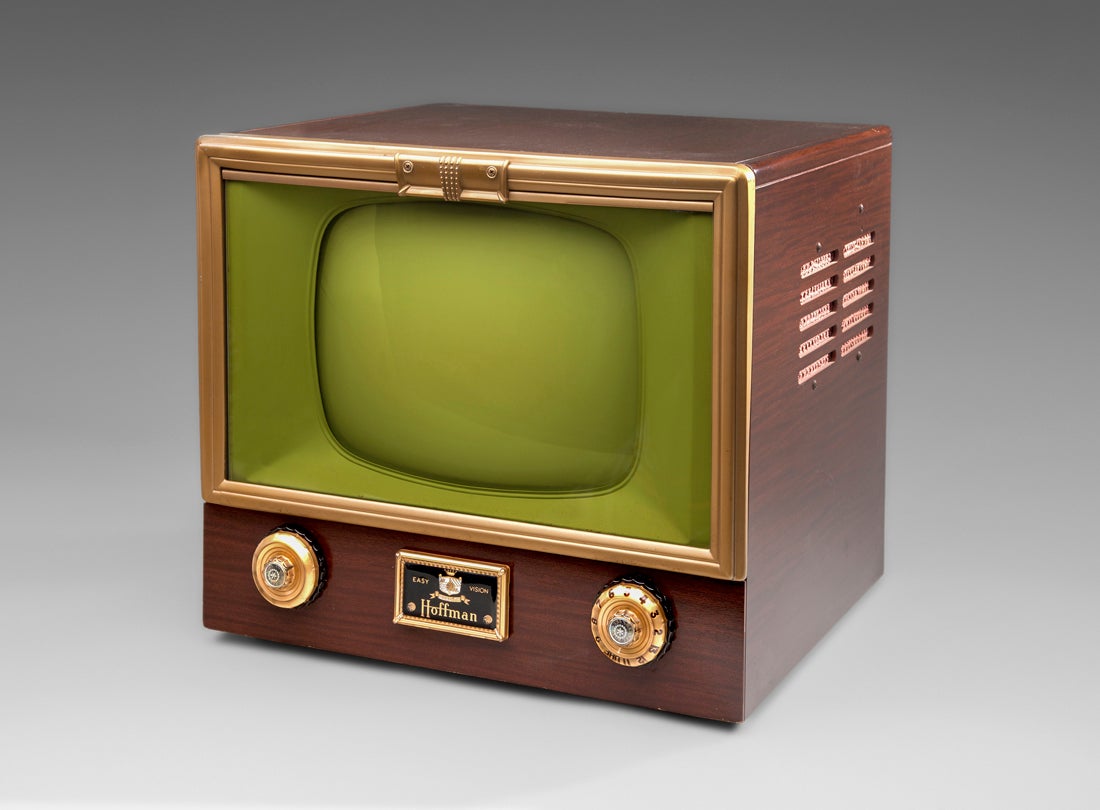 4 of 11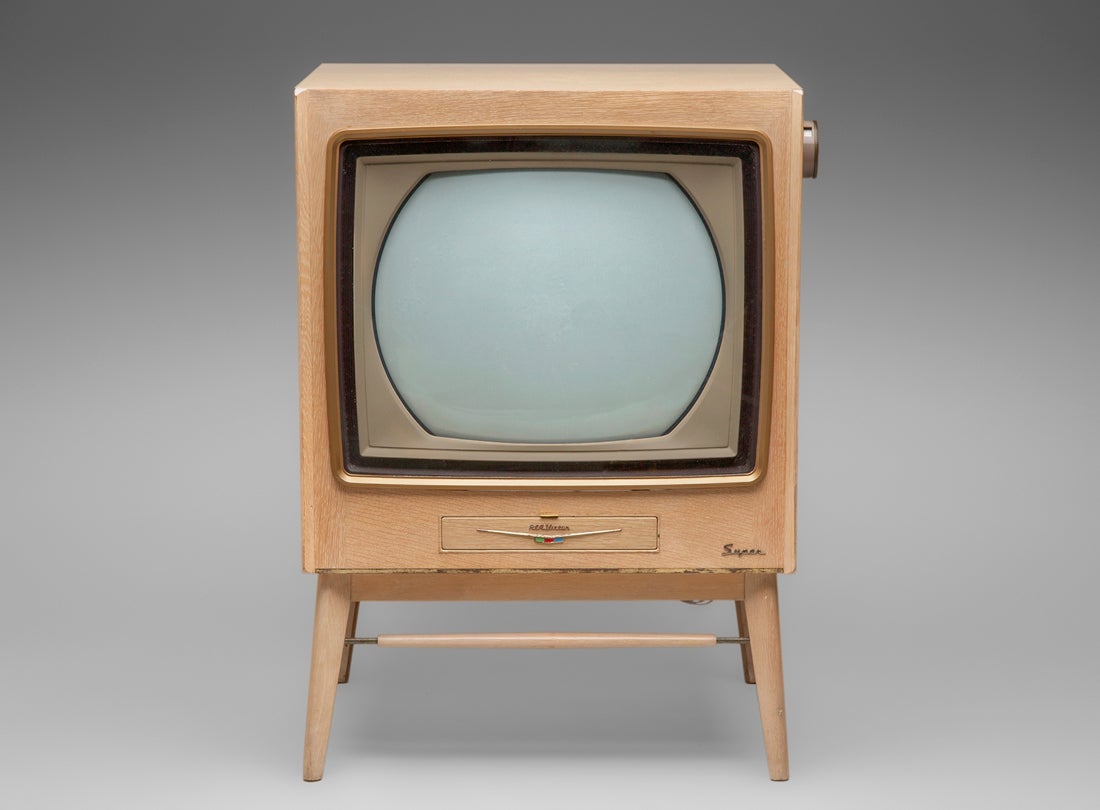 5 of 11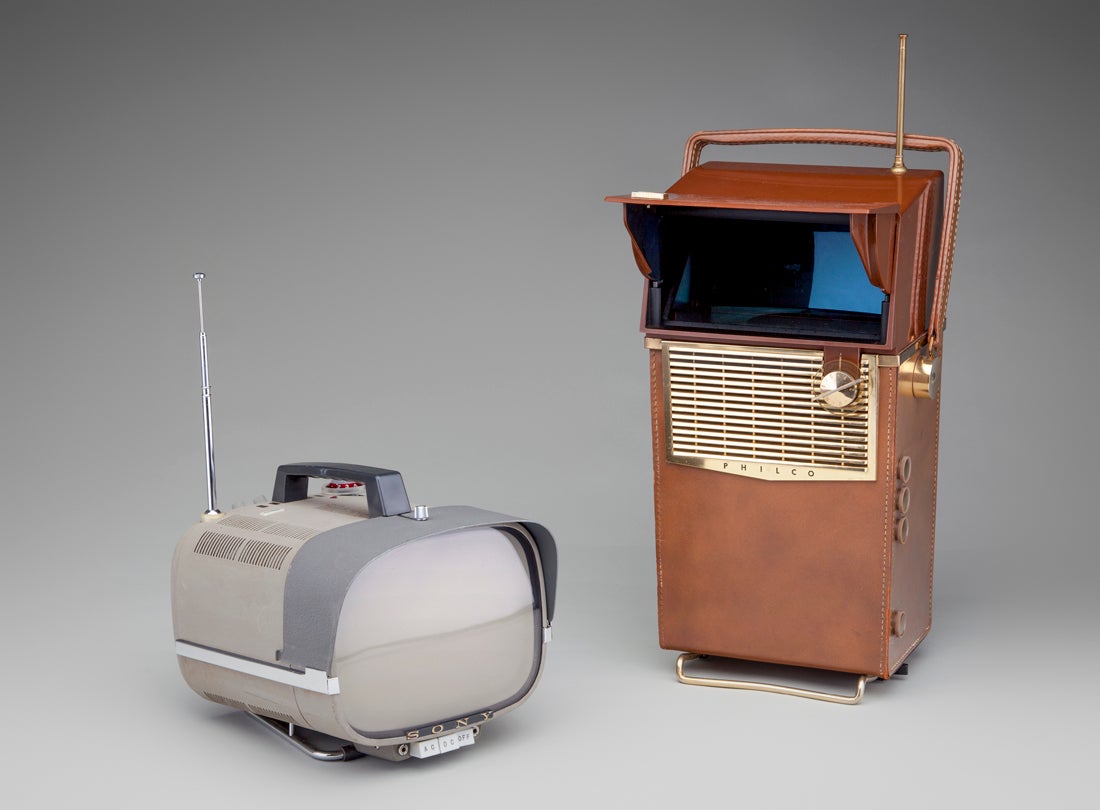 6 of 11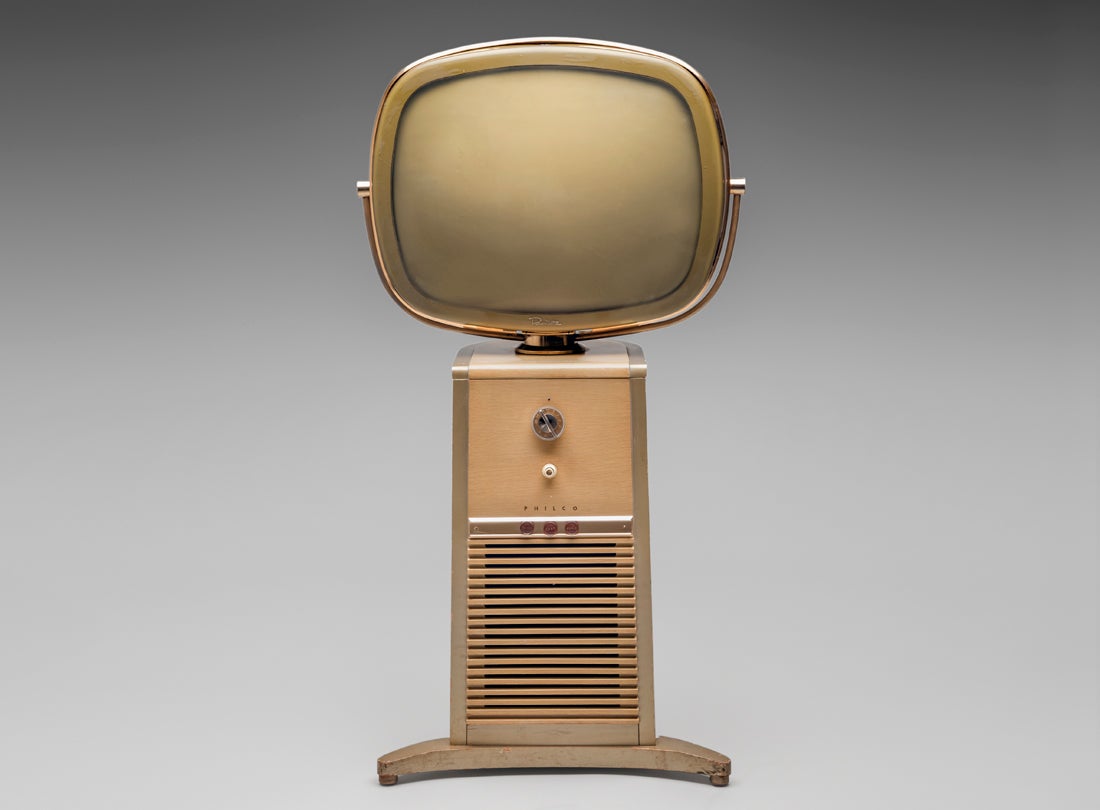 7 of 11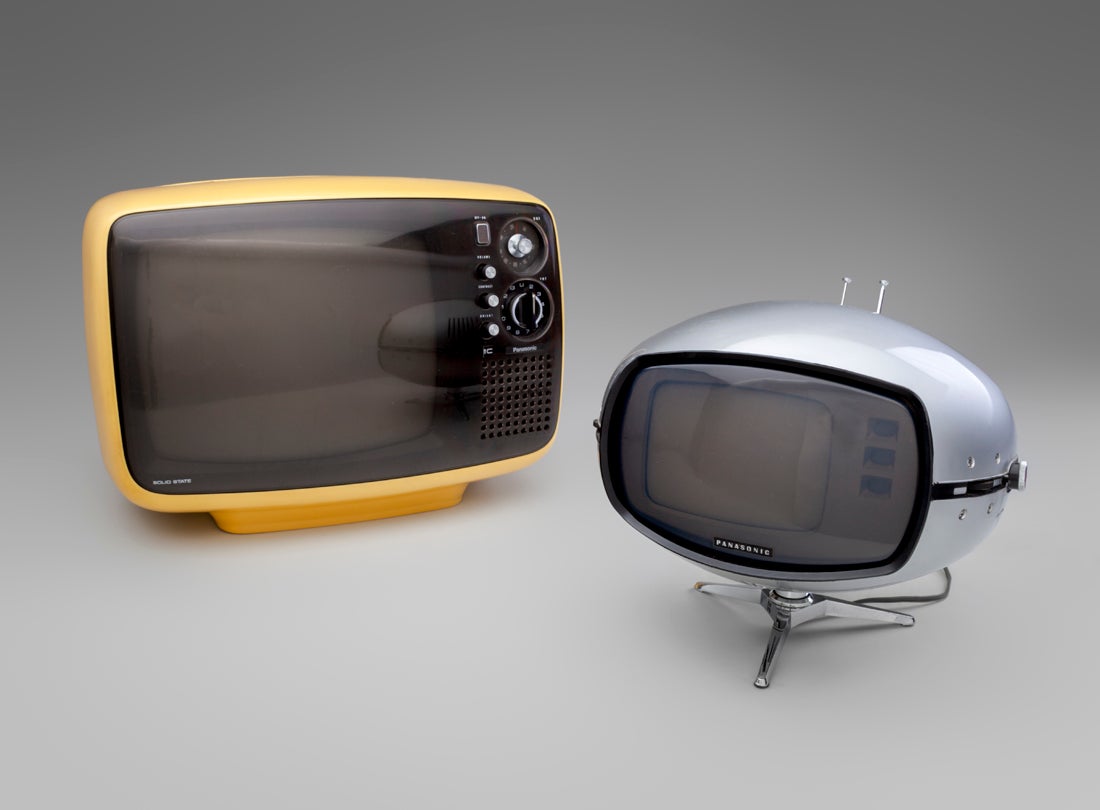 8 of 11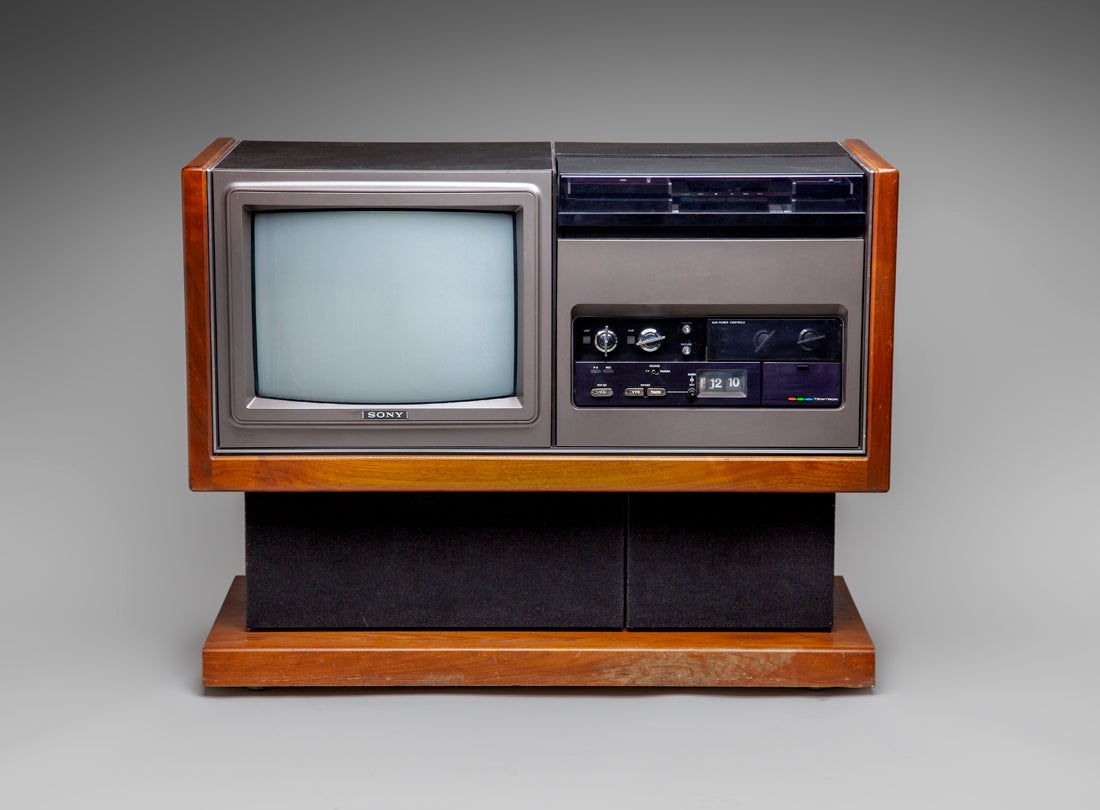 9 of 11
10 of 11
11 of 11
RCA TT-5 television  1939
RCA Manufacturing Co., Inc., Camden, New Jersey
wood, glass
Courtesy of Nat Pendleton
L2011.0409.001
GE HM-171 television  1939
General Electric Co., Bridgeport, Connecticut
wood, walnut veneer, glass, bakelite
Courtesy of Nat Pendleton
L2011.0409.002
Now we add sight to sound
After nearly two decades of development and a lengthy legal battle with Philo Farnsworth, television's independent inventor, RCA Chairman David Sarnoff used the occasion of the 1939 New York World's Fair to present television to the public, triumphantly proclaiming, "Now we add sight to sound." RCA's four models, with streamlined cabinets by noted industrial designer John Vassos, went on sale immediately after the close of the fair. The TT-5 was the company's first tabletop television and its most affordable set at $199.50. It was advertised as a "sensational instrument that provides television sight—while the sound is heard through radio loudspeaker" connected at the rear of the set.
RCA was not the only manufacturer to introduce commercial television sets in 1939. General Electric (GE) encouraged consumers to "See and hear the world's most thrilling miracle!" in its television advertising campaign. GE's HM71 had three channel-selector buttons, which were all that was needed to tune in the stations of all three networks serving the New York Metropolitan area at this time—NBC, CBS, and DuMont. GE's Art-Deco styled "table model" with miter-matched walnut veneer was its most affordable ($250), and required a radio for sound.
Motorola VT 73A portable television  1949
Motorola Inc., Chicago
wood, glass, metal, bakelite, paint
Courtesy of Tom Albrecht
L2011.0401.002
Motorola VT 71 Golden View television  1947
Motorola Inc., Chicago
wood, glass, metal, bakelite, paint
Courtesy of Tom Albrecht
L2011.0401.002
The Golden View
Motorola, a combination of "motor" and "Victrola," was the leading car radio manufacturer in the 1930s. The company diversified into television production with the launch of their attractive Golden View model in blond and gold tones with Bakelite knobs. Priced at a relatively moderate $179, more than 100,000 units were sold by the end of 1948 and the Golden View became one of the most popular 7-inch televisions during the late 1940s. Motorola's portable version was designed like a small suitcase with latched buckles. Leather straps inside the lid originally contained the set's antenna and base.
Zenith H2445R The Tennyson television  1951
Zenith Radio Corp., Chicago
wood, metal, glass, fabric
Courtesy of the California Historical Radio Society
L2011.0404.002
So sensationally different, it defies description
When Zenith entered the television market in the late 1940s, their sets' identifying feature was the "porthole" appearance that resulted from presenting the round picture tube without its customary rectangular mask. Zenith advertisements suggested that TV should naturally be round, "Like the pupil of the eye and the television camera lens itself…It employs the natural shape of the television tube face, to bring you a picture not only far larger than on ordinary receivers, but amazingly easier to view from any angle." The Tennyson was one in a series of Zenith's "Giant Circle" televisions in 1951, the final year of production for the "portholes" as consumers overwhelmingly preferred rectangular screens. The aluminum Zenith nameplate flipped down to reveal the television's control panel for fine-tuning, brightness, contrast, vertical and horizontal hold, and vertical size. A switch allowed the picture to be viewed in the 4:3 ratio, or one could adjust the height and width of the received picture to fill the screen.
Hoffman M143U Easy Vision television  1954
Hoffman Radio Corp., Los Angeles
wood, paint, glass, plastic
Courtesy of the California Historical Radio Society
L2011.0404.005 
Easy Vision
Hoffman's "Easy Vision" was among a number of gimmicks employed by 1950s television manufacturers attempting to separate their product in a crowded marketplace. The screen's yellow-green safety glass was supposed to make watching television in daylit rooms easier. Unfortunately, most viewers found it was like watching television with their sunglasses on.
RCA 21-CT-7837 The Stanwyck television 1956
RCA Victor Television Division, Camden, New Jersey
wood, plywood, metal, glass, paint
Collection of Christopher Musselman, Hayward, California
L2011.0407.005
In breathtaking 'Living Color'
RCA's debut of color TV to skeptical American consumers in 1954 was a commercial failure. Early picture tubes were smaller (15 inches), the sets were very expensive (more than $1,000), necessary color adjustments at home were deemed too complicated, and perhaps most significantly, very few programs were broadcast in color. In 1956, RCA reintroduced color TVs with a series of 21-inch sets priced under $500 with "Color-Quick" tuning so simple that "even a child can do it." These were promoted as the television of choice for thrifty families wishing to enjoy both color and black-and-white programs on "two sets in one." Although other firms made color sets, RCA sold the overwhelming majority. RCA's market dominance was all the more profitable as they made the studio equipment that made color images, owned the network that produced color programs, and were responsible for the transmitters that broadcast color signals.
Philco H-2010 Safari portable transistor television 1959
Philco Radio & Television Corp., Philadelphia
leather, plastic, metal, paint
Courtesy of Tom Albrecht
L2011.0401.012
Sony 8-301W portable transistor television  1960
Sony Corp., Tokyo
metal, paint, glass, plastic
Courtesy of Matthew Householder
L2011.0403.002
Portable fun
While RCA and GE conducted laboratory tests of transistorized televisions in 1956 and 1958 respectively, Philco beat their competitors to the marketplace with the introduction of the Safari in June 1959. The Safari was advertised as "15 lbs of portable fun." To reduce the drain on its 7.5-volt rechargeable battery, Philco used an upwardly aimed 2-inch picture tube that reflected its image off a mirror and out through a 5-inch by 7-inch projection lens protected by a sun shade. The Safari was a good performer, picking up distant broadcasts better than many of the larger consoles available at the time. Its drawback, however, was the narrow viewing angle resulting from its design. Sony debuted its own transistorized portable a mere eleven months later. Sony's version used an 8.5-inch, direct-view picture tube and was fully portable, operating on two six-volt batteries. Its attractive appearance and solid, all-metal construction garnered considerable attention and helped establish Sony in the television industry. Both portables retailed at the price one would pay for a full-size console TV at the time.
Philco Predicta 4654 Pedestal television 1959
Philco Radio & Television Corp., Philadelphia
plywood, metal, glass, bakelite
Courtesy of the California Historical Radio Society
L2011.0404.001
TV Today From the World of Tomorrow
In 1958, Philco's design department, already known for its innovative radios and phonographs, decided to stimulate television sales by making a model unlike any other with a new line of futuristic looking sets. The unique look of the Predicta line resulted from engineering advances that allowed the removal of the picture tubes from their bulky cabinets. The 21-inch Pedestal was among the first models in a line that also included a table-top version called the Holiday, the 17-inch Princess, the Penthouse (with a portable picture tube attached to a cable), and in 1960, the Scandinavian-inspired Continental, sometimes marketed as the Danish Modern.
Panasonic TR-542A television  1972
Matsuhita Electric Industrial Co., Ltd., Tokyo
plastic, metal
Courtesy of Ian Martin
L2011.0406.001
Panasonic TR-005 television  1973
Matsuhita Electric Industrial Co., Ltd., Tokyo
plastic, metal
Courtesy of Matthew Householder
L2011.0403.012
Just slightly ahead of our time
In the late 1960s and early 1970s, technical improvements to solid-state electronics reduced costs for a number of manufacturers, and resulted in a variety of smaller and more affordable portable televisions designed for personal use. In 1969, Panasonic adopted the tagline "Just slightly ahead of our time" to promote its innovative and colorful televisions designed to capture the attention of consumers. The TR-542A featured a 12-inch screen behind a tinted plastic cover to make it easier to view the picture in brightly lit environments. The compact design featured a handle for easily carrying the lightweight set.
Panasonic's TR-005 was marketed as The Orbitel, but was popularly known as "The Flying Saucer." This model's 5-inch screen was housed in a pearl grey, spaceship-shaped cabinet that rotated 180 degrees on its chrome tripod. It included an earphone jack and two built-in telescoping antennas for pulling in signals on its transistorized receiver, which featured an "Electro-Tuner" for switching from VHF to UHF with one control.
Sony LV-1901 television with Betamax  1976
Sony Corp., Tokyo
wood, glass, plastic, paint, cloth
Collection of Christopher Musselman, Hayward, California
L2011.0407.007
Home Video
This is the unit that started the home video phenomenon. Sony introduced its Betamax video recorder as part of a massive, teakwood console that also housed a 19-inch TV. Sony's videocassette recorder played one-hour cartridges and used a mechanical twenty-four-hour timer. Sony's name for the system has a dual meaning. "Beta" is a Japanese word used to describe the way the signal was recorded on tape, and also refers to the resemblance of the mechanism's tape path to the Greek letter "B." The suffix "max" was added to indicate its "maximum" greatness. The Sony LV-1901 was priced at an extravagant $2,295 and proved difficult to market to television owners who were eager to try home video, but did not wish to pay for a redundant TV. Sony addressed this problem by introducing a stand-alone Betamax videocassette recorder the following year. In 1977, JVC introduced its own Video Home System (VHS), which became the dominant format for home video entertainment by the end of the decade.
The Winky Dink Magic Television Game Book  1954
paper, cardboard, pigments
Courtesy of Mickey McGowan, San Rafael, California
L2011.0405.226
Romper Room Blackboard  1950s
pressboard, slate, paint
Courtesy of Mickey McGowan, San Rafael, California
L2011.0405.109
Arthur Godfrey's T.V. Pal Ukette  1950s
plastic, paint
Courtesy of Kelvin Godshall
L2011.0412.062
My Little Stool to Watch TV  1950s
wood, paint
Courtesy of Mickey McGowan, San Rafael, California
L2011.0405.148
Howdy Doody doll   c. 1950
plastic, paint, fabric
Courtesy of Mickey McGowan, San Rafael, California
L2011.0405.156
Hopalong Cassidy lunch pail and thermos  1950
Aladdin Industries, Inc., Nashville, Tennessee
metal, plastic, paint
Courtesy of Mickey McGowan, San Rafael, California
L2011.0405.160.01-.02
Kiddie Shows
The Howdy Doody Show (1947–60), hosted by Buffalo Bob Smith, was one of the earliest and most popular children's programs. For thirteen years, the freckle-faced, redheaded marionette joined with Clarabell the Clown, Princess Summerfall Winterspring, and other Doodyville inhabitants to entertain the on-stage Peanut Gallery of dozens of children, and millions of television viewers watching at home.
William Boyd starred as "Hopalong Cassidy" and became one of the medium's first stars, earning millions from merchandise licensing and endorsement deals. The "Hopalong Cassidy" lunch kit, introduced in time for the 1950 school year, featured the first children's lunch box inspired by a television show and 600,000 were sold during its first year of production.
Romper Room (1953–94) was started by Bert and Nancy Claster in Baltimore and syndicated to markets across the United States. Each show was hosted by their own local version of "Miss Nancy," oftentimes a former kindergarten schoolteacher. Do-Bee, an oversize bumblebee, made regular appearances to teach the children how to be well-behaved—"Do be good boys and girls for your parents."
Winky Dink and You (1953–57) may have been the first interactive TV show with its gimmick of providing a kit for children to apply a large piece of vinyl to the screen at home and complete a connect-the-dot picture with crayons, helping Winky Dink continue his story.
Double bowtie with scroll television antenna 1950s
metal, plastic
Courtesy of Matthew Householder
L2011.0403.020
Colormaster  television antenna 1960s
plastic, metal
Courtesy of Kelvin Godshall
L2011.0412.051
Model 202 UV television antenna c. 1955
Hi-Lo Mfg. Corp., Chicago
metal, plastic
Courtesy of Matthew Householder
L2011.0403.018
Super Showman television antenna 1957
Channel Master Corp., Ellenville, New York
metal, plastic
Courtesy of Matthew Householder
L2011.0403.019
Rabbit ears with geometric base television antenna  c. 1950
metal, plastic
Collection of Christopher Musselman, Hayward, California
L2011.0407.010
Canaveral 82 television antenna 1960
plastic, metal
Channel Master Corp., Ellenville, New York
Courtesy of the California Historical Radio Society
L2011.0404.009
Antennas Indoor
In the early years of television, TV stations had limited transmitter power, and television receivers had poor sensitivity. Some form of antenna was almost a necessity. While rooftop antennas were often required for receiving the best television reception, those living close enough to television stations could use indoor antennas, usually placed on the top of the television set itself. The most common type was the conventional "rabbit ears," in which two poles telescoped at opposite angles from a central base to tune one of television's twelve Very High Frequency (VHF) signals. Rotating their position affected the directional sensitivity of the antenna, helping to pull in channels with different transmitter locations. Most antennas were marketed with the promise of less "ghosting," where a shadow image appears due to a signal reflecting off a nearby metal window sill or appliance. However, viewers at home usually found the best solution was to change the position of the antenna, sometimes enlisting someone to "hold it just so" in times of particular urgency.