July 2012 - February 2013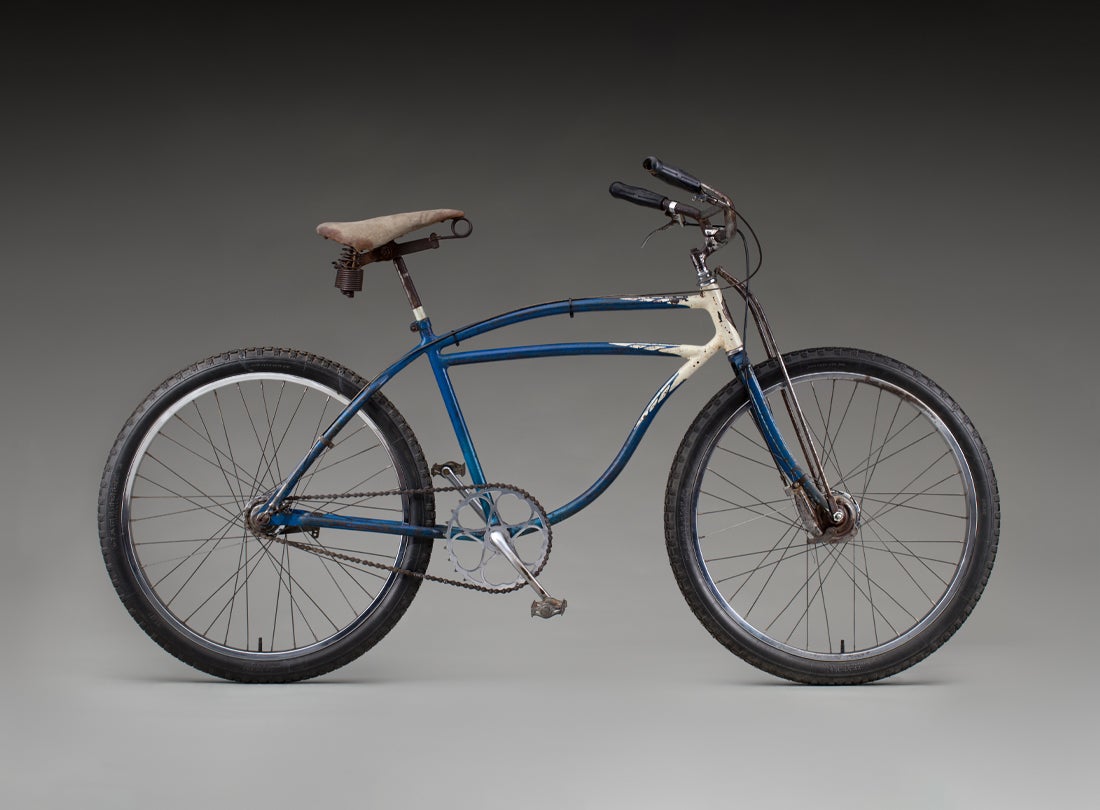 1 of 11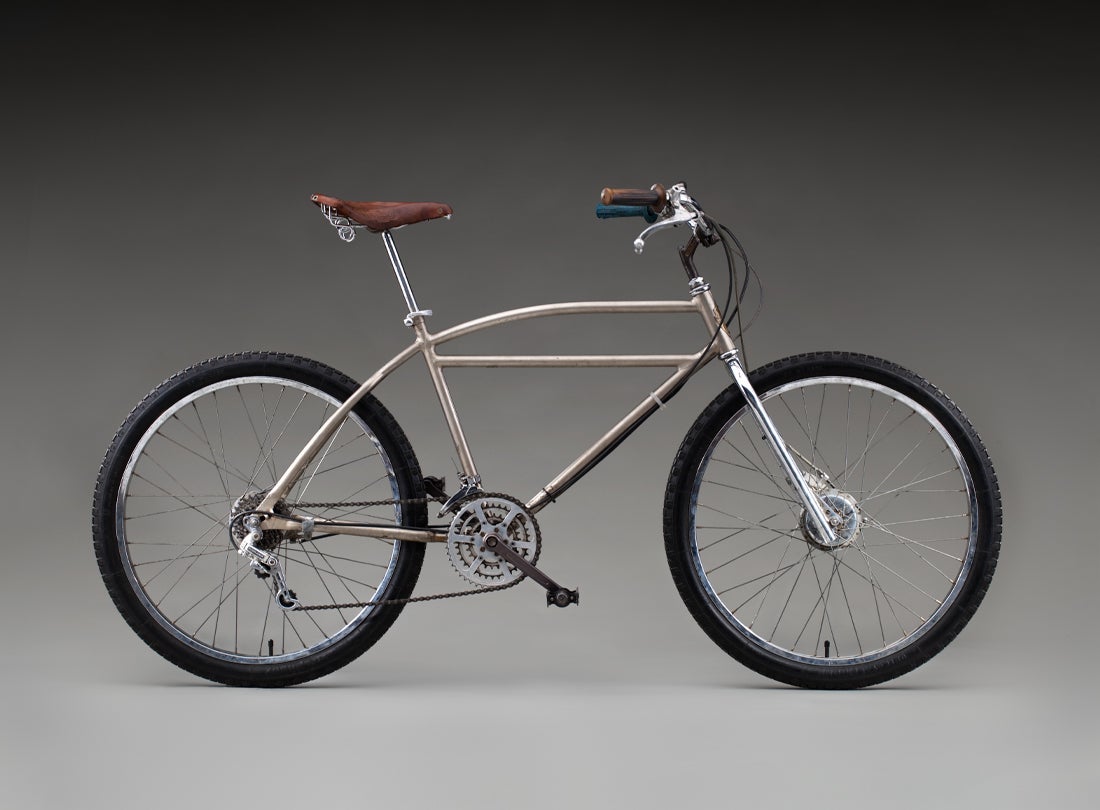 2 of 11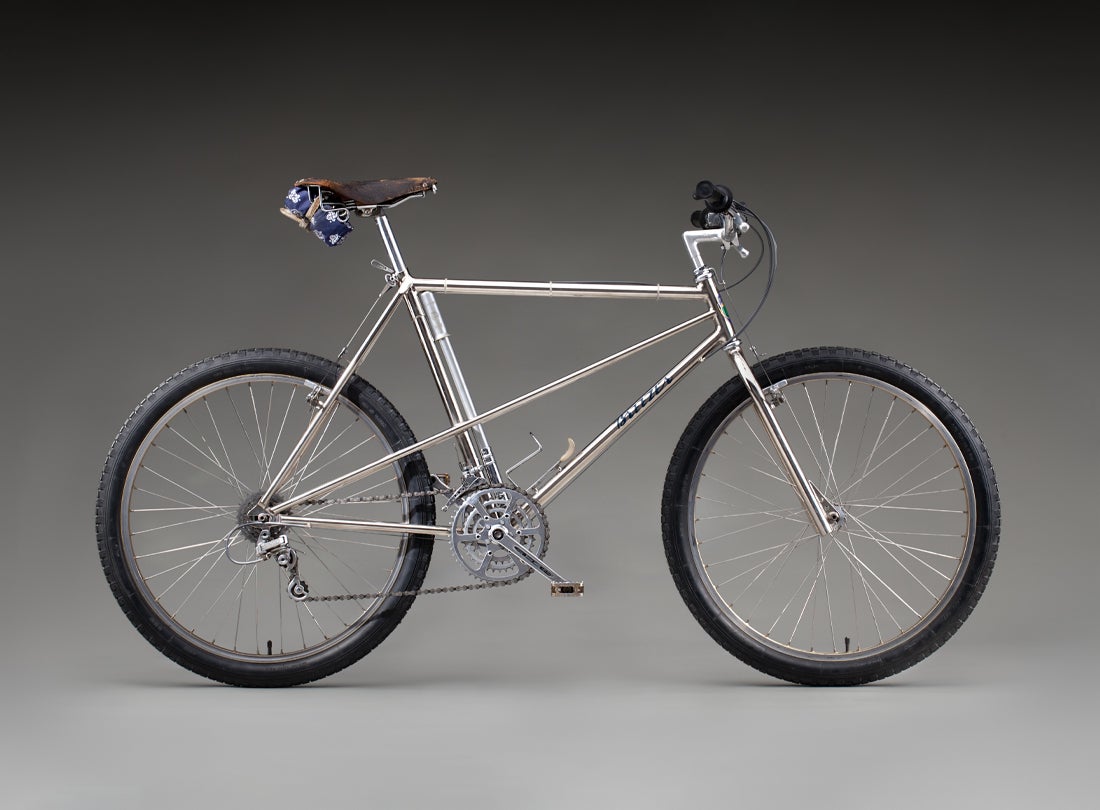 3 of 11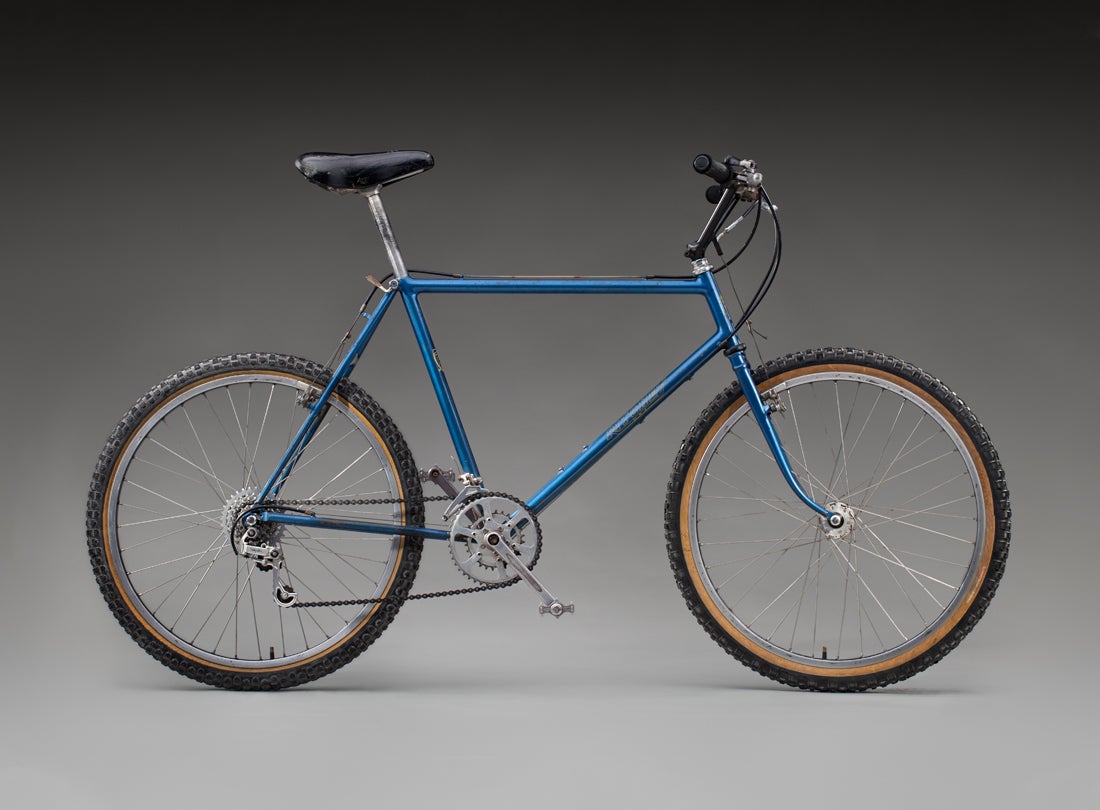 4 of 11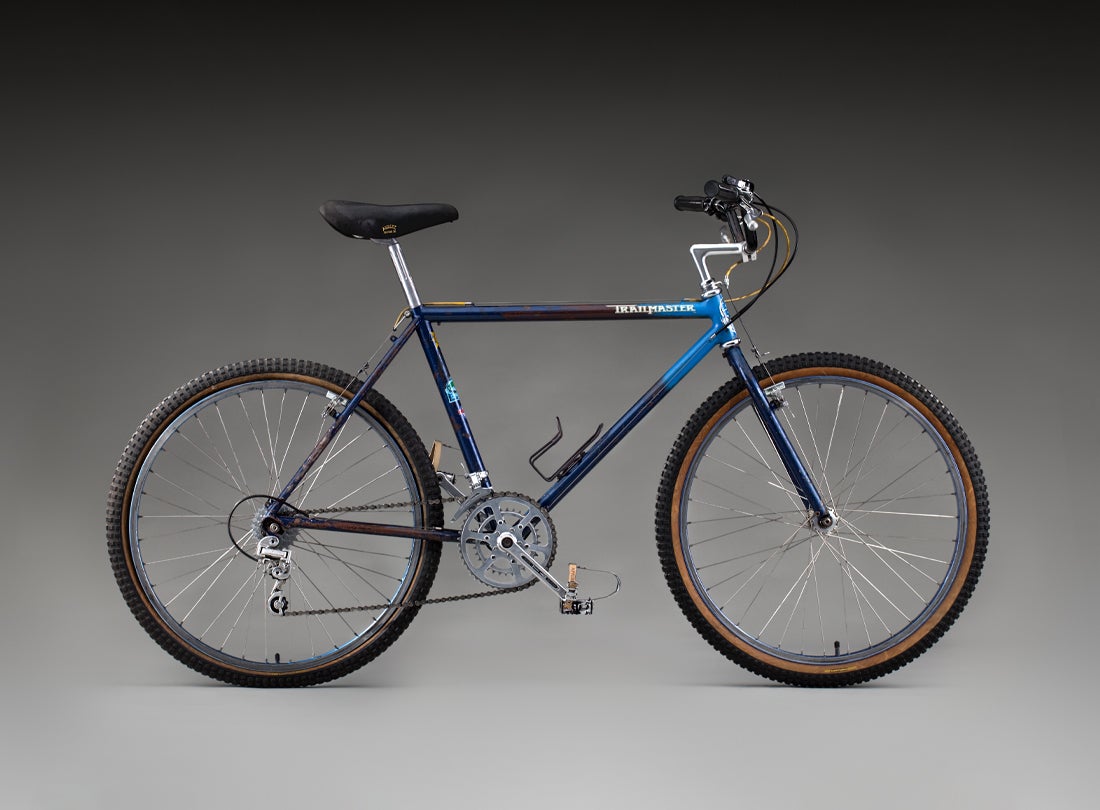 5 of 11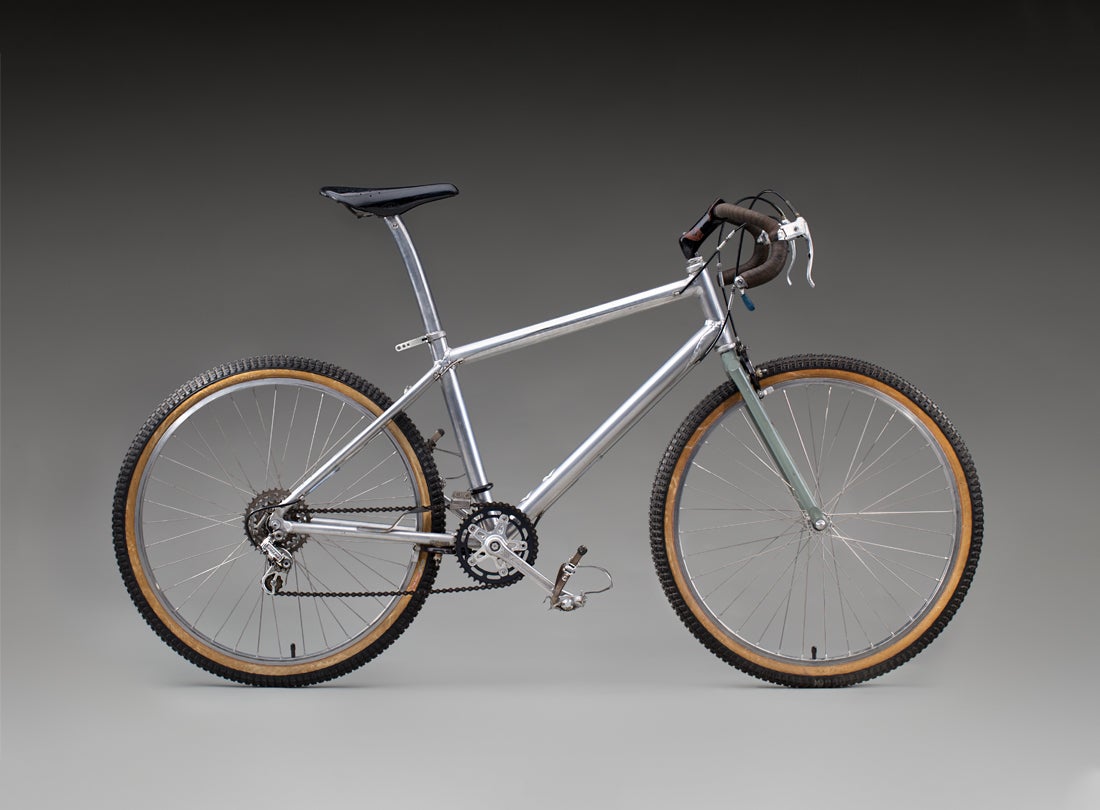 6 of 11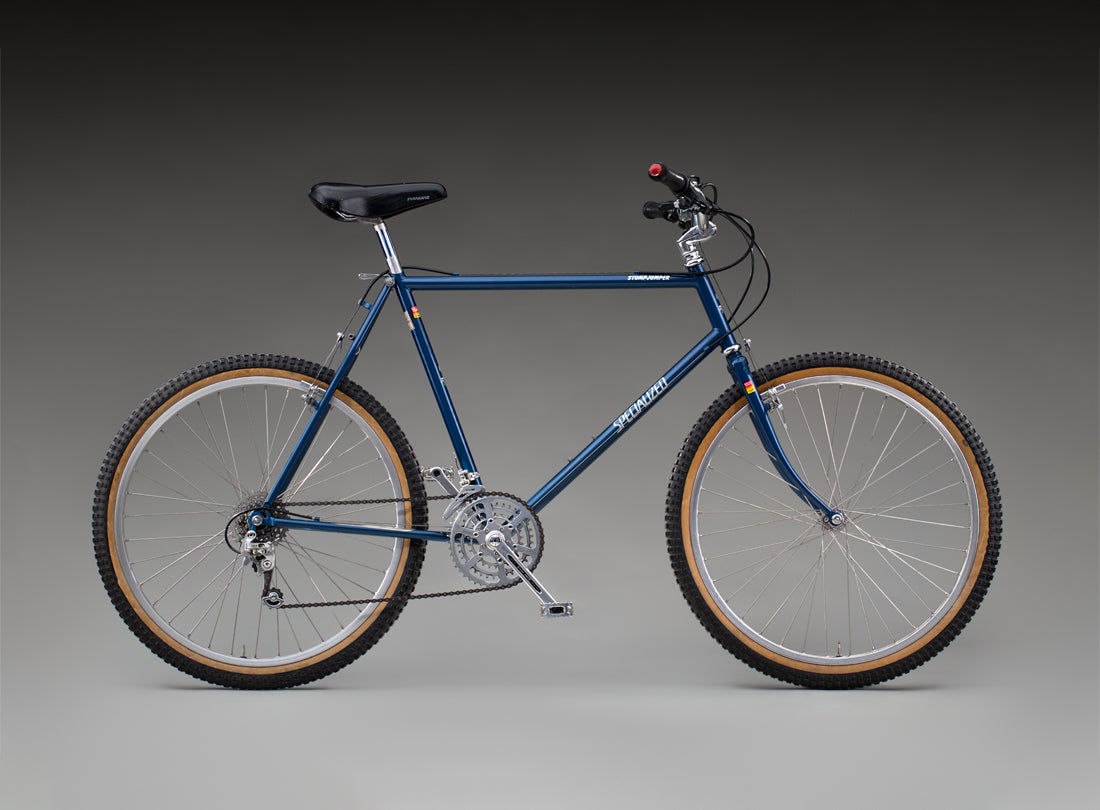 7 of 11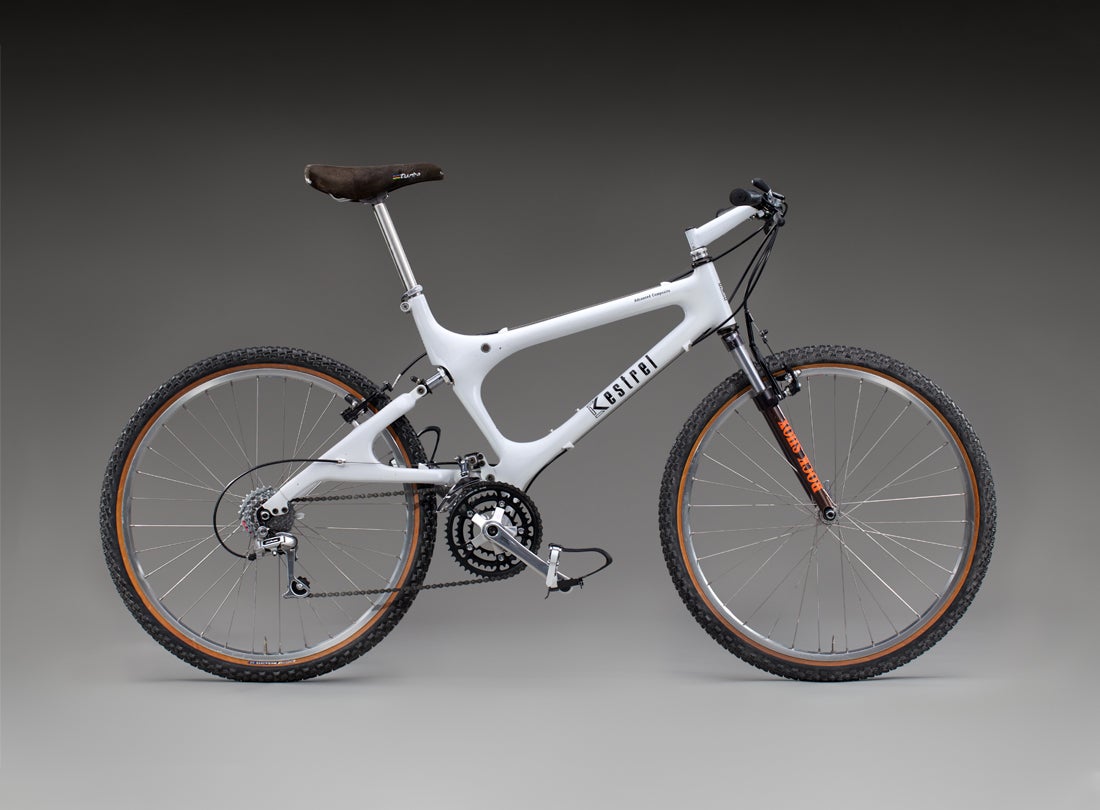 8 of 11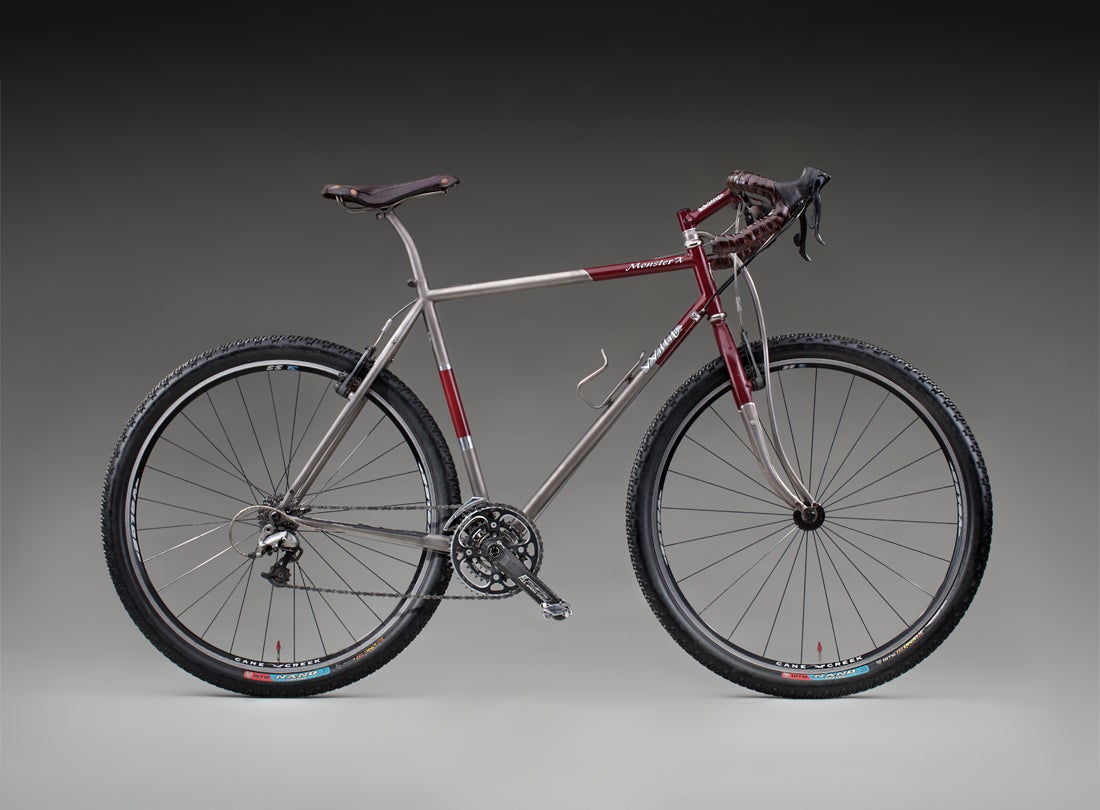 9 of 11
10 of 11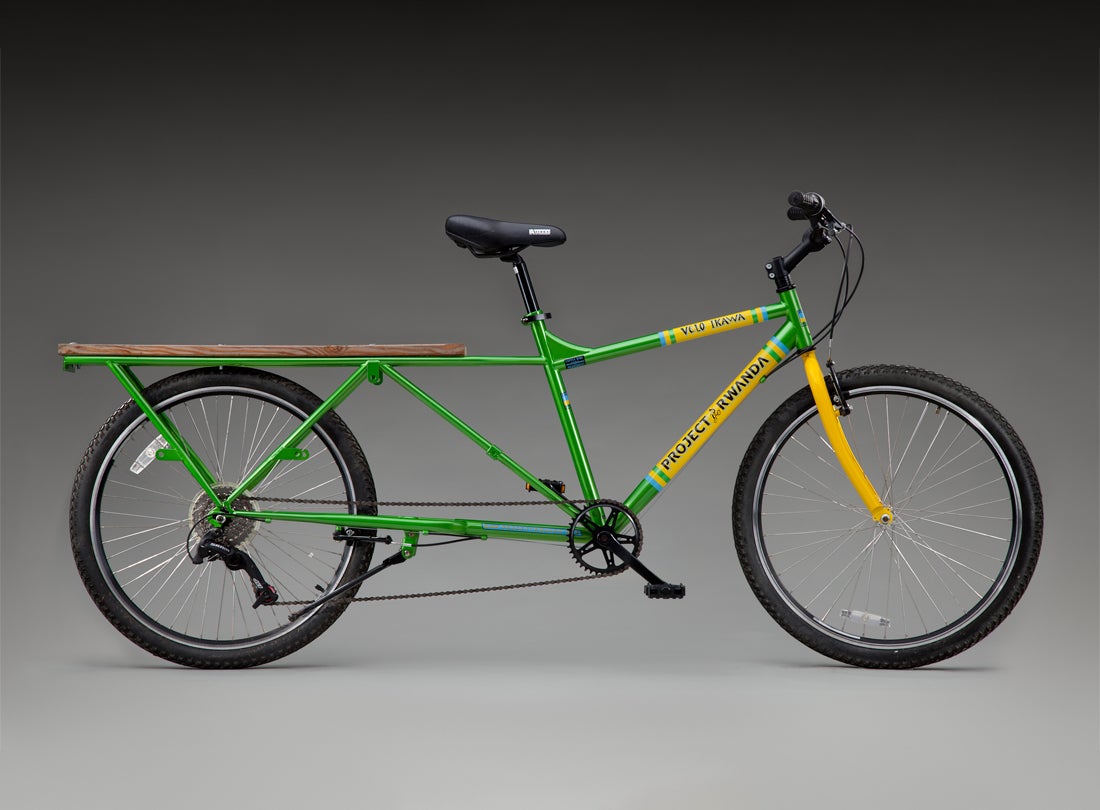 11 of 11
Modified 1941 Schwinn B.F. Goodrich 1973
Arnold, Schwinn, & Co. (est. 1895), Chicago
modified by Joe Breeze (b. 1953), Mill Valley, California
mild-steel tube frame
overall bike weight: 46 lbs
Courtesy of Joe Breeze
L2012.0601.001

Charlie Kelly exiting Repack's Camera Corner 1977
Photo by Larry Cragg (b. 1948)
Wende Cragg/Rolling Dinosaur Archives
Courtesy of Joe Breeze
A100_WC-CK-RPS2-11/77-14
R2012.0601.016.22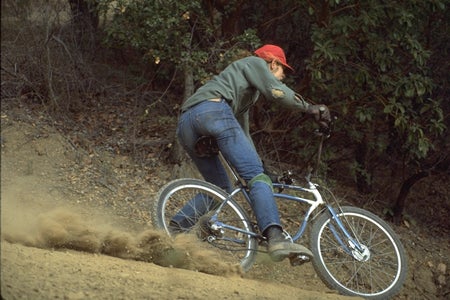 Modified 1940s Schwinn with front and rear derailleurs  c. 1976
Arnold, Schwinn, & Co. (est. 1895), Chicago
modified by Gary Fisher (b. 1950), San Anselmo, California
seamless steel tube frame
overall bike weight: 46 lbs
Courtesy of Gary Fisher
L2012.0620.002
A Better Ballooner
While searching for trails to ride in 1973, Fairfax's Fred Wolf and San Anselmo's Charlie Kelly discovered a particularly attractive location that proved historically significant—a 2.1-mile, 1,300-foot descent sufficiently challenging for a group of adrenaline-fueled friends eager to test their mettle. The course was dubbed Repack due to the riders' need to repack brake hubs with grease after it vaporized during rapid descent down the steep course. In order to prevent the inevitable collisions and endless arguments over who really won each race, Kelly organized the event as a series of time-trials to determine who was fastest down the hill. Kelly's roommate Gary Fisher was one of Repack's most successful riders, and he regularly searched for innovations to provide a competitive advantage. Fisher was among the first to add derailleurs to his off-road bike and adapted his Schwinn with tandem drum brakes and stiffer motorcycle brake cables and levers for better pull. A TA Cyclotourist crankset from France allowed very long crank arms to accommodate any size of chainring combination. Stronger parts like a 12mm solid axle and a chrome-moly stem helped make Fisher's bike "bomb proof," or practically indestructible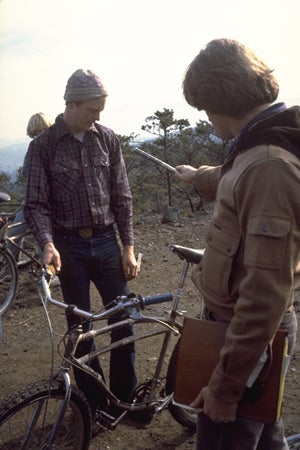 Steve Fox from San Francisco's KPIX Evening Magazine interviewing Gary Fisher about new sport at Repack, Mount Tamalpais, California January 21, 1979
Photo by Wende Cragg (b. 1948)
Wende Cragg/Rolling Dinosaur Archives
Courtesy of Joe Breeze
A046_WC-GF-RPTP-01/79-23
R2012.0601.016.06
Breezer #6 (for Wende Cragg)  1978
Joe Breeze (b. 1953), Mill Valley, California
chrome-moly steel frame
overall bike weight: 35 lbs
Courtesy of Joe Breeze
L2012.0601.002
The Breezer
Joe Breeze's design for the first successful purpose-built mountain bike incorporated his sketched geometry of his blue 1941 Schwinn Excelsior. For a lighter, stronger frame, Breeze used straight, chrome-moly steel tubes instead of heavy, curved mild-steel tubing. He added twin laterals from head tube to rear dropouts to stiffen the long frame for high-speed tracking. The Breezer was much more than a downhill race bike; it was designed to get its rider into the woods and back out as well. At a price of $750 complete, each bike came equipped with water bottle and pump. A spare inner tube, tire irons, and wrenches were rolled into a bandana, secured with a toe strap, and tucked under the saddle. The frames were nickel-plated to handle off-road abuse. Breezer #6 was made for Wende Cragg, a Repack racer and photographer whose images, along with those of Larry Cragg, are invaluable documentation of the early history of mountain biking.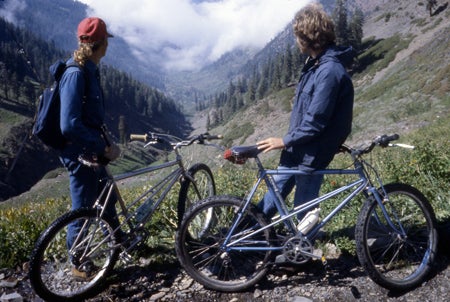 Charlie Kelly and Joe Breeze in Mineral King Valley at 10,000 feet in California's Sequoia National Forest September, 1978
Photo by Wende Cragg (b. 1948)
Wende Cragg/Rolling Dinosaur Archives
Courtesy of Joe Breeze
B072_WC-JB-MKFW-09/78-04
R2012.0601.016.07
Ritchey #1  1979
Tom Ritchey (b. 1956), Palo Alto, California
chrome-moly steel frame
overall bike weight: 30 lbs
On loan from Tom Ritchey's Collection
L2012.0614.001
The Company
By 1979, Repack pioneers Gary Fisher and Charlie Kelly were keenly aware that custom off-road bikes were needed in a world of diminishing clunker frames. Told that road-bike frame builder Tom Ritchey had seen Breezer #1 and was planning to build off-road frames, Fisher bought one of Ritchey's first three frames and demonstrated the bike for photographers from Bicycle MotoCross Action, who were producing a feature on "these crazy hippies" riding big bikes off road. Fisher used the term "mountain bike" while explaining the difference between one-speed downhill cruisers and the multiple-geared bikes that went up the mountain as well. Months later, Ritchey asked Fisher about assembling and distributing bikes from a second batch of ten frames. Fisher and Kelly agreed, gathered several hundred dollars together, and opened a checking account under the name MountainBikes in September, 1979. Ritchey's prolific output of beautifully brazed frames and forks were spec'd, assembled, and sold by Fisher and Kelly nearly as soon as they were produced. Ritchey's triangulated "Bullmoose" handlebar was one of the bike's signature features. Kelly recalls that demand was so high and supply so limited, "even our own ineptitude couldn't slow us down." The company sold 160 MountainBikes for $1400 each in 1980, its first full year of operation. They sold 1,000 the following year.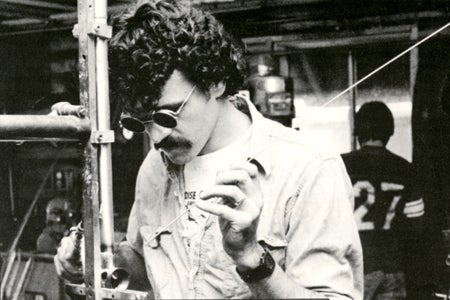 Tom Ritchey brazing bottom bracket to seat tube assembly, Woodside, California c. 1982
Photographer unknown
On loan from Tom Ritchey's Collection
R2012.0614.005
Trailmaster #2  c. 1980
Erik Koski (b. 1952), Cove Bike Shop, Tiburon, California
chrome-moly steel frame
overall bike weight: 32 lbs
On loan from Mark Janike and in care of Monkey Wrench Cycles
L2012.0605.001
Trailmaster
Beginning in 1976, the Koski family's Cove Bike Shop in Tiburon served as an informal hub for the clunker scene, and produced the first mail-order catalog for mountain bike parts. In 1980, Erik Koski redesigned the frame geometry and fixed some of the shortcomings of the Pro Cruiser, a bike his brother Don prototyped for Mert Lawwill. The bike's head angle was increased from 66.5 degrees to 70 degrees, which produced a more upright design for improved handling. The frame's hooded rear dropouts provided a rigid, strong, yet light connection between the chainstays and axle faces. Joe Breeze, who first saw the dropouts in 1980, immediately assessed that they "put all other dropouts to shame." Japanese manufacturers, recognizing the tremendous potential of the new sport, visited Marin County's mountain bike enthusiasts in the late 1970s and early 1980s, including Cove Bike Shop. Contingents from Shimano and Suntour consulted with the Koski brothers while developing the mountain bike components that would help turn the burgeoning mountain bike business into an international industry.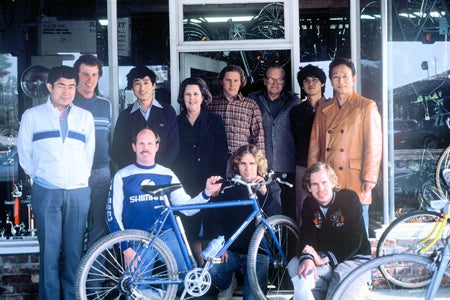 Shimano representatives on fact-finding visit to Cove Bike Shop, Tiburon, California  1982
[left to right]
Ken Fujimura, Andy O'Connor, "Sam" Kawabata, Lill Koski, Don Koski, Earl Koski, Takuro Yamane, Mitsuharu Hontani, John Uhte, Erik Koski, Dave Koski
Photographer unknown
Courtesy of Erik Koski
R2012.0631.019
Cunningham CCPROTO  1979
Charlie Cunningham (b. 1948)
Cunningham Applied Technology, Fairfax, California
heat-treated aluminum tube frame
overall bike weight: 26 lbs
Courtesy of Charlie Cunningham
L2012.0618.001
Apostle of Efficiency
Charlie Cunningham, a lifelong proponent of simplicity and efficiency in all things, began building his first mountain bike in 1979. Every element of CCPROTO was designed to decrease the bike's weight and to maximize the rider's performance. The design's success began with Cunningham's controversial use of aluminum, a difficult material most contemporaries dismissed as too prone to fatigue for use in a mountain bike frame. Cunningham, with a background in mechanical and aeronautical engineering, used large-diameter tubing on a shorter frame with steeper angles for better handling and a lower bottom bracket for improved stability. He employed drop bars to allow a variety of hand and riding positions, and along with toe clips, a more efficient transfer of a rider's power to the bike. Cunningham's bikes proved versatile—speedy on downhill runs, flats, and climbs. They were outfitted with purpose-built forks, brakes, and hubs that later became industry standards. His creations drew attention from Japanese manufacturers, most notably Junzo Kawai of Suntour, to which Cunningham licensed his Roller-Cam Brake and Grease Guard Component System.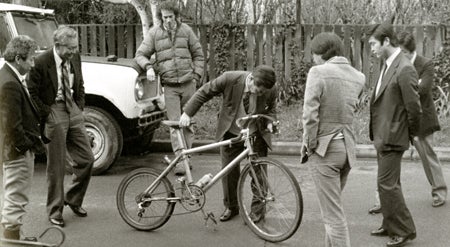 Suntour president Junzo Kawai (at left) and other Japanese manufacturers visit Charlie Cunningham and his Bobtail #14 during tour of Cunningham's shop in Fairfax, California c. 1980
Photographer unknown
Courtesy of Charlie Cunningham
R2012.0618.008
Stumpjumper  1981
Specialized Bicycle Components, San Jose, California
chrome-moly steel frame
overall bike weight: 33 lbs
Courtesy of Bryant Bainbridge
L2012.0611.001
A Whole New Sport
In 1980, after noticing a particularly strong demand for parts among some of his Marin County customers, Specialized Bicycle Components' Mike Sinyard, an off-road cycling enthusiast, discovered a small and dedicated group of like-minded riders building bikes to access the area's rugged mountain trails. At the time, limited-production mountain bikes were selling for $1,200 to $1,500. Sinyard initiated the Japanese mass-production of a bike that retailed for around $750. Specialized's first shipment of 125 Stumpjumpers sold within a week in 1981, and the company promoted the bike in a trailblazing campaign of full-page color print advertisements. The relatively affordable bike was perfectly timed for the growing popularity of mountain biking in the early 1980s and helped reverse the fortunes of an industry that had recently been in decline, increasing overall U.S. bicycle sales to 9 million in 1983 from a low point of 6.8 million the year before. True to its advertising copy, the Stumpjumper helped launch "a whole new sport."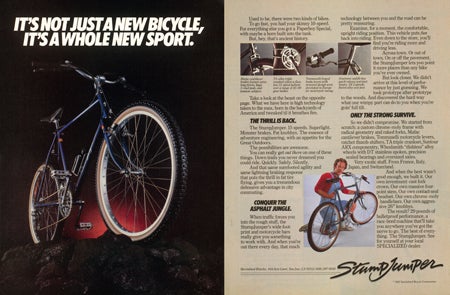 It's Not Just a New Bicycle, It's a Whole New Sport advertisement  c. 1982
Specialized Bicycle Components, San Jose, California
Courtesy of Bryant Bainbridge
R2012.0611.008
Kestrel Nitro  1988
Cycle Composites Incorporated, Watsonville, California
carbon fiber prototype frame
Courtesy of Kevin Kenney
L2012.0630.001
Kestrel's Carbon
Jaws dropped when the sleek, full-suspension, Kestrel Nitro was introduced by Cycle Composites Incorporated (CCI) as a prototype for all-carbon mountain bike frames at the Long Beach bicycle show in January 1988. The company's engineers came directly from Northern California's military aerospace industry and were well aware of carbon fiber's advantages over various metals as a strong, moldable material with infinite possibilities for shaping. CCI engineer Preston Sandusky referred to carbon as "an engineer's dream" due to its superior shock-damping capabilities, its strength-to-weight ratio, and perhaps most significantly, its stiffness-to-weight ratio—critical to the success of a bike's largely two-dimensional structure. Keith Bontrager, a Santa Cruz-based frame builder known for his well balanced bikes, was enlisted to design the Kestrel Nitro. Bontrager produced the prototype from aluminum, which was then "skinned" with carbon by Sandusky for presentation at the show. Bontrager and colleague Paul Turner, who together had been conceptualizing mountain bike suspension for more than a year, introduced a groundbreaking full-suspension system that included the model for the RockShox RS-1 front fork, which soon became the industry standard. Although the bike was widely accepted as a technological breakthrough, there was no production source for its suspension and brake components and the Nitro was shelved.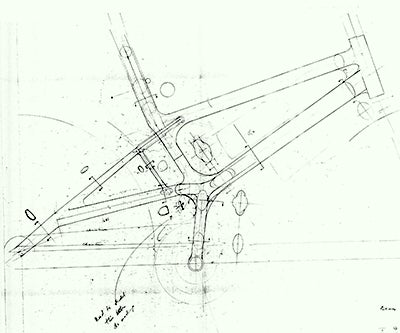 Assembly drawing for Kestrel Nitro  c. 1987
Keith Bontrager (b. 1954)
Courtesy of Preston Sandusky
R2012.0636.001
Willits concept bike for the Interbike bicycle show in Las Vegas, Nevada  2000
Willits Bikes, Crested Butte, Colorado
titanium frame
overall bike weight: 24 lbs
Courtesy of Wes Williams, Willits Brand Bicycles
L2012.0615.001
The 29er
From his earliest days as a bike builder in the early 1980s, Wes Williams believed that all mountain bikes were patterned from an incorrect and arbitrary model—the 1930s 26-inch balloon-tire wheel size used in the early 1970s—and was determined to correct this mistake. Williams' pursuit large-wheel bikes began while he was working as a designer and frame builder for Scot Nicol in the late 1980s and early 1990s at Ibis Cycles in Sebastopol, California. Williams developed a friendship with fellow frame builders Bruce Gordon and Gary Helfrich, who shared their discovery of the 28-inch Nokian Hakkapeliitta tire that was first introduced to Marin County's Gary Fisher and Charlie Kelly by English off-road bike pioneer Geoff Apps in 1980. Williams proceeded with a series of experimental frames to accommodate larger wheels on mountain bikes. In 1994, Williams left Ibis to start Willits Bikes in Crested Butte, Colorado. The Willits Monster X is one of Williams' "cyclocross bikes on steroids" and features the Nanoraptor tires introduced by Wilderness Trailbikes in 1999. Although this early hybrid of road, cyclocross, and mountain bike left many in the industry puzzled at the time of its debut in 2000, Williams' vision for a new model has been realized in the form of the "29ers" that are increasingly popular with today's mountain bikers.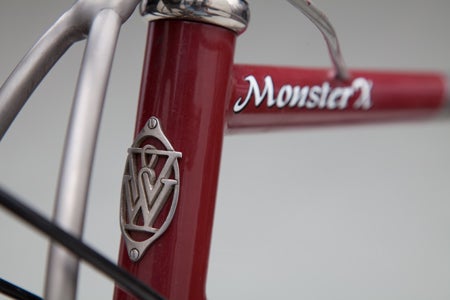 Santa Cruz V10/Syndicate race bike  2012
Santa Cruz Bicycles, Santa Cruz, California
carbon-fiber frame
overall bike weight: 38 lbs
Courtesy of Bradley Woehl, American Cyclery, San Francisco
L2012.0621.001
Big Travel
When Santa Cruz Bicycles was founded in 1994, the company made an immediate impact with full-suspension bikes that featured more than three inches of travel on the rear wheel at a time when rear suspension was rare. In 2001, the company debuted the V10 with ten inches of rear suspension and continued to develop the model to its current state, which features a FOX front suspension fork with eight inches of travel. Although early suspension forks on bicycles relied on either a coil spring or compressed-air spring, current versions employ a combination of each to benefit from the smoother ride of the former and the lighter weight of the latter. Santa Cruz Syndicate team riders Steve Peat, Josh Bryceland, and Greg Minnaar have raced the V10 to more podium positions than any other bike, including a victory at the 2012 UCI (Union Cycliste Internationale) Mountain Bike Downhill World Cup in Pietermaritzburg, South Africa, by native son Minnaar.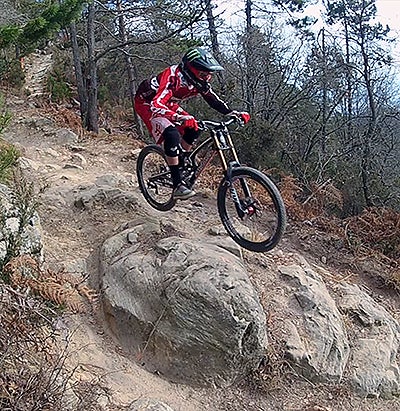 Santa Cruz Syndicate rider Josh Bryceland test-rides V10 in San Romolo, Italy  January 23–25, 2012
Image by Santa Cruz Bicycles videographer Gary Perkin
Courtesy of Santa Cruz Bicycles
R2012.0621.001.01
Project Rwanda Coffee Bike  2012
Ritchey Design, Inc., Redwood City, California
chrome-moly steel frame
On loan from Tom Ritchey's Collection
L2012.0614.003
Project Rwanda and The Coffee Bike
Project Rwanda is an extraordinary example of the global reach of the mountain bike and its potential to improve lives around the world. Tom Ritchey, a pioneering mountain bike builder from Palo Alto, California, and one of the industry's leading designers, launched the project after visiting the country in 2005. The project's ambitious initiatives include the establishment of a national race team trained for international competition, an annual bike festival to increase public awareness of Rwanda as a tourist and cycling destination, and The Coffee Bike—a vital tool to reduce transportation time for the nation's smallholder coffee farmers. Today there are more than 3,500 Coffee Bikes helping Rwandans rise above poverty for the first time in their generation, including dairy farmers, potato farmers, couriers, taxi operators, and healthcare workers. For more information about the Coffee Bike and other Project Rwanda initiatives, visit www.ProjectRwanda.org.