Aviation Museum & Library, Departures – Level 3
Apr 06, 2023 - Oct 08, 2023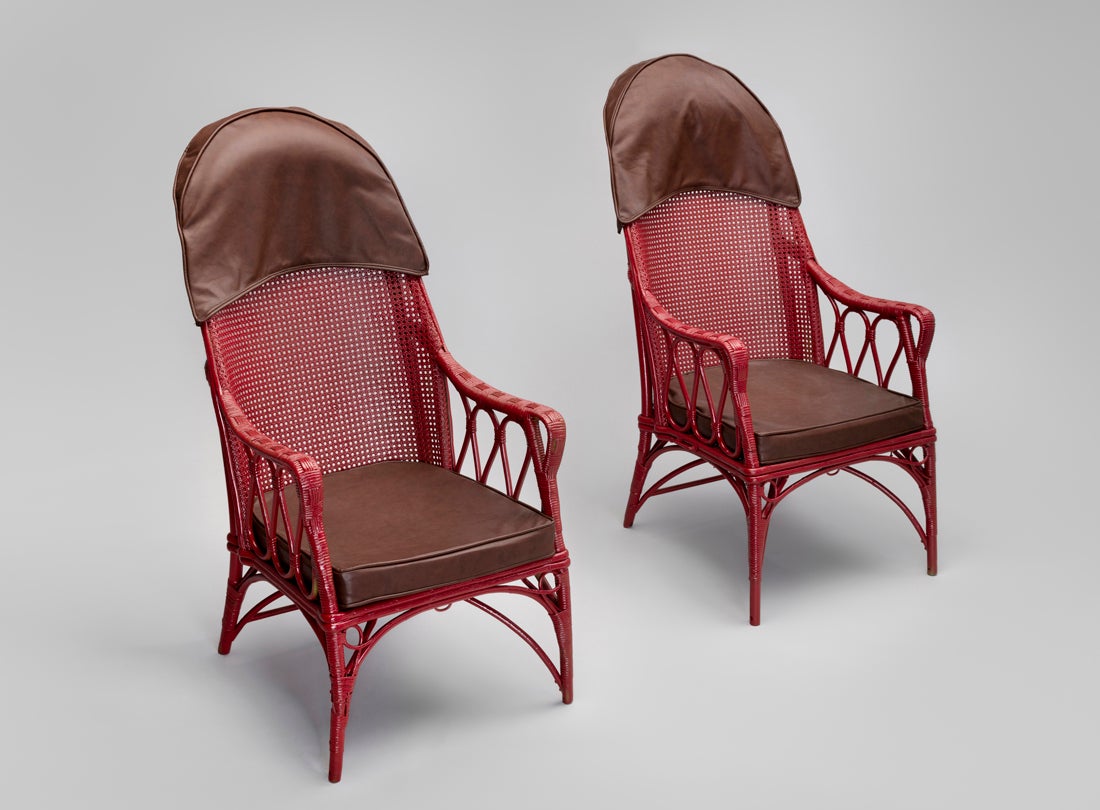 1 of 6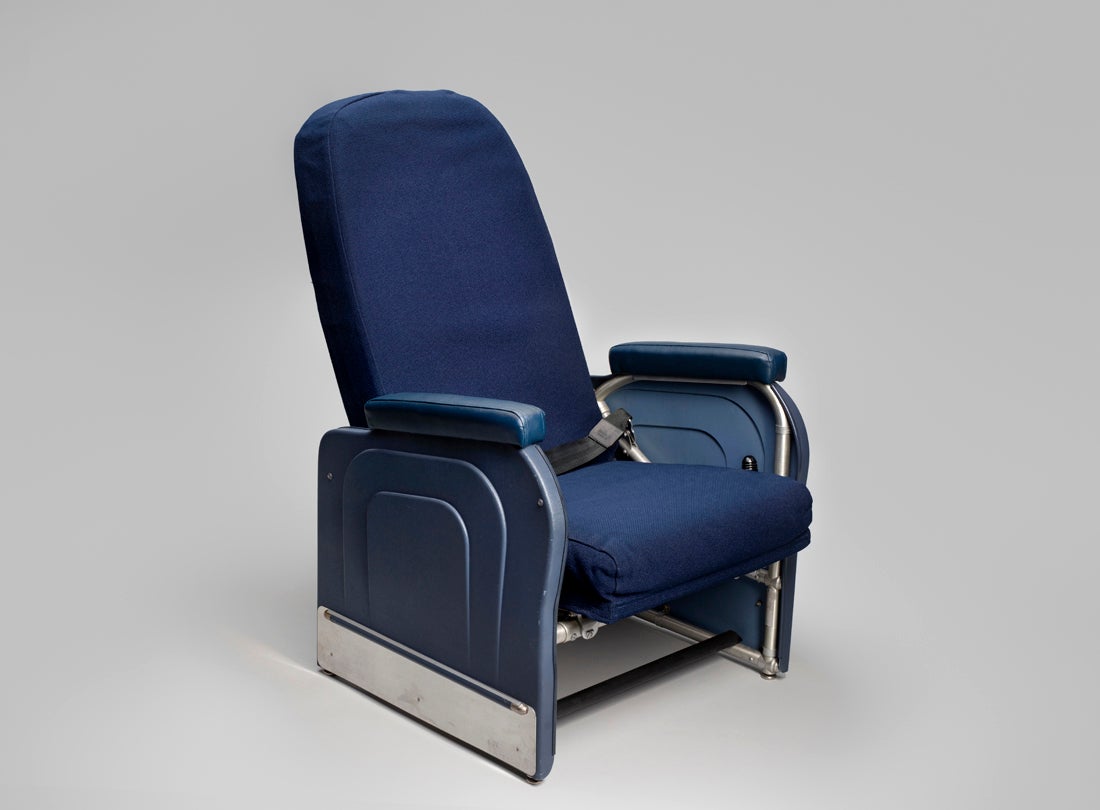 2 of 6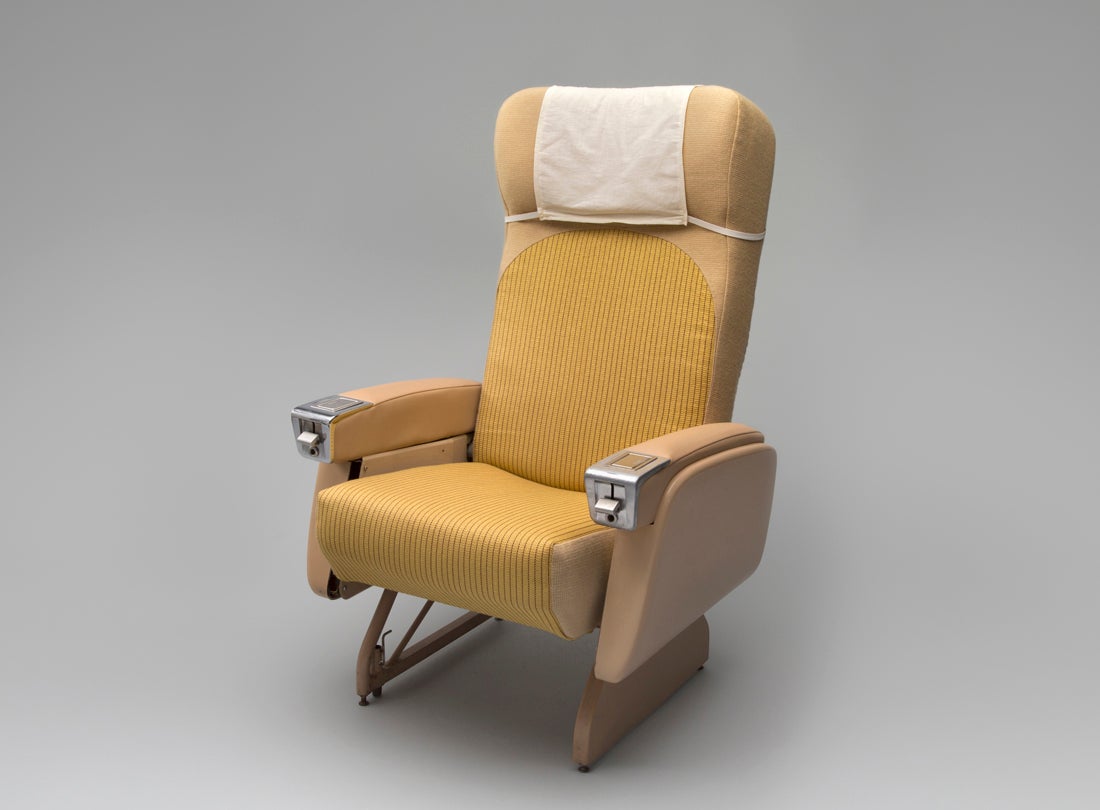 3 of 6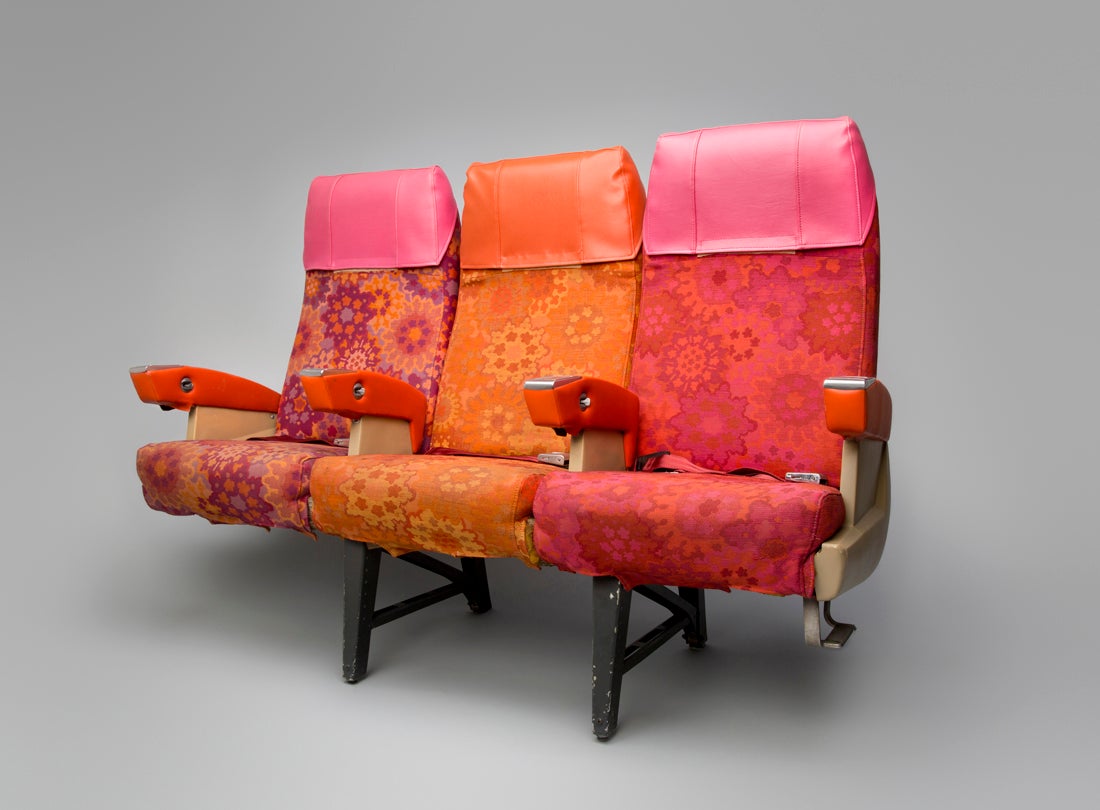 4 of 6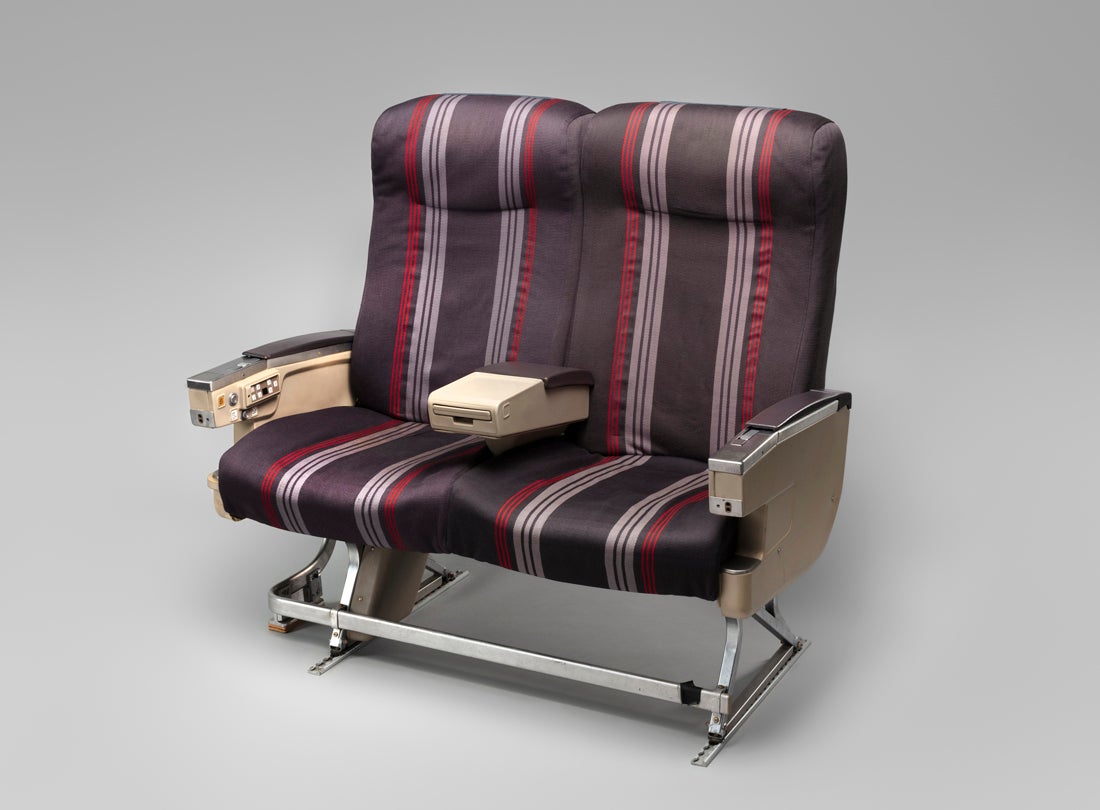 5 of 6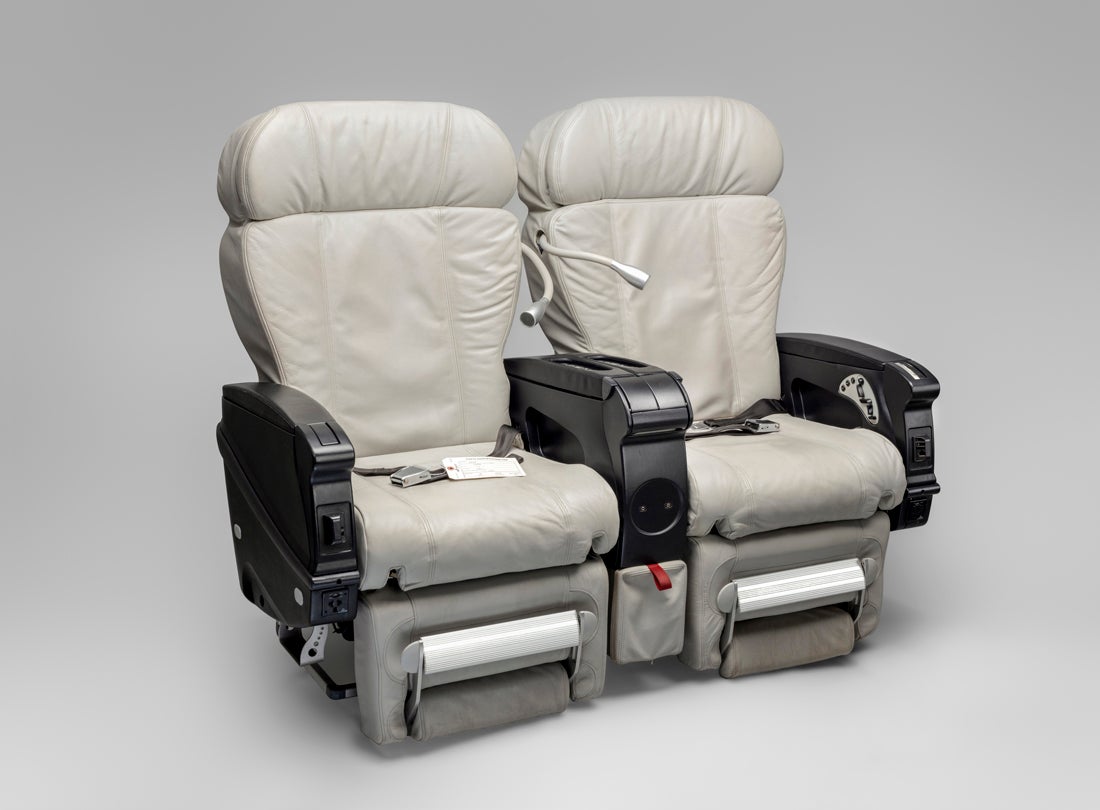 6 of 6
Pan American Airways Ford Tri-Motor or Fokker F-10 seats  late 1920s
Ypsilanti Reed Furniture Company
wicker, metal
Collection of SFO Museum
Gift of Denise Harr
2001.115.001, .002
L2023.0401.001, .002
Founded in 1901 in Ionia, Michigan, the Ypsilanti Reed Furniture Company expanded its wicker business into the commercial aviation industry during the mid-1920s. This chair was made at the company's Ionia factory, 130 miles from the Ford Tri-Motor airplane plant in Dearborn. It is made almost entirely of plant materials, with the exception of bracing bars, the headrest, and the seat cushion. Wooden legs form the structural foundation of the chair, and wicker is the chosen material for the framework. The entire seat and back are caned. Made from woven plant fiber, usually from a tropical vine called rattan, this style of open-weave caning has many desirable properties for early airplane seating. It is lightweight, durable, and ventilates well, an important attribute for cabins that were not air conditioned. It also "gives" under pressure, allowing for more comfort with less cushioning—another weight-saving characteristic. The chair's armrests are supported with a single wicker cord formed in a distinct serpentine pattern, which maximizes strength and minimizes materials.
Douglas DC-3 passenger seat  1940s
Model 154-1JL
Aerotherm Corporation
Bantam, Connecticut, USA
aluminum, plastic, nylon, foam rubber
Collection of American Airlines C. R. Smith Museum
L2023.0403.001
This Douglas DC-3 seat was typically used in the day-use configuration. It is covered in fabric, amply cushioned, and represents the introduction of foam rubber on airliner seats. First created by Dunlop Rubber in 1929, foam rubber was used in many cushioning products by the late 1930s. The Firestone Tire and Rubber Company promoted its Foamex brand by claiming "nothing cuts flying fatigue like Foamex" and promising "resilience and softness in one zephyr-light material." The seat is framed in aluminum tubing and features a spring-loaded pivot mechanism that simultaneously slides the seat forward while allowing the back to recline to thirty degrees from the normal upright setting of fifteen degrees. The chair also has plastic sidewalls giving it a clean, streamlined look. Some chairs aboard the DC-3 included holders under the seat for round paper cartons, commonly called burp cups, in case of motion sickness. Washable linen covers, known as antimacassars, were often fitted over the headrest to prevent hair oil from soiling the fabric. For extra comfort, airlines also offered passengers pillows and blankets.
TWA (Trans World Airlines) Lockheed L-1049 Super Constellation seat  1950s
TECO, Inc.
metal, fabric, foam rubber
Collection of SFO Museum
Gift of Airline History Museum at Kansas City
2000.093.001 a
L2023.0401.014
This passenger seat was designed and manufactured by TECO Inc. of Burbank, California, exclusively for use by TWA (Trans World Airlines) in the "Super G" Constellation. This type of seat was also later installed in the TWA L-1649 Starliners. The TECO seat was advertised as one of the most spacious and comfortable seats in use at the time and included thick foam rubber cushioning, upholstered armrests with built-in ashtrays, and large seatback pockets. It had a multi-position, cable-activated reclining mechanism, and also featured one of the first uses of molded Fiberglas side covers. The color and materials were designed to blend with the cabin interior elements, and the headrest was usually covered with a removable cloth or antimacassar. Most Constellation seating was laid out in double- or triple-seat configurations with a single aisle and room for a lone single seat in the front of the cabin.
PSA (Pacific Southwest Airlines) Boeing 727 coach seat section  1960s
(reupholstered c. 1970)
The Boeing Company
plastic, metal, vinyl, polyester
Collection of SFO Museum
Gift of Chris and Leacy Laborde
2021.057.010
L2023.0401.022
United Air Lines Boeing 747-100 first-class and business-class seat section  c. 1970
(reupholstered in early 1990s)
The Boeing Company
plastic, metal, vinyl, polyester
Collection of Hiller Aviation Museum, San Carlos, California
L2023.0402.001
These seats were initially installed in the first-class cabin of a United Air Lines 747-100 that launched into service in 1970. They feature thick foam cushioning housed in a lightweight, heavy duty aluminum frame with plastic exterior covers. The armrests feature ashtrays, pushbutton recline and foot rest extension (not shown) mechanisms, an audio entertainment remote control unit with station selection and volume control buttons, pneumatic headphone ports, and hideaway tray tables. In place of a middle armrest each two-seat section had a small, extendable tray. Around 1990, United reupholstered the seats in a dark-burgundy fabric with pewter and red stripes to match the color palette of a new business-class service branded as Connoisseur Class. It was promoted as offering one of the highest levels of international business-class service with gourmet meals designed by world-renowned chefs and highly-attentive cabin crews.
Virgin America Airbus A321 neo first class seat section  c. 2018
Recaro Aircraft Seating
leather, plastic, metal, electronics
Collection of SFO Museum
Gift of Alaska Airlines
2020.060.001
L2023.0401.030
Although Virgin America focused principally on the discount fare market, the airline also provided premium, first-class services, which included these twenty-one-inch-wide, ultra-plush leather seats arranged in sets of two on each bulkhead. Produced by the world-renowned German seat manufacturer Recaro, these state-of-the-art sitting machines offered first-class passengers deep, soft cushioning with personal device power outlets, adjustable headrests with oversized wings, hideaway video screens, tray tables designed for tablets, a personal and adjustable reading lamp, controls for multiple recline positions, an extendable footrest, and lower back massage functions. Passengers in the first-class cabin were also offered complimentary hot meals, beverages, and small amenity kits, as well as blankets, duvets, and pillows. Entertainment included free satellite television, free on-demand movies, and a selection of video games.