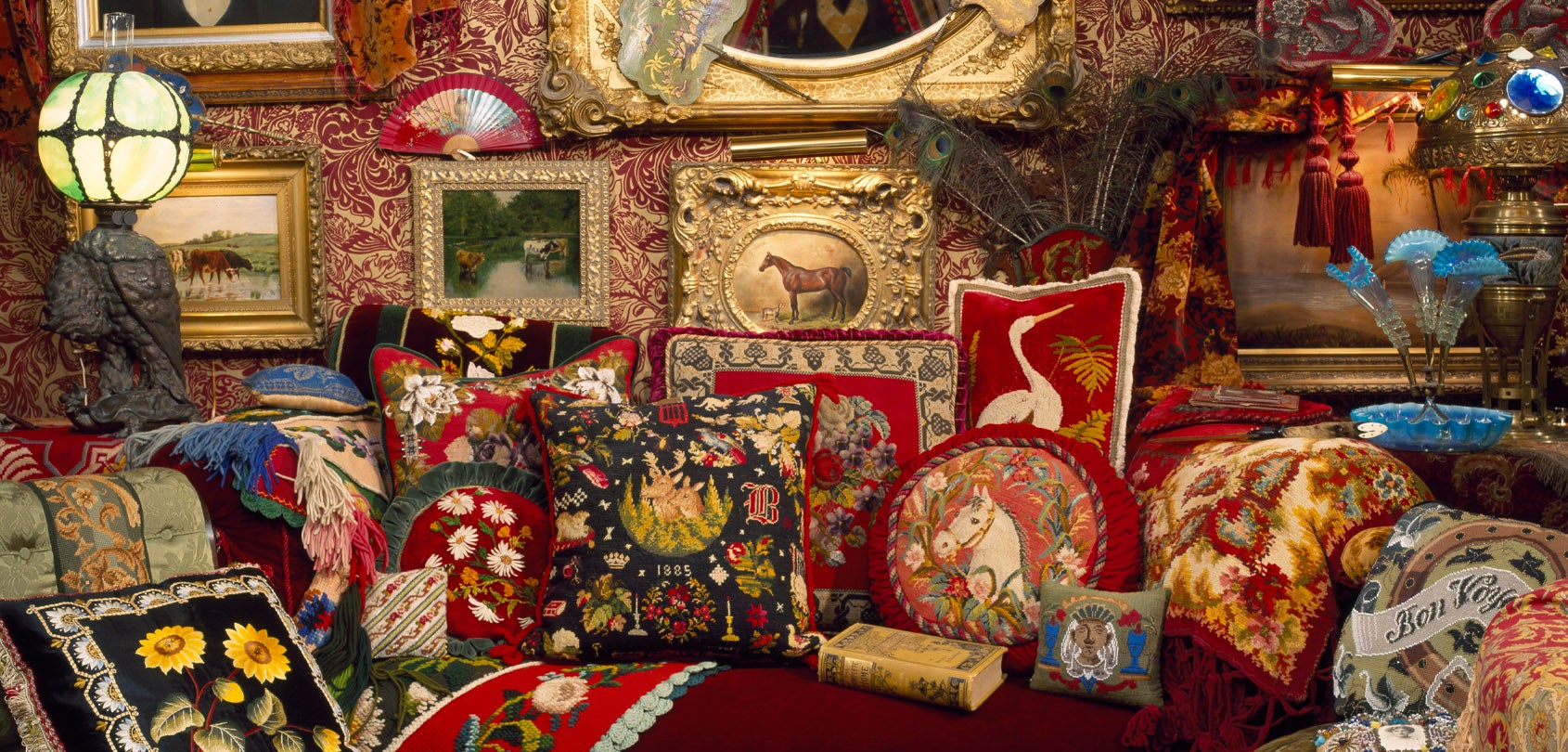 Eclectic Collector | Brian Coleman
I have served as Curator of Exhibitions at SFO Museum for nearly twelve years. One question I am frequently asked is "how do you formulate your exhibitions?" Although we regularly partner with museums with permanent collections we often borrow from private collections. I have met collectors of all kinds—from guitarist Kirk Hammett of Metallica who collects classic monster memorabilia to an Argentine humanitarian worker who began collecting African barbershop and hairdressing signs while stationed in Kenya. It is one of the best parts of my job. This article will serve as the first of several posts highlighting some of these remarkable collectors who all share in common a fervent passion to collect no matter the subject matter.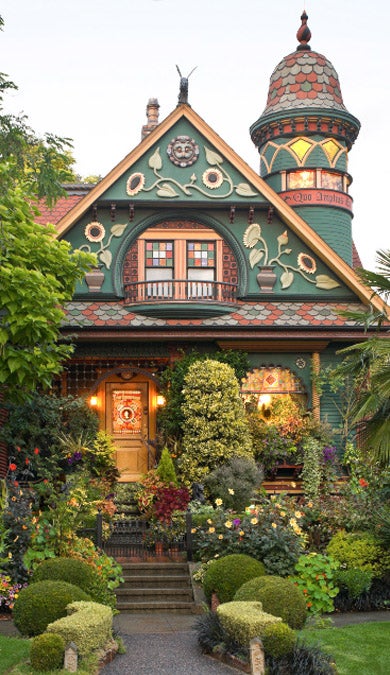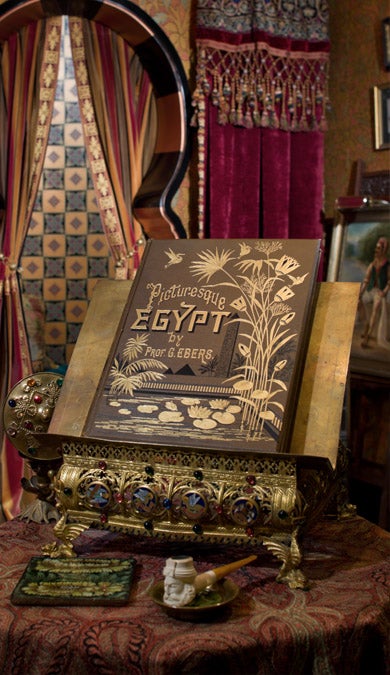 [inset images]
Portrait of Brian Coleman in his home | Brian Coleman's Nob Hill Victorian in Seattle | The book Picturesque Egypt is pictured in front of the entrance to Coleman's Arabesque room.
I first met Brian Coleman while attending an American Decorative Arts Forum tour of a Victorian home in San Francisco several years ago, and he has been contributing to SFO Museum's exhibitions since then. Coleman divides his time between Seattle and New York. He enjoys a career as a psychiatrist, while his love for historic homes and antiques has driven his secondary writing career. He is the West Coast Editor of Old House Journal and the author of twenty-one decorative arts books with his newest addition—Zuber: Two Centuries of Panoramic Wallpaper. In fact, Coleman suggested the idea for an exhibition about Zuber at SFO Museum.
Coleman has a special affection for collecting Victorian silver plate and Aesthetic Movement pieces. He has spent over two decades transforming his 1906 Seattle Craftsman home into a majestically painted and magnificently furnished Victorian, which tourists frequently stop in front of to have their picture taken. Meanwhile, Coleman turned his former tenement apartment in the West Village of New York into a meticulously decorated Aesthetic Movement abode. Indeed, I have never met a collector with residences bedecked from top to bottom so painstakingly in period detail. He rigorously adheres to the Victorian era's mantra: "more is more."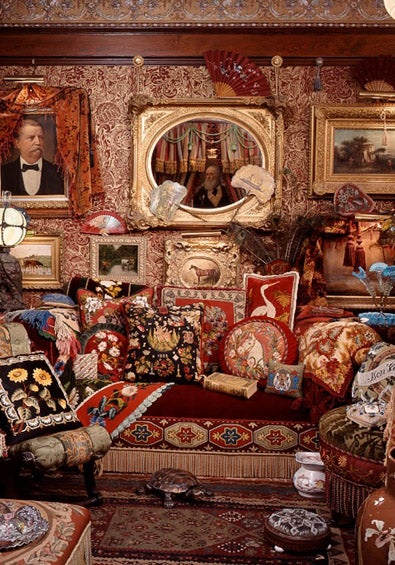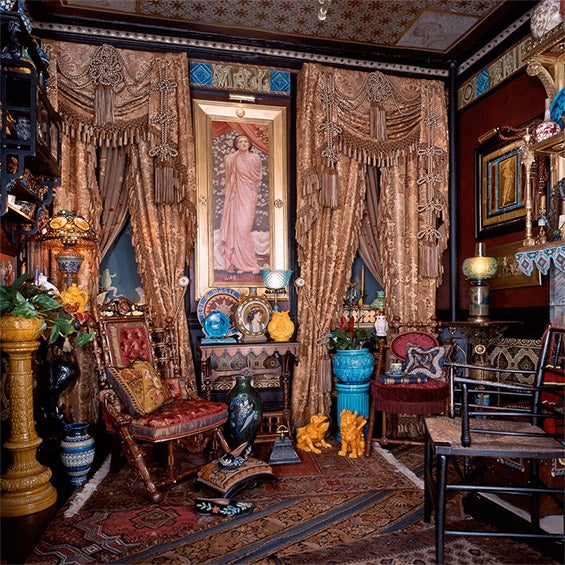 [inset images]
A detail of the living room in Coleman's Seattle home | A view of Coleman's living room in his West Village apartment in New York
Coleman initially invited me to view his home in Seattle with the idea of doing a Victorian dining exhibition where I was overwhelmed by the breadth of his collection. Although we have yet to broach Victorian dining—his first loan began with Victorian beaded slippers for Stepping Out: Shoes in World Cultures (2017). He then contributed to The Intriguing World of Insects (2019) when we decided that adding decorative arts to the exhibition, such as a large English brass cricket inkwell circa 1880s, would add an engaging twist when paired with the insect specimens. Next, Coleman lent many exceptional Victorian epergnes or centerpieces, to Eclectic Taste: Victorian Silver Plate, which is scheduled to open this spring in our new Terminal 1 gallery. In 2022, he will contribute a variety of intriguing Japanesque items—from a Christopher Dresser tea caddy to Geisha girl sterling serving spoons—to an exhibition about the Japanese influence on the Aesthetic Movement, which will take place in our Terminal 2 gallery space. Ardent collectors such as Coleman provide inspiration for our exhibitions as well as beautiful, engaging objects, and the museum is truly fortunate to draw from these diverse collections on a recurring basis. 
Nicole Mullen
Curator of Exhibitions
SFO Museum