Eclectic Taste: Victorian Silver Plate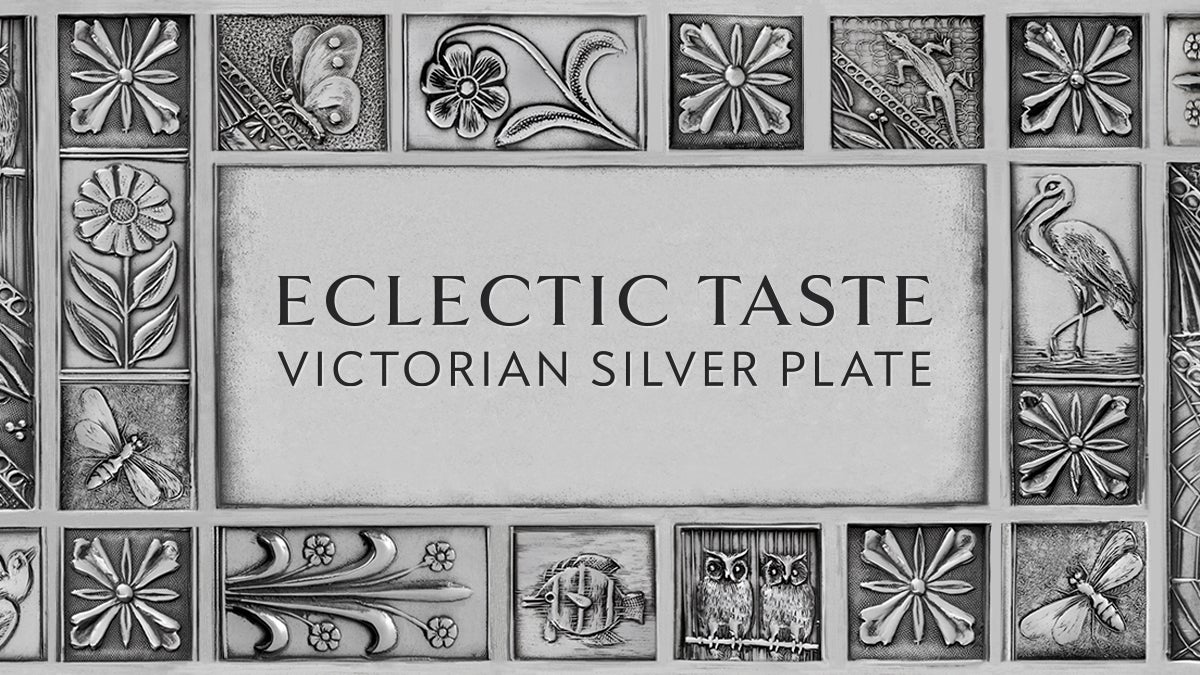 Departures – Level 2
Jul 10, 2020 - Dec 13, 2020
Eclectic Taste: Victorian Silver Plate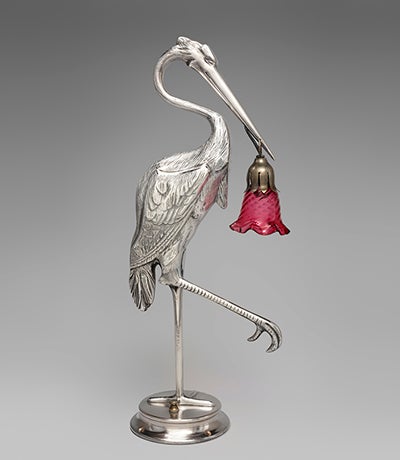 Silver-plated housewares are lustrous and ornate examples of Victorian style. Produced in large quantities in England and the United States, silver plate was a hallmark of eclectic décor during the Victorian era (1837-1901). By the late 1800s, many homes featured extensive collections of silver plate. The most elaborate items were found in the dining room and main parlor, where they served a variety of entertainment functions. Ownership of silver plate became an indicator of social and economic status, and manufacturers created highly specialized and imaginative designs to meet consumer demand.
Silver plate was developed in England during the mid-eighteenth century as a more affordable alternative to solid silver. Known first as Sheffield plate, these items were made from thin sheets of silver and copper that were fused together and formed into flatware and hollowware. In 1840, electroplating was patented in Birmingham, England, by George Richards Elkington (1801–65). This technologically advanced process utilized electric current and a plating solution to coat metal objects with a thin layer of decorative silver. Electroplating was applied to wares made from nickel silver, an alloy of copper, zinc, and nickel; and to Britannia metal, a softer alloy of tin, antimony, and copper.
A number of companies in the United States quickly adapted the innovative electroplating process. In 1847, Rogers Brothers of Hartford, Connecticut, pioneered American-made silver plate with a line of electroplated flatware. During the next decade, the Meriden Britannia Company of Meriden, Connecticut, perfected mass-manufacturing techniques for electroplating silver. Specializing in flatware and hollowware made from Britannia metal, Meriden advertised a range of electroplated silver that had "all the advantages of silver in durability and beauty at one-fifth the cost." However, silver-plated finishes were prone to wear from polishing and use, and manufacturers employed multiple layers of electroplated silver in a process marketed as quadruple plate.
Victorian silver plate designers often combined elements of Gothic, Rococo, and Italian Renaissance styles with Greek and Egyptian Revival influences to create contemporary interpretations of historical styles. Pressed and engraved, floral and plant motifs adorned items decorated with a menagerie of animals, ancient Egyptian figures, Roman goddesses, and Renaissance putti. Tinted, painted, and etched-glass vessels accentuated lemonade stands and rotating wine servers. Themed calling card receivers and nut bowls welcomed visitors in the drawing room or parlor, while elaborate centerpieces and tilting ice-water pitchers delighted guests in the dining room. This exhibit presents a selection of imaginative, electroplated silver items from the Victorian era.
This exhibition was made possible through loans from Ian Berke, Brian D. Coleman, The Brune-Reutlinger House and Richard D. Reutlinger Collection, and the Bob Shapiro Collection.
[top image]
Newel post light  c. 1880
maker unidentified, possibly American
silver plate, glass
Courtesy of Brian D. Coleman
L2019.1901.008

[bottom image]
Reed & Barton Illustrated Catalogue  1885
Reed & Barton
New York and Taunton, Massachusetts
Courtesy of Ian Berke
L2019.1904.011
©2020 by San Francisco Airport Commission. All rights reserved.