Xiaoxiao Xu: Aeronautics in the Backyard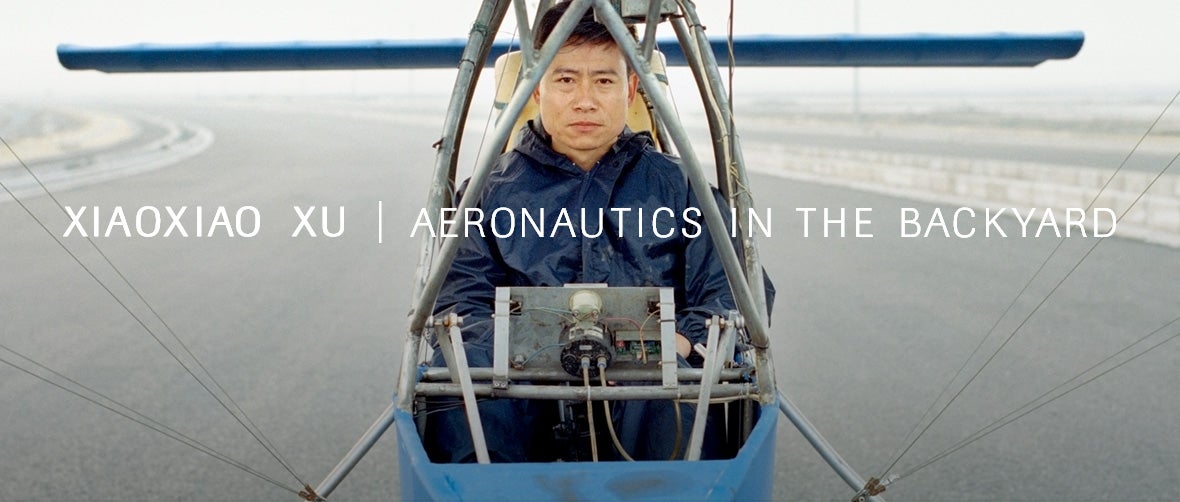 Aug 14, 2018 - Nov 13, 2018
Xiaoxiao Xu: Aeronautics in the Backyard
In 2015, artist and photographer Xiaoxiao Xu travelled throughout inner-mainland China and documented the little-known, yet thriving subculture of homebuilt aircraft builders in rural areas across the country. The country is certainly a global player and innovator in the field of aviation, though Xu's story takes place outside of the major cities where much of this innovation occurs. She draws focus on an underground culture of aircraft builders who are self-taught engineers, often working with modest budgets and limited access to materials. Drawn by the urge to fly, they build airplanes and gyrocopters in backyard workshops, utilizing hand-drawn schematics, generic tools, and retrofitted motors.
Working with a Hasselblad film camera, Xu documents these aeronauts and their flying machines—many of which are flown regularly by their industrious operators. Other machines remain incapable of continuous flight or grounded by inadequate design. Her subjects may lack the experience and resources of those who work in the aerospace industry, but they compensate with ingenuity and relentless perseverance in their efforts to achieve flight. In this sense, Xu's images move beyond straight-forward documentation of experimental aircraft builders in rural China and meditate on more universal themes of human ambition and resourcefulness.
Originally from Wenzhou, a city in southern China, Xiaoxiao Xu immigrated to the Netherlands with her family as a teenager in 1999. In 2009, she graduated from The Photo Academy in Amsterdam and has since exhibited widely, with recent exhibitions in France, China, Italy, Switzerland, the Netherlands, Portugal, India, Guatemala, Greece, England, and the United States. Her work has been featured in numerous publications, including China Daily, Vice, Wired, TIME, BBC, The Guardian, Hyperallergic, and The Wall Street Journal. Xu has recieved numerous awards and grants, including a Lucie Foundation Scholarship, a documentary photography grant from the Amsterdam City Archives, and a Mondriaan Fund award. Her fourth book, Aeronautics in the Backyard, was published by The Eriskay Connection in 2016.
©2018 by San Francisco Airport Commission. All rights reserved.