United States Coast Guard Air Station San Francisco: Honoring the Guardians of the Golden Gate 75th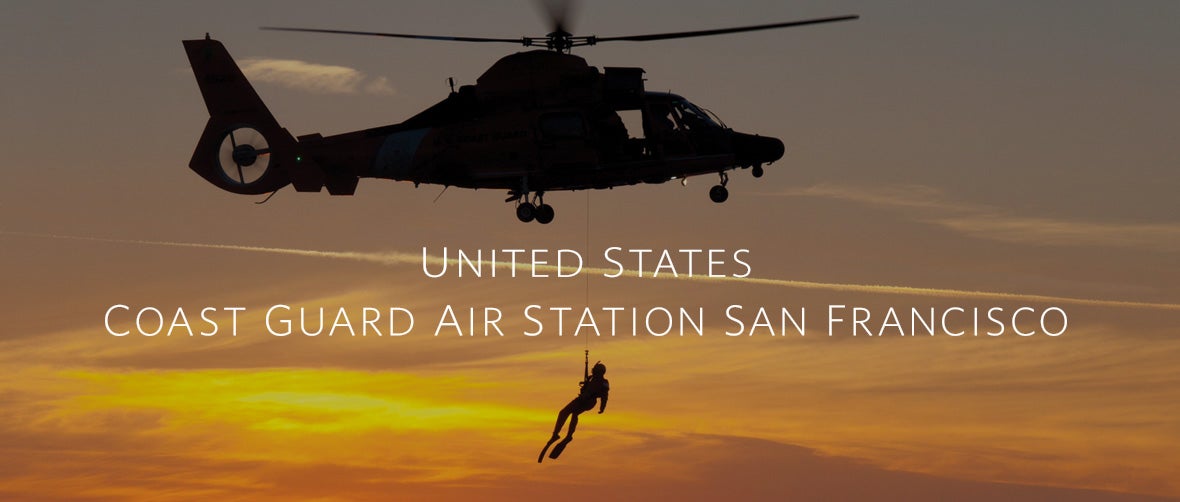 Aviation Museum & Library
Nov 25, 2015 - Sep 16, 2016
United States Coast Guard Air Station San Francisco
Honoring the Guardians of the Golden Gate 75th
For seventy-five years, the dedicated men and women of U.S. Coast Guard Air Station San Francisco have saved souls, aided navigation, enforced federal and international law, and protected living marine resources on the inshore and offshore waters along three hundred miles of California coastline. As the "Guardians of the Golden Gate," these dedicated officers and enlisted personnel are the ever-vigilant eyes in the sky. Their command and capabilities in aerial search and rescue and homeland security personify the Coast Guard motto Semper Paratus (Always Ready).
Coast Guard Air Station San Francisco was commissioned November 15, 1940, on the eve of World War II.  San Francisco Airport (SFO) provided 20.53 acres at the mouth of its new man-made seaplane harbor for the Air Station site. In exchange, the federal government dredged and maintained the harbor and its channel to the bay. With a hangar, barracks, and a ramp, the new station was dedicated on February 15, 1941. Operations began with one Consolidated PBY-5 Catalina flying boat. Ten months later, with wartime hostilities imminent, authority over the Coast Guard was transferred from the Treasury Department to the Navy. During World War II, the command patrolled the coast and conducted numerous search and rescues (SAR). By the war's end, the Air Station comprised over three-hundred officers and enlisted personnel and eighteen aircraft.
In the postwar era, the Coast Guard was again placed under the Treasury Department and Air Station San Francisco updated its aging aircraft. Much of its fixed-wing fleet was replaced with helicopters beginning in 1947 with a Sikorsky HO3S Dragonfly. By 1952, it was also operating a Sikorsky R-6 Hoverfly and a Sikorsky HO4S. During the 1950s, the station conducted long-range search and rescue operations with two Martin P5M-1G Mariner seaplanes equipped with rocket-assisted takeoff (RATO) systems.
A Lockheed HC-130H Hercules turboprop was acquired in 1960. The large, fast, high-capacity aircraft was ideal for long-range maritime patrol and rescue operations. During the 1960s, the station deployed four turbine-powered Sikorsky HH-52 Seaguard amphibian helicopters and Sikorsky HH-3F Pelicans. These aircraft served the command's needs well into the 1990s when the next generation of helicopters, the Sikorsky MH-60 Jayhawk and the Eurocopter MH-65 Dolphin, were introduced. Today, Air Station San Francisco operates a large fleet consisting entirely of MH-65 Dolphins with updated avionics.
The photographs on exhibition document over seven decades of command operations and activities and were generously donated to SFO Museum by the United States Coast Guard, Air Station San Francisco.
©2015 by the San Francisco Airport Commission. All rights reserved.