Toy Story at Twenty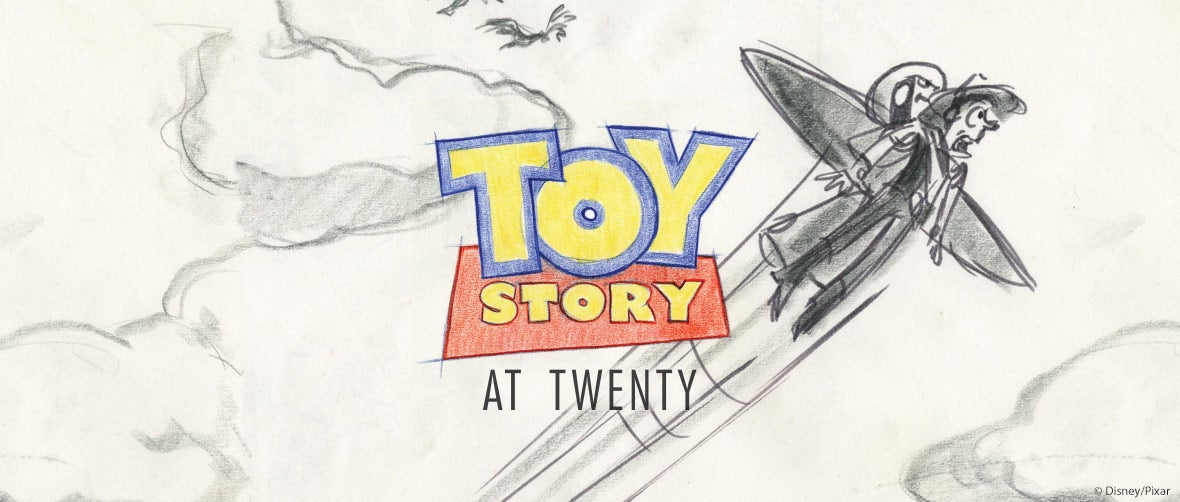 Departures - Level 3
Nov 17, 2015 - May 15, 2016
Toy Story at Twenty
"It'll be a buddy movie: a banter-laden tale of a bitter alliance blossoming into a true friendship. It'll have a few unusual twists. First, the buddies will be toys. And second, it will be the first time an entire movie will have been created using computer animation."
John Lasseter, director of Toy Story
Chief Creative Officer, Pixar and Walt Disney Animation Studios
In 1991, when a small computer company called Pixar signed a deal with the Walt Disney Studios to produce a film with the then-tentative title Toy Story, the idea of making feature films in computer animation would have seemed far-fetched to most people. CG was still better known for flying logos and special effects than full-length storytelling.
Animation, however, has long been a medium friendly to change and experimentation. Walt Disney was particularly known for innovation, embracing sound, color, and the multiplane camera in his short films before taking the biggest gamble of all by making Snow White and the Seven Dwarfs, the world's first full-length cel-animated film. Referred to before its release as "Disney's Folly," the 1938 film turned out to be a box-office sensation that laid the foundation for many memorable animated features to follow.
Years later, John Lasseter, a young animator at the Disney studios, saw early footage from the studio's sci-fi film Tron, one of the first movies to make extensive use of computer animation. Dazzled by the medium's potential, he was determined to find a way to use it for animated storytelling. When he was unable to realize his vision within Disney's walls, Lasseter went to Northern California to team up with Ed Catmull and the pioneering computer scientists of the Lucasfilm Computer Division. The combination of Lasseter's storytelling skill and the technical brilliance of the Computer Division's researchers was a magical one, and the group—renamed Pixar when Steve Jobs purchased it from George Lucas in 1986—was soon producing work that attracted attention around the world.
After years spent developing their craft on short films and commercials, Pixar got their big break when Disney (which had made several unsuccessful attempts to woo Lasseter back) agreed to a co-production deal for a feature film. Though the small studio had won many awards for its previous work, including an Academy Award® for Best Animated Short Film, making a feature film was an entirely different proposition, and a much riskier endeavor.
The creative challenge loomed above all else: telling a vivid, entertaining, and moving story that would fully engage its audience. But even the more concrete aspects of production called for inventive and attentive problem-solving. Not only did Pixar have to expand both its staff and its production pipeline to accommodate a project twenty times longer than anything they had attempted before, they were, from a technical point of view, navigating uncharted waters. No one else in the world had ever attempted a project of this complexity and scale. Every shot in the movie passed through multiple teams, each responsible for a different aspect of the image, like layout, shading, lighting, effects, and animation. Only after all the creative decisions in each department had been made could the final image of each of the film's 110,000 frames be rendered by a computer and examined for perfection—a process that could take anywhere from three to twenty-four hours per frame. From start to finish, Toy Story took over four years to create.
On November 22, 1995, Toy Story opened in theaters as the weekend's top-grossing film, quickly becoming the highest grossing film of the year, and ultimately receiving nominations for three Academy Awards®, including Best Original Screenplay. Though the team at Pixar had known they were creating something special, the overwhelmingly positive commercial and critical reaction was something even the most optimistic team members could not have predicted. Toy Story not only paved the way for Pixar's future cinematic efforts, it inspired other filmmakers and animators to see the vast potential of a brand new medium—the computer-animated film.
All objects and images are ©Disney/Pixar and Courtesy of Pixar Animation Studios unless otherwise noted.
©2015 by the San Francisco Airport Commission. All rights reserved.