The Style of Display: Victorian Pedestals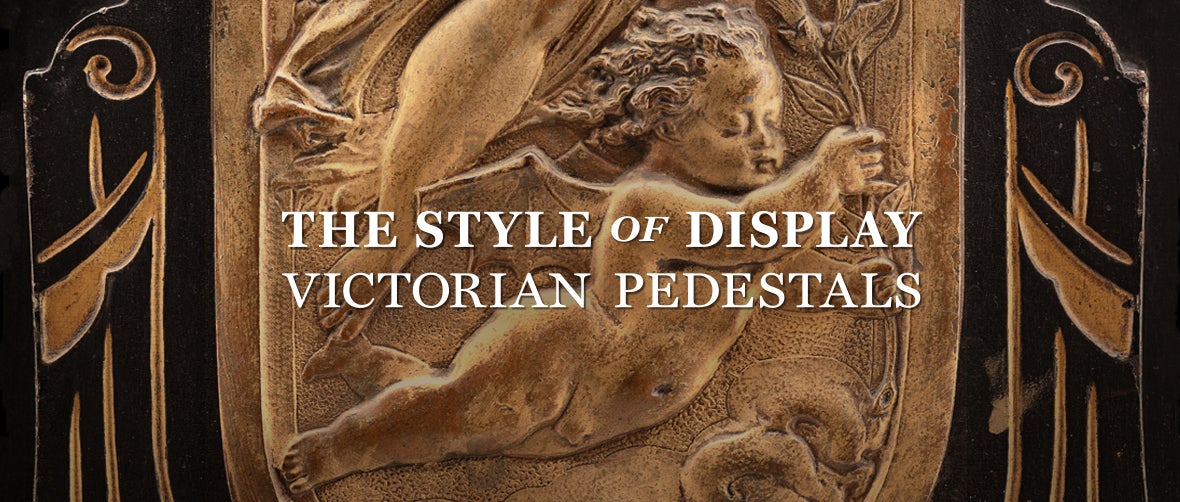 May 18, 2019 - Feb 03, 2020
The Style of Display: Victorian Pedestals
Victorian pedestals, meant to showcase sculpture, are fascinating decorative art objects to behold. The most ornate pedestals were made in the United States during the Gilded Age—a time following the Civil War until the turn of the twentieth century, when the country experienced rapid economic growth. From the mid-1860s through the 1880s, in particular, collecting and displaying sculpture and objets d'art led to an increased demand for pedestals. Wealthy Victorians preferred elaborate furniture on a grand scale and richly ornamented rooms. Patterned wallpapers were further bedecked with paintings, photographs, and prints; lush draperies hung from windows. Ceramics, glass, silver plate, and numerous curios adorned cabinets, shelves, and tables. Smaller stands showcased vases, candleholders, and plants. Several pedestals displaying artistic objects might adorn the drawing room or parlor. Victorians selected pedestals that suited their tastes and living interiors. Pedestals, as a result, offer an intriguing look at the design styles popular at the time.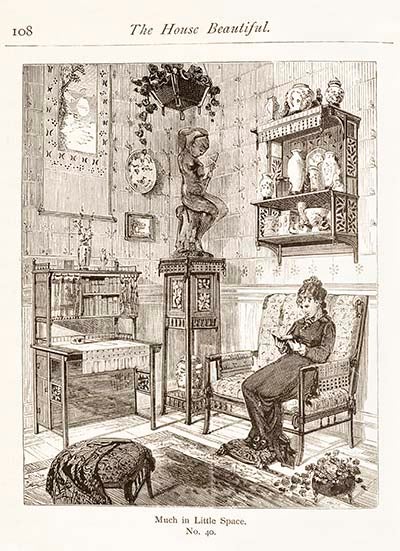 American tastemakers looked to the past for design inspiration. Renaissance and Egyptian Revival styles as well as Neo-Grec flourished in the last few decades of the nineteenth century. Rather than concentrate on historical accuracy, designers created new interpretations, often combining more than one revival style in a single piece of furniture. Both upscale furniture firms and larger manufacturers produced a variety of pedestals. Motifs took form in high-relief carving; colorfully painted accents, ebonizing, gilding, flame veneers, marquetry, uniquely patterned burl woods, line-incised decoration, and marble also adorned pedestals. 
The Centennial International Exhibition of 1876 in Philadelphia, which drew approximately ten million visitors, further encouraged eclectic interiors. Japanese displays left the public entranced by the arts of Japan. Modern Gothic furnishings by the American firm Kimbel and Cabus and Aesthetic Movement or "art furniture," styles imported from England, debuted at the exposition. Proponents of the Aesthetic Movement rejected popular historical revival styles, which they considered excessive. The movement promoted art for art's sake and found inspiration in Japanese design and nature. Pedestals, in turn, reflected these novel fashions.
The pedestal stands in isolation in a room, its only purpose to elevate sculpture. But during the Victorian era, pedestals dazzled the eye as much as the items placed upon them. This exhibition showcases a number of stunning examples produced in the United States from the 1860s to the 1890s.
Special thank you to Allen Michaan of Michaan's Auctions, Ian Berke, and Richard Reutlinger for making this exhibition possible.
©2019 by San Francisco Airport Commission. All rights reserved.