On Silent Wings: Published Works on Gliding and Soaring Flight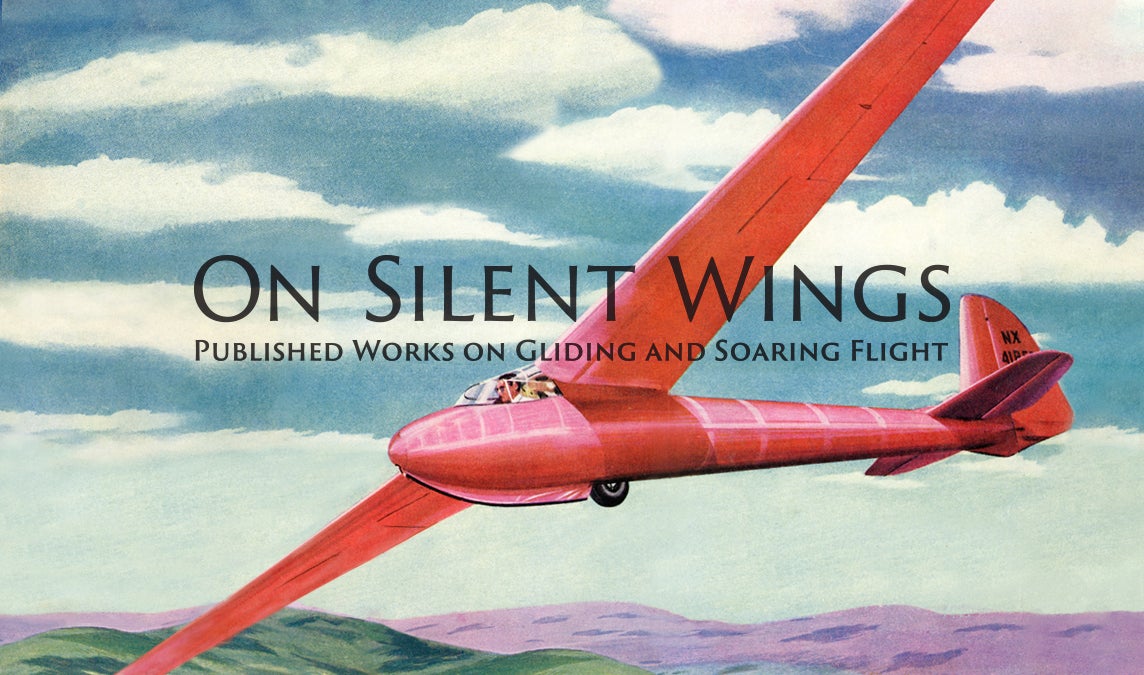 Aviation Museum & Library
Dec 03, 2019 - Nov 23, 2020
In accordance with the government directives and in the interest in protecting the health of our visitors, the Aviation Museum & Library is currently closed. This exhibition is currently available online only.
On Silent Wings
Published Works on Gliding and Soaring Flight
The development of gliders was vital to the advancement of heavier-than-air flight during the nineteenth century. Brothers Orville (1871–1948) and Wilbur Wright (1867–1912) developed a series of gliders that led directly to the development of the first successful airplane, the Wright Flyer, in 1903. Following the public unveiling of their airplane, interest in aeronautics was primarily focused on improving powered flight. It was not until the 1920s that the Germans renewed interest in gliding, while also pioneering soaring techniques—using wind currents and thermal updrafts to gain altitude and remain aloft for extended times and distances. Interest subsequently spread to North America, England, and other parts of Europe. 
During the 1930s, many aviation promoters saw it as a way to broadly advance air-mindedness and introduce the fundamentals of aeronautical design and piloting to the public. Competitive sport glider flying steadily gained in popularity during the decade and achieved demonstration-sport status at the 1936 Summer Olympics in Berlin. In America, popular soaring events were held at locations with favorable conditions throughout the country. Authors encouraged youths to construct and learn to fly gliders, as well as build flying model gliders, to prepare for the coming air age. 
Following World War II, interest in glider flying continued to grow, as large numbers of war-trained pilots and aeronautical engineers looked for challenging ways to test their skills. Many new sailplaning clubs and manufacturing companies were formed, and glider design quickly advanced, while pilots shattered prewar records for soaring time, distance, and altitude. This exhibition presents a selection of published works on gliding from the collections of the San Francisco Airport Commission Aviation Library. Included with books and magazines are photographs and a flying model glider.
©2019 by the San Francisco Airport Commission. All rights reserved.