San Francisco Opera: A Centennial Celebration
Departures Level 2, Gallery 1D
Nov 18, 2022 - Aug 13, 2023
San Francisco Opera: A Centennial Celebration
San Francisco Opera has presented renowned operatic performances for one-hundred seasons, drawing international superstars, commissioning exciting new productions, and debuting legendary singers. One of the world's most complex art forms, opera combines libretto, or the text of a long musical work, with vocal and instrumental music, acting, dance, costuming, wig making, makeup, set construction, prop making, lighting, and audio-visual work. The synthesis of musical, dramatic, and visual components, termed Gesamtkunstwerk in the late 19th century, is remarkable when all elements combine in harmony.
San Franciscans have enjoyed opera since the days of the Gold Rush. On February 12, 1851, the Pellegrini Opera Company, a traveling Italian troupe, performed La Sonnambula by Italian composer Vincenzo Bellini (1801–35) to a crowded house at the Adelphi Theatre—marking the first opera in San Francisco. From 1851–1906, an estimated 5,000 opera performances were produced by similar traveling companies in twenty-six theatres across the city. As demand for opera grew, it became evident that the city needed its own company. Italian conductor and pianist Gaetano Merola (1881–1953) envisioned an institution funded by the community and declared, "San Francisco pays too much for opera. Last year it paid out $425,000…Why? That amount would give San Francisco its own opera for four years."
Merola staged outdoor operas at Stanford Stadium in Palo Alto during the summer of 1922. Following his success, Merola organized a permanent opera company in San Francisco. He trained a chorus, assembled an orchestra from members of the San Francisco Symphony, and enlisted some of opera's top singers—many of them stars from the Metropolitan Opera in New York. San Francisco Opera debuted on September 26, 1923, with La Bohème by Italian composer Giacomo Puccini (1858–1924) at the Exposition Auditorium (now the Bill Graham Civic Auditorium). That first season, Merola conducted all performances, singers supplied their own costumes, sets were simple, and most of the props were lent by members of the local Italian American community. Eight years later, Merola led a fundraising campaign to build a home for the opera, and on October 15, 1932, Puccini's Tosca opened the War Memorial Opera House.
As the company grew, San Francisco Opera Association launched a traveling season with annual performances in Los Angeles from 1937–65 and visits to San Diego, Portland, Seattle, and other cities. Western Opera Theater, founded in 1966, produced operas featuring younger singers who toured throughout the West. In 1971, San Francisco Opera held the inaugural "Opera in the Park," a free concert in Golden Gate Park that continues to draw thousands each year. San Francisco Affiliate Artists Opera Program, a year-long residency to train young singers, musicians, and directors, was founded in 1977. Administered by the San Francisco Opera Center, it was renamed the Adler Fellowship Program in 1982 to honor San Francisco Opera's second director, Austrian American conductor Kurt Herbert Adler (1905–88). Now, San Francisco Opera marks their centennial season with fifty performances of eight operas, in addition to special concerts and events throughout the city that include this exhibition.
A very special thank you to San Francisco Opera for making this exhibition possible, with great appreciation to the Museum of Performance + Design and the Metropolitan Opera Archives for their contributions.
[image detail]
Leontyne Price, Simon Estes, Kevin Langan, Luciano Pavarotti, and Ferruccio Furlanetto in Aida  November 18, 1981
Ron Scherl (b. 1946)
War Memorial Opera House, San Francisco
Courtesy of San Francisco Opera Archives 
R2022.1001.023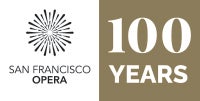 San Francisco Opera believes that opera is a uniquely compelling, entertaining, and emotionally thrilling art form. Their mission is to bring together growing audiences to experience opera's transformative power. San Francisco Opera celebrates its first one-hundred years with a blockbuster 2022–23 opera season and an array of opportunities to engage with the company's history. Their centennial will be marked by activities designed to commemorate the past and welcome the community into an exciting new era under the baton of Caroline H. Hume Music Director Eun Sun Kim.
@SFOMuseum   #SFOperaCentennial
© 2022 by San Francisco Airport Commission. All rights reserved.