San Francisco: From the David Rumsey Map Collection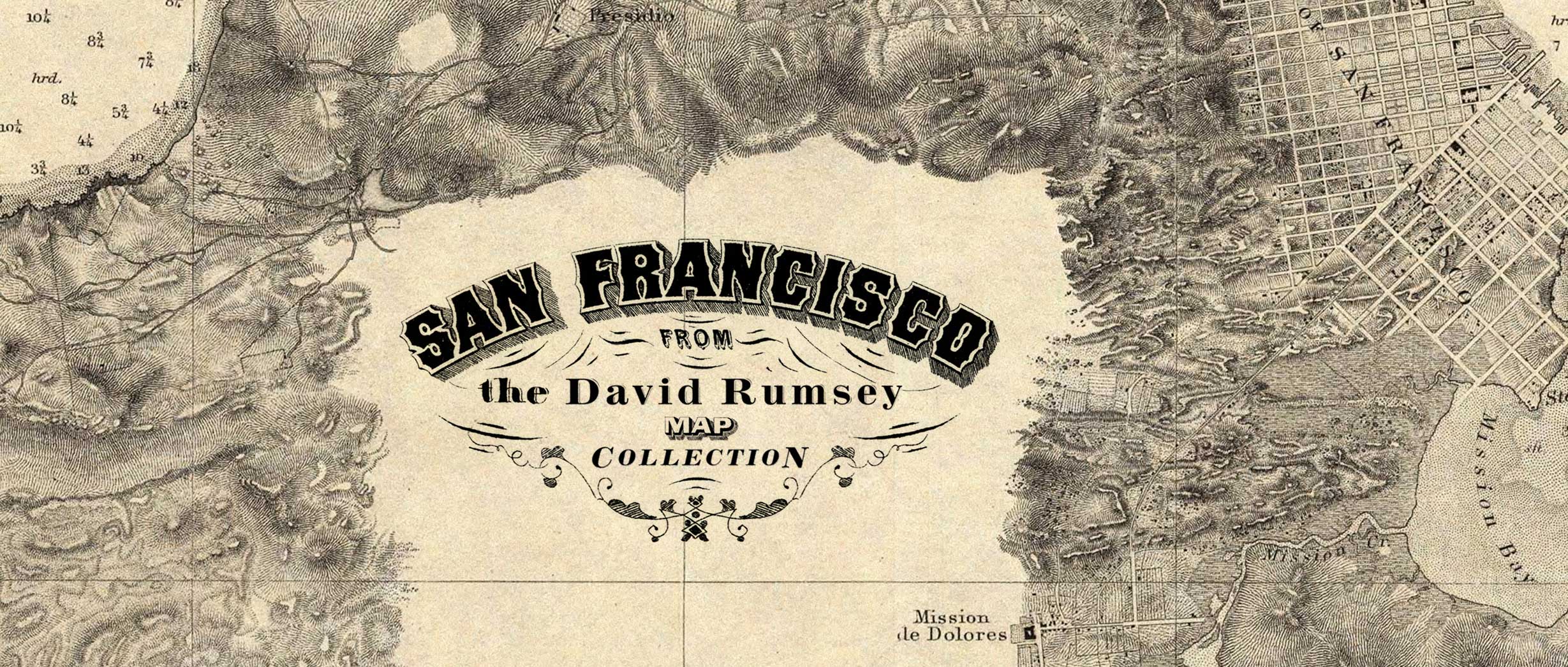 Departures - Level 2
Dec 14, 2013 - Oct 05, 2014
San Francisco: From the David Rumsey Map Collection
"The water is so scarce that it is scarcely sufficient for the few families that reside at the Presidio…timber is found at a distance of twelve or fourteen leagues, and pasturage for the little stock of the garrison is only found at a distance of five or six leagues. Therefore, I am convinced that the worst place or situation in California is that of San Francisco for the establishment of such a villa…"
Don Pedro de Alberni, in his report to the Viceroy on July 1st, 1796.
"Few cities in the world can vie with San Francisco either in beauty or in the natural advantages of her situation; indeed there are only two places in Europe—Constantinople and Gibraltar—that combine an equally perfect landscape with what may be called an equally imperial position."
James Bryce, writing in American Commonwealth, 1889.
San Francisco was at once improbable and inevitable. Much of the land at the northern tip of this hilly peninsula consisted of windswept sand dunes and was frequently blanketed with a cold fog during its summer season. But its location at the entrance to the largest natural harbor on the Pacific Coast, a series of auspicious events, and consecutive generations of citizens boldly reinventing their home on their own terms all combined to produce a city considered by many of its residents and visitors to be one of the world's finest only fifty years after its founding. By all accounts, the transition of this sleepy village clinging to the shoreline of a sheltered cove to a boisterous, thriving metropolis was sudden. Charts, maps, and illustrated views document the remarkable pace of San Francisco's early development in the latter half of the nineteenth century and its perpetual state of transformation throughout the twentieth century.
All objects and images on exhibition are from the David Rumsey Map Collection unless otherwise noted. Special thanks to Stanford University Libraries' Digital and Rare Maps Librarian G. Salim Mohammed and City Archivist Susan Goldstein of the San Francisco Public Library for their generous assistance with this exhibition.
©2013 by the San Francisco Airport Commission. All rights reserved.