Richard Barnes: Murmur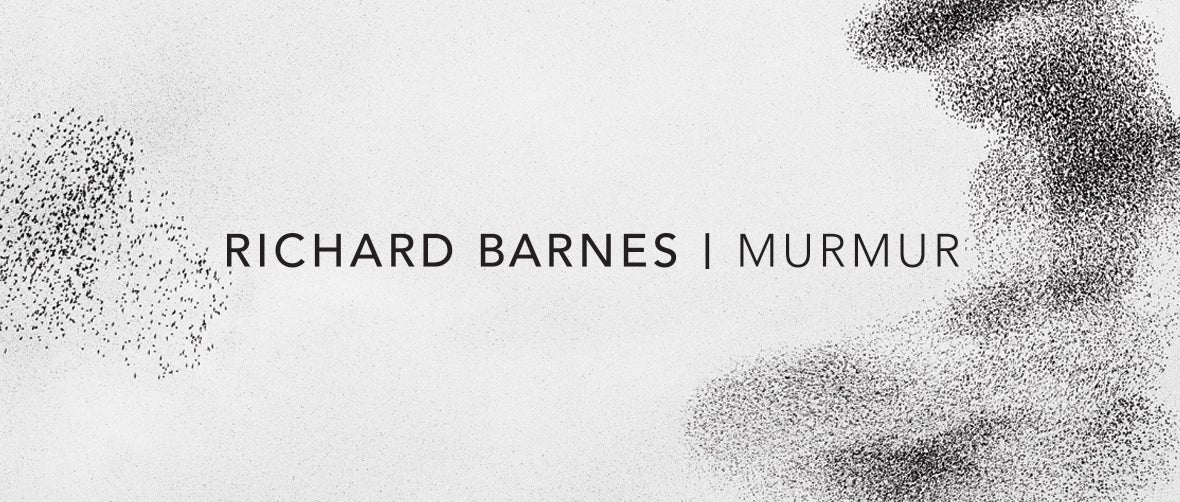 Departures — Level 2
Oct 18, 2018 - Jan 31, 2019
Richard Barnes: Murmur
Every winter, hundreds of thousands of starlings migrate from northern Europe to the countryside near Rome in search of a warmer climate. As dusk falls, the birds take flight in dense cloud-like formations known as murmurations. Surging through the evening sky, these swarms of starlings have perplexed and inspired generations of artists and scientists alike with their ability to fly in staggering numbers while maintaining fluid and cooperative movement as a flock.
In his series, Murmur, artist Richard Barnes photographs the starlings as they coalesce into dark amorphous shapes that dance above the Italian capital. Working with a Hasselblad film camera, the artist embraces the grainy effect of the analog process and its ability to recall the almost granular appearance of the birds in flight. Made over the course of two years, Barnes' photographs evoke a sense of mystery in the seemingly choreographed movements of the migrating birds, whose humbling aerial displays remind us that many aspects of nature remain just outside the realm of human understanding.
Richard Barnes is a New York-based artist and photographer. His work has been the subject of solo exhibitions at institutions including the Museum of Photographic Arts in San Diego; the Carnegie Museum of Art in Pittsburgh; Cranbrook Art Museum in Bloomfield Hills, MI; and the Carpenter Center for the Visual Arts at Harvard University in Cambridge, MA, among others. His photographs are held in numerous public and private collections including the Metropolitan Museum of Art; the Museum of Modern Art; the Whitney Museum of American Art in New York; the San Francisco Museum of Modern Art; the Los Angeles County Museum of Art; and the Museum of Contemporary Photography in Chicago. Barnes was the recipient of the Rome Prize in 2005, and in 2006 his work was featured in the Whitney Biennial and awarded the Alfred Eisenstadt Award for Photography. His monograph, Animal Logic, was published by Princeton Architectural Press in 2009.
©2018 by San Francisco Airport Commission. All rights reserved.