Philippine Basketry of the Luzon Cordillera from the Fowler Museum at UCLA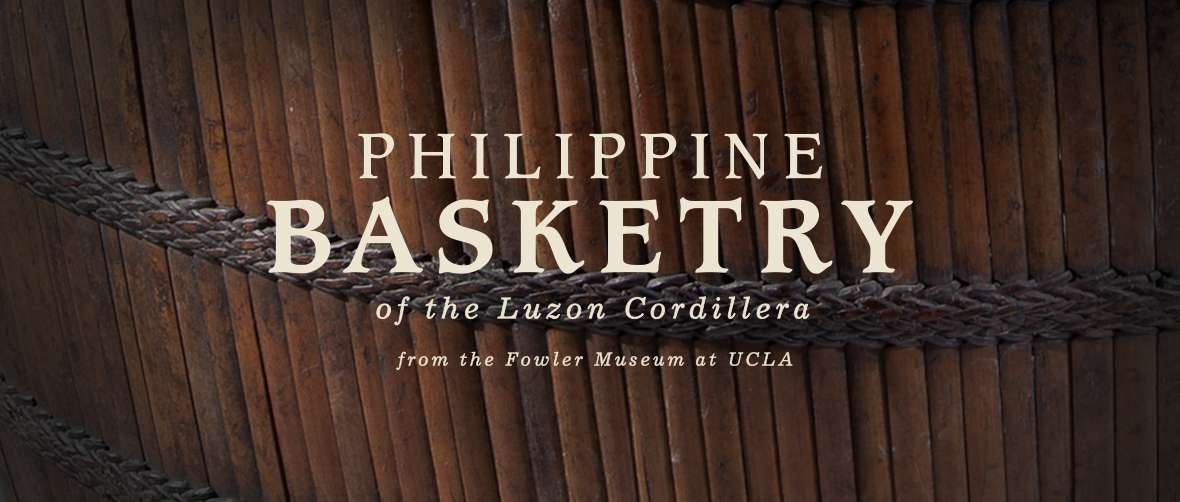 July 2013 - January 2014
Philippine Basketry of the Luzon Cordillera from the Fowler Museum at UCLA
Located between the South China Sea and the Pacific Ocean, the Philippines is an archipelago of about 7,100 islands, of which, 2,000 are inhabited. The two largest islands in the Philippines, Luzon in the north, and Mindanao in the south, comprise about 65 percent of the total land area of the archipelago. The mountainous northern part of the Philippine island of Luzon is referred to as the Cordillera Central. For centuries, basketry formed an essential part of all aspects of daily life in this area.
Baskets range in form and size, from portable lunch containers to woven jars. Winnowing trays, carrying baskets, and covered containers allowed people to harvest, transport, store, and serve food and crops. Basketry hats and rain capes protected against sun and rain. Traps and sieves helped in catching fish, shellfish, and insects. Assorted basketry bags and pouches contained personal items, such as tobacco. Hunters embarked on expeditions with woven backpacks filled with provisions to be consumed along the way, which they replaced with meat after a successful hunt.
Basketmaking is gender specific among some groups. For instance, both Ifugao men and women engage in basketmaking, while among the Kalinga, men do all of the weaving. Baskets are made of bamboo, rattan, or a combination of the two. The most frequently utilized construction technique entails plaiting, although wickerwork, twining, or coiling are also employed. Typically in plaiting, two elements are woven over and under each other at a right angle.
Since the late 1950s, baskets have become less common in the daily lives of the people of the Cordillera. Containers made from materials such as plastic or aluminum now serve the same purpose as traditional baskets. These replacements are affordable, easy to obtain, and often regarded as superior or more practical. Presently, many traditional basket forms survive solely because of tourists' interest in Philippine crafts.
This exhibition displays a selection of twentieth-century Philippine basketry of the Luzon Cordillera. Once created for everyday use, here they can be appreciated for their exceptional beauty and craftsmanship. The groups represented in the exhibition from this region include the Ifugao, Bontoc, Tinguian, Ibaloi, Kalinga, and Kankanay peoples. Carrying baskets, backpacks, rice containers, hats, and rain capes are some of the many interesting forms on display.
This exhibition was made possible through a generous loan from the Fowler Museum at UCLA. Special thanks to Roy W. Hamilton, Senior Curator of Asian and Pacific Collections.
©2013 by the San Francisco Airport Commission. All rights reserved.