Moto Bellissima: Italian Motorcycles from the 1950s and 1960s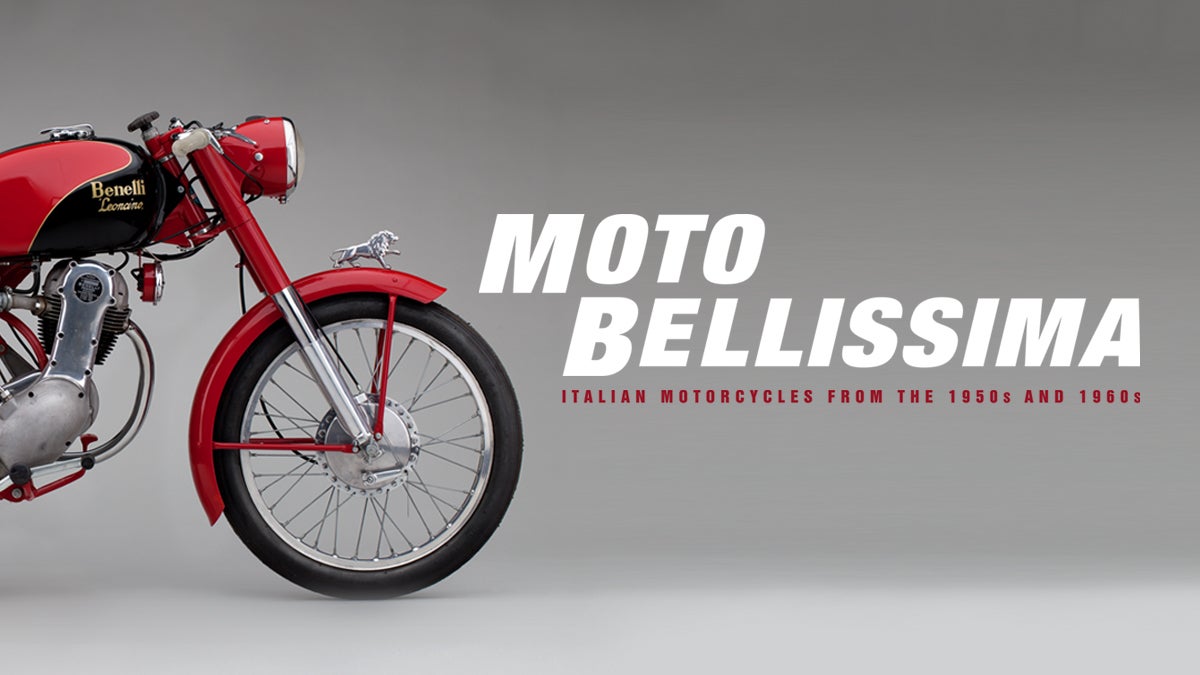 November 2011 - July 2012
Moto Bellissima: Italian Motorcycles from the 1950s and 1960s
The Italian propensity for artistic design, historically demonstrated in a wide range of manufactured goods, has perhaps never been better exemplified than in the beautiful motorcycles that graced Italy's racetracks and roadways in the 1950s and 1960s. Over the course of two decades, an unprecedented number of Italian firms, many of them lost to history, produced a dizzying array of small-sized motorcycles for a country with a desperate need for mobility after World War II. These machines were created at a time of impoverished resources, but consistent with a characteristically Italian insistence on producing, and demanding, objects of extraordinary design and beauty.
After World War II, Italy's manufacturing facilities largely laid in ruins from Allied bombing raids that targeted factories making motorcycles, trucks, and aviation parts for the country's war effort. Venerable firms such as Benelli, Bianchi, and Moto Guzzi, moved quickly to rebuild their facilities and restart operations, utilizing the improvisational skills honed during the war to engineer and produce new motorcycles. Unable to generate models quickly enough to satisfy the demand for affordable personal transportation, they were soon joined by scores of firms introducing a diverse range of well-engineered motorcycles, mopeds, and scooters.
A mere five years after the end of the war, an astounding 220 Italian manufacturers presented new models at the 1950–51 Milano Motorcycle Exhibition. Many firms fielded racing teams, with circuit courses throughout Europe serving as testing grounds for innovations that were often incorporated in their respective street bikes. Racing victories also helped the firms market showroom models, inspiring customers to purchase bikes with similarities to those that succeeded on the track—including Benelli's 125cc Leoncino (Little Lion), which featured its namesake on its front fender, and MV Agusta's 175cc CSS with its distinctive, bulging tank that inspired the nickname "Disco Volante" or Flying Saucer. By the end of the decade, more than four million motorcycles were licensed to operate on Italian roadways, outnumbering automobiles by nearly one million.
Italy's economic recovery during the 1950s resulted in a new and daunting challenge to the country's motorcycle manufacturers as car makers introduced affordable and economical vehicles, providing alternatives for those who relied on motorcycles for commuting and trips to the market. The Italian government assisted a beleaguered industry in 1959 with a revision to its Highway Code that allowed anyone over the age of fourteen to operate, unlicensed, any internal combustion vehicle "not exceeding 50cc and able to travel on a horizontal road at a top speed of 27 miles per hour." Manufacturers competed for a whole new generation of riders with a variety of innovative small-displacement motorcycles, including Moto Morini's Corsarino, FB Mondial's Record, and Italjet's Mustang Veloce. They all used a piston the size of a shot glass, and were all easily modified to achieve speeds of up to sixty miles per hour.
By the late 1960s, increasing numbers of riders seeking high performance machines were attracted to competitive Japanese imports. Honda's introduction of the phenomenally successful CB750 in 1969 launched an era of affordable sport bikes that were larger, faster, quicker, and required less maintenance than many of their predecessors. Although some prestigious makers such as MV Agusta, Laverda, and Ducati continued to prosper by marketing large bikes based on successfully raced counterparts, many other firms did not survive the decade, and an era of unparalleled diversity in lightweight motorcycles by Italian manufacturers came to an end.
Today, motorcycles such as Benelli's "Little Lion" and MV Agusta's "Flying Saucer" are rarely seen on roadways in either the United States or in Europe. A fortunate few may catch a glimpse of these magnificent machines ridden by dedicated enthusiasts at rallies, such as the Giro d'California, an annual tribute to Italy's legendary long-distance motorcycle race of the 1950s. But as today's economic and environmental challenges return our focus to sustainable modes of transportation, perhaps a beautifully crafted machine approaching 100 miles per gallon should be viewed inspirationally as well as nostalgically. The extraordinary Italian motorcycles from the 1950s and 1960s demonstrate that while necessity breeds invention, the results can be truly beautiful.
Special thanks to Fabrizio Marcelli, Consul General of Italy, and to Aldo Mura, Officer of the Italian Consulate of Italy in San Francisco for assistance with research. Thanks also to Motociclismo d'Epoca for making their archives available for this exhibition, and to David Miller of the City College of San Francisco Automotive Technology Department for technical assistance.
©2011 by the San Francisco Airport Commission. All rights reserved.