The Modern Consumer — 1950s Products and Style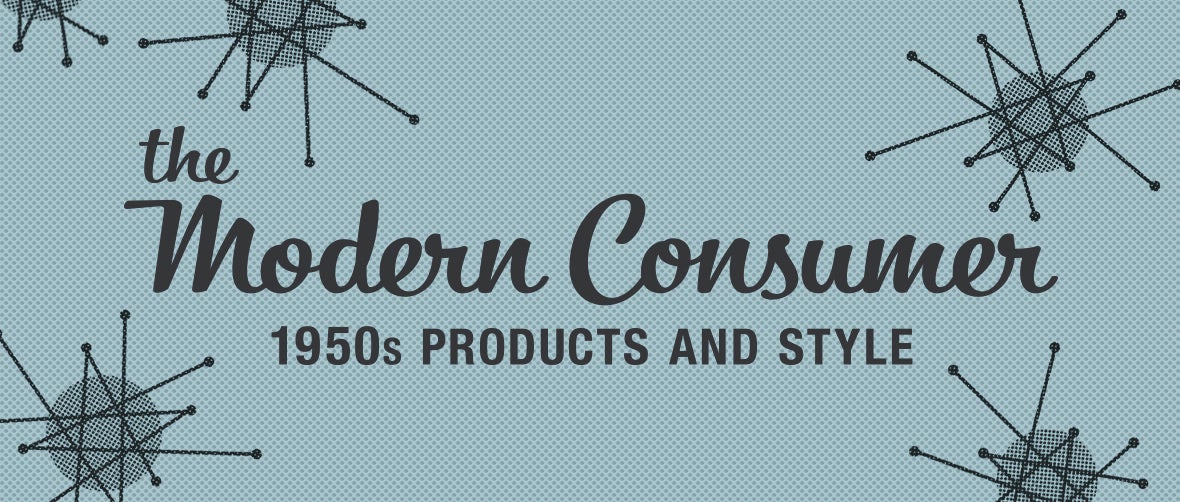 Dec 08, 2018 - Jan 05, 2020
The Modern Consumer — 1950s Products and Style
A new wave of consumerism swept across much of the population of the United States during the 1950s. Driven by a thriving postwar economy, designers utilized bold styling to transform everyday objects into visually expressive items, and manufacturers unleashed an array of products to keep pace with demand. Stores carried everything from portable televisions and pocket-sized radios to space-age toys and plastic dinnerware sets. Many families adorned their homes with modern furniture, automatic appliances, and a variety of products deemed the latest and greatest things.
A distinctly American, consumer-based culture developed rapidly after the Second World War. As the population of the United States soared during the 1950s, median family income doubled and the gross national product grew by more than $200 billion. Advertising and credit replaced rationing and restraint, and a growing number of middle-class families engaged in a spending spree. While the expansion of the middle class and a corresponding rise in consumerism reached many communities, product package design and advertising images reflect the discrimination based on race, ethnicity, and gender that prevailed at this time.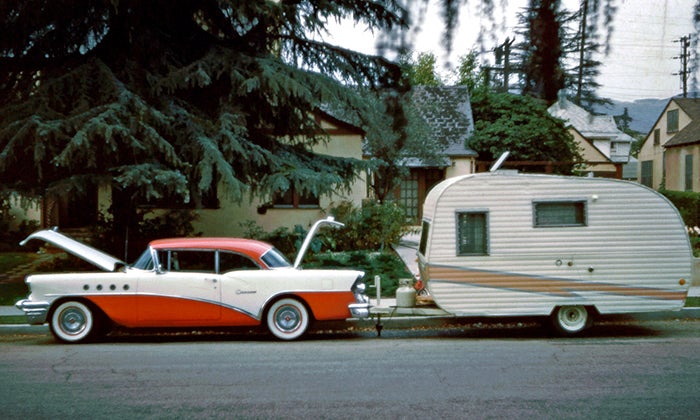 The number of cars on American roads doubled from 1945 to 1955, reflecting a culture of consumerism centered around the automobile. Throughout the decade, automakers debuted distinctive models every year. Two-toned cars finished in colors such as Sunset Coral and Seafoam Green sported tailfins, wrap-around windshields, and flashy, chrome trim. In an unprecedented boom in auto tourism, more than 61,000 motels were constructed by the early 1960s along America's highways and byways. Around town, teenagers took to "cruising," a social fad that involved simply driving from one location to another. Popular destinations included the multitude of drive-in movie theaters and carhop restaurants that appeared almost overnight. 
At home, television exerted a profound influence on the development of a modern, consumer-based popular culture. TV lamps glowed atop television sets while families ate pre-packaged TV dinners on Melamine trays. Networks divided viewers into target audiences and advertisers spent large sums to promote their products. Official toys and games were marketed alongside children's programs and television serials. Performers such as Fats Domino and Elvis Presley reached millions of TV viewers, launching rock 'n' roll into the mainstream and a craze for 45-RPM records. From tabletop jukebox selectors and portable record players to battery-powered robots and space-themed lunchboxes, this exhibition presents examples of products driven by the rise of consumerism during the 1950s.
Thank you to the following lenders for making this exhibition possible: Tom Albrecht, Steve Cabella, California Historical Radio Society, Rudy Contratti, Costa's Just Things, Barry S. Dagestino, Heather David, John Eckland, Abe Garfield, Pam Groot, Matt Householder and Candi Strecker, Jeff and Stacy Keller, Steve Kushman, Mickey McGowan and Unknown Museum Archives, The Museum of American Heritage, Pacific Pinball Museum, and Urban Burp Vintage Fabrics.
©2018 by San Francisco Airport Commission. All rights reserved.