Mike Kelley: Airportraits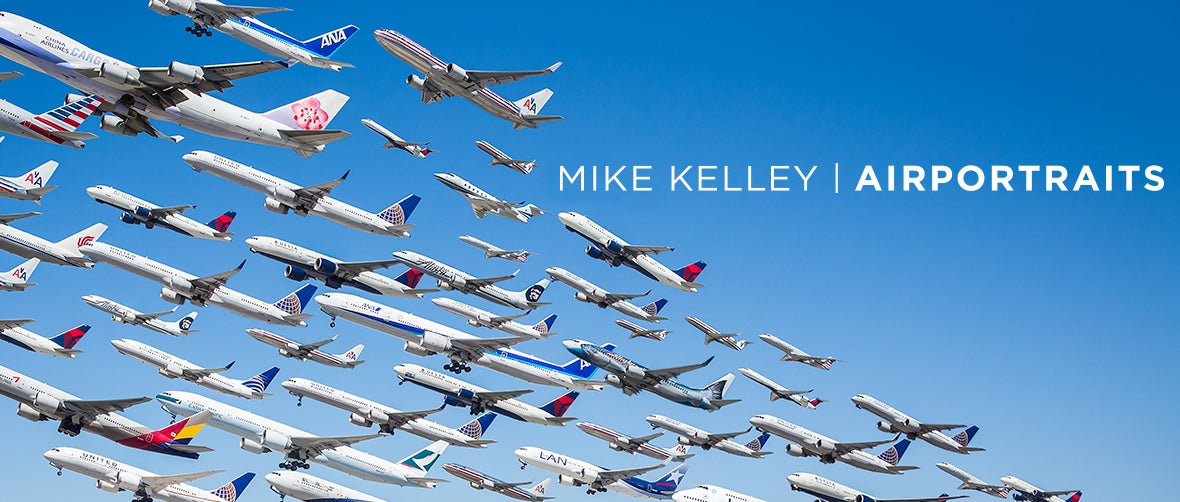 Departures - Level 2
May 16, 2017 - Aug 29, 2017
Mike Kelley: Airportraits
At any given moment, there are at least seven thousand commercial airplanes in the sky. In 2016, commercial flights carried between three and four billion passengers to destinations throughout the world. These traffic numbers might feel surprising given the sense of solitude and boundless space one encounters when peering out of an airplane window at cruising altitude, but the skies are busier than they seem. In his series Airportraits, photographer Mike Kelley offers a glimpse into the often overlooked volume of the world's air traffic.
Kelley travels to airports throughout the globe, looking for scenes that accurately describe the landscape while providing a vantage point from which the airport's traffic can be seen in a linear trajectory. Unlike most photographs that represent a decisive moment in time, each image in this series is made over the course of many hours. Upon finding an angle with an unobstructed view, he uses a stationary camera to capture every aircraft movement over the course of a set period; such as ten hours of traffic at Tokyo Haneda Airport. Once back at his studio, Kelley layers every airplane photographed onto a background image to create a temporally expanded composite of the airport and its movement.
A portrait artist often aims to capture the essence or character of their subject in a way that offers more depth or insight than a straightforward depiction. Mike Kelley's Airportraits do just that for airfields; they utilize multiple exposures to illustrate our busy skies with an accuracy that cannot be achieved in a single photograph. In this way, Kelley's images reveal the social and economic importance of aviation and invite us to contemplate the scale of the only worldwide transportation network.
Mike Kelley is a Los Angeles-based artist and photographer. Originally from Ipswich, Massachusetts, he studied studio art and environmental science at the University of Vermont before moving to California and pursuing a career in photography in 2009. Kelley's clients include numerous airlines and airports, and his work has been featured in many publications including BBC, CNN, Fast Company, European Photography magazine, and Fortune magazine.
© 2017 by San Francisco Airport Commission. All Rights Reserved.