Mandy Barker: Soup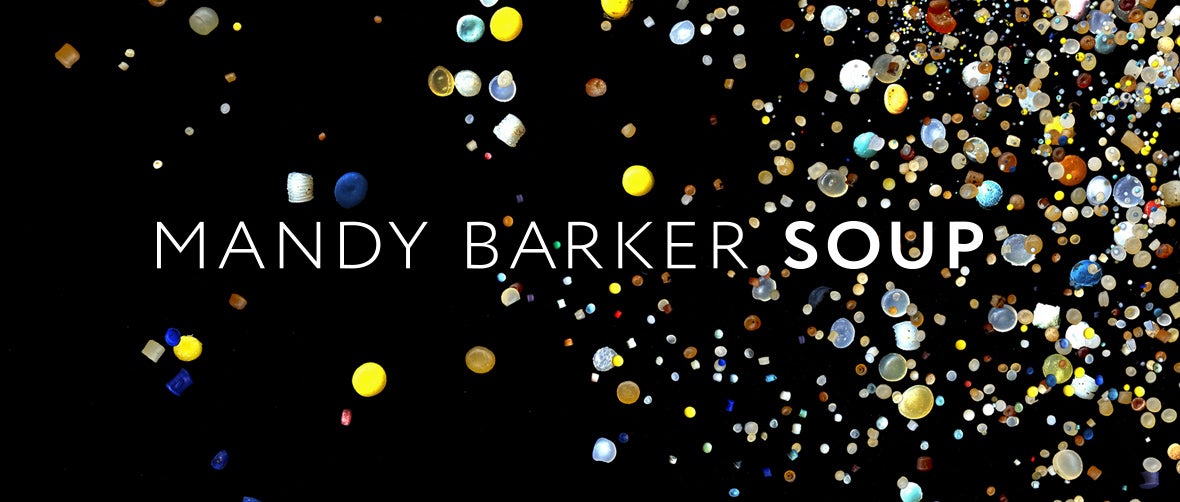 Departures - Level 2
Aug 29, 2017 - Dec 05, 2017
Mandy Barker: Soup
Oceans cover nearly three quarters of the earth's surface and produce more than half of the oxygen in the atmosphere. They are the planet's life support system, yet are often the subject of neglect. It is estimated that nearly three hundred billion pounds of plastic waste are currently suspended in the world's oceans. Concentrated in gyres, or giant rotating ocean currents, this debris hangs in suspension below the surface, creating vast areas of what has been described as "plastic soup."
In her project, Soup, Mandy Barker draws attention to the increasing concern over oceanic plastics. Barker travels the globe, visiting beaches and recovering bits of plastic ranging in size from industrial microplastics to commonplace products such as toothbrushes and bottle caps. Back in her studio, she uses these collections of marine detritus as source material for her dizzying large-scale photographs. Meticulously sorting, arranging, and photographing from various distances, Barker composes images that seek to visually overwhelm, while educating the public about the detrimental effects of marine plastic.
Adopting an aesthetic that recalls the humbling celestial photographs of the Hubble telescope, Barker produces scenes that are at once both enchanting and disconcerting. Her piece, Nurdles, is comprised of raw plastic pellets, roughly the size of a lentil and commonly used in the manufacture of plastic products. In Refused, Barker has collected plastic debris that show signs of having been chewed or ingested by animals on the shoreline. Both Lotus Garden and Transform were made using debris salvaged from various beaches in Hong Kong over the course of three years. Lotus Garden brings together a myriad of artificial flowers, and Transformers features scores of toy action figures and Japanese kaiju film monsters that have been improperly discarded.
Based in the United Kingdom, Mandy Barker earned an HNC in photography from Leeds Metropolitan University in 2009 and an MA in photography from De Montfort University in 2011. Her photographs have been exhibited internationally at venues including the Aperture Foundation in New York, the Hong Kong Science and Technology Park, The Photographers' Gallery in London, the Victoria & Albert Museum in London, and the USC Fisher Museum of Art in Los Angeles. Her work has been featured by numerous publishers including Time, The Guardian, National Geographic, and The British Journal of Photography, among others. Barker has been the recipient of awards including the LensCulture Earth Awards and the Royal Photographic Society Environmental Bursary. Her recent series, Beyond Drifting was shortlisted for the 2017 Prix Pictet, a prestigious global award focusing on photography and sustainability. The series is scheduled for exhibition in fourteen countries through 2018, and will be on view locally in February 2018 during the second annual Photofairs San Francisco.
©2017 by San Francisco Airport Commission. All rights reserved.