In the Driver's Seat: 
The Rise of Madam C. J. Walker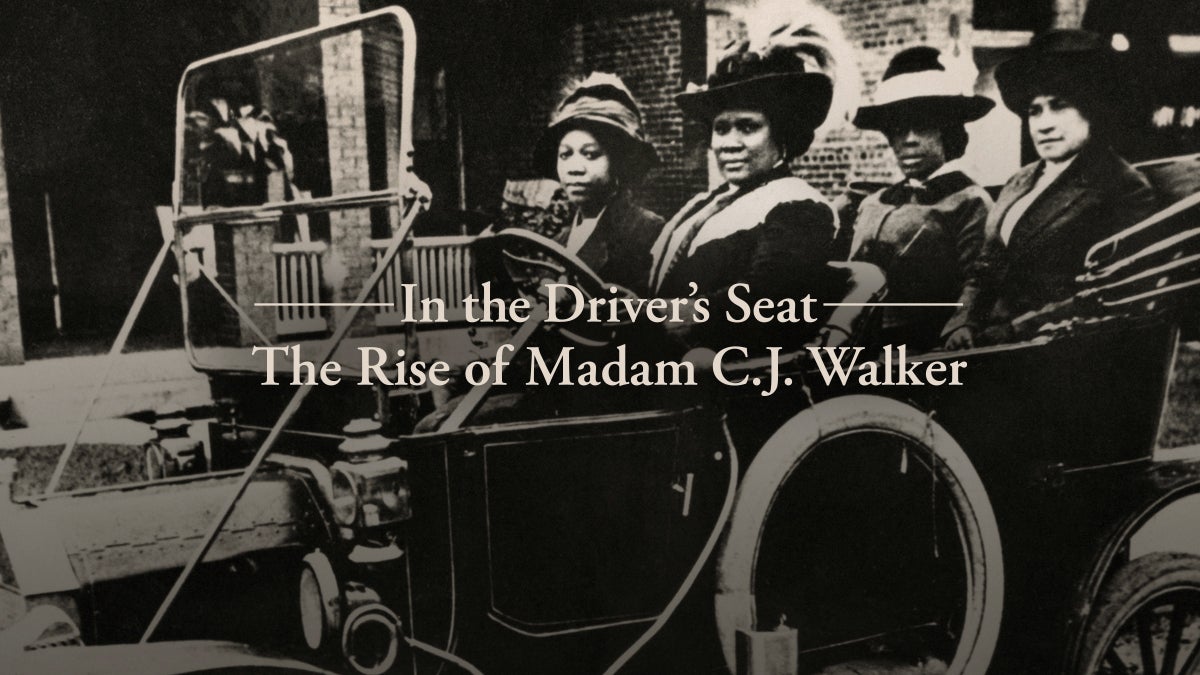 Departures — Level 2
Mar 31, 2021 - Oct 18, 2021
"I am a woman who came from the cotton fields of the South. From there I was promoted to the wash-tub. Then I was promoted to the cook kitchen, and from there I promoted myself into the business of manufacturing hair goods and preparations. I have built my own factory on my own ground!"
—Madam C. J. Walker addressing the National Negro Business League in Chicago, 1912
In the Driver's Seat:The Rise of Madam C. J. Walker
Entrepreneur, philanthropist, and social activist, Madam C. J. Walker (1867–1919) created a haircare empire, including a product line, training schools, and salons, which made her one of the wealthiest African Americans of her time. Born in Louisiana to former enslaved people, Sarah Breedlove lost both her parents by age seven, married her first husband at fourteen, gave birth to her only child at seventeen, and lost her first husband when she was twenty. In 1889, Breedlove moved to St. Louis, Missouri, where her four brothers worked as barbers. There, she labored as a laundress. Meanwhile, Breedlove struggled with hair loss as many women did as a result of infrequent hair washing and scalp disease. Around 1903, she began using and selling Annie Turnbo Malone's haircare products. In 1905, Breedlove relocated to Denver, Colorado, where she married Charles Joseph Walker and renamed herself Madam C. J. Walker. In Denver, she launched her "Wonderful Hair Grower," which promised to nurture the scalp and grow hair long and strong. Walker always distinguished her products as intended for hair growth—not straightening. Her product's early success prompted her to relocate again, first to Pittsburgh in 1908, and then to Indianapolis in 1910, where she established the Madam C. J. Walker Manufacturing Company.
During her career, Walker traveled tirelessly around the United States, Central America, and the Caribbean, delivering lectures, conducting demonstrations, and recruiting and training thousands of agents to sell and administer her products. She contacted local churches, rooming houses, and fraternal organizations, establishing contacts everywhere she went. Walker garnered the support of Booker T. Washington, one of the nation's most powerful advocates for African American businesses, who was originally skeptical of the beauty industry. In 1916, Walker began organizing her agents into state and local chapters. She hosted the first national convention of Walker "beauty culturalists" in 1917, awarding agents who sold the most products and chapters that raised money for charitable and social causes. Walker supported Black colleges, secondary schools, and social organizations, such as Black YMCA branches. She was involved with the National Association for the Advancement of Colored People and traveled to Washington, D.C. with a small group of Harlem leaders in 1917 to petition President Woodrow Wilson to make lynching a federal crime.
In 1916, Walker relocated to New York as Harlem began to flourish as a cultural center for African Americans. The same year, Walker's sales reached over $100,000—more than 1.5 million in today's dollars. Walker commissioned Villa Lewaro, an Italianate-style, thirty-room mansion north of the city in Irvington, New York, which was designed by Vertner Woodson Tandy, one of the state's first licensed Black architects. In 1919, Madam C. J. Walker died at age fifty-one at her newly built estate due to complications related to hypertension. Shortly before her death, she exclaimed to her doctor, "I want to live to help my race." Her story continues to inspire all of those who discover her remarkable achievements despite the tremendous obstacles she faced due to her race and gender.
This exhibition was made possible by the Indiana Historical Society. The images from their archive have been slightly retouched. Special thank you to A'Lelia Bundles, the great-great-granddaughter of Madam C. J. Walker and author of On Her Own Ground: The Life and Times of Madam C. J. Walker, for lending her scholarly expertise to the exhibition. Thank you also to Indiana Historical Society Visual Reference Librarian Nadia Kousari.
©2021 by San Francisco Airport Commission. All rights reserved.