Kay Sekimachi: Weaving Traditions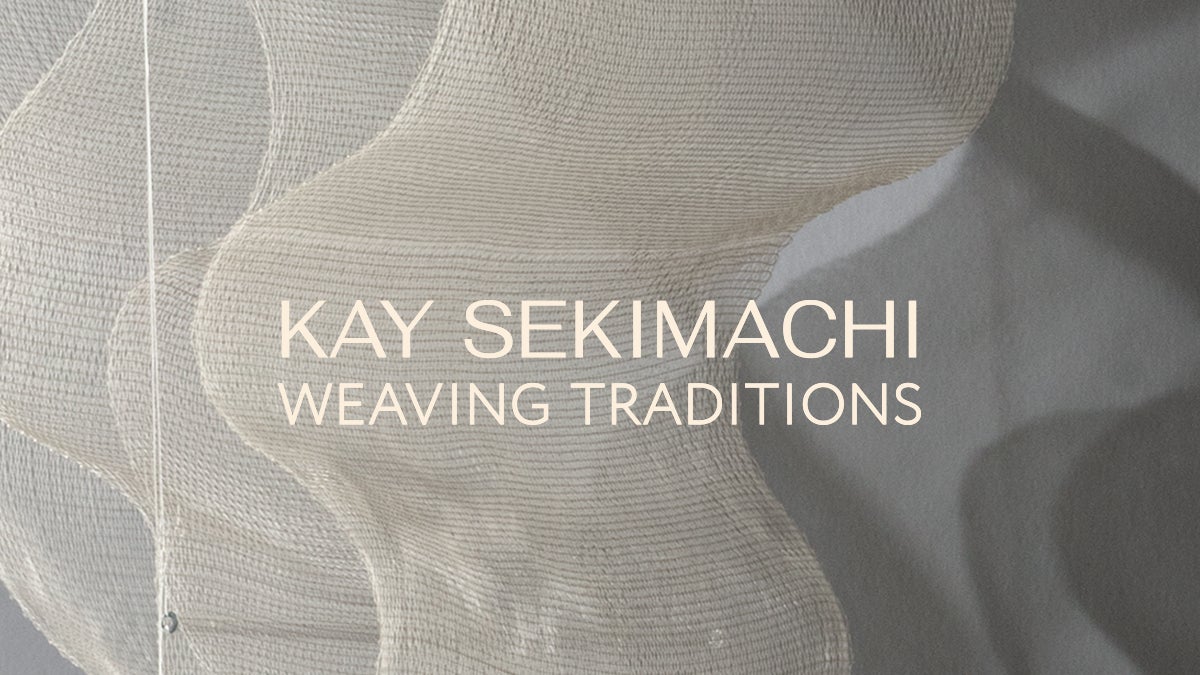 Departures Level 2, Gallery 1D
Nov 04, 2023 - Jun 02, 2024
Kay Sekimachi: Weaving Traditions 
Kay Sekimachi (b. 1926) is a pioneering fiber artist whose complex work reflects an elegant impression of simplicity. For more than seven decades, she has mastered a wide range of media and techniques, including on- and off-loom textiles, stitched-paper forms, and molded-fiber bowls. Loom weaving captivated Sekimachi after a chance introduction in college sent her on a remarkable lifelong journey. Considered a "weaver's weaver," Sekimachi has created an oeuvre of decorative, figurative, and abstract textile art and sculpture that is without parallel.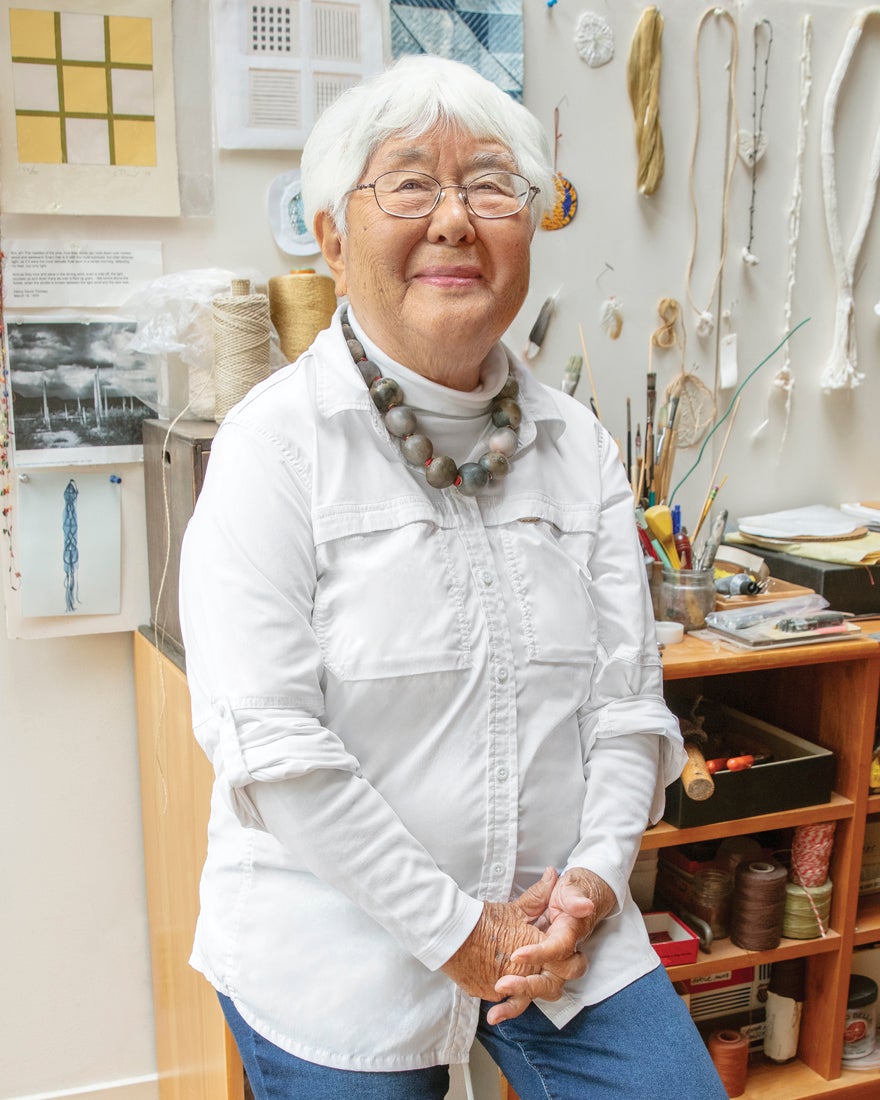 Sekimachi is Nisei, a second-generation Japanese American, born in San Francisco's Japantown in 1926. At age three, Sekimachi lived in her ancestral home of Nakaishizaki, Ibaraki Prefecture, Japan, for one year before she returned to the Bay Area with her mother and two sisters. The Sekimachi girls' cultural education continued at home in Berkeley, where they spoke Japanese and practiced calligraphy and origami. On special occasions, their mother opened a kouri, or suitcase-like basket, that stored silk obi, or sashes, and kimono. Years later, after Sekimachi started weaving, her mother revealed that she and her grandmother had spun, dyed, and woven the silk for their obi. They often reminded Sekimachi that, "to be a good weaver, you have to feel like a thread."
During the Second World War, Sekimachi and her family were incarcerated at Tanforan Assembly Center in San Bruno without due process alongside thousands of Japanese Americans. While interned, she took art classes with Chiura Obata (1885–1975), an art teacher at the University of California, Berkeley, and with Miné Okubo (1912–2001), author of the 1946 illustrated book on Japanese American internment, Citizen 13660. Sekimachi spent her days roaming Tanforan while sketching and painting in watercolors. When Sekimachi and her family were imprisoned at Topaz Relocation Center in Utah's grueling high desert, she continued to document daily life through drawing and painting, graduating from Topaz's makeshift high school in 1944.
After her family returned to Berkeley, Sekimachi studied silk screen printing and watercolor painting at California College of Arts and Crafts (CCAC, now California College of the Arts) in Oakland. When she happened upon students in the CCAC weaving room in 1949, Sekimachi was spellbound by the rhythm of "the harnesses going up and down and the girls throwing the shuttle." The following day, Sekimachi used her remaining savings to purchase a four-harness loom from Ahrens Weaving Studio in Berkeley. No longer able to afford CCAC, she took free weaving classes at McKinley Adult School in Berkeley, assisted with workshops at Ahrens, and joined the Contemporary Handweavers and the Loom and Shuttle Guild.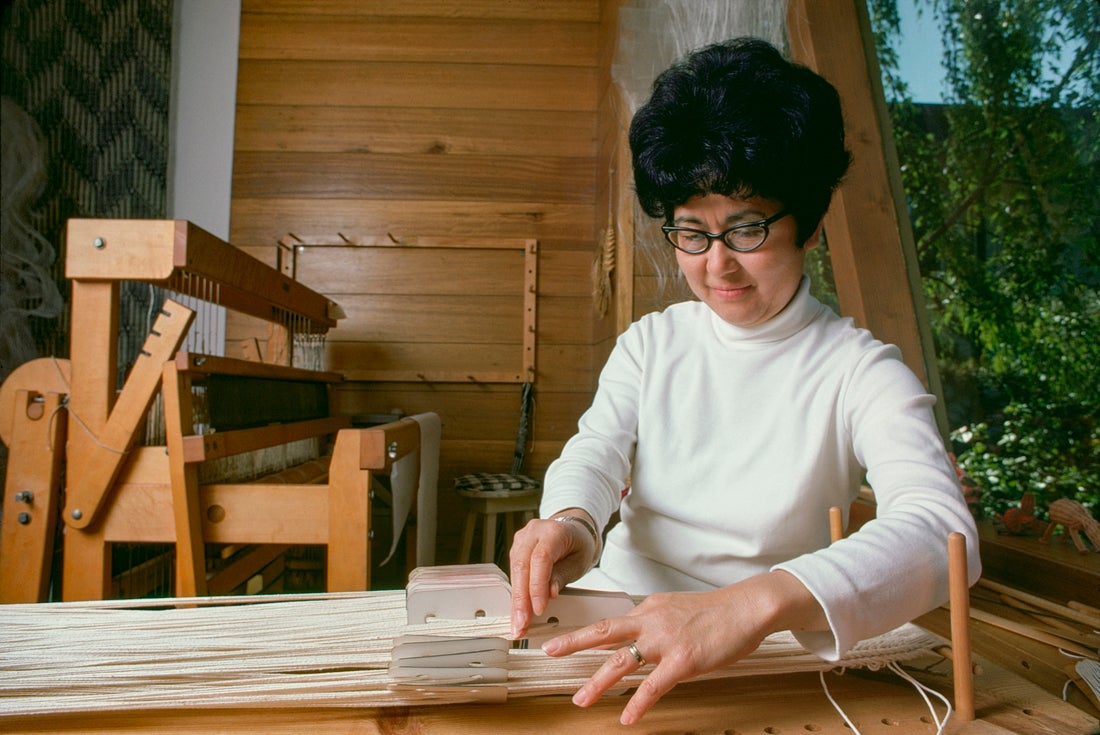 A lecture in 1951 by master weaver Trude Guermonprez (1910–76) at Pond Farm in Guerneville, California, was an artistic revelation for Sekimachi. Intrigued by the experimental potential of weaving, she enrolled in summer sessions at CCAC with Guermonprez, who helped Sekimachi fully understand the relationships between different parts of the loom—freeing her to expand in a multitude of creative directions. In 1956, Sekimachi received a scholarship to Haystack Mountain School of Crafts in Liberty, Maine, and attended summer sessions with Bauhaus-trained weaver Marli Ehrman (1904–82) and textile designer Jack Lenor Larsen (1927–2020), further broadening her artistic horizons.
Sekimachi's work became more artistic and complex with her newfound mastery of the loom. In 1963, she began weaving multilayered monofilament sculptures that elevated her status as an artist. During the 1970s, Sekimachi created innovative, off-loom sculptures before starting a series of intricate, loom-woven books and boxes. Sekimachi was a prolific maker of paper bowls and other forms in the 1980s–90s; however, she continued weaving, fascinated by the challenges of the loom and drawing inspiration from her Japanese heritage. This exhibition presents a retrospective of Kay Sekimachi's extraordinary woven art from the collection of Forrest L. Merrill.
A very special thank you to Forrest L. Merrill for making this exhibition possible.

[Inset image top]
Kay Sekimachi in her home  May 25, 2023
Berkeley, California 
Photo by SFO Museum
R2023.1104.003

[Inset image bottom] 
Kay Sekimachi card weaving in her studio  May 1974
Berkeley, California 
Courtesy of Kay Sekimachi 
R2023.1102.004
@SFOMuseum
#KaySekimachiWeaving
© 2023 by San Francisco Airport Commission. All rights reserved.