Karine Laval: Heterotopia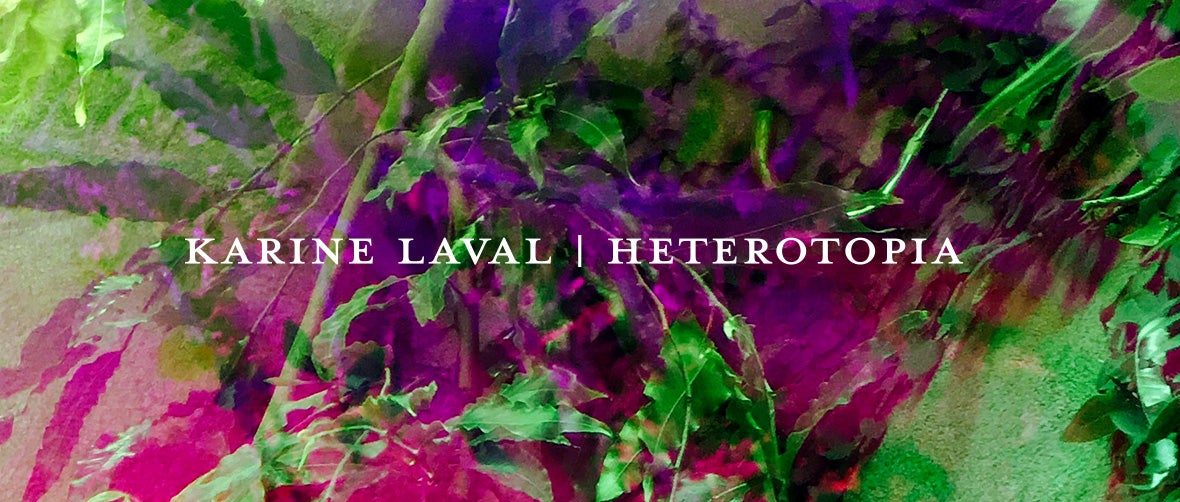 Feb 25, 2019 - Jul 24, 2019
Karine Laval: Heterotopia
In her series, Heterotopia, Brooklyn-based artist Karine Laval produces dreamlike images that challenge and transform our experience of the natural world. The series' title is borrowed from French philosopher Michel Foucault, who used the word to describe places that exist in the world, but are "neither here, nor there," explains Laval. And while her source material may be recognizable—various private and public gardens throughout the United States and Europe—the resulting images are abstracted, distorted, and shifted into another realm altogether.
Utilizing two-way mirrors and Mylar sheeting, the artist uses the natural environment as both subject matter and plein air studio, transforming ordinary landscapes into a series of kaleidoscopic composites that oscillate between the real and the imaginary. Riding a fine line between representation and abstraction, Laval's images challenge our perception and highlight photography's ability to simultaneously reveal, conceal, and distort reality.
Born in Paris, Karine Laval has lived in New York since the late 1990s. She studied communications and journalism at the University of La Sorbonne in Paris, and completed her photography and design education at the Cooper Union School, School of Visual Arts, and the New School in New York. Laval's work has been exhibited globally at venues including the Los Angeles Center for Digital Art; the Newspace Center for Photography in Portland, Oregon; the Sørlandet Museum of Art in Kristiansand, Norway; the French Cultural Center in Oslo, Norway; and the Palais de Tokyo in Paris, France. She has contributed to numerous international photography festivals including the Noorderlicht Festival of Photography in The Netherlands; Lodz Fotofestiwal in Poland; and Fotofest Rhubarb Rhubarb in Birmingham, England. Her photographs are held in numerous public and private collections such as the Sir Elton John Photography Collection in Atlanta; the Citibank Collection in New York; Collection Corbière in Paris; and the Los Angeles Center for Digital Art. Her work has been featured in The New York Times, The Guardian, The Sunday Telegraph, Dazed & Confused, Time Magazine, The New Yorker, and Photo District News, among others. Laval's first monograph, Poolscapes, was published by Steidl in 2018.
©2019 by San Francisco Airport Commission. All rights reserved.