John Sexton: Reflections On Nature in Black and White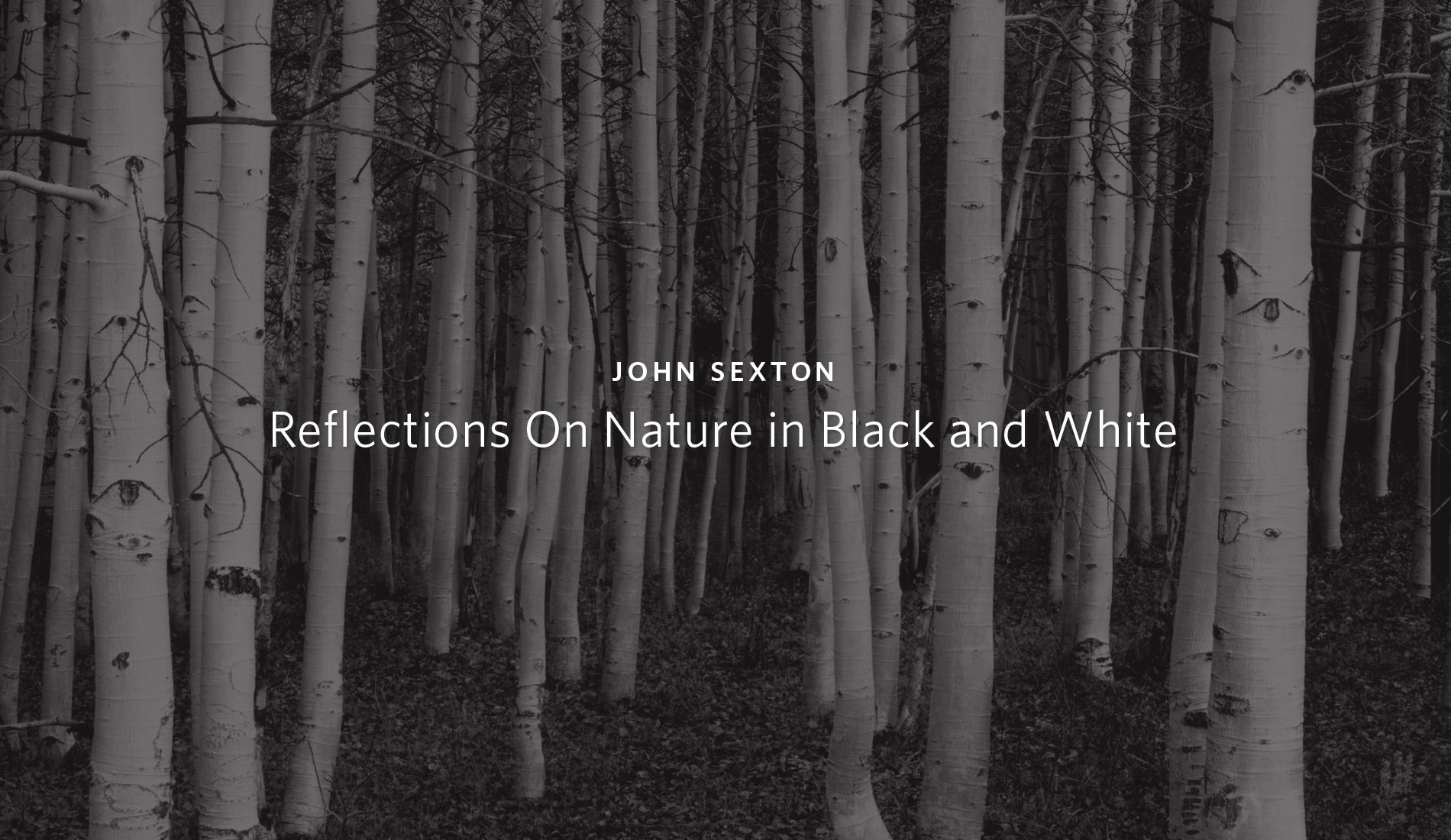 December 2013 - February 2014
It is light that reveals, light that obscures, light that communicates. It is light [that] I listen to. The light late in the day has a distinct quality, as it fades toward the darkness of evening. After sunset there is a gentle leaving of the light, the air begins to still, and a quiet descends. I see magic in the quiet light of dusk. I feel quiet, yet intense energy in the natural elements of our habitat. A sense of magic prevails. A sense of mystery—It is a time for contemplation, for listening–a time for making photographs.
—John Sexton
John Sexton: Reflections On Nature in Black and White
Photographer John Sexton, a contemporary master of large-format, black-and-white photography, best known for his luminous, alluring images of nature, was inspired by the work of legendary photographer Ansel Adams. Sexton decided against a career as an industrial or advertising photographer after graduating from Cypress College in 1975; he chose instead to participate in one of Ansel Adams' Yosemite workshops. After meeting Adams, Sexton was compelled to practice the more rewarding and personally satisfying artistic and creative pursuit of exploring photography as a personal statement. In 1979, Sexton began his tenure as technical and photographic assistant to Ansel Adams; and later from 1982 to 1984, he served as his technical consultant.
Born in Maywood, California in 1953, Sexton's career as a photographer, master printmaker, public speaker, author, and workshop instructor, spans more than forty years. His photographs have been featured in numerous publications including: Time, Life, American Photo, Aspen, Backpacker, Photo Techniques, Darkroom Photography, Popular Photography, Zoom, Outdoor Photographer, and View Camera. He has been featured on CBS Sunday Morning with Charles Kuralt and The MacNeil/Lehrer NewsHour on PBS. Sexton has lectured at the George Eastman House: International Museum of Photography and Film, Rochester, New York; Center for Creative Photography, University of Arizona; Boston University; Los Angeles County Museum of Art; Museum of Photographic Arts, San Diego, California; and Seattle Art Museum. His work can be found in numerous museums, including Boston Museum of Fine Arts, Boston, Massachusetts; Stanford University, Iris & B. Gerald Cantor Center for the Visual Arts Collection, Palo Alto, California; High Museum of Art, Atlanta, Georgia; Yokohama City Museum, Yokohama, Japan; Rencontres Internationales de la Photographic, Arles, France; and China Photographers Association, Beijing, People's Republic of China. He resides in Carmel Valley, California, and lectures and teaches workshops throughout the year.
©2014 by the San Francisco Airport Commission. All rights reserved.