Jet Set Carry-On: The Design, Branding, and Appeal of the Airline Flight Bag
February 2013 - September 2013
Jet Set Carry-On: The Design, Branding, and Appeal of the Airline Flight Bag
For centuries, luggage design has been closely associated with the development of long-distance modes of travel. During the nineteenth century, when mostly the wealthy traveled by steamship and rail, passengers' belongings were customarily stored in large trunks or cases. If designated, these could be brought to one's cabin or railcar for easy access during a journey that could take anywhere from a few days to several weeks. By the late 1920s, commercial airlines began expanding passenger routes and offering flights that were relatively short in duration. Throughout the 1930s, as aircraft gained enough range to cross continents and oceans, passengers had to be prepared to fly for many hours and often overnight. Personal items needed during a flight, therefore, were separated from one's luggage to "carry on," as suitcases were not only too big for the smaller airplane cabins but were also carefully weighed for load balance and stored in an isolated compartment.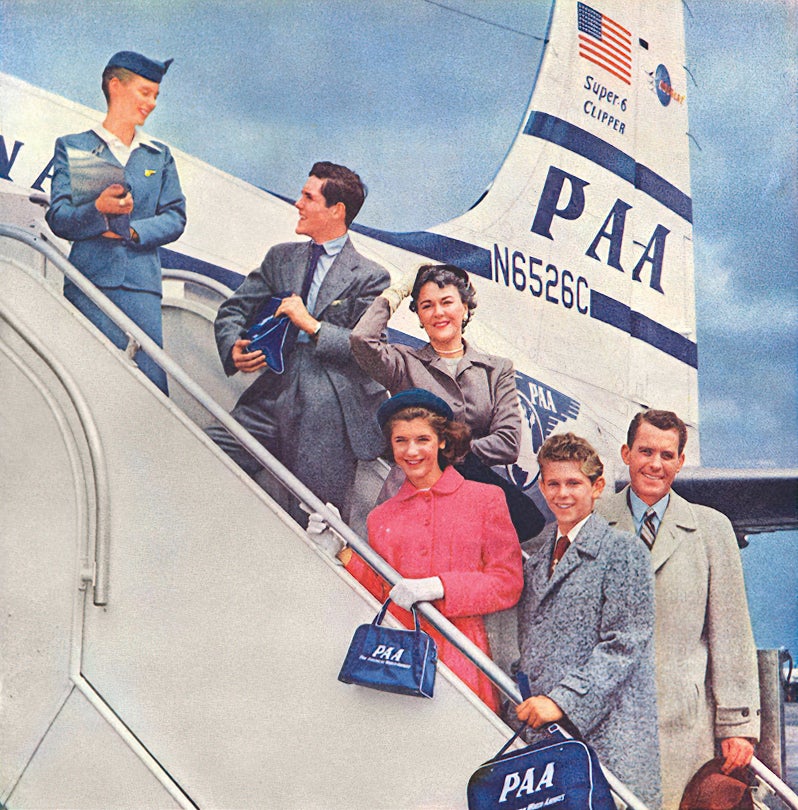 Airlines such as Pan American Airways, United Air Lines, and TWA (Transcontinental & Western Air) began offering small bags for carry-on items emblazoned with their logos and services. Luggage manufacturers also responded with lines of small travel bags and cases. Foreseeing a great potential market in the mid-1950s, manufacturers secured rights to produce airline branded bags in large numbers. These were sold through mail-order catalogs and at airport stores and sometimes given out to first-class passengers and as promotional items at travel and tour agencies. By the late 1950s, the "flight bag" was featured in airline advertising and promotions. This new type of hand luggage, with its vivid graphics, became a chic and desirable status symbol that identified its user as a member of the new globe-trotting jet set.
During the 1960s and 1970s, reduced ticket prices led to a great democratization of the airways and a corresponding rapid proliferation of flight bags worldwide. Airlines began experimenting with new, bright company color schemes that were reflected in the bags. New styles were also introduced. In the 1980s, the demand for flight bags declined, and by the 1990s, many carriers no longer offered them. Recently, however, flight bags have had a great resurgence in popularity due to their retro appeal, and many companies and carriers have offered a wide array of historic reproductions. The Jet Set Carry-On exhibition presents a diverse collection of flight bags representing many airlines world-wide, from the bag's earliest origins in the 1930s to the peak of its popularity in the 1970s.
[Inset image]
Pan American World Airways advertisement  1960s
paper, ink
SFO Museum
Gift of Barnaby Conrad III
2001.038.164.133
R2012.3601.091
Photography is not permitted.
©2013 by the San Francisco Airport Commission. All rights reserved.