Jet Mainliner in Miniature | The United Air Lines Douglas DC-8 Cutaway Model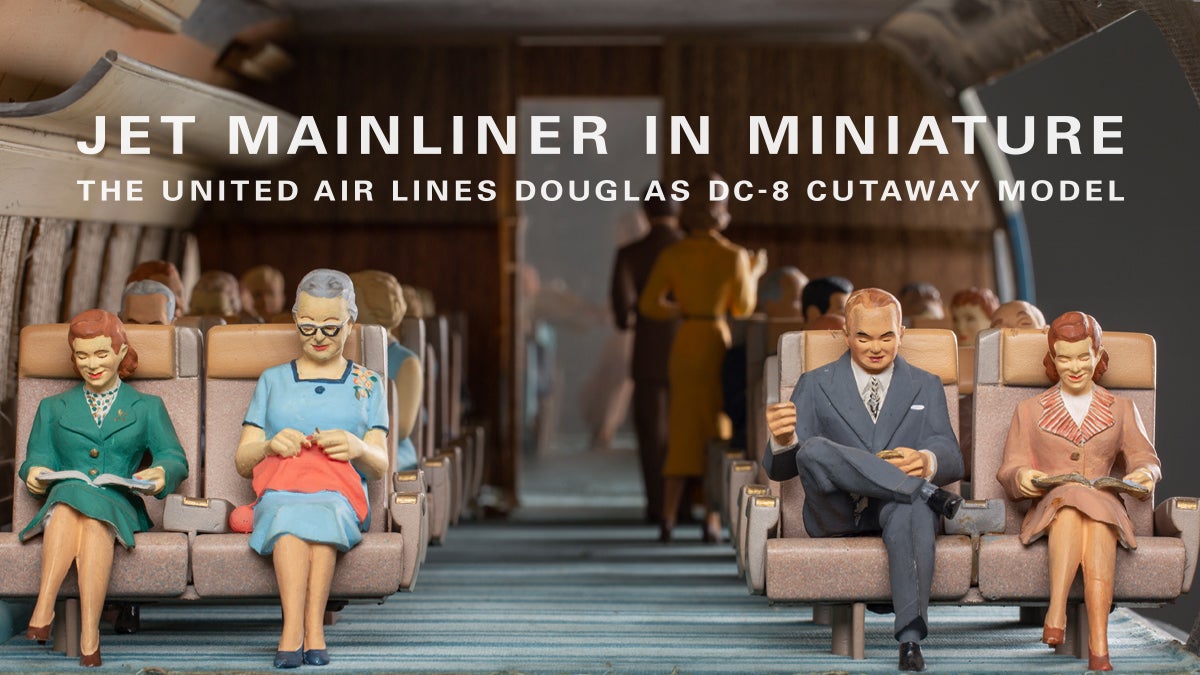 Aviation Museum & Library
Jan 08, 2022 - Dec 11, 2022
Jet Mainliner in Miniature
The United Air Lines Douglas DC-8 Cutaway Model
Introduced in 1959, the Douglas DC-8 was United Air Lines' first jet airliner and the second American jetliner to be launched into service after Boeing's 707. Branded the "Jet Mainliner" by United, it was a major advancement in airliner design and officially launched the airline into the jet age. It was larger than United's previous airliner, the piston-powered DC-7, and offered a much smoother, quieter, and faster flight. The long-range, pressurized jetliner was promoted by United as an entirely new experience in air travel. Capable of flying high in the stratosphere, with cabins reminiscent of "living rooms," the DC-8 offered one of the most comfortable flying experiences available. To help promote the new airliner to the traveling public, United had Pacific Miniatures of Alhambra, California, create several large cutaway models to highlight the DC-8's new features and amenities, particularly its spacious and luxurious cabin interior. During the aircraft's introduction in 1959, one of these models appeared in United's promotional DC-8 movie Jet Mainliner Flight 803 while it was displayed at New York International Airport (now John F. Kennedy International Airport). Another model was exhibited at San Francisco International Airport (SFO) during the same time. The models were also displayed in a tent show produced by United called "Jetarama" that traveled across the country promoting the DC-8.
Created to be an easily viewable, three-dimensional presentation of the Jet Mainliner in miniature, the cutaway model contains a highly detailed cockpit and cabin interior with minute features that accurately replicate the actual United DC-8 as launched in 1959. These include carpets, seats, bulkheads, curtains, murals, and tables, all in colors, patterns, and configurations similar to those in renowned industrial designer Raymond Loewy's (1893–1986) original interior conception. It is populated with figurines of pilots in the cockpit and stewardesses in the cabin. Passenger figurines are situated throughout the interior conducting numerous activities. This exhibition presents this unique cutaway model, along with DC-8 historical photographs and promotional materials, and video segments from United's promotional film Jet Mainliner Flight 803. Also presented is the conservation work performed by SFO Museum staff to restore the model for viewing.
© 2021 by San Francisco Airport Commission. All rights reserved.