Jason Reblando: New Deal Utopias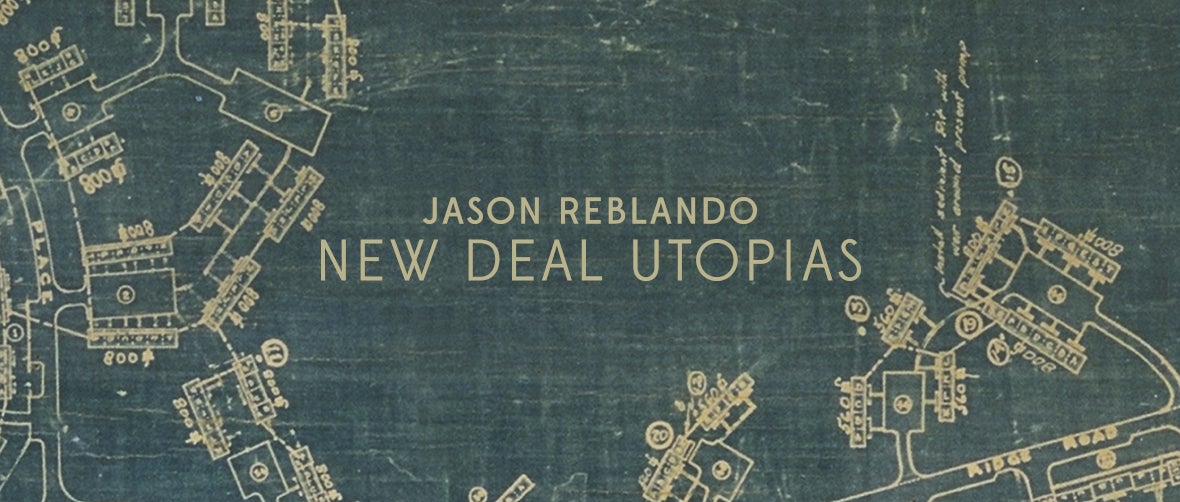 Jul 10, 2018 - Oct 16, 2018
Jason Reblando: New Deal Utopias
In one of the lesser-known public works projects undertaken by President Franklin D. Roosevelt's New Deal, three "Greenbelt Towns" were designed and built by the U.S. Government between 1935 and 1938: Greenbelt, Maryland; Greendale, Wisconsin; and Greenhills, Ohio. Constructed during the latter half of the Great Depression and overseen by the Resettlement Administration, the towns were intended to provide work relief and affordable housing for farmers who had been displaced by the Dust Bowl and for the unemployed living in nearby cities.
Spearheaded by Rexford G. Tugwell, a former economics professor serving on Roosevelt's "Brain Trust," the towns were envisioned as utopian models of modern living. Drawing inspiration from the garden city movement that was popularized by Sir Ebenezer Howard in England during the early 1900s, Tugwell sought to design new, self-sufficient, and community-focused towns that would influence the future of urban planning in America. Here, businesses and community buildings were run cooperatively, nature was part of everyday life, and the overall layout of each town encouraged social interaction and engagement between residents.
Greenbelt opened in 1937, followed by Greenhills and Greendale in 1938. After the completion of Greendale, the program, which envisioned the creation of over one hundred greenbelt towns, was halted. The Resettlement Administration faced numerous setbacks in funding during the course of the program and Tugwell's cooperative ideology became a political liability for Roosevelt amid accusations of socialism. In 1942, ownership of the towns was transferred to the U.S. Public Housing Authority, and after World War II, Congress directed the sale of the towns to various non-profit groups, residents, local governments, and private developers.
Over seven decades after their formation, photographer Jason Reblando revisits Greenbelt, Greendale, and Greenhills for his series, New Deal Utopias. Working with a large format film camera, he produces meticulously rendered images that adopt a straightforward documentary style and examine the towns as they exist today. Reblando's photographs function not only as a record of how these towns aged and adapted to present times, but as an opportunity to meditate on the intersection of housing, nature, and government from both a historical and contemporary standpoint.
Jason Reblando is an artist and photographer based in Chicago and Bloomington-Normal, Illinois. He received an MFA in Photography from Columbia College Chicago and a BA in Sociology from Boston College. Reblando has been the recipient of numerous grants and fellowships including a U.S. Fulbright Fellowship to the Philippines, an Artist Fellowship Award from the Illinois Arts Council, and a Community Arts Assistance Program grant from the City of Chicago Department of Cultural Affairs. His photographs have been featured by publications including The New York Times, the Los Angeles Times, Politico, Slate, and Chicago Magazine, among others. Reblando's work has been exhibited nationally at venues including the Center for Fine Art Photography in Ft. Collins, Colorado; DePaul Art Museum in Chicago, Illinois; and the Union League Club of Chicago, among others. His photographs are held in numerous institutional collections including the Milwaukee Art Museum, the Philadelphia Museum of Art, and the Center for Civil and Human Rights in Atlanta, Georgia. Reblando's first monograph, New Deal Utopias, was published by Kehrer Verlag in 2017.
©2018 by the San Francisco Airport Commission. All rights reserved.