Isamu Noguchi: Inside and Out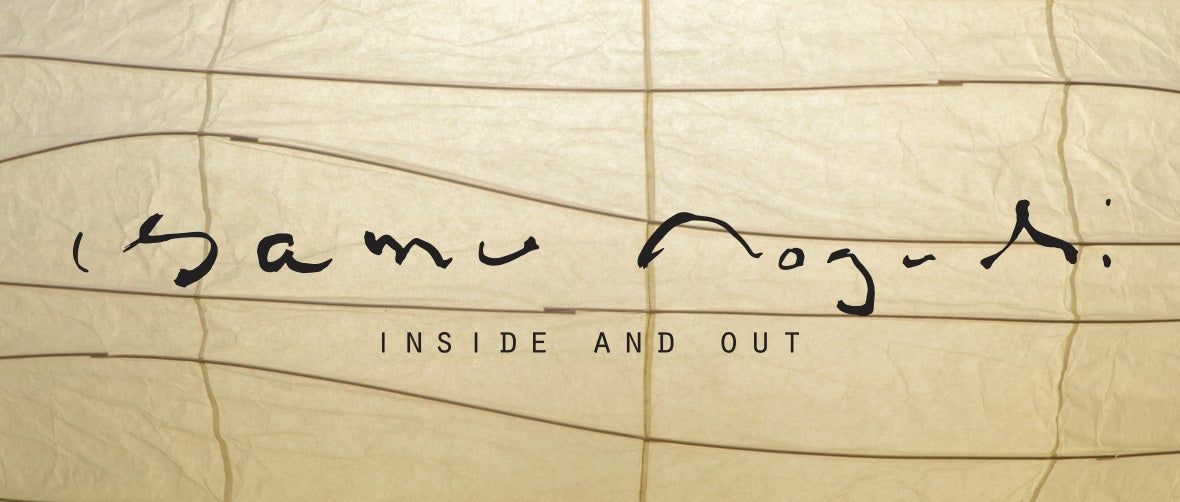 Apr 14, 2018 - Jan 06, 2019
"Noguchi's art, deeply rooted in tradition, kept reiterating the underlying wisdom and verities of life. He lived with old values—which in his hands, pointed in exemplary fashion—toward the new"
—Thomas Messer (1920–2013)
Director of Solomon R. Guggenheim Foundation
Isamu Noguchi: Inside and Out
Collapsibility is not a traditional value of sculpture; in fact, it's quite the opposite. Historically, both as a matter of practice and as an expression of their most fundamental purpose, sculptures have been conceived to represent and achieve weightiness, monumentality, and at least the appearance of permanence. That is particularly true of sculpture carved from stone, including the large, lightly-worked basalt columns for which the American artist Isamu Noguchi (1904–88) is revered in the art world.
Isamu Noguchi: Inside and Out, traces another recurring impulse in his work, one of just a handful of constants in his sixty-year career. Though born in Los Angeles, Noguchi attended elementary school in Japan, returning to the United States at age thirteen to attend high school in Rolling Prairie, Indiana. Like any other schoolchild in Japan, he learned origami and kirigami (the folding and cutting of paper) as a matter of course. This early training gave him an irresistible compulsion to make three-dimensional sculpture from two-dimensional materials, although after learning to carve wood and stone in the Paris studio of Constantin Brancusi (1876–1957), Noguchi later said cutting and folding felt like cheating.
From the time he left Brancusi's studio in 1927 until his death in 1988, Noguchi regularly returned to flat materials for his sculpture: sheet brass in the late 1920s; surplus sheets of architectural marble cladding in the 1940s; sheet aluminum, slabs of clay for non-functional ceramics, and washi paper for Akari lanterns beginning in the 1950s; stainless steel in the 1960s and 70s; and steel and bronze plate in the 1980s.
Anticipating Minimalist artists' embrace of industrial materials and processes by several decades, Noguchi used sheet products in part because they helped bridge the supposed gap between art and design, which he generally regarded as meaningless. For example, Noguchi's ubiquitous Herman Miller coffee table (1944), composed of two flat pieces of wood and a sheet of glass, was designed and marketed around collapsibility, which made it easy to store and ship. That table is part of a family of interlocking sculptures Noguchi made during and after World War II from flat pieces of wood and stone. These works reflect the forced displacement of Japanese Americans imprisoned in camps during the war who were allowed to bring only what they could carry. They also reflect the sense of freedom and mobility that eventually followed, for some, after the war. Working with industrial materials also gave Noguchi access to other cultures of making—different tools, skills, technologies, and points of reference. Much of his sculpture brings to mind the work of Ford and Boeing (chassis, fuselages, frames, and machines) as readily as they do the carved and modeled bodies of Michelangelo, Bernini, and Rodin.
The exhibition's two installations represent interior and exterior landscapes. The objects are drawn from Noguchi's last two forays in sheet metal kirigami, combined with his most successful and ubiquitous expansion of the practice of sculpture, his electrified paper-and-bamboo Akari lanterns. The galvanized steel pieces in the exterior environment, made from the same material as guardrails and lampposts, were conceived as a series of editions to answer the great demand for outdoor sculpture by him with works that are, like Akari, relatively lightweight, inexpensive, playful, and unpretentious. In the interior environment, Akari lanterns join a related body of work in cut-and-folded bronze plate designed to winkingly play off of the perceived preciousness and self-seriousness of bronze sculpture.
Dakin Hart, Senior Curator
The Isamu Noguchi Foundation and Garden Museum
All objects are from The Isamu Noguchi Foundation and Garden Museum. Special thanks to Senior Curator Dakin Hart, Registrar and Collections Manager Larry Giacoletti, and Museum Archivist Janine Biunno for their generosity and scholarship.
©2018 by San Francisco Airport Commission. All rights reserved.