Interiors Revealed: Cutaway Airliner Models from the Collection of Anthony J. Lawler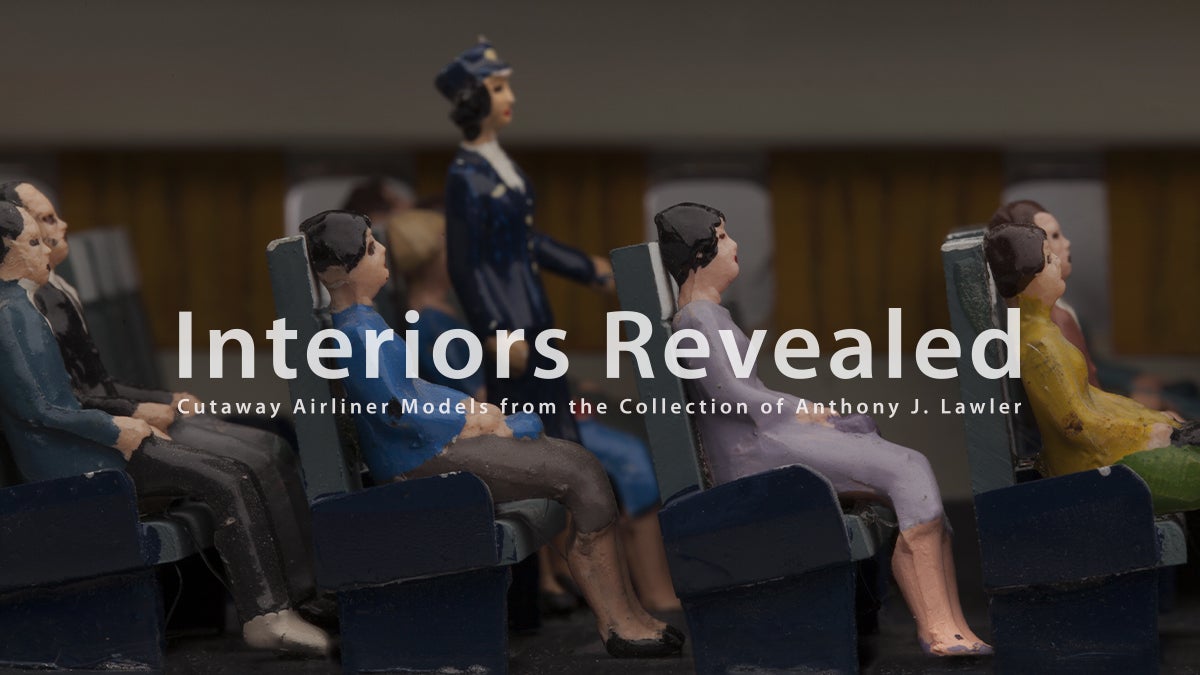 Aviation Museum & Library
September 2012 - April 2013
Interiors Revealed: Cutaway Airliner Models from the Collection of Anthony J. Lawler
During the postwar era, commercial aviation progressed at an unprecedented pace, as airlines expanded their services and updated fleets with more advanced airliners in order to attract customers and successfully contend within an increasingly competitive market. Aircraft manufacturers were not only offering improved airframes, engines, and avionics, but also more comfortable and aesthetically pleasing cabin interiors, which became important as the range of airliners and the duration of flights substantially increased. In order to promote these new interiors the airlines often ran advertisements and published brochures that touted the new designs and amenities. Within their sales offices they also displayed cutaway models of airliners, which afforded prospective customers a unique three-dimensional view into the cabin interiors in which they would spend their time in flight.
Typically airlines preferred particular model manufacturers. For decades, BOAC (British Overseas Airways Corporation) obtained its models from Walkers Westway of London. The company began during World War II by specializing in the production of aircraft recognition models. After the war, Walkers Westway developed a unique process of crafting cutaway models. First, an intricate cabin interior was created and affixed to the lower part of the fuselage. Then a translucent Perspex plastic tube was placed over the interior to form the upper half of the fuselage. Finally, the clear plastic was painted to match BOAC's livery, while leaving unpainted portions that allowed for viewing into the cabin, as well as into the flight deck. Other model manufacturers, such as Fermo of Denmark and Raise-Up of Holland, cast models of aluminum, or crafted them from wood or plastic, with a large side section of the fuselage left open for the insertion of a clear plastic viewing window. These and other companies also sometimes included minutely detailed figures of passengers and flight crews within the interiors.
Interiors Revealed presents a diverse assemblage of cutaway airliner models from the late 1940s to 2001. They are from the collection of Anthony J. Lawler, an aviation industry professional and avid airplane model collector since he witnessed the De Havilland Comet—the world's first jetliner—fly over his boyhood home in Rhodesia. Lawler has spent decades assembling one of the finest collections of scale airliner display models, most of which were acquired while working as a senior sales representative for Airbus North America during the 1980s and 1990s. His collection spans a century of commercial aviation design innovation. 
©2012 by the San Francisco Airport Commission. All rights reserved