At Home with Arts and Crafts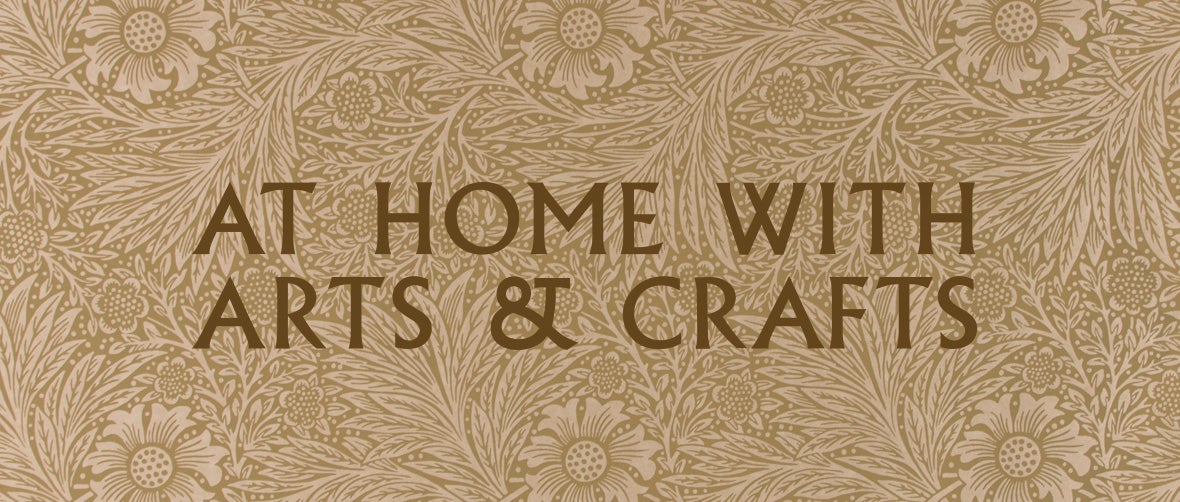 Apr 22, 2017 - Dec 10, 2017
At Home with Arts and Crafts
The Arts and Crafts movement emerged in England in the 1880s. In response to the Industrial Revolution and mass-produced, machine-made objects, the movement emphasized a return to hand craftsmanship. Inspired by the writings of John Ruskin (1819–1900), who exalted the medieval craft guild system, artist and designer William Morris (1834–96) served as the movement's spearhead. Arts and Crafts advocates rejected the ornate designs and compositions of Victorian-era interiors. Instead, they encouraged quality materials and construction with simple forms and motifs derived from nature. Social reform was integral to the movement. In contrast to the dreary factory conditions of the day, proponents believed that artisans should work in pleasant environments with fair pay.
The Arts and Crafts movement soon spread to the United States. Boston founded the first Society of Arts and Crafts in 1897. Unlike their British counterparts, many entrepreneurial American makers considered machines timesaving tools, which aided in producing well-made goods at affordable prices. Leading proponent of the Arts and Crafts movement in the United States, Gustav Stickley (1858–1942) batch-produced unadorned, carefully constructed, oak furniture in Syracuse, New York. His company also offered textiles and metalwork. In 1901, Stickley launched The Craftsman periodical, which promoted Arts and Crafts nationwide. Another pivotal American figure, Elbert Hubbard (1856–1915), founded Roycroft in East Aurora, New York. The Roycroft community produced some of the finest furnishings and metalwork of the era. Craftsman bungalows, which appeared across the nation in the first decade of the twentieth century, were the perfect abodes to encompass the style.
For the first time, many women took leading roles as designers and decorators in workshops created specifically to train and employ females. Newcomb Pottery was formed in 1895 in New Orleans as part of the H. Sophie Newcomb Memorial College, an educational institution for women. Female artisans in the pottery department decorated ceramics with natural imagery drawn from the South. In Boston, the Saturday Evening Girls Club, founded in 1899 as a reading group for immigrant girls, led to the establishment of Paul Revere Pottery in 1908.
California quickly embraced and created its own regional variations of Arts and Crafts. A number of leading artisans called the state home; many of them lived and worked in San Francisco. Dirk van Erp (1862–1933), considered the finest coppersmith of the Arts and Crafts era, crafted table lamps with hand-hammered copper bases accented by mica shades, which produced a warm, amber glow when lit. Harry St. John Dixon (1890–1967) trained under van Erp and later worked for Lillian Palmer (1871–1961), who lent a considerably feminine air to Bay Area copper.
Arts and Crafts reached its apex from the 1890s to the outbreak of World War I, though the style continued to appear into the 1920s and '30s. This exhibition features a rich assortment of Arts and Crafts furnishings, from Gustav Stickley textiles to Dirk van Erp copper, and art pottery by makers such as Rookwood and Paul Revere Pottery.
Special thanks to Bradbury & Bradbury Art Wallpapers for providing the hand silk-screened wallpapers in this exhibition.
© 2017 by San Francisco Airport Commission. All rights reserved.