Harry Smith's Paper Airplane Collection: Photographed by Jason Fulford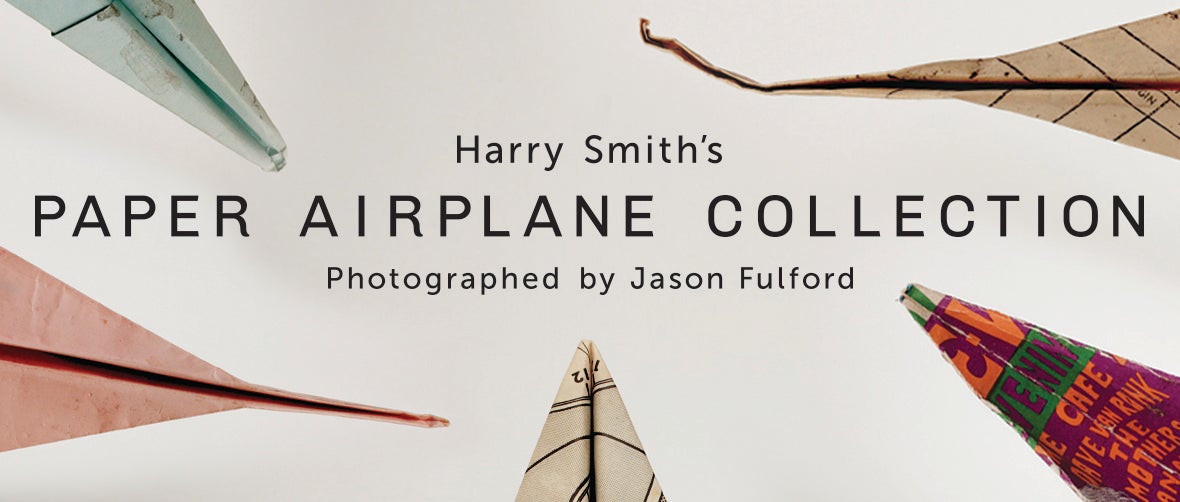 Departures - Level 3
May 19, 2016 - Aug 26, 2016
Harry Smith's Paper Airplane Collection
Photographed by Jason Fulford
A key figure of the twentieth century American avant-garde, Harry Everett Smith (1923–91) was a filmmaker, painter, musicologist, and self-taught anthropologist. Smith's kaleidoscopic experimental animations have influenced generations of artists and cinephiles, while his landmark three-volume compilation Anthology of American Folk Music laid the foundation for the folk-music boom of the 1950s and 1960s.
Major collections of Smith's films, art, and collections are held at Anthology Film Archives in New York City. In late 2012, archivists Andrew Lampert and John Klacsmann invited New York City photographer and Guggenheim Fellow Jason Fulford to photograph Smith's extant collection of 251 paper airplanes collected off the streets of New York City between the years 1961 and 1983. Smith dutifully annotated each plane with information including the date and location where he found it, and sometimes even the time of day and weather conditions. Although it is unclear what compelled his collecting, the planes strongly relate to Smith's fascination with the function of toys and games as teaching tools for communication, storytelling, and generational cultural exchange. More likely it was the alchemical transformation of paper to plane—from trash to treasure—that interested him most. The collection is today stored at the Getty Research Institute in Los Angeles.
©2016 by the San Francisco Airport Commission. All rights reserved.