Greenleaf TK-8: Social Justice Posters
Arrivals – Level 1
May 06, 2019 - Sep 10, 2019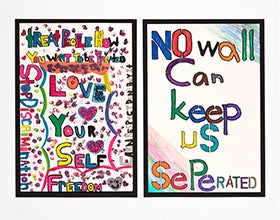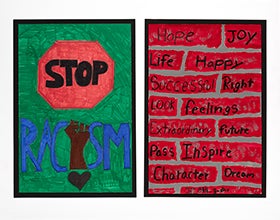 Greenleaf TK-8: Social Justice Posters
Greenleaf TK-8 is a Title 1 Oakland public school grounded in diverse community relationships. Their Hawaiian-born principal, Ms. Romy Trigg-Smith, refers to the school's faculty and students as the Greenleaf Ohana (family). The Greenleaf Ohana values its students' diverse home languages and cultural contributions through visual art, cultural celebrations, class instruction, and library programming. 
Educators and students alike are guided by the school's social and emotional learning Principles of Being: Be Safe, Be Respectful, Be Responsible, and Be a Team Player. They are further driven by their educational Principles of Learning: Pride, Inquiry, Integrity, and Determination. Greenleaf believes in their English/Spanish dual language program as a foundation for students' educational equity. As bilingual learners, Greenleaf students gain agency and opportunities in both continuing education and future employment.
Art allows Greenleaf students another means to communicate through creative expression. The use of color, form, light, medium, and their own imagination expands their knowledge of the diversity of creative methods to communicate ideas. Honing their skills in visual art and engaging in collaborative projects, such as this poster project which focuses on themes of social justice and environmental awareness, Greenleaf students build their artistic vocabulary and visual literacy. The pieces on view in this exhibition were made by students in the eighth grade and represent the breadth and diversity of artistic vision, expression, and technique of the larger Greenleaf Ohana.
©2019 by San Francisco Airport Commission. All rights reserved.