Flying the Freedom Birds: Airlines and the Vietnam War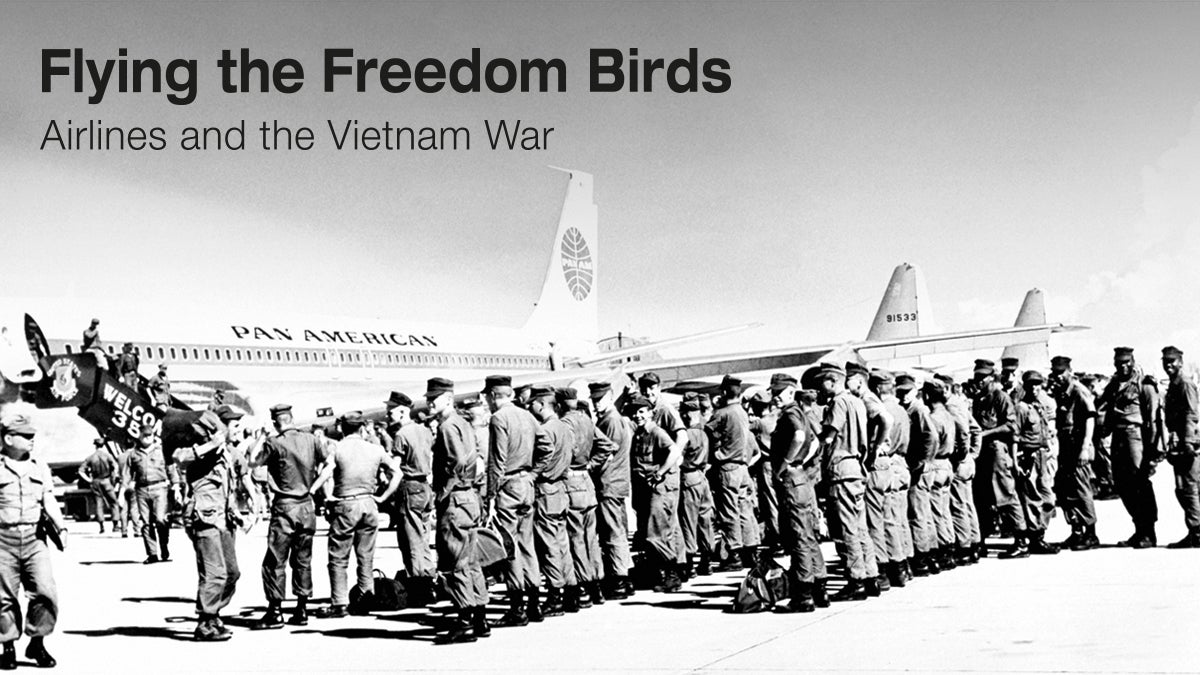 Aviation Museum & Library
Sep 28, 2019 - Nov 29, 2020
In accordance with the government directives and in the interest in protecting the health of our visitors, the Aviation Museum & Library is currently closed. This exhibition is currently available online only.
Flying the Freedom Birds
Airlines and the Vietnam War
Freedom Bird. For the Vietnam generation of U.S. military veterans, this phrase meant only one thing; the aircraft that brought them home at the end of their tours. However, these were not military aircraft, but commercial airliners under contract by the U.S. Air Force Military Airlift Command (MAC) and served by civilian crews and flight attendants. The airliners were not just used to bring the soldiers home, but to fly them into the war zone as well. During the course of the war, thousands of flights crisscrossed the Pacific Ocean. For military personnel, it was a deeply emotional journey in both directions.
These flights were also a powerful and moving experience for a generation of young women who served aboard these aircraft as flight attendants. Few understood the emotional demands they would face. As Flying Tiger Line flight attendant Andee Wright recalled, "There was no special training by the airlines or the military about how to handle it. We relied on each other and the soldiers to manage." These women allayed the fears of soldiers heading to war and offered support and reassurance to those headed home. In addition to the emotional impact, the flight attendants risked physical harm while flying to military bases in an active combat zone. As Captain Dwight Small, a pilot for Flying Tiger Line, recalls, "It was pretty hairy, especially in the early days. We turned off our running lights to avoid ground fire."
Despite the intensity of the operations, many flight attendants found the military contract flights rewarding and continued to serve on them for years. "I wouldn't trade the experience for a million dollars," stated Julie Kane, a flight attendant for Seaboard World Airlines. Her sentiments are echoed by Judy Meyer, who flew for United Air Lines, "It was some of the best flying I ever did." Although these women were an integral part of the Vietnam War experience, their contributions are largely unknown outside of the veteran community. This exhibition, based on extensive interviews with the key participants of the airlift operations, provides insight into their experiences serving aboard the Freedom Birds.
©2019 by the San Francisco Airport Commission. All rights reserved.