Flights of the Schwaben: Photographs from the First Commercial Airline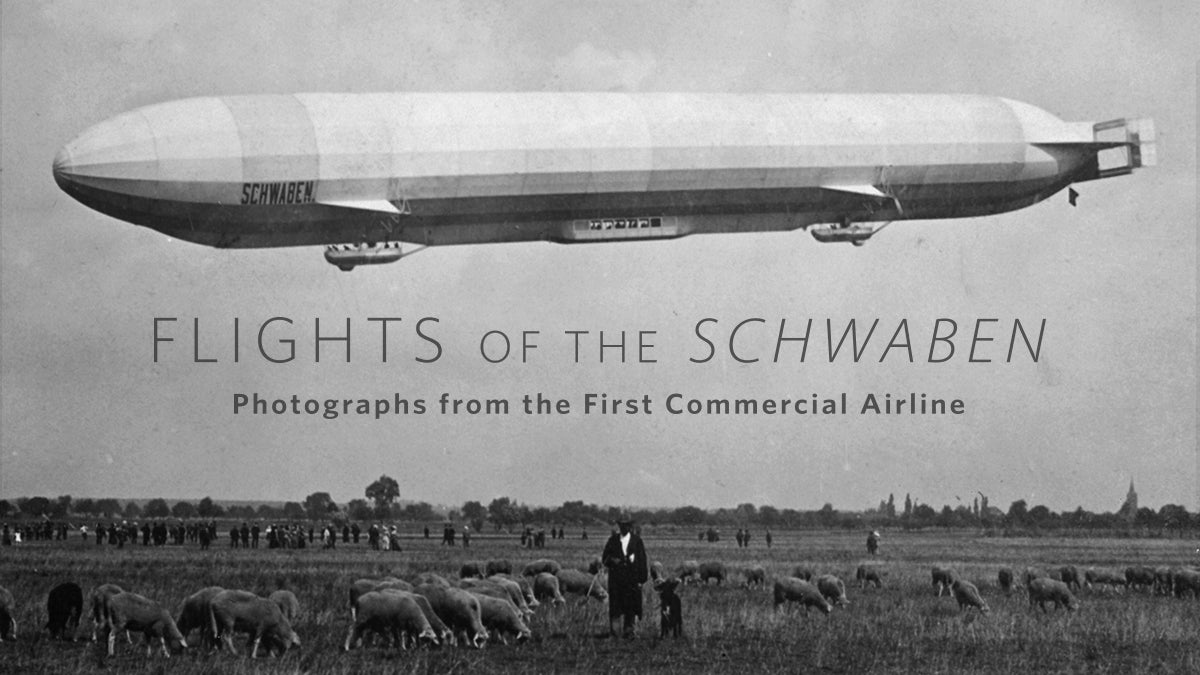 Aviation Museum & Library
Mar 24, 2014 - Apr 19, 2015
Flights of the Schwaben: Photographs from the First Commercial Airline
Scheduled railroads and steamship lines were firmly established as the dominant means of long-range, mechanized transportation at the start of the twentieth century. Few could have imagined aircraft performing a similar service. Yet, by 1909, as the first airplanes were revealed, the German public witnessed a groundbreaking achievement in aviation with the establishment of a commercial airship line. Named Deutsche Luftschiffahrts-Aktien-Gesellschaft and known as DELAG, it was formed by the inventor of the rigid airship, Count Ferdinand Graf von Zeppelin, his financial director Alfred Colsman, and a group of investors. In its first four years, the airline successively operated Zeppelin airships from bases in Friedrichshafen and Baden-Baden to destinations as far as Hamburg to the north and Potsdam to the east.
The company's airship Schwaben, named for the Duchy of Swabia in Southern Germany where Count von Zeppelin was born, was launched in June of 1911. Designed specifically for commercial passenger service, its advances over previous airships included more reliable Maybach engines and improved control surfaces. Although shortened slightly for better maneuverability, it was still a massive 460 feet in length—nearly twice as long as a modern Boeing 747.
During the mild, low-wind weather conditions of the summer of 1911, Schwaben performed exceptionally well and became known as DELAG's "lucky" airship. The average price for a passenger ticket was about 100 Marks (approximately $10,000 today), well beyond the means of most Germans. Despite such high fares, and associated risks of early airship travel, the airline regularly filled its gondola. The Schwaben made 234 passenger flights carrying nearly 2,000 paying passengers and logging 480 hours of total flying time before being destroyed in a gale in June of 1912. DELAG continued service with other airships until the eve of World War I. Its remaining operational fleet then went to the German Imperial Navy for training.          
The photographs on view were electronically scanned and printed from among a set of glass lantern slides produced for DELAG in 1911 by Brown & Dawson of Stamford, Connecticut, to promote the commercial operations of the Schwaben. The slides were generously donated to SFO Museum in 2013 by the Captain John B. Russell Family. 
© 2015 by the San Francisco Airport Commission. All rights reserved.