First-Generation | China Dream & Suburban Chinatown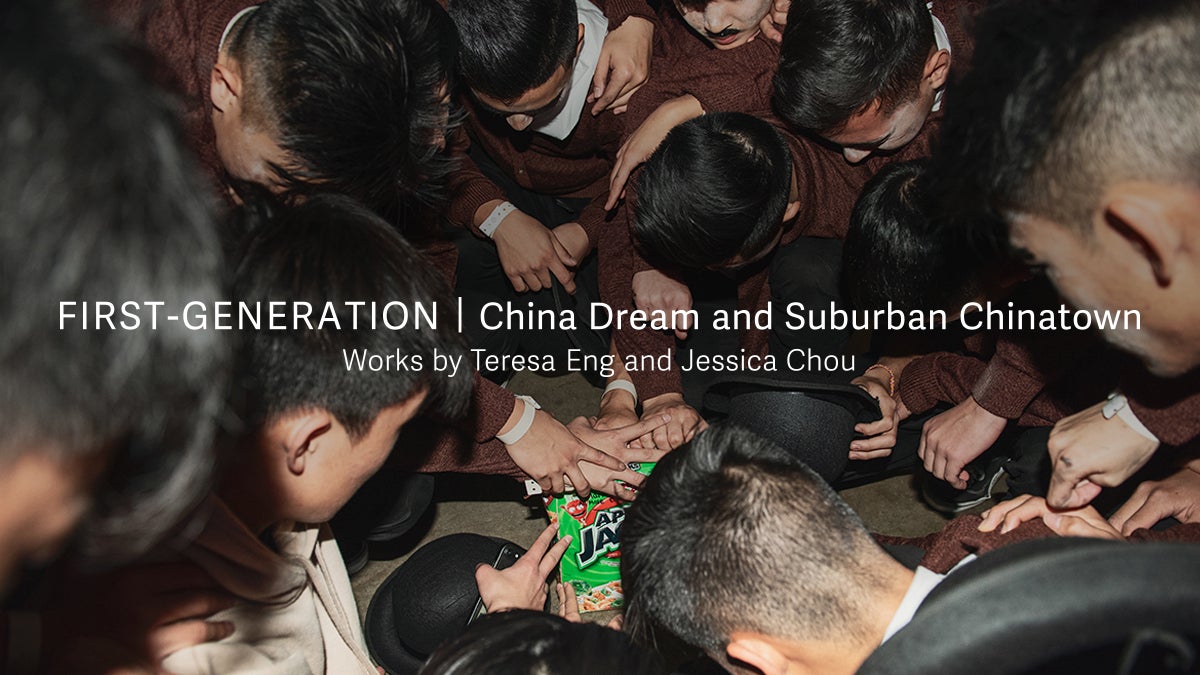 Departures - Level 2
Nov 18, 2021 - May 12, 2022
First-Generation | China Dream & Suburban Chinatown




Works by Teresa Eng and Jessica Chou
First-Generation: China Dream and Suburban Chinatown explores the complex identities and personal narratives belonging to the children of Chinese immigrants. The exhibition features works by Taiwanese American photographer Jessica Chou and Chinese Canadian photographer Teresa Eng, whose projects focus both inwards at the countries of their upbringing, and outwards towards the country of their ancestors.
In her series, Suburban Chinatown, Chou, a first-generation Taiwanese American, examines daily life in the Chinese communities that have settled in the San Gabriel Valley—a cluster of ethnically diverse cities and suburbs located just east of Los Angeles. The area is home to Monterey Park, which in 1990, became the first city in the continental U.S. to reach an Asian descent majority population. The region represents a microcosm of changing demographics in the United States—one that highlights Asian American history and considers cultural assimilation as a two-way street.
Here, Chou photographs the facets of daily life and draws focus on moments of education, religion, civic participation, and culture. Her quiet, poetic images reveal a community that has established deep roots in the collective memory and narrative of California, its quintessential suburban landscape, and the American Dream.
In China Dream, Teresa Eng explores the country of her ancestors. Her parents, born in Southern China, fled to Hong Kong as children during the Cultural Revolution and later immigrated to Vancouver, Canada. Eng presents a reimagined view of China, drawing on the cultural traditions of her childhood, the stereotypes she encountered, and the reality of the country today in the midst of rapid urbanization. 
Between 2013 and 2017, Eng visited mainland China, making photographs and exploring her ancestral roots. Her memories of traditions, passed on from her parents, often stood in contrast with the unceasing growth and modernity of China today. The resulting photographs draw upon this contrast. It is here, in the space between memory and reality, where they come to life. Meticulously made by hand in the darkroom, Eng's images are atmospheric, ethereal, and dreamlike—they contemplate the nature of memory, tradition, and one's connection with a place. In this way, China Dream is as much a personal exploration of identity as it is a visual examination of the country itself.
Jessica Chou (b.1985) was born in Taipei, Taiwan, and raised in the suburbs of Los Angeles. She graduated from UCLA with a BA in Middle Eastern Studies. Today, she maintains studios in both Los Angeles and San Francisco. Her work has been exhibited at venues including the Museum of Chinese in America in New York, the Tweed Museum of Art in Minnesota, and the United Nations Headquarters in New York. Her work has been featured by numerous publications including The New York Times, TIME, WIRED, The Wall Street Journal, National Geographic, The Heavy Collective, Harper Collins and UNESCO. Chou was a finalist for the Aperture Portfolio Prize in 2020.
Teresa Eng (b.1977) is a London-based artist and photographer. She received a BA from Emily Carr University of Art + Design in Vancouver, British Columbia, and an MA in Photography from the London College of Communication. Her work has been exhibited globally at venues including the Houston Center for Photography, the Somerset House in London, and Unseen Photo Fair in Amsterdam. Eng's work is held in the public collections of Yale University in Connecticut, the Victoria and Albert Museum in London, Instituto Moreira Salles in São Paulo, and the Palace of Westminster in London, among others. In 2019, Eng was a finalist for both the Aperture Portfolio Prize and the Images Vevey Book Award. Eng's monograph, China Dream, was published by Skinnerboox in 2019.
©2021 by San Francisco Airport Commission. All rights reserved.