Fashion In Flight: A History of Airline Uniform Design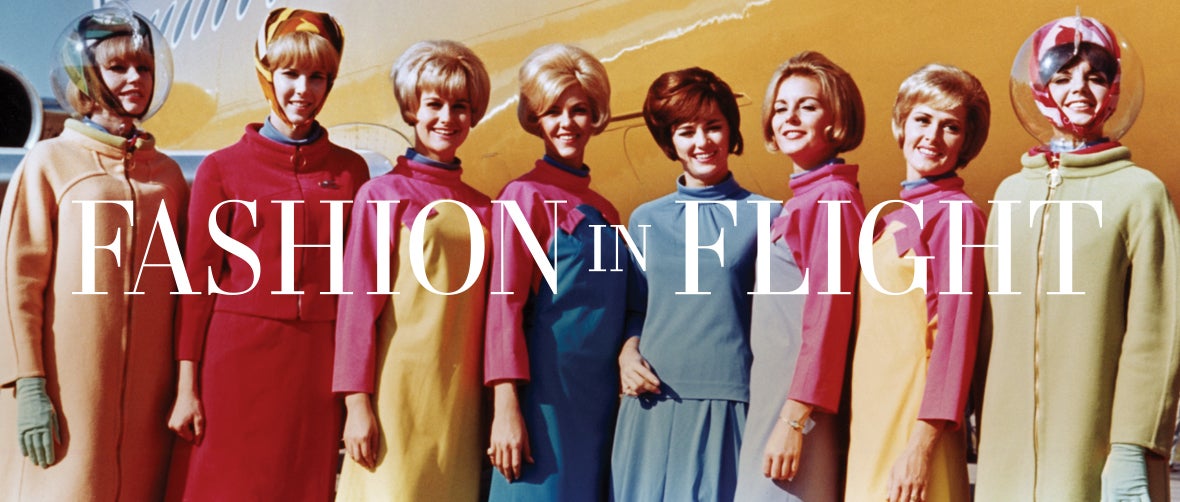 Departures - Level 3
Jun 16, 2016 - Jan 08, 2017
Fashion In Flight: A History of Airline Uniform Design
The airline uniform occupies a unique place in the history of women's wear. For more than eighty-five years, the airlines' passenger-service and safety professionals—variably called stewardess, hostess, and flight attendant—have been dressed in outfits designed to signify a distinct role in the workplace, project the identity of their employer, and reflect prevailing fashions of the times. These often conflicting demands of singularity, diversity, and conformity have created a distinct garment type, one that has penetrated deeply into the social conscience of popular culture while providing fashion designers with remarkable challenges and creative opportunities.
Fashion In Flight: A History of Airline Uniform Design presents seventy female airline uniform ensembles and additional accessories that date from 1930 to the present. It traces the development of uniform design from the anonymous, in-house origins of the pre-war and Utility era, through the period of engagement with renowned couturiers and fashion houses that produced extraordinary collections for airline clientele during the 1950s, '60s, and '70s, to today's select designers who are keeping airlines at fashion's forefront. The styles and trends include nurse-inspired attire, periods of military influence and austerity, the influences of Paris, New York, and Hollywood in the era of cosmopolitan glamour and the jet-set chic of the space age. The later pluralism of casual elegance with the self-expression of mix-and-match, power-dressing, and retro looks of traditionalism during the nostalgia movement are also explored. The exhibition concludes with contemporary styles of today.
Over thirty designers and fashion houses are represented in the exhibition. These include Adolfo, Cristóbal Balenciaga, Pierre Balmain, Bill Blass, Marc Bohan, Pierre Cardin, Oleg Cassini, André Courrèges, Christian Dior, Halston, Edith Head, Stan Herman, Macario Jiménez, Christian Lacroix, Papou Lahoud, Ralph Lauren, Don Loper, Jean Louis, Hanae Mori, Jean Patou, Emilio Pucci, Ben Reig, Yves Saint Laurent, Angelo Tarlazzi, William Travilla, and Vivienne Westwood. Their long list of clients includes Aeroméxico, Air France, Air West, Alia Royal Jordanian Airlines, American Airlines, Braniff International Airways, Cathay Pacific Airways, Continental Airlines, Delta Air Lines, Eastern Air Lines, Hughes Airwest, Japan Airlines, Northwest Airlines, Pacific Southwest Airlines, Pan American World Airways, Qantas Airways, Trans World Airlines, Union de Transport Aériens, United Airlines, and Virgin Atlantic.
The majority of the uniforms in the exhibition were selected from the permanent collection at SFO Museum. Additional uniforms, accessories, and images have generously been made available by lenders including Aeroméxico, Air France, American Airlines C.R. Smith Museum, Delta Flight Museum, Flight Path Learning Center & Museum, LAX, Frontiers of Flight Museum, Love Field, Dallas, Texas, The Museum of Flight, NWA History Centre, Qantas Heritage Collection, The University of Texas at Dallas, United Airlines Archive, Virgin Atlantic Airways, and other private sources.
Image: Braniff International Public Relations Archives, History of Aviation Collection, UT-Dallas
©2016 by San Francisco Airport Commission. All rights reserved.