Extra 'O'! African Barbershop and Hairdressing Signs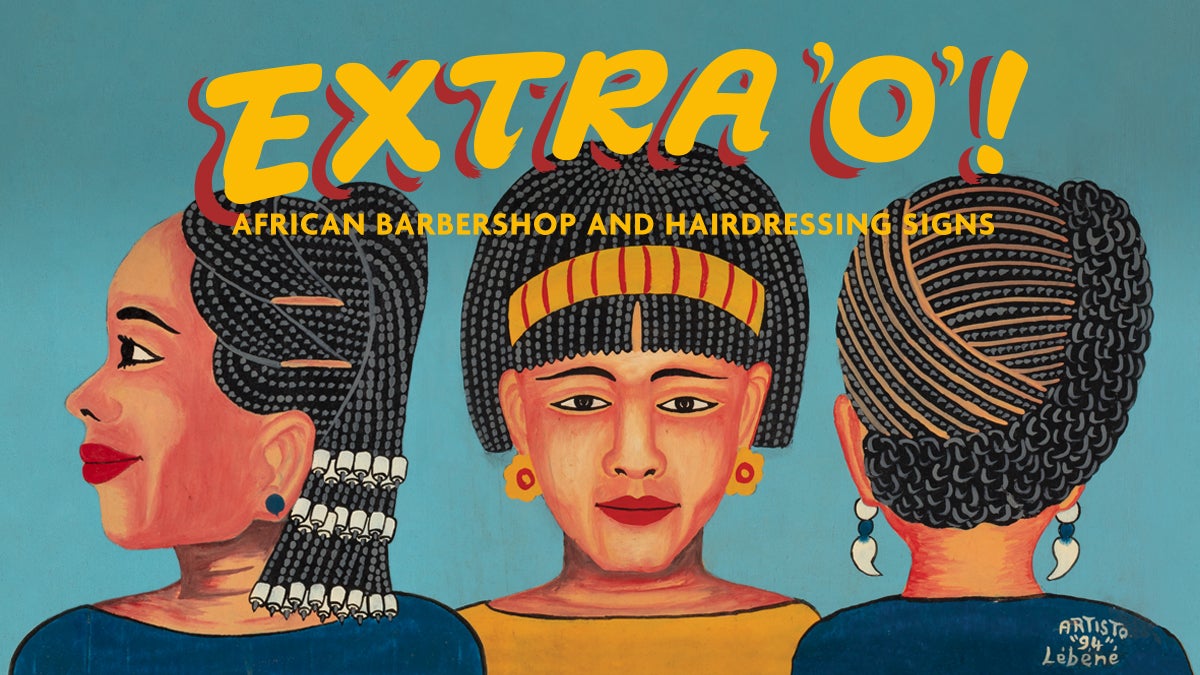 Departures – Level 2
Feb 29, 2020 - Nov 01, 2020
Extra 'O'!
African Barbershop and Hairdressing Signs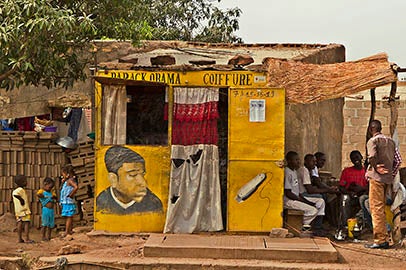 Hairstyling has a long, rich history in Africa. While some styles have endured for centuries, others are long obsolete. New styles change and evolve to keep up with contemporary fashion trends. Barbers and hairdressers are responsible for most of the meticulously faded men's coifs and intricately braided women's hairstyles. Barbershops and hair salons may consist of a simple structure with a hand-painted sign nailed to its exterior. Sometimes a barber or hairstylist will fabricate the signs themselves. More often, these signs are painted on wood panels by self-taught sign artists who work in studios or independently. Such signs first appeared in urban areas to advertise services sometime during the 1930s to 1950s. Oftentimes, a portable sign with a handle may be hung outdoors, while an itinerant barber sets up a chair, hanging mirror, and a small table for their scissors, razor, comb, and clippers. 
Signs often detail the latest hairstyles. American popular culture has long influenced contemporary hairstyles in Africa with named styles such as "Boeing" and "Ford." Female hairstylists often hang several signs depicting dozens of different braided hairstyles for clients to consider with clever titles including "Sweet Banana," "Top Secret," and "Mother Clear." A number of these homey establishments double as places to gather and socialize while offering additional services, from video game play to phone service, which are also advertised on the hand-painted signs.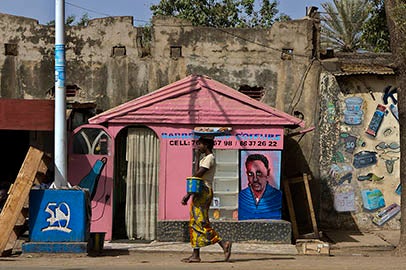 With the advent of machine-printing, hand-painted barbershop and hairdressing signs—a vibrant form of African folk art in the form of advertising—appear less frequently on shop fronts. This exhibition displays a variety of colorful signs from the past forty years from West Africa and Kenya, where barbershops are called kinyozi. One sign on display depicts beloved Côte d'Ivoire soccer player Didier Drogba (b. 1978) while stylish heads set against an American flag appear on another. The phrase Extra 'O' appears on several signs, which stands for extraordinary, beckoning clients in for exceptional styles. Items relating to hair in traditional African culture are also on view, including headrests, hair combs, helmet masks, and carved Yoruba twin figures (ibeji), which reflect the longstanding tradition and importance of hairstyling in African culture.
[inset top image]
Barack Obama Coiffure  c. 2012
Mali
Photograph by Andrew Esiebo (b. 1978)
R2020.0307.001
[inset bottom image]
Barbershop C'offure  c. 2012
Mali
Photograph by Andrew Esiebo (b. 1978)
R2020.0307.002
© 2020 by San Francisco Airport Commission. All rights reserved.