Evolution of a Royal Vision: The Birth of Meissen Porcelain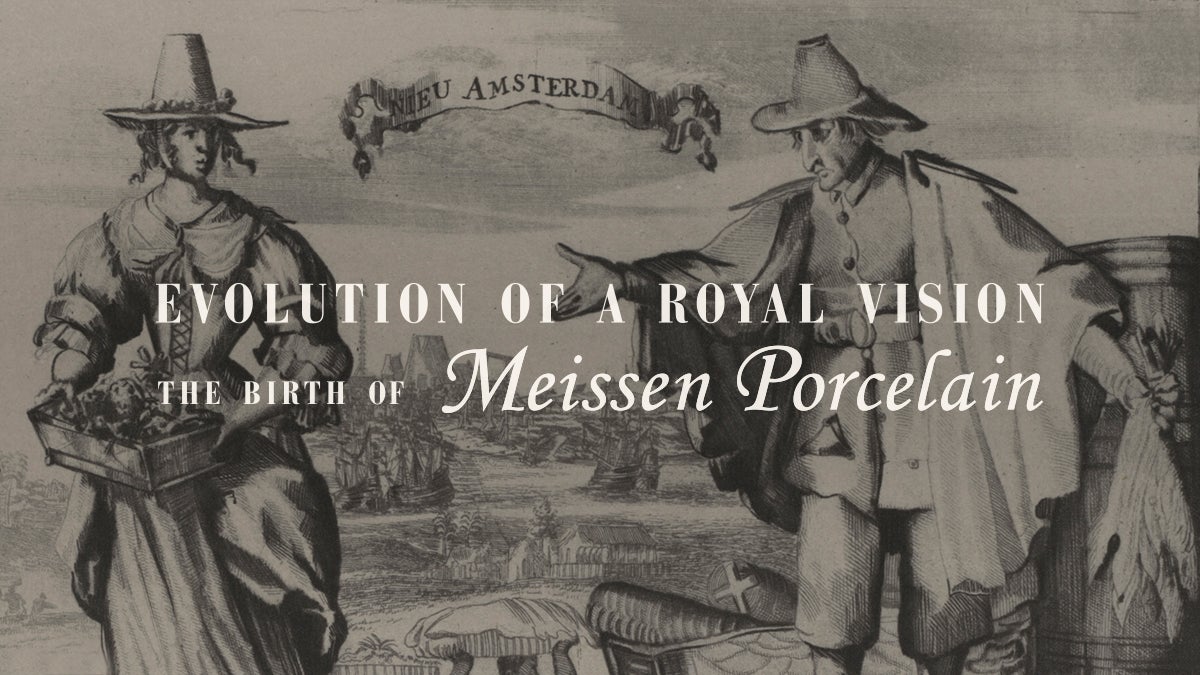 March 2010 - September 2010
Evolution of a Royal Vision: The Birth of Meissen Porcelain
Developed during the Tang Dynasty (617–906) in China, porcelain was first introduced to Europe in the fourteenth century. Europeans greatly admired the luxury item for its beauty, durability, translucence, and delicate appearance. Trade between China and Europe increased during the 1600s, and porcelain—coined Europe's "white gold"—became highly coveted among the aristocracy. The proper clay combinations and firing temperatures required for "true" or hard-paste porcelain remained a puzzle to Europeans. Although attempts were made for decades, no true porcelain emerged from European kilns. As late as 1700, porcelain could only be obtained from China and Japan.
The artists at Meissen produced an astounding variety of white porcelain objects of the highest quality. Few forms and decorative treatments remained unexplored in this feverish burst of creativity. Artists copied vessel shapes from Asian ceramics and contemporary European pottery, ivory, glass, and metalwork. Figures were drawn from Chinese and European sculpture. Painted decoration emulated designs on Chinese and Japanese porcelain and European paintings and engravings.Unlike earthenware or stoneware, porcelain is fired at extremely high temperatures that fuse the body and glaze, creating a glass-like surface. Ehrenfried Walther von Tschirnhaus (1651–1708) and Johann Friedrich Böttger (1682–1719), the former a respected scientist, the latter an alchemist, worked together in Dresden to discover the arcanum: the secret to making porcelain. In 1709, shortly after Tschirnhaus's death, Böttger achieved success and showed his first experimental pieces to Augustus the Strong, Elector of Saxony and King of Poland. This led the king to establish a manufactory just outside Dresden in Meissen in 1710—the first establishment to produce hard-paste porcelain in all of Europe.
The first major period of the manufactory, referred to as the Böttger period, ended soon after the alchemist's death in 1719. A new era in the history of Meissen began in 1720, when Johann Gregorius Höroldt arrived from Vienna to produce finely painted wares. Within five years, Höroldt developed a repertoire of rich enamels and established an atelier with many talented painters. The quality of the resulting wares rivaled their Chinese and Japanese counterparts. Coffee, tea, and chocolate services were painted with lively and captivating chinoiseries (fanciful depictions of life in the Far East), harbor, and landscape scenes.
In 1717, Augustus acquired a palace in Dresden, which served as a gallery for his private collection. The king amassed Chinese and Japanese porcelains in great quantities and various shapes, sizes, and designs that Meissen's artists drew upon for inspiration. He also commissioned thousands of pieces of Meissen porcelain for his personal collection.
Evolution of a Royal Vision: The Birth of Meissen Porcelain showcases an outstanding collection of eighteenth-century Meissen, Chinese, and Japanese porcelain, many of which are from the royal collection. This exhibition coincides with the 300th anniversary of the Meissen Manufactory.
This exhibition was made possible by a generous loan from Malcolm D. Gutter.
©2010 by San Francisco Airport Commission. All rights reserved.