Edna Bullock: Flea Markets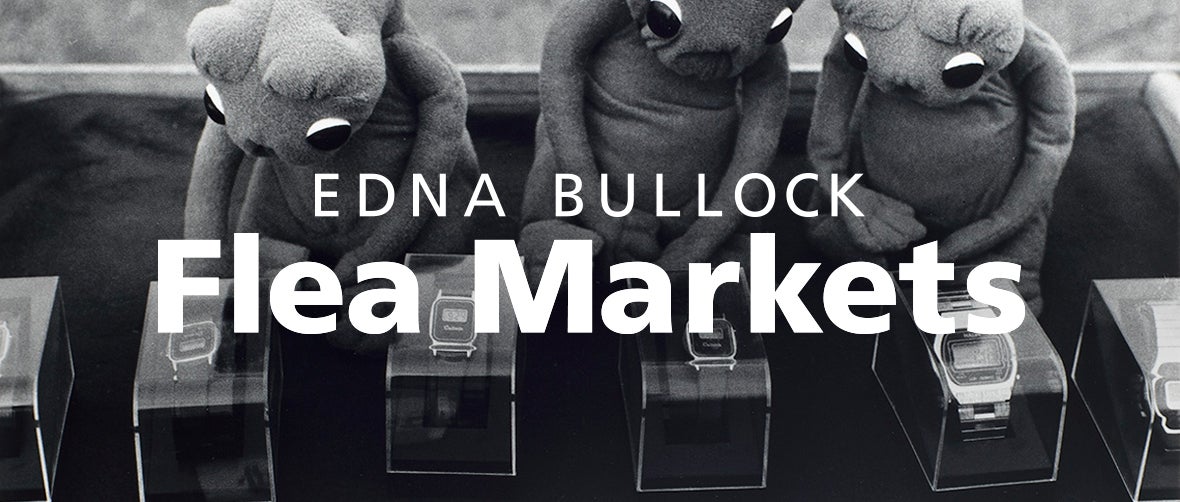 Departures - Level 2
Jun 13, 2017 - Sep 26, 2017
Edna Bullock: Flea Markets
Edna Bullock (1915–97) began her career as a photographer in 1976, shortly after the death of her husband, the celebrated photographer Wynn Bullock. She was sixty-one at the time, explaining, "I had inherited a darkroom, camera equipment, and supplies. For more than thirty years, I had been immersed in the world of photography. My own needs to be artistically creative were strong, so I decided to enroll in beginning photography at Monterey Peninsula College and see what I could do." As if having learned the art of photography through osmosis, her talents quickly came to light. Shortly after her enrollment, Bullock began exhibiting at reputable galleries and art centers throughout the United States, and within a few years she was embraced by the photography community as a fellow artist and instructor. During her career, she taught or lectured at over thirty-five different organizations and institutions, including California State University at Chico, University of Oregon at Eugene, Fotofeis in Edinburgh, Scotland, and Monterey Peninsula College.   
While most often recognized for her contributions to the genre of nude photography, Bullock produced significant bodies of work across a variety of subjects, including this series of images made at garage sales and flea markets throughout California between 1977 and 1985. Working with a nimble, half-frame Olympus Pen F camera, she photographed countless flea markets with an inquisitive aesthetic—one that seems to evoke the air of curiosity and discovery present at bazaars, street markets, and garage sales.
Bullock's extensive exhibition record is extraordinary given the relatively short length of her career. Her work appeared in over one hundred solo and group exhibitions at venues including the Museum of Photography in Belgium, the Jordan Schnitzer Museum of Art in Eugene, Oregon, and the New Mexico Museum of Art. Her work is held in the collections of numerous museums, educational institutions, and art centers including Bibliothèque nationale de France, the Center for Creative Photography in Tucson, the Museum of Fine Arts in Houston, and the Museum of Contemporary Photography in Chicago. In 1995, Bullock published her first monograph with Capra Press and received a Lifetime Achievement Award from the State of California.
© 2017 by the San Francisco Airport Commission.