Classic Monsters: The Kirk Hammett Collection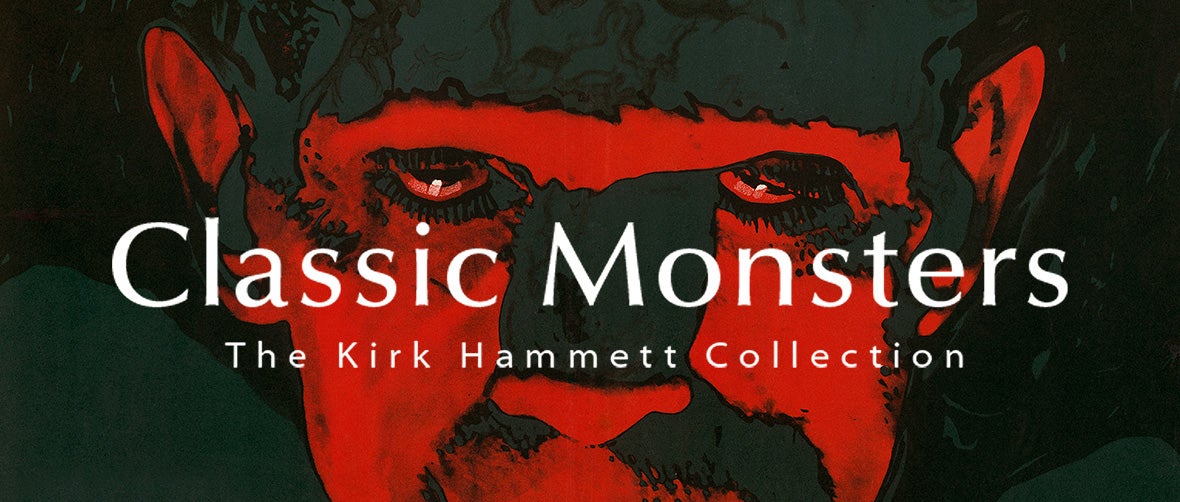 Departures - Level 2
May 16, 2015 - Dec 06, 2015
Universal's Classic Monsters
Universal Pictures introduced a new genre of monster movies in the 1920s, with silent horror films such as The Hunchback of Notre Dame (1923) and The Phantom of the Opera (1925), both of which starred pioneering horror actor Lon Chaney (1883–1930). The studio conjured monsters spawned from literature, legend, and the imaginations of filmmakers. Tod Browning's Dracula (1931), the first talking vampire film, based loosely on the 1897 novel by Bram Stoker, starred Bela Lugosi (1882–1956), who had already played the role of Dracula on Broadway. As the debonair but deadly count, he transforms into a bat, casts no reflection in mirrors, and feasts on human blood for nourishment. Highly acclaimed by moviegoers and critics, Dracula secured Universal's reputation as the leader of the horror genre.
Nine months later, Universal released Frankenstein, inspired by Mary Shelley's 1818 novel. The zealous scientist Dr. Frankenstein creates a monster stitched together from human corpses. Boris Karloff (1887–1969), who played the role of Frankenstein's Monster, brought a misunderstood, childlike quality to the man-made creature. Makeup artist Jack Pierce (1889–1968) created the flattop and bolt-neck look for Frankenstein's Monster that remains synonymous with the character today. The equally successful sequel Bride of Frankenstein, in which Dr. Frankenstein creates a mate for the Monster, premiered in 1935.
In 1932, Universal debuted The Mummy, spurred by an Egyptian craze after the discovery of King Tutankhamun's tomb in the 1920s. The film starred Boris Karloff as a resurrected pharaoh who becomes obsessed with the modern reincarnation of his deceased beloved. Makeup artist Jack Pierce again transformed Karloff, this time into a ravaged mummy during arduous eight-hour makeup sessions. A number of Universal mummy movies followed, beginning with The Mummy's Hand in 1940. Universal's Werewolf of London (1935) introduced their newest creature—a man who transforms into a howling part-human werewolf. But it was in 1941, with the introduction of The Wolf Man that the character became the studio's most popular creature of the decade. Folktales and legends served as the inspiration for Universal's Wolf Man. Lon Chaney, Jr. (1906–73), son of the 1920s horror star Lon Chaney, starred as the Wolf Man in the 1941 film and in later sequels.
By the 1950s, Universal had exhausted its classic monster sequels and spinoffs. Bud Abbott and Lou Costello Meet Frankenstein (1948) was the last film to feature its famous monsters. Then, in 1954 the studio introduced a new monster, the Gill Man or Creature, a large amphibious fish-man. The first of the series, Creature from the Black Lagoon, was featured in 3-D with many scenes taking place under water.
Universal's most popular monsters terrified, entertained, and enthralled audiences during the studio's golden reign of horror. They also influenced other filmmakers in the creation of horror, and later science fiction, and fantasy movies. Universal's films aired on television in the 1960s and '70s, introducing their classic monsters to new generations of viewers. The television company Screen Gems first acquired the license to debut hundreds of Universal films beginning in 1957. A year later, the monthly magazine Famous Monsters of Filmland served as the primary periodical for young readers to learn more about these legendary creatures. Throughout the 1960s and into the 1970s, manufacturers offered Universal monsters in the form of toys, model kits, Halloween costumes, paperbacks, T-shirt iron-ons, posters, and trading cards. The classic monster mania revival eventually came to a close by the late 1970s. Even so, nearly a century since some of Universal's monsters first appeared on screen, these iconic creatures remain embedded in the public's imagination.
This exhibition was made possible through a generous loan from Kirk Hammett.
 
About the Lender
Born in 1962 in San Francisco, Kirk Hammett first picked up a guitar about a month before his fifteenth birthday. He joined the heavy metal band Metallica as lead guitarist in 1983. Long before pursuing a career in music, Hammett developed a lifelong passion for classic horror. He recalls being mesmerized while viewing the original 1931 Frankenstein film on television at the age of six. During the second grade,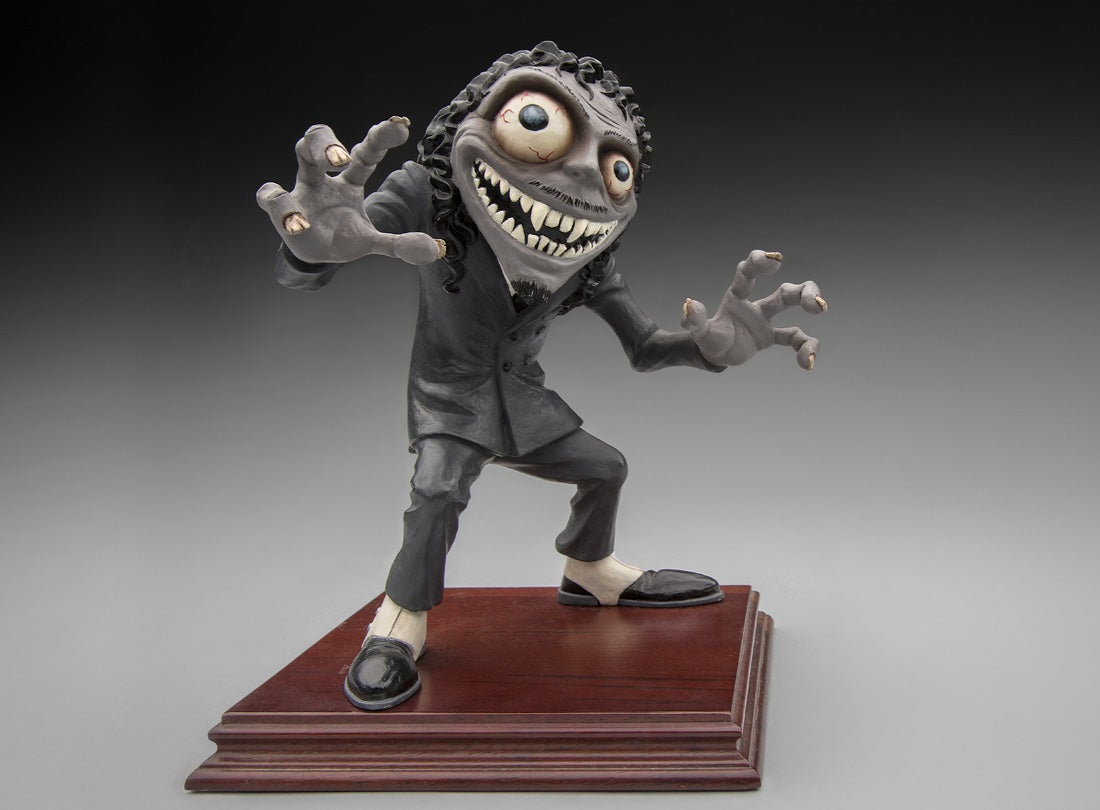 while walking home from school, he began spending his milk money on monster magazines at America's first comic bookstore, the San Francisco Comic Book Company. To the dismay of his teachers, Hammett brought copies of Famous Monsters of Filmland to school with him to read during class. His classmates soon referred to him as "the monster kid."
Hammett's obsession with Universal monsters temporarily waned in his teens, when he became more focused on music. But in his early twenties, after he joined Metallica, Hammett began acquiring vintage monster movie posters, props, original artwork, toys, and models. In 2012, Hammett released the publication, Too Much Horror Business, which highlights his extensive collection of monster memorabilia. Classic Monsters: The Kirk Hammett Collection displays many of the objects from the book, from his custom- made monster guitars to original artwork by Basil Gogos used on the covers of Famous Monsters of Filmland, as well as novelty toys, which feature a host of Universal's classic monsters.
[top inset image]
Dracula one-sheet poster  1931
Universal Pictures
Universal City, California
Collection of Kirk Hammett
RL2014.3901.135

[middle inset image]
Frankenstein Meets the Wolf Man one-sheet poster  1943
Universal Pictures
Universal City, California
Collection of Kirk Hammett
R2014.3901.143

[bottom inset image]
Kirk Hammett monster figurine  2012
Obitsu
Japan
L2014.3901.115
©2015 by the San Francisco Airport Commission. All rights reserved.