A Century of Silver and Metalwork from the Margo Grant Walsh Collection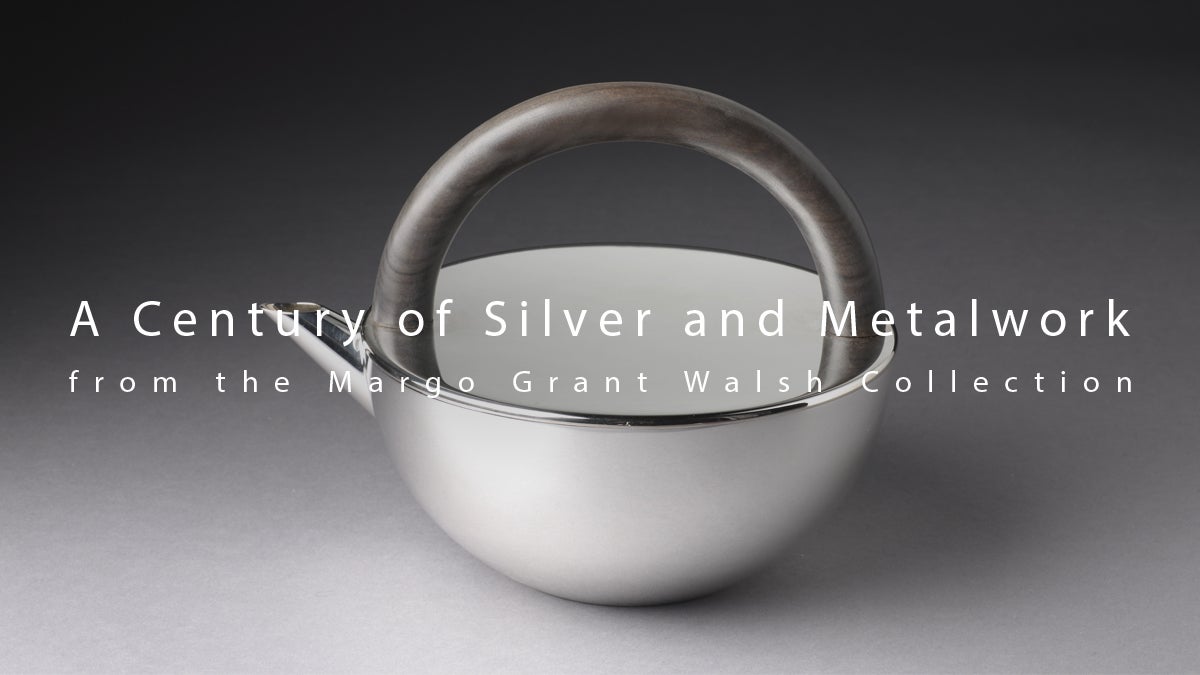 April 2011 - September 2011
A Century of Silver and Metalwork from the Margo Grant Walsh Collection
 
Silver objects, like those formed of clay or glass, should perfectly serve the end for which they have been formed.
Christopher Dresser (1834–1904)
Principles of Decorative Design, 1871–73
Glasgow-born Christopher Dresser was one of the first modernist designers. From his observations as a professional botanist, Dresser concluded that beauty was derived from simplicity of form and clarity of function. Dresser's forward-thinking design principles are reflected in his bowl crafted from a single sheet of textured, electroplated silver with corners turned up and rolled inward (1890). His work was an abrupt departure from the highly decorative silver made in revivalist styles. Although he worked in the nineteenth century, Dresser can arguably be called the first designer of the twentieth century, and his influence spans generations and continents. A Century of Silver and Metalwork from the Margo Grant Walsh Collection presents a broad range of well-designed, functional objects that reveal their essence through their form and their beauty.
The turn of the twentieth century was a period of great artistic ferment throughout Europe. Increasing numbers of designers rejected the historicism of their national arts and asserted new styles. Many formed collectives to produce beautiful household objects for wider distribution. Josef Maria Olbrich's pewter decanter was one of the architect's designs for non-silver items produced at the Darmstadt Artists Colony in Germany. Among Josef Hoffmann's designs for his Wiener Werkstätte (Vienna Workshop) was a small, fluted cream pitcher tastefully decorated with tiny beading and ivory handle.
The Kalo Shop, founded as a workshop and school by Clara Barck Welles in 1900, was largely responsible for making Chicago an important center for original handicraft in the early twentieth century. Kalo's restrained, well-proportioned work is represented by a beautifully crafted footed bowl with hammered surface made in 1910.
Dutch immigrant Dirk van Erp, working in the San Francisco Bay Area, was a master coppersmith. Van Erp's 1920 oil lamp with elongated handle and spout contains all the characteristics that made the artist an influential figure in American Arts and Crafts metalwork—simple and elegant form, a surface that emphasizes the hand of the craftsman, and van Erp's distinctively rich, dark-brown patina.
Danish designer and silversmith Svend Weihrauch was among the vanguard of mid-twentieth century silversmiths who embraced organic modernism—a style characterized by biomorphic shapes and undecorated surfaces. Weihrauch's entrée tea service from 1948 feature tapered, asymmetrical forms and elegant loop handles—a clear departure from the designer's earlier Art Deco-inspired work.
Italian designers had a profound influence on silver and metalwork in the late twentieth century. Architect-designer teams working at Milan's San Lorenzo shop included Franco Albini and Franca Helg, whose spiral bowl was decorated in the traditional technique of repoussé—hammering by hand from the reverse side. Gabriele De Vecchi's hemispherical teapot was designed in 1985 for an experimental line that explored the mirror-like quality of undecorated silver surfaces on broken or bisected forms.
Some of the most innovative metal designers from the early twenty-first century are associated with London's Worshipful Company of Goldsmiths. The Company's annual exhibition brings attention to designer-craftsmen, including Hiroshi Suzuki, whose 2006 beaker features a hammered surface that undulates and flows more like clay than silver.
A Century of Silver and Metalwork from the Margo Grant Walsh Collection features extraordinary examples of design and craftsmanship from throughout the world. Seen together, the work demonstrates that great design has no borders and is not restricted to any particularly hallowed generation. The objects on exhibition range from bronze candlesticks to pewter bowls, from a copper and brass teapot to parcel-gilt sterling silver beakers. All are functional, all are examples of exceptional design, and all are true to the motto of Clara Welles' Kalo Shop founded at the beginning of the twentieth century—Beautiful, Useful and Enduring.
Margo Grant Walsh
Margo Grant Walsh's career as an interior architect garnered numerous awards and accolades. Her thirteen years at Skidmore, Owings & Merrill in San Francisco were followed by a significant career at Gensler. She pioneered the discipline for women and greatly influenced how the profession is defined today. Grant Walsh's commitment to design inspired her to collect fine crafts during the course of her career and her travels abroad. Margo Grant Walsh resigned in 2004 and now devotes her time and energy to the research of 20th century silver and metalwork. Her collection has been featured in five exhibitions in the last six years, including the Metropolitan Museum of Art and the Museum of Fine Arts, Houston. Although her primary residence is in New York, Grant Walsh maintains a familial connection to Portland, Oregon. In 2002, she donated more than 250 pieces of American and English silver and metalwork to the Portland Art Museum, several of which were generously loaned to SFO Museum for this exhibition.
©2011 by the San Francisco Airport Commission. All rights reserved.