Catch Our Style: California Regional Airlines 1950s–1980s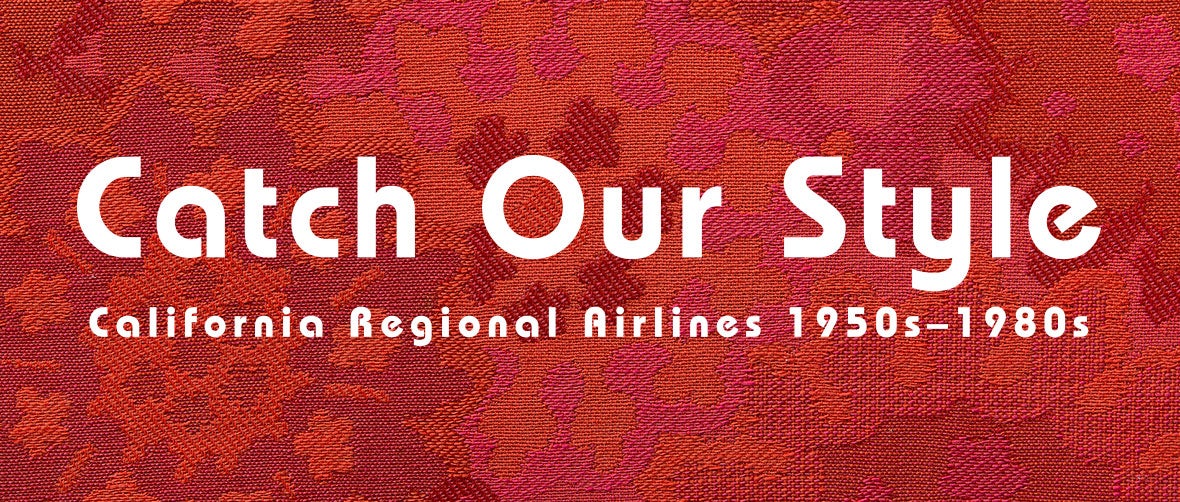 Aviation Museum & Library
Jun 12, 2015 - Jun 05, 2016
Catch Our Style: California Regional Airlines 1950s–1980s
During the three decades following World War II, California underwent unprecedented growth, both economically and demographically. By the 1970s, the population of the state had nearly tripled to an astounding twenty million inhabitants. Large planned suburban housing communities rapidly spread out from the growing economic centers of San Diego, Los Angeles, Orange County, and San Francisco. One of the greatest and wide-ranging periods of material prosperity in the history of the United States and possibly even the world occurred here, where the ideal of the California Dream was realized not just by a privileged few, but by millions. One could have a house, a career, a family, as well as all the amenities to experience the good life, including the highway infrastructure to commute between work and home by car, and the airline services to quickly travel throughout the state for business or leisure.
California was a West Coast center for the development of aviation from the earliest years of flight, and during the late 1920s, was home to numerous regional airlines; yet, most operated briefly. By the time of the Great Depression, the majority either went bankrupt or merged into larger, trunk-carrier airlines. With the economic boom of the 1950s and 60s, the demand for economical, California-based commuter air service exceeded any previous era. As a result, a number of small, regional carriers were formed and operated successfully within the state. These included PSA (Pacific Southwest Airlines) in San Diego, Air California (later AirCal) in Newport Beach, and Pacific Air Lines (later Air West and Hughes Airwest) in San Francisco.
By offering discounted fares on a wide range of short-haul routes, along with quick check-ins, and friendly, accommodating service with a uniquely Californian style and high-fashion panache, these airlines were able to attract a broad, loyal customer base and successfully compete within the California Corridor with the larger carriers, including TWA (Trans World Airlines), United Air Lines, and Western Air Lines. Catch Our Style presents the legacy of these California commuter airlines through a collection of flight and ground crew uniforms, inflight service items and equipment, ephemera, and promotional materials. 
©2015 by the San Francisco Airport Commission. All rights reserved.